Le Cavalier at The Green Room In Wilmington's Hotel Du Pont
The inclusion of "at the Green Room" is reverence to the storied dining room's history.  The Green Room has played a pivotal role in defining Wilmington's dining scene over the past century. While Le Cavalier at the Green Room pays deep respect to the history of the space, the new restaurant represents a full reconcepting and is not a renovation of the existing concept.
"It is important to us to honor the Green Room's unparalleled legacy," said Dave Pollin, co-founder and president of The Buccini/Pollin Group and chairman of PM Hotel Group. "That said, we are actively talking to the community and are thrilled to deliver on meeting the demand for a more casual, chef-driven restaurant. We believe Le Cavalier at the Green Room will marry reverence and progress and hit those notes for our guests."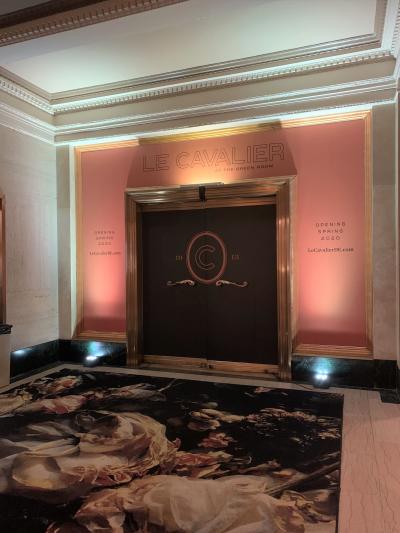 Le Cavalier at the Green Room will be a bustling and progressive French brasserie open for breakfast, lunch, dinner, and weekend brunch. The restaurant's cuisine will pull influences from Provençe and North Africa served up in an approachable contemporary atmosphere filled with the classic Green Room nostalgia. The chef will design menus showcasing innovative riffs on French classics alongside ever-evolving seasonal offerings showing the vibrancy of Delaware foodways.
"Naming this restaurant was an incredibly difficult yet rewarding part of the process," said Chef-Partner Tyler Akin. Tyler is also the Chef-Owner of Stock and Res Ipsa Cafe in Philadelphia. "With Le Cavalier at the Green Room, we honor what came before us while looking ahead to how we can bring Wilmington a restaurant that is both convivial and approachable."
The restaurant, designed by Stokes Architecture & Design, will boast 125 seats with an intimate 14 seat bar, a private dining room and seasonal outdoor patio seating. Director of Design Lance Saunders will thoughtfully update the space to create a livelier atmosphere while celebrating the room's elegant bones. Le Cavalier at the Green Room is expected to open in Spring 2020.