Leash Coin (LEASH): Does It Measure up to Its Canine Pals?
Topics
Altcoins
Introduction
With crypto success stories popping up left and right, the hype and desire to hop aboard crypto trends has never been stronger. In particular, more people are buying altcoins, which tend to be less volatile than their mainstream counterparts (e.g., Bitcoin and Ether). Capitalizing on this trend, some developers have forged cryptocurrencies widely referred to as shitcoins.
A shitcoin is so named because it doesn't solve any problems in the crypto space, and its value fluctuates based purely on hype. For the most part, it's perceived to be useless — hence the scatological reference.
However, it's important to note that not all shitcoins are created equal. In this article, let's focus on one particular animal-based shitcoin: the LEASH coin.
What Is ShibaSwap?
Launched in August 2020, the Shiba Inu cryptocurrency (SHIB) was marketed as a token to compete directly with the popular Dogecoin (DOGE). 
Riding on the success of the cryptocurrency, ShibaSwap — Shiba Inu's own decentralized crypto exchange — was launched in June 2021. On this exchange, users can perform activities related to its three native tokens: Shiba Inu (SHIB), Doge Killer (LEASH) and Bone (BONE). You can also use ShibaSwap to transact altcoins.
The screenshot below lists the activities you can perform to obtain rewards on the exchange.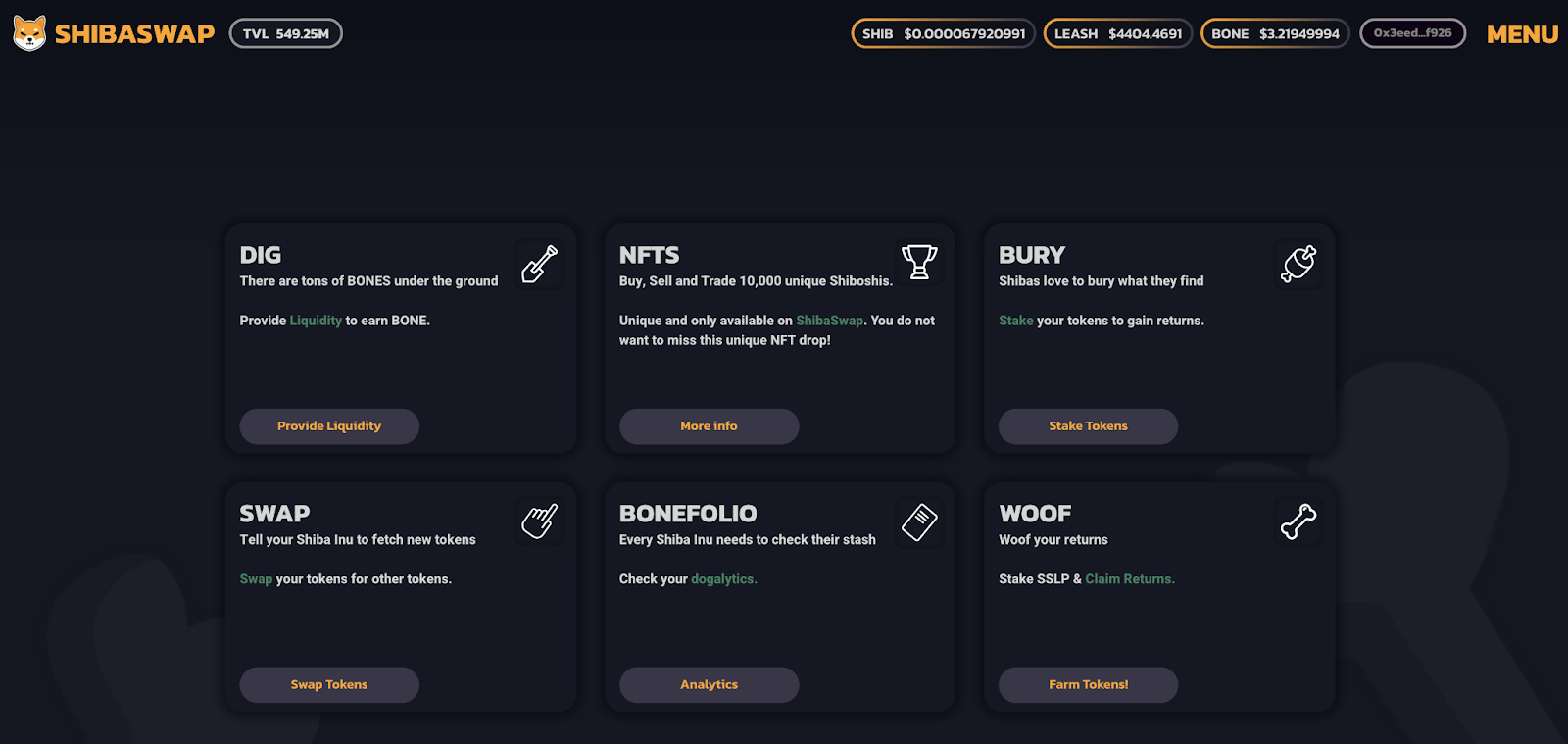 Two notable aspects of ShibaSwap are its simplicity and convenience. Novice traders/investors can visit the platform, connect decentralized wallets such as MetaMask and easily perform activities like stake, swap, or provide liquidity to the platform to earn rewards. 
What Is LEASH?
LEASH is a native token on ShibaSwap. Shiba Inu's success has allowed the Shiba Network to launch the two other tokens in its ecosystem, Doge Killer (LEASH) and Bone (BONE). All three tokens are currently circulating in the Shiba ecosystem.
Initially, the Shiba network launched the LEASH token as a rebase coin. You can think of this as a stablecoin, but for a cryptocurrency's price, not tied to any fiat currency. 
RED : RV and Motorhome Loans | LightStream
For instance, Tether (USDT) is a stablecoin whose value is pegged to the U.S. dollar. With a typical stablecoin, one USDT's value will always be equal to the value of one USD. When it comes to rebase coins, however, the token is pegged to the value of another crypto token. 
LEASH was originally launched as a rebase coin that's pegged to the value of Dogecoin. It's since been "unleashed," so to speak, as its team has altered the use case of this crypto to support its ecosystem.
How Does LEASH Work?
LEASH is designed to be different from its canine pals, SHIB and BONE. Its total supply is capped at just 100,000, compared to SHIB's circulating supply, which involves trillions of tokens. 
One of the fundamental purposes of this token is to incentivize liquidity providers (LPs) and even offer special rewards. One such example is as follows.
When you buy LEASH (swap them with other tokens you hold) and stake or bury them, you receive a reward in the form of xLEASH tokens. As a holder of xLEASH tokens, you become a part of xLEASH's liquidity pool. 
As a member of this pool, you receive 0.5% of all BONE per block added to its original blockchain. As mentioned before, BONE is also a native token of the Shiba Network. The rewards to the stakers or LP contributors are mixed among LEASH, SHIB and BONE, thereby attaching a use case to each of them.
Also, by providing liquidity with your LEASH tokens, you're entitled to a predetermined share of the LEASH/ETH ShibaSwap liquidity pool. 
Leash Coin vs. Shiba Inu vs. Dogecoin
Dogecoin and Shiba Inu have similar market caps. At the time of this writing, Shiba Inu (SHIB) ranks ninth on CoinMarketCap, at a little over $38 billion, whereas Dogecoin (DOGE) is placed tenth with a $36 billion market cap.
In terms of total supply, LEASH is very different from the other two. While DOGE and SHIB have a total supply in billions and trillions, respectively, the total supply of LEASH is capped as noted at 100,000. This difference is reflected directly in the tokens' prices. As of this writing, the value of one DOGE or SHIB is measured in cents, while the price of one LEASH coin is about $4,000.
One similarity the three coins share is that they all belong to the shitcoin category.
LEASH Tokenomics
Doge Killer has a maximum supply of around 100,000 LEASH tokens. At the time of writing, LEASH is trading at $3,070, down 0.4% compared to its previous trading day. LEASH is currently being traded on 21 active markets, with close to $15 million traded in the last 24 hours. Although the figure has yet to be verified, the LEASH coin's self-reported market cap is approximately 330 million.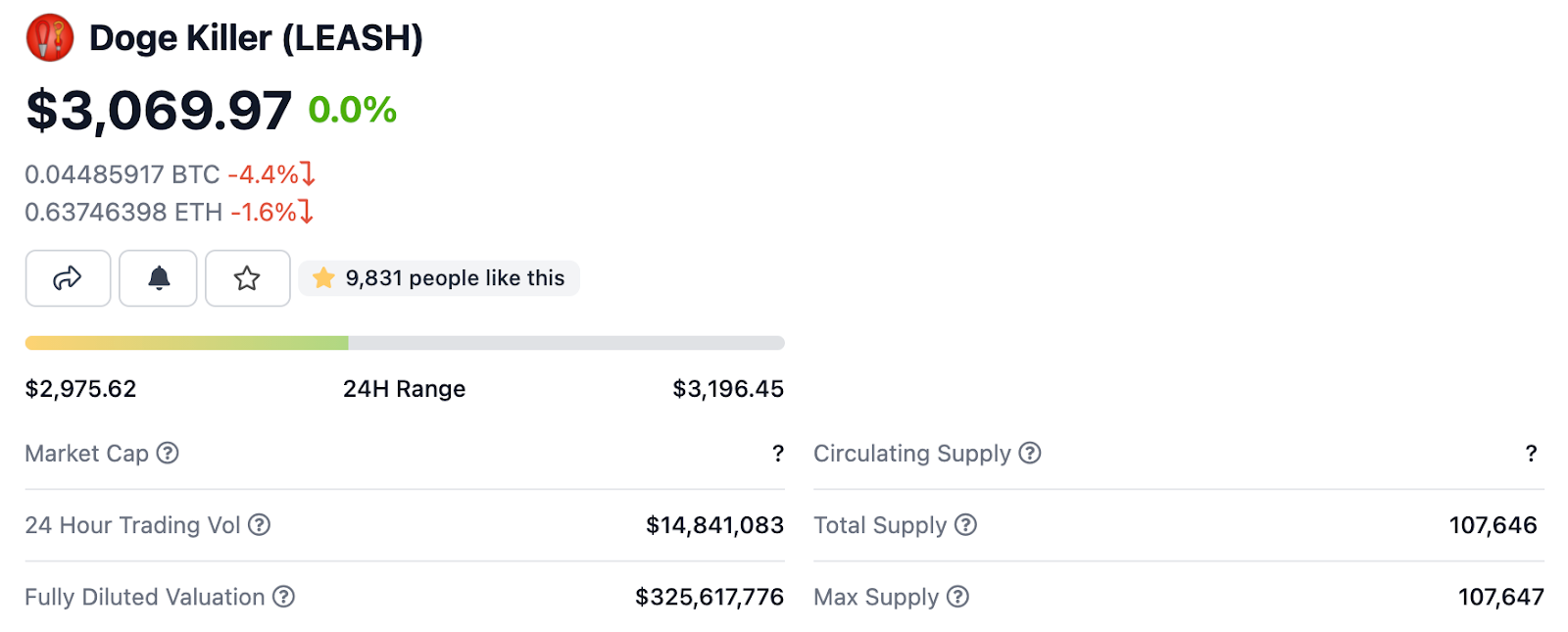 Source: CoinGecko | Doge Killer
RED : Regale craft food & drink menu in Macomb, Michigan, USA
Pros and Cons of Doge Killer (LEASH)
Pros
Users can obtain rewards by staking LEASH or providing liquidity on the ShibaSwap exchange.
With a track record of up to 700% returns, it's a potentially lucrative investment.
Cons
Doesn't solve any real problem in the crypto space other than replicating existing token mechanisms (e.g., staking).
Ultimately, LEASH is still a shitcoin and comes with a high level of risk.
Is Doge Killer (LEASH) a Good Investment? 
LEASH was originally launched in April 2021 on the UniSwap platform. During its initial coin offering, the price of one LEASH was around $562. In less than six months, its price exploded: its value increased by 700%, with one LEASH currently standing at around $3,000. The LEASH token recorded its ATH of $8,983 in May 2021, in the middle of this year's "great bull run."
The success of LEASH depends on the success of its parent network, ShibaSwap. If everything goes right with the ShibaSwap exchange and LEASH survives the bear market, it could reach $5,000 by the end of 2021, and $10,000 by the end of 2022. These predictions are guided by the current popularity of Shiba Inu and the rise of other meme-based cryptos. 
Overall, LEASH could yield you returns if you time the market correctly. Whether you choose to take the risk is entirely up to you. 
How Can I Get Leash Coins?
There is no direct way for crypto enthusiasts to buy, hold or trade the LEASH token. However, they can swap their existing tokens for LEASH on various platforms. The first thing to do is install a decentralized wallet, like MetaMask, on a phone or PC browser. That will allow users to buy or sell LEASH tokens on decentralized exchanges like Uniswap. 
Alternatively, users can swap existing tokens like Ethereum, Bitcoin, or even shitcoins like Shiba Inu for LEASH tokens on the ShibaSwap exchange (see screenshot below).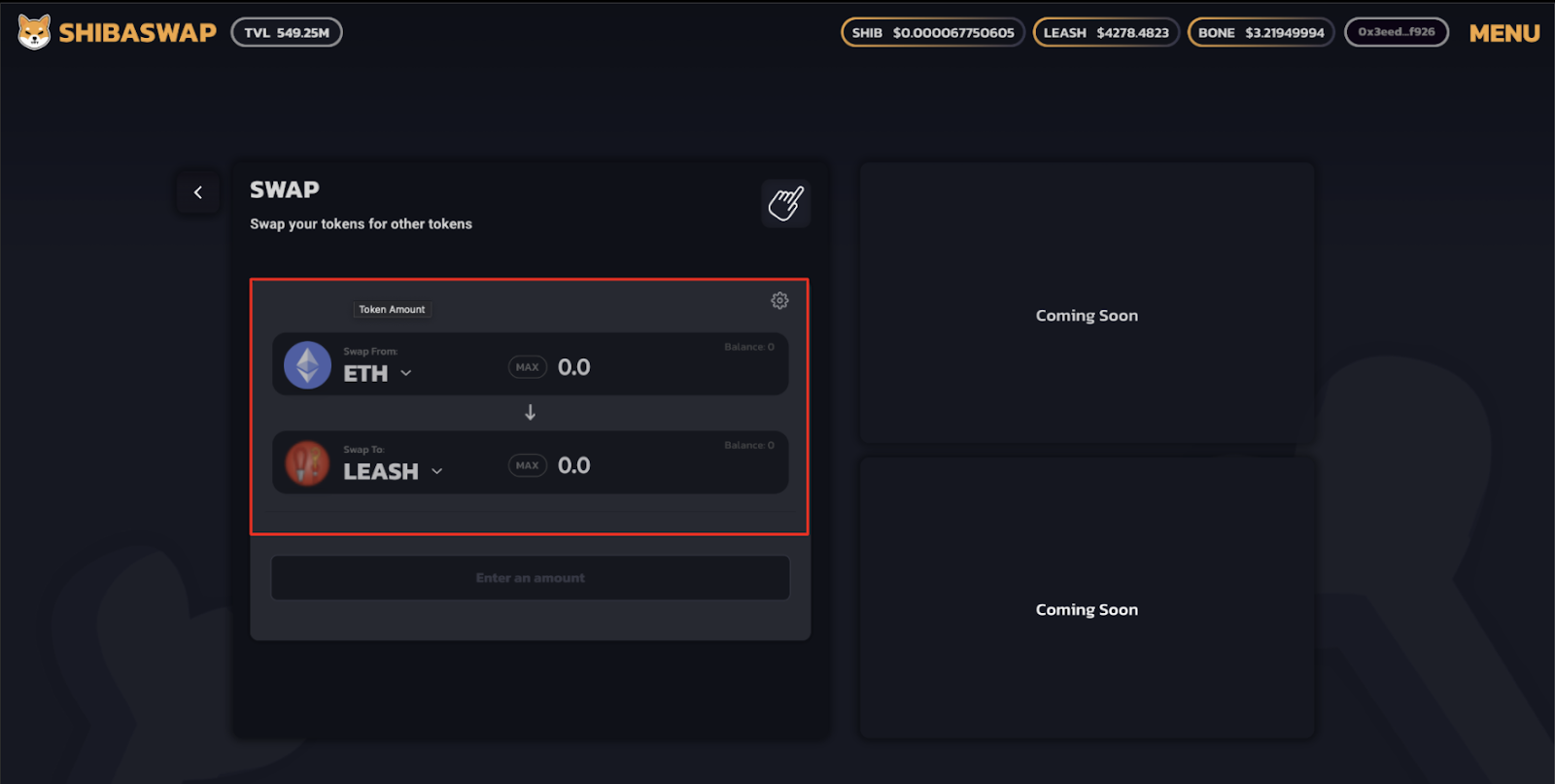 Source: ShibaSwap Exchange
All you need to do is hold some Ether in your MetaMask wallet, link it to decentralized exchanges like Uniswap or ShibaSwap, and perform the swap using the ERC20 network. You can also hold/store your LEASH tokens in the safe and secure MetaMask wallet.
Closing Thoughts
Tokens such as SHIB and LEASH and ecosystems such as ShibaSwap add diversity to the crypto space and keep things interesting. We can't deny the fact that they contribute greatly to the DeFi space by attracting public attention and raising awareness of cryptos. However, there are too many unknowns to determine the true value of this fairly young altcoin. Volatility is inevitable in the crypto space, and one big bearish candlestick could be all it takes to wipe out your life savings. Do remember to exercise caution should you choose to invest in or trade LEASH.
Source: https://bloghong.com
Category: en