Mabry Mill Blue Ridge Parkway VA | Blue Ridge Parkway Overlooks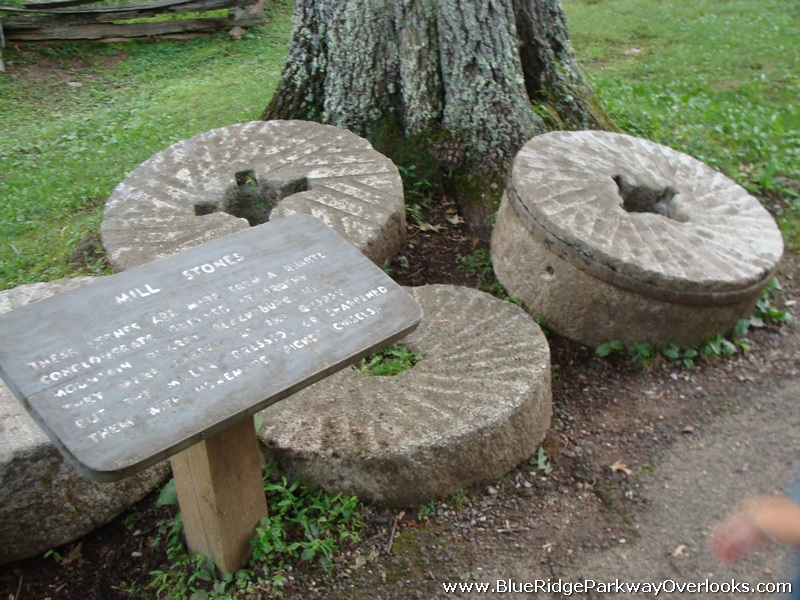 Mabry Mill Blue Ridge Parkway Milepost 176.2
Mabry Mill is a watermill located at milepost 176.2 of fBlue Ridge Parkway in Floyd County, Virginia. Mabry Mill is one of the top photographed feature on the Blue Ridge Parkway and is a tourist attraction due to the picturesque views of the mill itself. Mabry Mill offers a visitor center, a restaurant and a short walking trail around the mill connecting the many historical exhibits about life in rural Virginia. The trail allows visitors to view the gristmill, sawmill, and blacksmith shop.
Preview the Matthews Cabin, the blacksmith shop and interpretive area. Here, the National Park Service staff conducts demonstrations on blacksmithing, carding, spinning, basket making and other traditional Appalachian crafts. On Sundays throughout the summer, local folk and mountain music performers appear live at Mabry Mill.
Mabry Mill was built in 1903 by Edwin Boston Mabry when he returned to Floyd County. Edwin was a chairmaker, coal miner, blacksmith, and a farmer. It was first a blacksmith and wheelwright shop, then became a sawmill. By 1905 it was in operation as a gristmill. By 1910 the front part of the mill was completed and included a lathe for turning out wheel hubs, a tongue and groove lathe, a planer and a jig-saw. The mill ground corn and sawed lumber for the people living in Meadows of Dan.
One of the biggest challenges for operating a mill is the amount and quantity of running water which powers all the equipment in the mill. To increase the water supply, Edwin Mabry built separate flumes to catch the runoff from two small streams nearby. These fed into a single flume called a race.
Mabry Mill had three sections. The center houses a gristmill, the left a sawmill, and the right side is a woodworking shop. In the gristmill the customer would pour shelled corn into the hopper on top. Then the grooved millstones sheared the kernels creating a corn meal for cooking and livestock depending on the texture of the meal. Mabry mill did not grind wheat or other grains. When it rained Edwin would operate his sawmill cutting oak, chestnut and other species with the water powered circular saw. In the woodshop Edwin used his jigsaw and other tools to do custom woodworking and create wagon wheels.
Miller Demonstrations and Interpretation
Daily 10 am to 4 pm,  through November 2
Other Demonstrations
Interpreters are on site daily May 24 through October.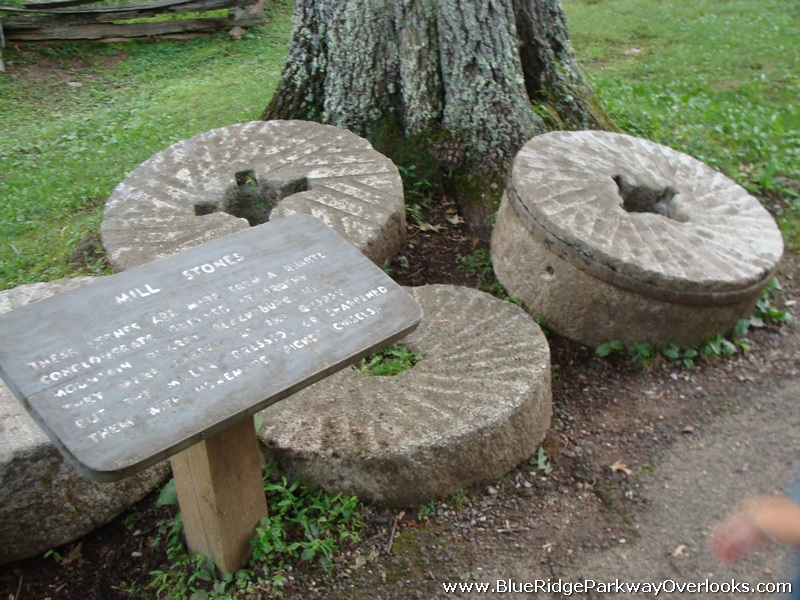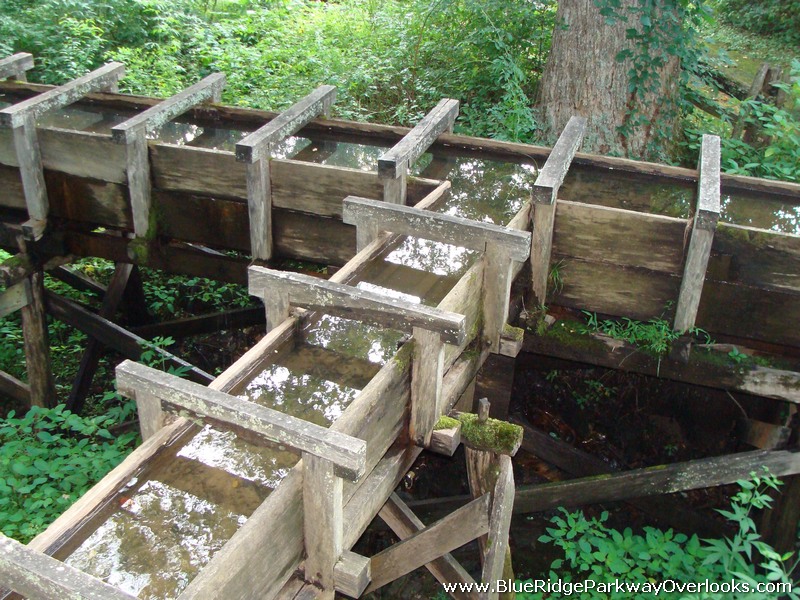 Restaurant & Gift Shop
Visit the Mabry Mill Restaurant and enjoy a country-style menu, featuring our famous Sweet Potato, Cornmeal, Buckwheat, Blueberry and Apple Pancakes. Breakfast is served all day. Lunch and dinner entrees also are featured, including favorites such as Barbecue Pulled Pork, a classic Chicken Pot Pie and our homemade Blackberry Cobbler.
Our gift shop features Virginia crafts and foods, as well as a wide selection of Mabry Mill and Blue Ridge Parkway-inspired gifts, clothing, books, music and souvenirs. And don't forget to pick up your own bag of grits, cornmeal and buckwheat flour to take home for yourself or as a gift!
Click Here For MENU
Photo Gallery
Sunday Concert Series
Mabry Mill Sunday Concert Series
May 28 – October 22, 1 to 4 p.m.
Old time music, or some variation of it, is as much a part of this region as the way residents cook their food, wear their clothes, or speak to you on the street.  It is an outpouring and an overflowing of the landscape, the culture, and people.  The Blue Ridge Parkway may be thought of as a connecting route between many important stories, music being one of those for certain.
All performances are free of charge, and bring chairs or blankets for seating. Concerts may be canceled in the event of lightening or other extreme weather conditions.
Concert funding and support for the 2017 Concert Series is provided by FRIENDS of the Blue Ridge Parkway.
Hours of Operation
April 27, 2018 (reopen) through November 4, 2018
Monday through Friday 7:30 am to 5 pm
Saturday and Sunday 7:30 am to 6 pm
Blue Ridge Parkway
266 Mabry Mill Rd SE, Milepost 176
Meadows of Dan, VA 24120
276-952-2947
Directions