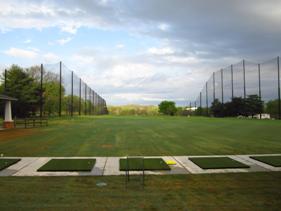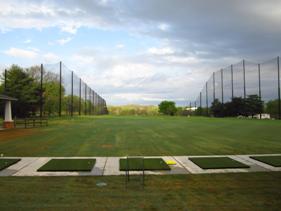 McCabe Golf Course, located just minutes from downtown Nashville, is a 27-hole golf course and practice facility. Voted the best place to play by the Nashville Scene magazine in 2014, the original eighteen holes were built in 1942 and have large, tree-lined fairways and sand bunkers. An additional nine hole course was added several years later to complete the 27-hole course. McCabe can be very challenging for the experienced golfer, yet also provides a great venue for beginning golfers.
McCabe Golf Course underwent a major renovation in May 2007, which included rebuilding green and tee complexes, and installing a double-row irrigation system. In 2007, the North Course was redesigned to accommodate a driving range. The driving range opened in March 2012 and features 27 hitting stations on a two-level tee open year round. It has target greens in the landing areas and provides an outstanding practice venue for golfers of all skill levels. Hit off the finest Bermuda grass tee in town April 15 to November 15. In Winter, hit from our outstanding Astroturf tees.
If you are interested in scheduled golf events, we have five active golf associations calling McCabe home. The Capital City Golf Association, the Sweathogs Golf Association, and the Metro Senior's Golf Association are the men's groups. The ladies enjoy two very active groups, Town and Country 18 Hole Women's Association and the NWSGA ladies play nine holes weekly in season.
Come and see us! McCabe offers twenty-seven holes of great golf, excellent putting/chipping area, and a driving range with three PGA Professionals available for individual or group lessons. Loren Personett invites you to visit McCabe Golf Course and play one of the best municipal courses around. For more information, call 615-862-8491.
Rates and Fees
Rates
9-Holes
18-Holes
Weekday Green Fee
$13.00
$26.00
Weekend Green Fee
$17.00
$34.00
Riding Cart
$ 6.00
$12.00
Other Fees
Rental Type
Fee
Private Cart Fee
$10.00
Pull Carts
$ 2.50
Range Balls (Large Bucket)
$12.00
Range Balls (Small Bucket)
$ 6.00
Rental Clubs
$12.00
Reserve a Tee Time
Call 615-862-8491.
Tee time reservations are available up to 7 days in advance, and may be made in person or over the phone.
Tee times are recommended, but not required.
Walk-in play is welcome, and will be accommodated based on availability.
Downloads
Download a Scorecard
Download an Outing Form
Operating Hours
Regular Schedule
Dates
Weekdays
Weekends
May 1–Labor Day
7:00 a.m.–6:00 p.m.
6:00 a.m.–6:00 p.m.
Tuesday after Labor Day–September 30
7:30 a.m.–Dark
6:30 a.m.–Dark
October 1–October 31
7:30 a.m.–5:30 p.m.
7:00 a.m.–5:30 p.m.
November 1–First Sunday in December
7:30 a.m.–Dark
7:00 a.m.–Dark
First Monday in December–January 31
8:00 a.m.–Dark
7:00 a.m.–Dark
February 1–Saturday of Daylight Saving Time weekend in March
8:00 a.m.–Dark
7:00 a.m.–Dark
Sunday of Daylight Saving Time
8:00 a.m.–Dark
7:00 a.m.–Dark
April 1–April 30
7:30 a.m.–Dark
7:00 a.m.–Dark