Myrtle Beach Golf: The ultimate guide to America's ultimate golf destination
Myrtle Beach, S.C., is as much an idea as a place, and for many that idea can be boiled down to three phrases: Myrtle Beach golf, Myrtle Beach golf, Myrtle Beach golf. But take a step back, crouch, and get a read on the place itself, and it's clear that Myrtle isn't just a matter of abundance. For those in the know, there is tremendous quality on offer, too. More and more, that extends beyond the fairways and greens to all aspects of a Myrtle Beach golf trip — dining, nightlife, attractions, you name it. Here's how to ensure that you make the most of your next Myrtle golf getaway.
WHERE TO PLAY: PREMIUM GOLF
Barefoot Resort & Golf
Myrtle Beach's Fab Four, with designs from Greg Norman, Davis Love III, Tom Fazio and Pete Dye; players looking for a true golf-resort experience should venture no further. Love is a GOLF Top 100 You Can Play course, while Dye hosts Hootie & the Blowfish's annual post-Masters pro-am. Fazio is sneakily tough, while Norman may be Barefoot's most playable 18. barefootgolf.com; 866-638-4818
Caledonia Golf & Fish Club
The first solo design by the late, great iconoclast Mike Strantz and another GOLF Top 100 You Can Play course, Caledonia is celebrating its 25th anniversary this year. Its biggest highlight may be its last one, with the 18th green sitting practically in the shadow of its graceful antebellum clubhouse. Without doubt a must-play for anyone coming to the area. caledoniagolfandfishclub.com; 800-483-6800
The Dunes Golf & Beach Club
A grand dame of the Grand Strand and yet another Top 100 You Can Play, the Robert Trent Jones Sr.-designed Dunes Club is the area's most storied 18 — and arguably better now than it's ever been. Rees Jones has overseen renovations to the course in recent times, including a new bunker project in 2018, a year that also saw the clubhouse remodeled. thedunesclub.net; 843-449-5236
Grande Dunes
Smack-dab in the heart of Myrtle Beach, Grande Dunes, designed by longtime RTJ Sr. protégé Roger Rulewich, this links-style layout is set on a bluff overlooking the Intracoastal Waterway, with forgiving fairways leading to subtle, vexing greens. Six holes play along the Intracoastal, including the downhill par-3 14th, among Myrtle's most photogenic holes. grandedunesgolf.com; 877-283-2122
Myrtle Beach National Golf Club (King's North)
The premier course at this 54-hole facility, King's North was redesigned by Arnold Palmer in 1996 and features one of Myrtle Beach's most memorable holes: Its par-5 6th, dubbed "The Gambler," sports a second, island fairway that if reached makes hitting the green in two a good bet. The island-green par-3 12th is another do-or-die hole not soon forgotten. myrtlebeachnational.com; 877-283-2122
Pawley's Plantation Golf & Country Club
This Jack Nicklaus Signature Design is one of the most prestigious courses on the Grand Strand, and its back nine may be the prettiest, too. The highlight: the gorgeous, terrifying par-3 13th, which plays to a peninsula green surrounded by a saltwater marsh. Pawley's plentiful 200-year-old moss-draped oaks are as Southern as sweet tea, too. pawleysplantation.com; 877-283-2122
Pine Lakes Country Club
A must-play for history buffs — it's the area's first course and remains a highly enjoyable layout. Home to the Myrtle Beach Golf Hall of Fame, Pine Lakes was designed by Robert White, a native of St. Andrews, Scotland, as well as the first president of the PGA of America. During the winter, free chowder's on offer at the turn; the rest of the year, it's mimosas. pinelakes.com; 877-283-2122
Surf Golf & Beach Club
A classic 1960 layout from George Cobb, who co-designed Augusta National's Par-3 Course with Bobby Jones, the Surf Club is private but permits guest play in partnership with certain local hotels. Appropriately enough, its most memorable hole is a peninsula par 3, No. 6, but the entire course hangs together gracefully, all of a piece. surfgolfclub.com; 843-249-1524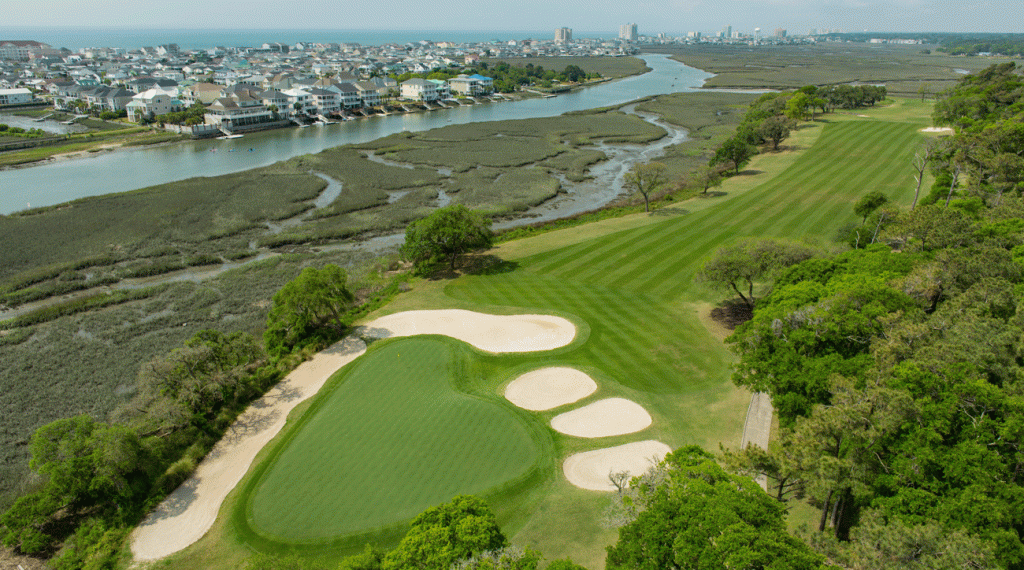 Tidewater Golf Club
GOLF's Best New Public Course in the U.S. in 1990, Tidewater is as scenic as it is strong. Holes 3 and 12 comprise Myrtle's most handsome pair of par 3s, both of which play along Cherry Grove; eight holes in total play along this inlet or the Intracoastal Waterway. A recent greens renovation has helped make Tidewater among the area's best conditioned courses. tidewatergolf.com; 843-466-8754
TPC Myrtle Beach
For those desiring a stern challenge, TPC Myrtle Beach is the place. This spring, the course will host both an NCAA Regional Championship and the fourth-annual Dustin Johnson World Junior Golf Championship. (DJ is South Carolina-born and went to college in the Myrtle Beach area.) Tom Fazio's design team oversaw a bunker renovation project last summer. tpcmyrtlebeach.com; 877-283-2122
True Blue Golf Club
Still another Top 100 You Can Play layout and, as another Mike Strantz design, a sister course to Caledonia. The theme as True Blue is bigness, from the generous fairways to the large, tilting greens to the yawning waste bunkers. A former indigo and rice plantation, True Blue sports impressively varied terrain with some significant elevation changes. truebluegolf.com; 888-483-6800
WHERE TO PLAY: VALUE GOLF
Arcadian Shores Golf Club
Rees Jones's first design, Arcadian Shores underwent a major renovation two years ago that included new greens, cart paths, bunkers and a new clubhouse. A very good layout at a very good price. arcadianshoresgolf.com; 843-449-5217
Arrowhead Country Club 
Just five miles from the Myrtle Beach International Airport and with 27 holes, including a couple on the Intracoastal, it's hard to beat Arrowhead for convenience — or value for money, given how reliably good the conditioning is. arrowheadcc.com; 800-236-3243
Legends Resort (Heathland)
An early Tom Doak solo design done in a links style, with nods to courses such as St. Andrews, Cruden Bay and Lahinch, here is your chance to view a portrait of the architect as a young man, and for a reasonable fee. legendsgolf.com; 800-299-6187
Prestwick Country Club
Maybe not a hidden gem to the degree of Scotland's Prestwick, nonetheless this Pete and P.B. Dye design hides in plain sight in the heart of Myrtle Beach. It's a stern test whether tackled from the 7,000-yard-plus tips or otherwise. prestwickcountryclub.com; 843-293-4100
For those in the know, there is tremendous quality on offer in Myrtle Beach.
WHERE TO PLAY: RELAXED GOLF
So, you're looking to take it easy on yourself, maybe post a career-best round, enjoy a good walk not spoiled by double-bogeys? Here are the five best area tracks with low slope ratings and high fun factors.
Crown Park Golf Club
crownparkgolf.com; 843-756-3200
Meadowlands Golf Club
meadowlandsgolf.com; 910-287-7529
Myrtle Beach National (West)
myrtlebeachnational.com; 877-283-2122
The Witch Golf Club
witchgolf.com; 843-347-2706
The Wizard Golf Course
wizardgolfcourse.com; 843-236-9393
WHERE TO STAY
Savvy travelers will generally choose the courses on their itinerary first and work their way backward from there, selecting a hotel, resort or condo that's convenient to golf. There are, naturally, other potential considerations — a villa might be perfect for a buddy trip, while players with their family in tow might want to be right on the beach in a place with a pool and on-site activities. No matter the logic, these accommodations are all well above par.
Anderson Ocean Club and Spa
Condo accommodations overlooking the water in the heart of Myrtle Beach, with easy access to golf and nightlife. andersonoceanclub.com; 844-887-9452
The Inlet Sports Lodge
Boutique property located in Murrells Inlet and a short walk to the outstanding food, entertainment and scenery at Marshwalk — ideal for a South Strand trip. inletsportslodge.com; 877-585-9360
Litchfield Beach & Golf Resort
Oceanfront resort located just minutes from Pawleys Plantation and Caledonia; large property with on-site restaurants, great spot for big groups. litchfieldbeach.com; 888-734-8228
Marina Inn at Grande Dunes
Four-Diamond property with condo accommodations located along the Intracoastal Waterway and across from the Grande Dunes Resort Course; has a Ruth's Chris among its restaurants, and its open-air bar along the waterway, Anchor Cafe, is a lively happy hour spot. marinainnatgrandedunes.com; 843-913-1333
Marriott OceanWatch Villas at Grande Dunes
One of the area's nicest properties, with villa accommodations overlooking the Atlantic, it's located in Myrtle Beach, just steps from Dunes Golf & Beach Club. marriott.com; 843-692-5500
Mar Vista Grande
Four-Diamond oceanfront property with 3- and 4-bedroom condos that make it perfect for groups; set in the heart of Myrtle Beach, it's just minutes from Tidewater Golf Club. elitemanagementandrealty.com; 843-877-0413
Myrtle Beach Marriott Resort & Spa at Grande Dunes
Great waterfront location, indoor and outdoor pools, pool bar, full-service spa—what's not to love? marriott.com; 843-449-8880
North Beach Plantation
Across from Barefoot Resort, its entrance conjures Atlantis in the Bahamas. Six pools, including a swim-up pool bar, and a spa, help make it a premium North Myrtle Beach property, as does its outstanding restaurant, 21 Main. northbeachrentals.com; 855-904-4858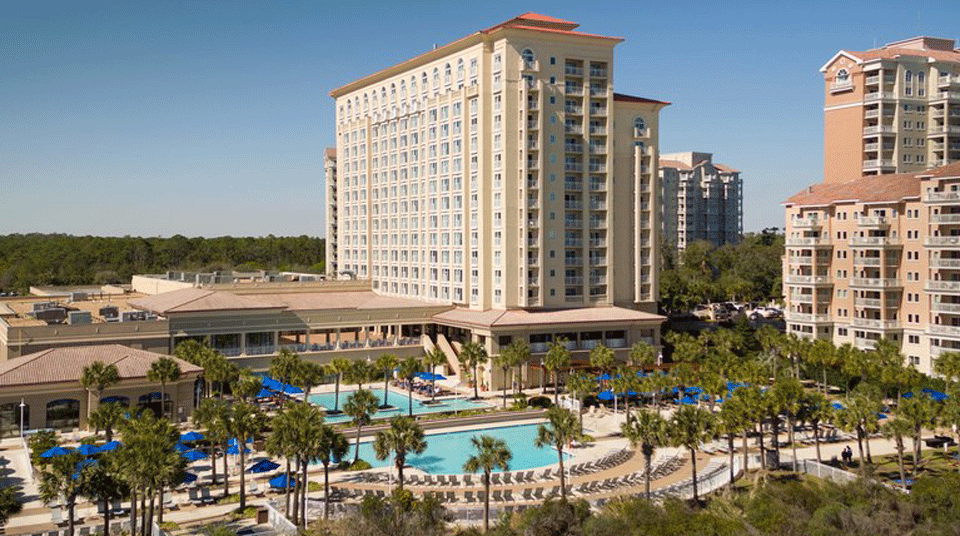 WHERE TO EAT
Aspen Grill
The name may suggest Colorado, but this is traditional Carolina cuisine to the core. While the menu changes seasonally, if the scallops over wild mushroom risotto with fried spinach is available, it's a must. aspen-grille.com; 843-449-9191
Chive Blossom Restaurant & Bar
Part of a thriving restaurant scene on Pawleys Island that also includes Bistro 217 and Perrone's, Chive Blossom leans Southern but also brings in Asian, French and Mediterranean flourishes. Its soups are renowned, as are its signature cocktails. chiveblossom.com; 843-237-1438
New York Prime
Turning meat and potatoes into the extraordinary is what the best steakhouses do, and New York Prime (which also has locations in Atlanta and Boca Raton) does just that. Its steaks are aged 28 days, and you'll remember them much longer than that. newyorkprime.com; 843-448-8081
WHERE TO PLAY (OFF THE COURSE)
Brookgreen Gardens
Let's say you tweak your back, or you're of the opinion that a little culture won't kill you. If so, visit Brookgreen Gardens, which holds the country's largest collection of American figurative sculpture, showcased in a lovely garden setting, as well as a botanical gardens, a zoo, and historical exhibitions and excursions. brookgreen.org; 843-235-6000
 Hawaiian Rumble MiniGolf
For players with kids in tow, or those still a kid at heart, miniature golf is a Myrtle Beach must. You can putt-putt away in a tropical setting at Hawaiian Rumble, an 18-hole course that wends its way through a garden straight out of Maui, with a 40-foot volcano at the center and Hawaiian music wafting through the air. hawaiianrumbleminigolf.com; 843-272-7812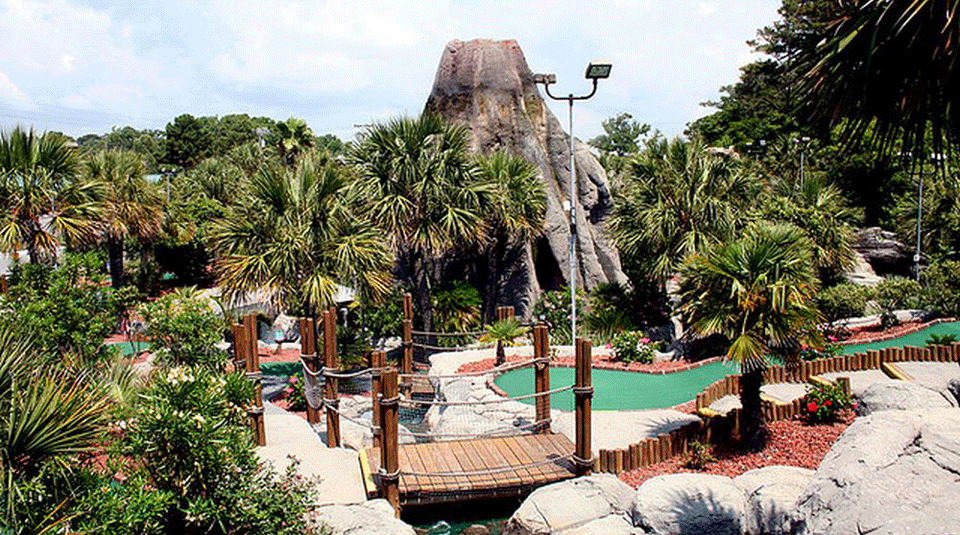 WHERE TO PARTY
Barefoot Landing on the Waterway
For golfers on the Grand Strand's north end, the waterfront Barefoot Landing offers the House of Blues, Dick's Last Resort and Bully's Pub & Grill for those still energized after the sun has set on 36 holes of golf. bflanding.com; 843-272-8349
Broadway at the Beach
This outdoor complex is a major shopping, entertainment and dining hub. Its recently renovated nightlife district offers everything from dancing to dueling pianos to a Dave & Buster's. broadwayatthebeach.com; 800-386-4662
Topgolf Myrtle Beach
Got something to work out in your swing? Just want to eat and drink in the presence of others hitting balls? The new Topgolf in Myrtle Beach will have you covered once it opens, slated for this March. topgolf.com; 843-945-3318