Mythos Restaurant Menu | Islands of Adventure at Universal Orlando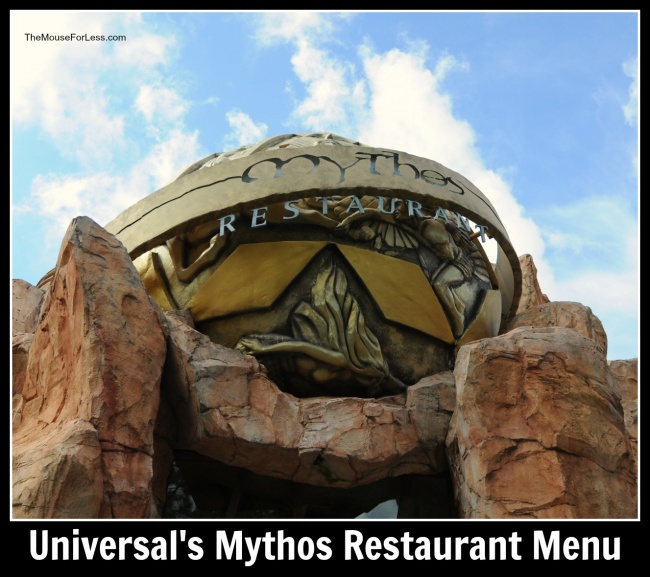 As you approach the towering rock formations, cascading waterfalls and ancient figures carved into the side of Mythos Restaurant, you know you're in for a dining experience unlike any other. This award-winning restaurant offers exceptional contemporary cuisine in a setting to spark the imagination.
Mythos Restaurant is located in the Islands of Adventure Theme Park. Find more Universal Orlando dining locations on our Universal Orlando Resort menus page.
Open for Lunch and Dinner Daily
Mythos Lunch and Dinner Menu
Menu Date 01/2022
Starters
Grilled Lamb Meatballs
grilled spiced lamb, rosemary infused polenta, Kalamata olives and sweet chili marinara, mint chimichurri – $14
Shrimp Sushi Katsu Roll
flash fried panko crust, sweet soy, wasabi aioli – $13
Mediterranean Grilled Octopus(GF)
citrus charred octopus, roasted corn and Kalamata olive relish, roasted garlic lime aioli -$15
Mezze Platter(V)
a tasting of housemade hummus, baba ghanoush, marinated fennel, Kalamata olives served with charred pita -$11
Semolina Crusted Calamari
tender calamari flash fried, served with Spanish chorizo aioli, marinara and charred lemon -$12
Lemon Hummus
Spiced chickpeas, toasted pine nuts, kalamata olives, green onions, smoked paprika, herbed lavash – $10
Spanakopita Dip(V)
a savory blend of spinach, feta cheese, lemon and fresh herbs, served hot with fresh pita chips seasoned with za'atar spice, with fresh cucumber, tomato and olives – $10
Soups & Salads
Chef's Signature Greek Salad 
shredded lettuce, diced tomatoes, red onions, Kalamata olives, feta crackers, herb-lemon vinaigrette and shaved marinated feta
Grilled Chicken – $19   Shrimp – $22
Mixed Baby Greens 
marinated feta cheese, tomatoes, onions and citrus dressing
Grilled Chicken – $15   Shrimp – $18   Salmon – $19
Wedge  
crisp iceberg lettuce, blue cheese vinaigrette, cherry tomatoes, red onion, bacon crumbles, croutons
Grilled Chicken – $17   Shrimp – $20
Heart of Romaine Caesar 
crisp romaine, roasted plum tomato, charred pita, house made Caesar dressing, shaved Parmesan
Grilled Chicken – $17   Shrimp – $20
Tuscan Tomato Soup 
slow roasted hearty tomato soup, housemade croutons, Parmesan, basil oil drizzle – $8
Entrees
Add cup of soup or a side mixed baby greens or heart of romaine Caesar to any entrée for $5
Spinach and Ricotta Ravioli
Davina tomatoes, sweet peas, herb whipped ricotta, basil pesto sauce -$19
Beef Loin Medallions
potato purée, sea salt roasted carrots, watercress, baby radishes, red wine reduction – $26
Gnocchi Bolognese 
slow simmered beef and tomato sauce, cream, crispy Parmesan wafers – $19
Fresh Catch
our Chef's daily selection of the freshest sustainable fish served with steamed forbidden black rice, garlic wilted spinach, Kalamata Olive and Tomato caper broth – MP
Pad Thai
rice noodles, mixed vegetables, chicken and shrimp tossed in a mild sweet and sour peanut sauce – $23
request vegan alternative with crispy tofu and vegan peanut sauce -$19
Port Braised Lamb Shank
slow roasted lamb shank with lemon gremolata, creamy polenta, roasted vine ripened tomatoes, natural reduction -$30
Brick Oven Roasted Chicken
Za'atar rubbed half chicken, charred brussels sprouts and sun dried tomatoes, roasted fingerling potatoes, natural jus – $21
Souvlaki Couscous Bowl
Za'atar spiced Israeli couscous, vine ripened tomatoes, cucumber, roasted chickpeas, cherry peppers, kalamata olives, tzatziki, crumbled feta, basil oil
Tofu $21   Soulvaki chicken kabob $23    Moroccan beef kabob $25
request vegan alternative with tofu and without crumbled feta and tzatziki
Sea Scallop and Barley Risotto 
Seared sea scallops, beech mushrooms, blistered tomato, grana padana cheese and red wine demi – $31
12oz Bone-In Pork Chop
blue cheese cranberry crust, lemon-garlic fingerling potatoes, cannellini and corn succotash, apple brandy reduction – $26
Pan Roasted Wild Salmon
forbidden black fried rice, edamame, beech mushrooms, white asparagus, romesco sauce – $28
Sandwiches
Mythos Signature Lamb Burger
hand-packed ground lamb, grilled onion, shredded lettuce, fresh tomato, feta-olive aioli, served with French fries – $18
Traditional Bacon Cheeseburger
half pound topped with cheddar cheese, bacon, lettuce and tomato served with French fries – $18
Fork, Knife, & Spoon Grilled Cheese
a unique presentation of a classic three cheese sandwich set in a Tuscan tomato soup with crispy pork belly and house-made chips. – $17
Balsamic Grilled Chicken Sandwich 
marinated grilled chicken breast, roasted garlic lime cilantro aioli, bacon, grilled red onion, lettuce, tomato, mozzarella cheese, served with French fries – $16
Kid's Menu for Ages 9 and Under
Penne with Garlic Cream Sauce
garlic cream sauce served over fresh penne pasta – $7.49
Grilled Cheese
white bread with American cheese, served with French fries and choice of one side – $7.49
Mythos Burger
served with French fries and choice of one side -$7.49

Beef Medallions
beef loin medallions on a bed of fluffy mashed potatoes served with roasted baby carrots – $8.49
Chicken Fingers
served with French fries and choice of one side – $7.49
Cheese Pizza -$7.49
Add Pepperoni $1.00
Sides
Applesauce, oranges, grapes

** Mythos Restaurant Menu and Prices are Subject to Change Without Notice **
Ready to get more information or to book your Universal Orlando vacation? Learn More