Play at One of the Best Atlanta Golf Courses for the Public | Stonehurst Place
While staying in Atlanta, there is an almost limitless list of activities to enjoy. Be sure to add golfing at one of the best Atlanta public golf courses to your to-do list! Your options may be limited as a visitor since many of the city's courses are private. When booking your stay, also set up a tee-time at one of Atlanta's best courses, Charlie Yates Golf Course.
Besides getting to play at one of Atlanta's public golf courses, you may need help sorting through the numerous options available to you in the area. Request your free Travel Guide now for a simplified outline of our most recommended activities and must-see attractions in Atlanta! Discover everything you need to know to have a remarkable trip.
Why You Should Play at One of the Best Atlanta Golf Courses for the Public
Visit a Fantastic Course
With the renowned Masters Tournament taking place right here in Georgia, we want to help our guests choose a course to play on when they aren't watching the competition. If you're looking to play, add to your list the Charlie Yates Golf Course, the Chastain Park Golf Course, or one of the other highly recommended public courses golf courses throughout Georgia. Part of the East Lake Country Club, the Charlie Yates course features nine holes of par-threes and fours for a total of par-thirty. Since it's just four miles from downtown Atlanta, golfers can enjoy scenic skyline views of the surrounding area while playing.
If you're not up for the full nine holes, don't sweat it. You can also enjoy their driving range, or practice your short game with chipping and putting areas. Short on supplies or looking for a souvenir to remember your trip? Check out their on-site golf shop with a variety of gear.
Local tip: If you decide to try the Chastain Park Golf Course as well, be sure to try Horseradish Grill nearby. It is Atlanta's oldest continuously operating restaurant and offers fine dining in a cozy, rustic atmosphere. You won't be disappointed!
Support A Charitable Foundation
Another reason why Charlie Yates is one of the best Atlanta golf courses is that a portion of their proceeds benefits The East Lake Foundation. This nonprofit group helps the East Lake inner-city population. They continually work to revitalize and improve the community. Efforts include supporting early childhood education, teaching skills for college and workplaces, financial literacy programs, and more. By just enjoying a relaxing round of golf, you are contributing to this foundation and their noble efforts.
Enjoy Elegant Lodging Nearby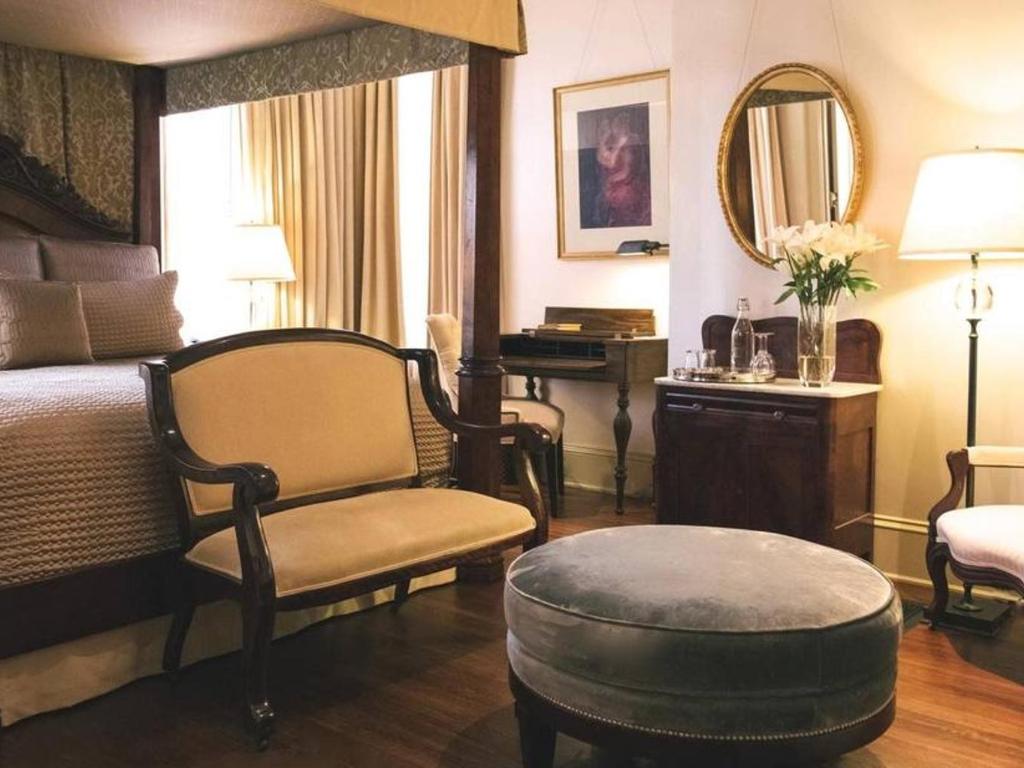 We want you to feel rejuvenated and ready to experience each day of your trip to its fullest potential! That's why we offer such a unique environment with the highest level of service, top-of-the-line amenities, and luxurious accommodations at Stonehurst Place. When you're not working on your swing at the golf course, we look forward to welcoming you here. Our stunning 19th-century mansion in Midtown Atlanta has eight expertly decorated guest rooms for an exceptional stay.
Our Hinman Suite includes a king-size bed with a silk canopy, pearlescent walls, elegant furnishings, and a fireplace for an unparalleled lodging experience. Check our availability now to plan an unforgettable golf trip to Atlanta, Georgia!