RANKING: Australia's Top-100 Courses for 2022
When we released our Top-100 Courses for 2020, we couldn't have imagined what lay on the horizon.
None of us had heard of coronavirus. We certainly didn't envision spending months at a time at home, or having friends or relatives get sick or pass away from COVID.
One positive spin off of the pandemic has been the boom in golf participation. Membership numbers are increasing, rounds are up and the game, at the grass roots, has never been healthier in the past 25 years.
Compiling this list of Australia's Top-100 Courses for 2022 has not been without its significant challenges.
Long periods of lockdown in various states, state border closures at different times and golf courses across the land filling tee time sheets with members and locals has made it more difficult than usual for our judges to view courses. When it became apparent in early 2020 that there would be problems arising from the pandemic, we recruited extra judges to the Top-100 panel from each state to overcome the likelihood of interstate travel being restricted.
This Top-100 list has been compiled by a panel of 56 contributing judges, who eagerly sought out tee times at as many courses as they could when government health orders and travel restrictions allowed. We thank them all wholeheartedly for their dedication in visiting courses, sometimes covertly.
The exercise of ranking golf courses is not an exact science but based on the various points of our criteria I think our judging panel has contributed to a list that won't let you down if you let it guide you to the layouts where you will have the most fun.
Each judge has their own ideas of what makes a good golf course. It is a subjective exercise so the end result will always raise some debate.
Therefore, you won't find the word 'definitive' used here, as that would be arrogant nonsense. What you will find is a thorough and transparent ranking of the best courses to be found throughout Australia.
Written by readers and golfers themselves, this Top-100 list recommends the best courses for our fellow golfers to play; where you will have the most memorable golfing experiences. That's what we think is the most important aspect of this ranking – great golf, great memories.
NOTE: There are six courses that you won't find on this year's ranking for various reasons.
As has been the case for every ranking this magazine has published, the exclusive Capital Golf Club in Melbourne was not ranked as part of an ongoing request by the course's management.
There is also a similar ongoing request from the equally exclusive Cathedral Lodge, designed by Greg Norman. The Shark's other private creation, Ellerston, has also been omitted due to COVID travel restrictions making it not possible for our judges to visit the layout as a group.
Pelican Waters, on Queensland's Sunshine Coast, and Western Australia's, Links Kennedy Bay, were not ranked by judges as construction work continues on new holes. The Bob Harrison-designed Bungool Course at Riverside Oaks was also not ranked as the layout was closed for a lengthy period in 2021 due to flood damage.
100. PACIFIC DUNES
Medowie, NSW
Designer: James Wilcher (2005).
Average points: 37.15.
2020, 2018, 2016, 2014, 2012 rankings: 83, 76, 71, 71, 72.
Comments: "An influx of newcomers to the 80-100 percentile of this ranking has seen some courses slip in the list, including Pacific Dunes. The James Wilcher design remains an interesting and enjoyable test." – Brendan James.
"While areas of undergrowth have been thinned to be less penal for the slightly wayward golfer, the heavily tree-lined front nine needs managing to open up the playing lines that were there when the course opened 16 years ago." – Joe Thomas.
www.pacificdunes.com.au
99. SANCTUARY COVE G&CC – PALMS COURSE
Sanctuary Cove, Queensland
Designers: Fred Bolton (1988); Ross Watson (2011).
Average points: 37.67.
2020, 2018, 2016, 2014, 2012 rankings: 96, 89, 75, 72, 63.
Comments: "A decade on from the completion of Ross Watson's rebuild, the Palms Course has matured nicely. The dramatic greens – like chalk and cheese to the relatively flat Fred Bolton originals – are a highlight of a round in terms of challenge and fun." – Paul Wilson.
"Ross Watson extracted the best possible golf holes from the land working within the confines of the surrounding residential community and the numerous lakes and water hazards that cover the property. The result was a fantastic addition to the already rich Gold Coast golfing landscape." – Christian Harris.
www.sanctuarycovegolf.com.au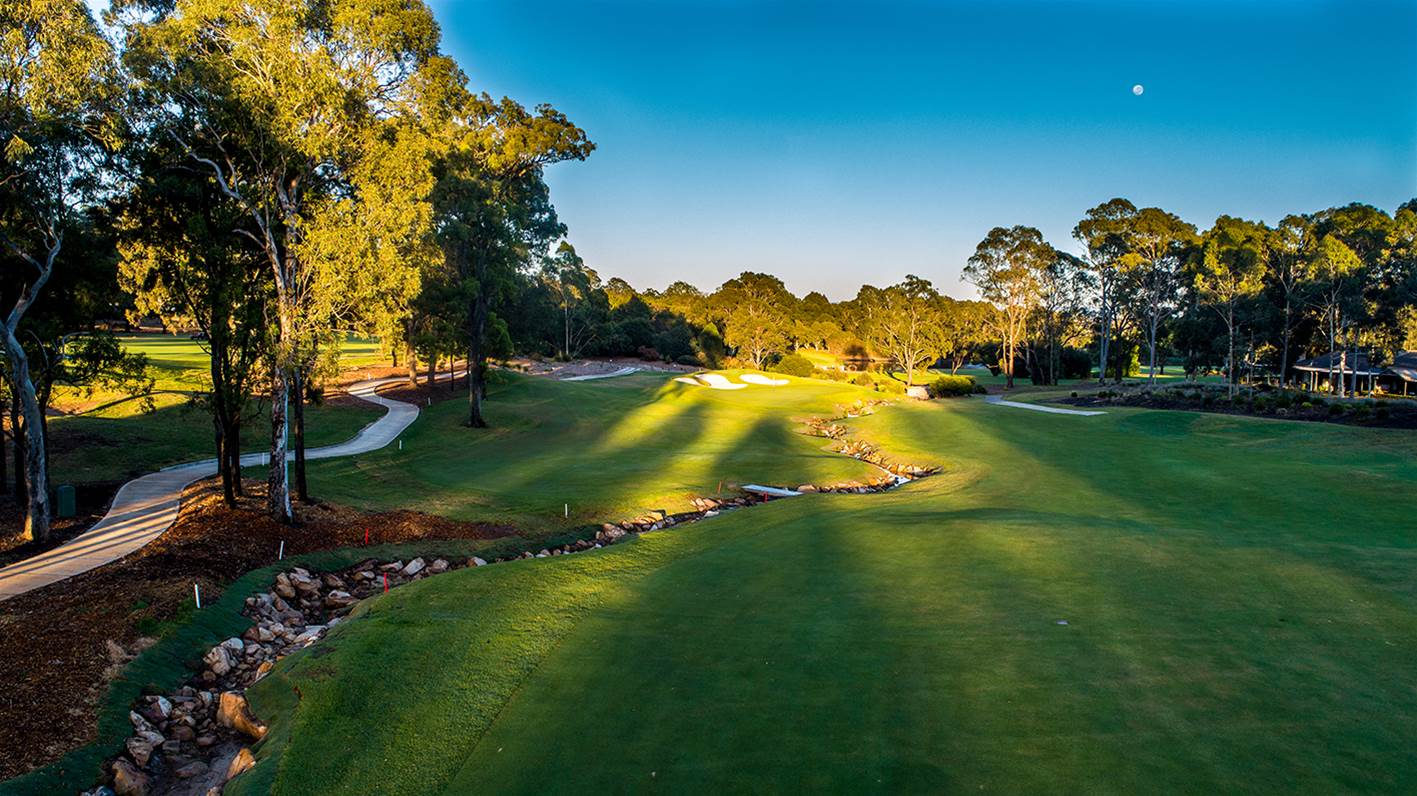 Castle Hill CC. PHOTO: Supplied.
98. CASTLE HILL CC
Norwest, NSW
Designers: Eric Apperly (1951); Jack Newton, Graeme Grant, John Spencer (1992-2006); Bob Harrison (2019).
Average points: 39.95.
DEBUT
Comments: "The major course works carried out by Bob Harrison, have seen great improvements. Returning to a more natural feel of the land, with unnecessary mounds and water features removed. Most notable was moving the 12th green closer to the water hazard enhancing the risk vs reward characteristics of the hole." – Carl Murphy.
"I was pleasantly surprised how bloody good Castle Hill has become since the renovations. The 12th hole, with its new green location, is one of many new highlights created by Bob Harrison and his design team. The bunker upgrade program has been a roaring success, while the overall presentation of the layout has taken this significantly improved course to the next level." – Matthew Greig.
www.castlehillcountryclub.com.au
97. THE BRISBANE GC
Yeerongpilly, Queensland
Designers: Carnegie Clark (1904); Dr Alister MacKenzie (1926 advisory); Ross Watson (2007).
Average points: 40.
2020, 2018, 2016, 2014, 2012 rankings: 97, 92, 95, 99, NR.
Comments: "Brisbane boasts some exceptional holes but, unfortunately, this is offset by several over-treed mediocre holes. If this issue was addressed, I've no doubt this historic club will enjoy a higher standing in this list." – Peter Shaw.
"The quality of the Champion Ultradwarf Bermuda putting surfaces is a big highlight of a round here. The fine leaf grass is smooth, and doesn't have the same amount of grain as other warm climate putting surfaces. They are simply a joy to putt on." – Nathan Burgess.
www.brisbanegolfclub.com.au
Brisbane GC. PHOTO: Brendan James.
96. KEW GC
East Kew, Victoria
Designers: Jock Robinson & Jock Young (1922); Various (1960s and 1970s); Graeme Grant (2015).
Average points: 40.15.
2020, 2018, 2016, 2014, 2012 rankings: 99, NR, NR, NR, NR.
Comments: "The tree-clearing program here has been pivotal in the significant improvement of Kew. You know longer feel boxed in and the quality of the turf throughout the course is excellent, which brings the best out of the design." – Hamish Walker.
"Kew is more open and inviting than it was before the redesign. There are some views across the course now that some people, like me, love and some don't. The real winner is being able to grow beautiful Santa Ana fairways and bentgrass greens now, with plenty of shaded areas now gone." – Kevin Nolan.
www.kewgolfclub.com.au