Restaurant Style Butter Chicken in Slow Cooker Recipe | ChefDeHome.com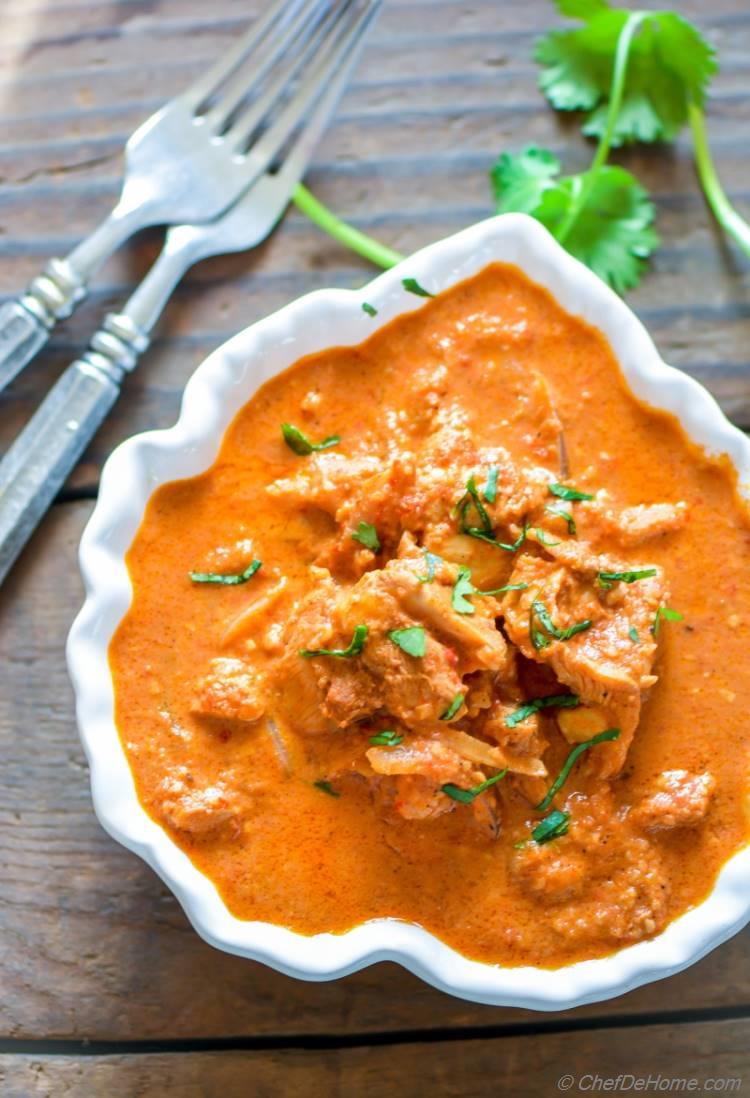 How about coming home from work, and a restaurant quality Indian Butter Chicken dinner is waiting for you?! Sounds tempting? Isn't it?  This is the charm of slow cooker, my friends. Today, I'm giving you one more reason to dust-off your slow cooker, for this easy Indian homemade Butter Chicken dinner!!
Ready to ditch the delivery?! 🙂
If you like Indian Food, this Slow Cooked Butter Chicken will be your new family favorite! I promise!
Just like you, I also get so busy or lazy some days that it just not feel like to stand in kitchen.  Specially these days, when Sun is shining so bright and my apartment kitchen is often 100+ degrees due to sun-facing from 2 directions. Since it is still little pleasant during early morning hours…. I love finishing the dinner prep in morning and then just enter kitchen for sometime in evening…. and dinner is ready! To fit my life-style, I have adapted many of Indian Curries or our other chicken dinner favorites,  to cook in slow cooker.
Slow Cooker gives me option to serve my family homemade dinner… no matter how day goes! and that's one of the BEST thing in my book.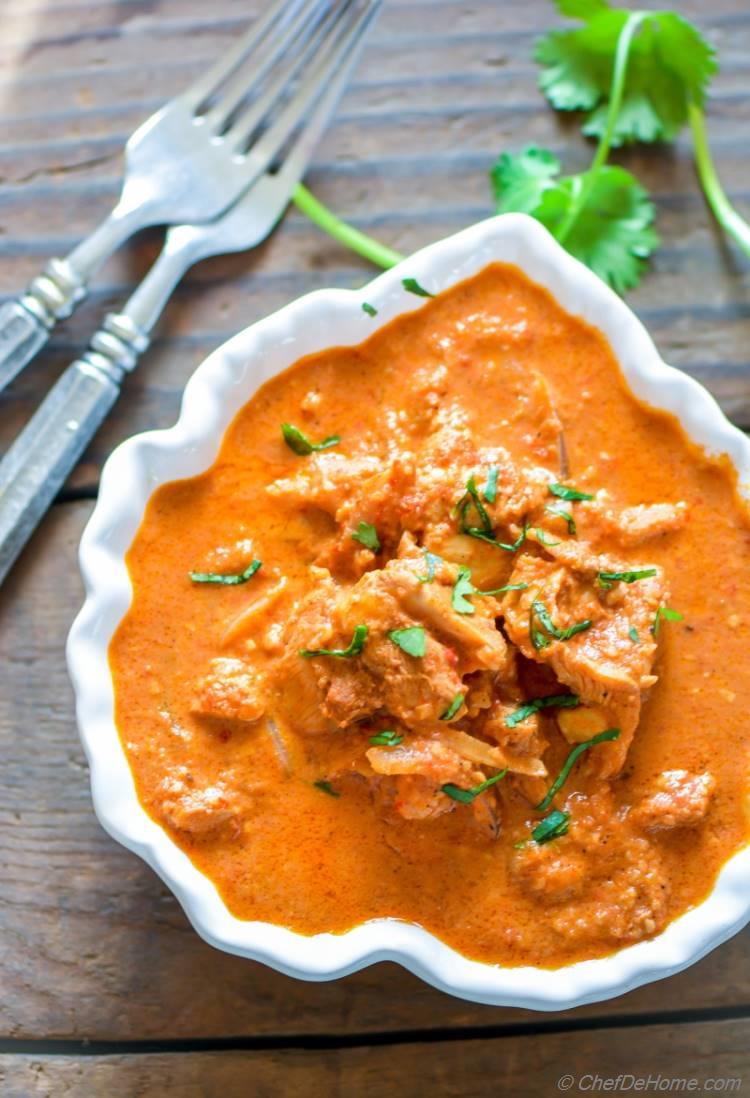 All effort needed to make this Butter Chicken is in blending the marinade and sauteing some onions in butter! Obviously! You can't have authentic Butter Chicken without butter. Right? However, butter chicken is not about butter and butter only… In-fact, it does not need a LOT of butter, at all! 
I'm an instant cook and often, especially with curries, it all depends on available protein and mood! 🙂 It all starts with phrase "Let's eat Butter Chicken Today!" Hence, no time to marinate chicken… So, I skip long marination. Just mixing marinate in chicken and then leaving on kitchen counter, while I slice onion, and saute. At the max, make breakfast tea for Vishal….. about 15-20 minutes and then I add chicken to the pan. And frankly, those 2-3 minutes in pan with butter, garam masala, and onions brings out lot of flavor. Plus slow cooking does the rest job for me. For the record, I never have missed long-marination in flavor.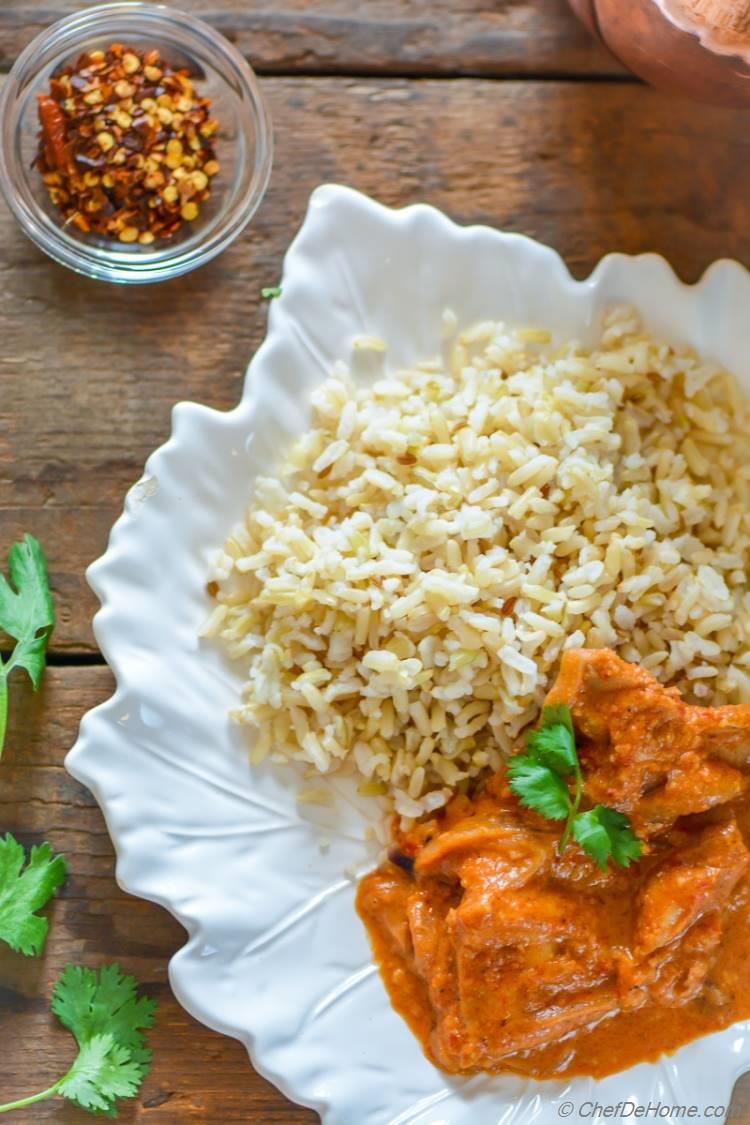 Butter Chicken as name suggests, is Indian chicken main course, cooked in butter and Indian spices…. because butter and spices make everything taste better! 🙂 These two key components are must to make a delicious Butter Chicken. However,  you don't need a stick of butter to make butter chicken flavorful. Butter does add distinct flavor, but there are also other ingredients that make Butter Chicken so flavorful.
Garam Masala is one main STAR spice (spice blend) used in classic Butter Chicken. This only spice is king of Indian Spices and adds ton of flavor! Just like Italian Herb De Provence or Chinese Five Spice, Indian Garam Masala is blend of potent Indian spices that alone can make or break a dish! 
So, to get restaurant style flavor in Butter Chicken, you have to add one main Indian spice – Garam Masala, to it! 
Few other ingredients that give Butter Chicken, a lush and creamy, restaurant like texture are tomatoes, almonds, yogurt, and finishing touch of little heavy cream. A very complex tasting dish sums up in these simple ingredients….. Each of these equally contribute to that addictive "restaurant-style" creamy and fragrant chicken.
TIP: I avoid using a lot of butter… However, just before serving, you can add a teaspoon of salted butter in hot bowl of Butter Chicken, for that extra punch of flavor…. exactly like it is served in restaurants. 🙂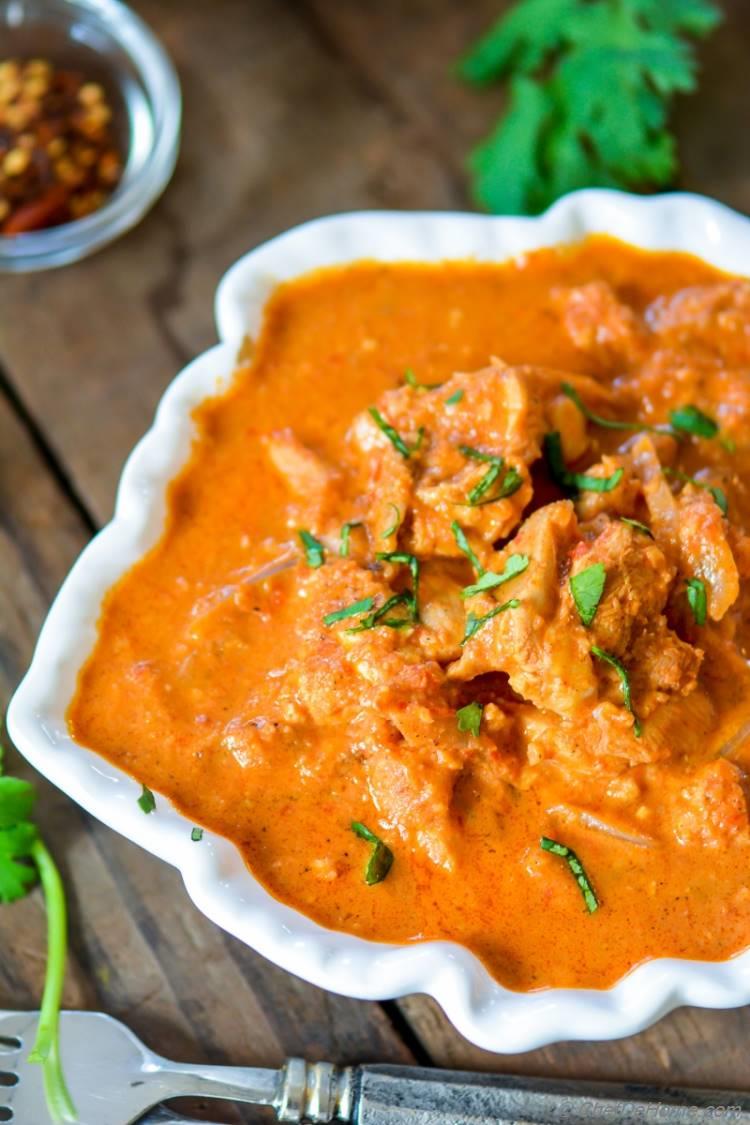 This butter chicken recipe is very simple.  Also, I have kept method of preparation very simple and standard. You can say, this recipe has evolved over-time from my earlier Butter Chicken recipe. From standard I mean, using this recipe, now you can make butter chicken, at home, with any cooking method of your choice. 
1. Slow Cooker  – Follow the recipe instructions as-is below.
2. Oven – Follow up-to step 4. Preheat oven to 350 degrees Fahrenheit. After step 4, transfer the chicken to an oven-prove dish, cover with aluminium foil or a heat-safe lid, cook in oven for 25 minutes, then uncover lid and cook for 10 minutes. 
3. Stove Top: Follow up-to step 4 using a deep heavy bottom pan (like a dutch oven) instead of a saute pan. Then add 1/4 cup water, cover and cook covered on medium-low heat for 20-25 minutes or until chicken is fully cooked.
You know, after looking at so tempting pictures, I'm drooling and famished too! Time to grab some lunch! You all have a great day! – Savita