TH Group dairy products enter Chinese market, meeting all stringent quality requirements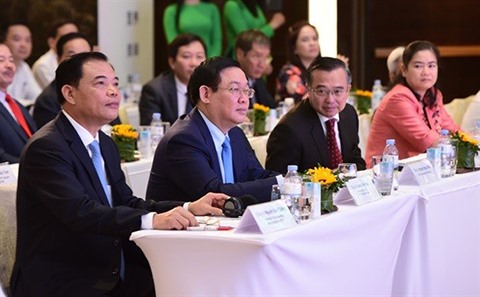 Deputy Prime Minister Vương Đình Huệ (second from left) and Minister of Agriculture and Rural Development Nguyễn Xuân Cường (first form left) attend the ceremony to announce the first batch of TH Group's dairy products being sent to China in Hà Nội on October, 22. — Photo courtesy of TH Group
TH Group, a big Vietnamese fresh milk producer known for its TH true MILK brand, has become the first Vietnamese enterprise to export fresh milk products to China after its dairy products have met strict requirements and conditions set by the neighbour with a population of 1.4 billion. 
China: not an easy-going market
Việt Nam's authorities have encountered certain difficulties in negotiating for a Vietnamese agricultural product to be officially exported to any country, especially when the agriculture industry of Việt Nam is still fragile with inadequate technological application and a shortage of standard farming processes.
Let's take the Chinese market as an example. To date, the majority of Vietnamese farm produce is shipped to the Chinese market in small volumes via border-gates.
For dairy products, though China has opened its market to imported milk since 2013, Vietnamese dairy producers failed to access this market until October 2019, when TH Group became the first enterprise granted a code to export its dairy products by the China General Department of Customs.  
RED : BSCEX Price, BSCX Price Chart & Market Cap | DigitalCoinPrice
Lê Thanh Hòa, deputy director of the Agricultural Product Processing and Market Development Department under the Ministry of Agriculture and Rural Development, said over the past six years his department has worked closely with the Chinese side in clearing a way for Vietnamese dairy products to enter the neighbouring market.
The approval of the export of TH Group's dairy products to the Chinese market marked a turning point in Việt Nam's negotiations and settlement of export supervision issues, especially those in food safety, Hòa said.
According to trade experts, China is not an easy-going market as many people have thought. In order to penetrate this market, TH Group's dairy products have overcome strict technical regulations and standards (nearly 1,300 criteria and standards). The product quality has been tested by Chinese experts and authorities.
Surveys by the National Assembly's Economic Committee showed that only large enterprises with sufficient financial capacities and strong abilities in market analysis could penetrate and then successfully conquer the Chinese market.  
Nguyễn Đức Kiên, deputy chairman of the committee, said it is not easy for household businesses and small retailers to enter this neighbouring market.
A "sweet fruit" from effective business strategy
Kiên said that TH Group is not only an exporter but also a manufacturer with its own material areas. The enterprise itself has formed a chain of good production from farming, seeding to production and processing, to market research and sale.
"Here we see a lesson for Vietnamese businesses that want to penetrate the Chinese market. If they do not conduct thorough research about the market and do not apply technology from the beginning stage of production and fail to ensure the quality of their products during the production process, it will be very difficult for them to overcome technical barriers of importing countries," Kiên said.
RED : 13 Easy Super Bowl Snacks and Recipes From TikTok to Prepare for Game Day
Earlier, in May 2019, during the Việt Nam Private Economic Forum 2019, TH Group chairman Ngô Minh Hải shared his firm's journey in building a sustainable agricultural value chain.
TH Group is one of the few private enterprises in Việt Nam that has implemented a closed production chain from farms, factories to distribution systems to consumers.
In the company's business strategy over the past decade, it has focused on ensuring sustainable development, accelerating high-tech agricultural production and fostering digitalisation of animal husbandry to develop the scale of dairy cows. To date, the company is home to 45,000 dairy cows – the largest amount in Asia.
According to TH Group, technology is the golden key to its success and helps create an influential brand. In the future, the group expects to contribute to the larger development scale of the livestock industry. The firm with technological strength can play a leading role, helping farmers join its production chain in order to establish an inter-value chain in dairy production in the country.
TH Group's dairy products are showcased at a supermarket in China. Photo courtesy of
TH Group
Two groups of TH dairy products allowed to export to China are pure sterilised fresh milk and pasteurised fresh milk with natural flovouring. Earlier, the group officially exported yogurt products to this market. They were well received by Chinese distributors and Chinese consumers.
Source: https://bloghong.com
Category: en