The 16 Best Places to Eat in Burbank You Should Definitely Try if You're in the Neighborhood
Located just over the hill from Hollywood and separated from the culinary hotbeds of Silver Lake and Los Feliz by the whole of Griffith Park, Burbank may not be known for having the most sophisticated food scene, but really that's just part of the appeal.
Still retaining a small-town feel despite the presence of two huge movie studios,  Burbank boasts a Mayberry vibe (well, as close as you can get in L.A.) and offers tons of free parking. Oh, and some excellent food options too!
Advertisements
While Downtown Burbank has a plethora of chain restaurants, venture out a bit into other parts and you'll find green tea pancakes, Irish moonshine that's illegal to consume — or even make — on the Emerald Isle, old-school eateries once frequented by the likes of Walt Disney and the Beatles, and some of the most butt-kicking breakfast burritos in L.A.
Check out our list below, and start tasting some of the best food that Burbank has to offer.
(Numbered only for reference, listed in no particular order)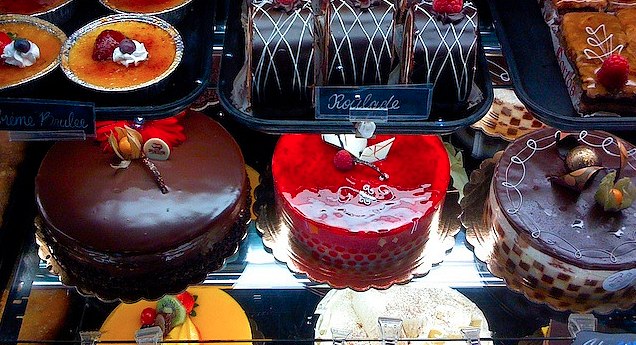 1. Porto's Bakery & Cafe
This Cuban bakery and eatery is always packed and the lines are long, but they move quickly. Once you've tried Porto's, you'll see why goodies like chorizo pie, potato balls, tres leches cake, mango cheesecake, guava and cheese pastries and medianoche sandwiches keep luring 'em in.
More information
[RELATED: The 20 Best Places to Eat in The Valley That Every L.A. Foodie Ought to Try Once]
2. Corner Cottage
This unassuming joint offers probably the best breakfast burrito in the entire city. You might have to wait 15 to 30 minutes but it's so worth it for this sublimely simple cylinder of eggs, potato, cheese and bacon or sausage with house-made jalapeño salsa. Evidently they serve non-burrito items too but few people seem to try them. Why stray from perfection?
More information
3. Bea Bea's
Bea Bea's is a much-loved breakfast and brunch spot that serves over 20 types of pancakes, among them green tea pancakes laden with white chocolate chips and topped with green tea mascarpone, Pacific Island pancakes (bananas, coconut, pineapple and caramelized walnuts), and chocolate pumpkin French toast.
More information
4. Bob's Big Boy
Dating back to 1949, this historic landmark, designed by the great Googie architect Wayne McAllister, is the oldest Bob's Big Boy still standing. Come for the famed Big Boy Combo — a double-deck burger served with French fries and a salad topped with their legendary blue cheese dressing — and stay for the ice-cream filled Hot Fudge Cake. If you want to sit at the booth where the Beatles ate during their 1965 tour, it's the last booth on the right.
More information
[RELATED: 17 Fun Things To Do In Burbank If You're in The Neighborhood]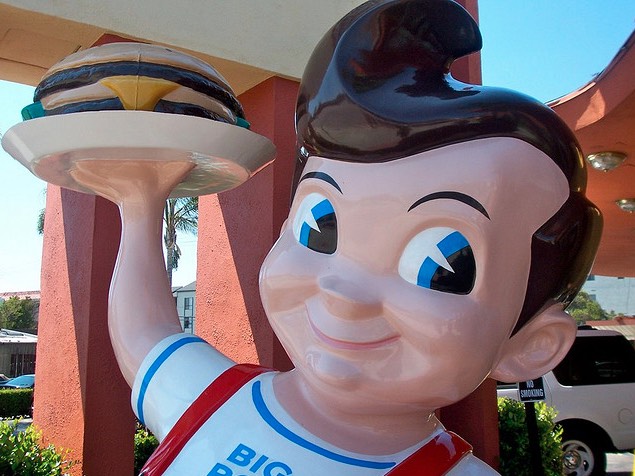 5. Luna Vine Wine Bar
Opened in 2014, Luna Vine Wine Bar is sleek and chic. Offering 50 wines by the glass and eight craft beers on tap, they've also got excellent tapas and cheese and charcuterie plates. Craving something more hearty? Try the delectable short-rib Cuban sandwich.
More information
6. Story Tavern
This locally owned and operated Crafsman-style tavern is gorgeous, with plenty of eye candy via its stained-glass windows, tables and chairs handmade by the Amish and numerous photos depicting Burbank history. The food here is simple and straightforward, with options such as the Irish potato pancakes known as boxtys, Belgian mussels and a Guinness mushroom burger. Story Tavern is a fantastic option for the gluten-free: almost everything here can be ordered sans gluten, as one of the owners has Celiac disease. The craft cocktail menu offers many a Prohibition-influenced libation, along with six ciders on tap, over 40 tap beers and Irish moonshine.
More information
Savor our Mac Attack Burger! Classic Mac & Cheese, thick sliced applewood bacon with gooey melted Swiss cheese served on a potato bun. We're sure you deserve it. Available in full-on #GlutenFree form too!

A photo posted by Story Tavern Burbank (@storytavern) on May 8, 2014 at 11:39am PDT
7. Chili John's
This old-school diner has been serving pretty much nothing but Texas-style chili for the past 65 years. Unpretentious and spare, and especially popular on chilly days, you'll want to sit at the horseshoe-shaped counter for the specialty of the house, on its own or over spaghetti, rice or a tamale, then maybe chase it with a slice of their renowned lemon meringue pie.
More information
[RELATED: 15 Best Places to Eat in North Hollywood Every L.A. Foodie Should Have on Their Radar]
8. Quenelle
This tiny shop offers delicious ice cream, with such adventurous flavors as black sesame macaron, IPA, horchata, vanilla cognac, blueberry pie, jasmine tea and mango chile lime. You just may get hooked on the apple pie ice cream bars, along with baked goods like decadent sea salt chocolate chip cookies and bacon-cheddar scones.
More information
9. Café de Olla
Recently opened, this mom-and-pop Mexican cafe is named for their delicious signature coffee, made on the stovetop with cinnamon and piloncillo but you'll also find tasty chilaquiles poblano, huevos divorciados, mole enchiladas, banana-pecan French toast and American burgers and sandwiches. If you want dinner, be sure to get there early, as they close at 8pm.
More information
Advertisements
10. Giamela's
This hidden gem of a sub shop is in no way fancy or artisinal, but if you want comfort food in sandwich form, this is the place. They're especially known for their pepper steak sandwich, featuring lean meat, melted cheese and chopped pickles, tomatoes and onions, but their pastrami and meatball 'wiches are also beloved.
More information
11. Tonys Darts Away
One of LA's best beer bars, Tony's Dart's Away has been deemed "world class" by Beer Advocate. Offering an extensive selection of craft beers, all from California and all on draft, Tony's also has great food options, including their famed vegan sausages, Korean bowls and sweet potato fries glazed with maple, chipotle and crushed almonds. Tony's is about more than eating and drinking, however, thanks to a pool table, loads of board games, trivia nights and a dartboard.
More information
[RELATED: 16 Bars in The Valley Every Pub Enthusiast Needs to Have on Their Radar]
Rosemary sliders! Rosemary pork belly, horseradish aioli, and fried onions on a bun. Served with sweet potato waffle fries! This week at #tonysdartsaway!

A photo posted by Tony's Darts Away (@tonysdartsaway) on Jun 10, 2015 at 4:28pm PDT
12. Commonwealth Restaurant
One of Burbank's more sophisticated food choices, Commonwealth is all about globally inspired small plates. With a rustic yet elegant vibe, Commonwealth is known for elevated dishes like butterscotch pudding with crisp prosciutto, Maine lobster and truffle croquettes and Nueske bacon and burrata with onion compote and crispy leeks.
More information
13. Taqueria El Tapatio
Muy casual, this family-owned Jalisco-style Mexican spot is the other place to go in Burbank for bomb breakfast burritos. Get them stuffed with chorizo or bacon, along with hash browns, eggs and salsa. Their creamy refried beans, carne asada tortas and tacos el pastor also make this eatery destination worthy, as does the extensive salsa bar, featuring pickled potatoes, carrots and peppers along with radishes and several house-made salsas. It's the perfect place to grab a carnitas burrito to-go before a trip out of Burbank airport, located just blocks away.
More information
14. World Empanadas
Boasting a chef educated at Le Cordon Bleu, this family-owned takeout spot offers around a dozen versions of the stuffed pastry, with options for vegetarians and carnivores alike. The most acclaimed choices are the spinach empanada, which includes three types of cheese, onions and lemon, and the ground beef with green olives, peppers and potatoes. Craving dessert? Try the empanada stuffed with Nutella and banana. Dip your savory empanada in the chimichurri sauce, redolent with garlic and spices. The house made aguas frescas are also a must.
Advertisements
More information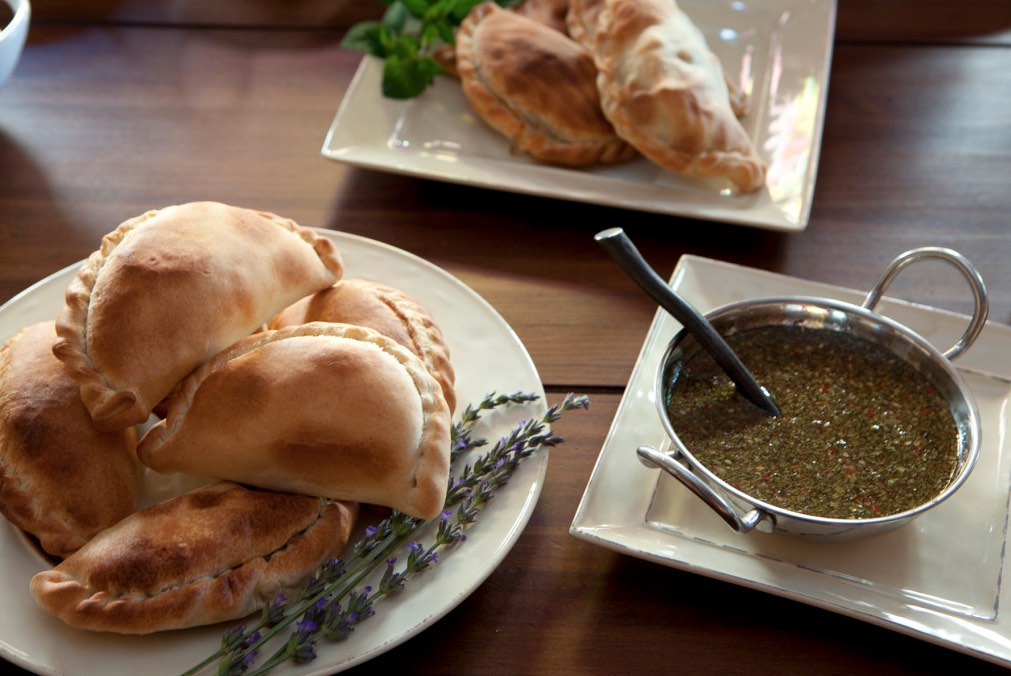 15. Santoro's
Santoro's has been serving up sandwiches — huge ones — since the 1950s. The locally sourced pastrami is juicy, smoky and well-textured and probably the most beloved item on the menu. The meatball sub is also seriously delicious, as is the pepper steak and egg.
More information
16. Pupuseria del Valle
This Salvadoran eatery is a hidden gem. Specializing in pupusas, these thick cornmeal disks resemble thick tortillas and are topped with topped with cheese and loroco (an herb native to Latin America), chorizo, revuelta (beans, pork and cheese), cheese and squash and more. Going for just $1 each on Tuesdays and Fridays, they might be the best food bargain in the Valley. You'll also want to try the Salvadoran horchata, the sandwich stuffed with beans, cheese and sour cream, the fried plantains and the superior curtido.
More information
What are your favorite spots to eat in Burbank? Let us know your picks in the comments below!
Advertisements