The 20 Best Sushi Restaurants around Boston
The 20 Best Sushi Restaurants around Boston
Whether you're seeking a cheap and easy spicy tuna roll or a multi-course omakase experience, here's where to go.
This Post: The 20 Best Sushi Restaurants around Boston
Devoted foodies and restaurant newbies love The Feed. Sign-up now for our twice weekly newsletter.
Incredible sushi is not generally in the repertoire of most amateur home cooks, given that super-fresh seafood and precise knife work are the main ingredients. Luckily, though, Boston is swimming with fantastic options for letting the experts work their magic. Below, we've curated a list of the best spots in Boston to find dependably delicious sushi, whether you're seeking a cheap and easy spicy tuna roll on a Tuesday, or have a hankering for sturgeon caviar on a Saturday night.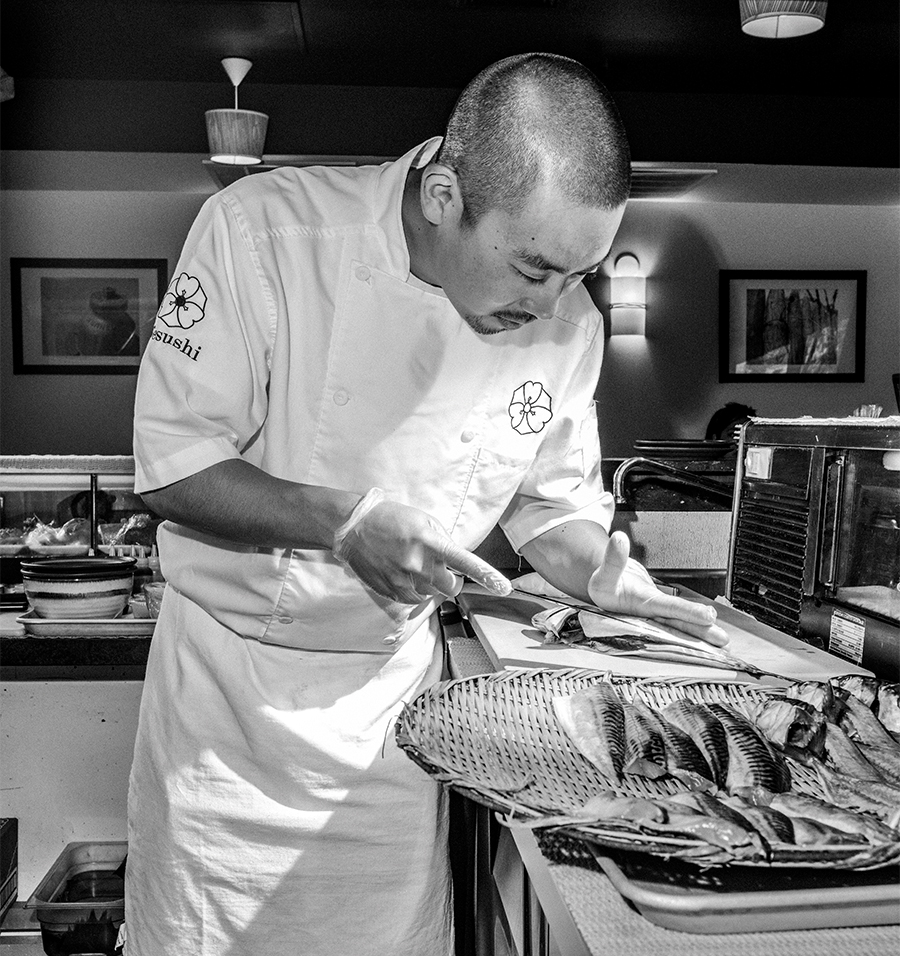 Café Sushi
Strip malls are hardly correlated with quality sushi dining, or an acclaimed omakase for that matter. But Café Sushi exists in defiance of its location's stereotype. Chef Seizi Imura, who inherited the restaurant from his parents in 2007, has transformed the menu (and, more recently, the interior) of this longstanding Cambridge sushi spot, amassing a dedicated following of sushi aficionados and earning a handful of Best of Boston awards along the way. The secret to Imura's success? No frills. Imura's simple nigiri allows the freshness of each cut of fish to shine through.
1105 Mass Ave., Harvard Square, Cambridge, 617-492-0434, cafesushicambridge.com.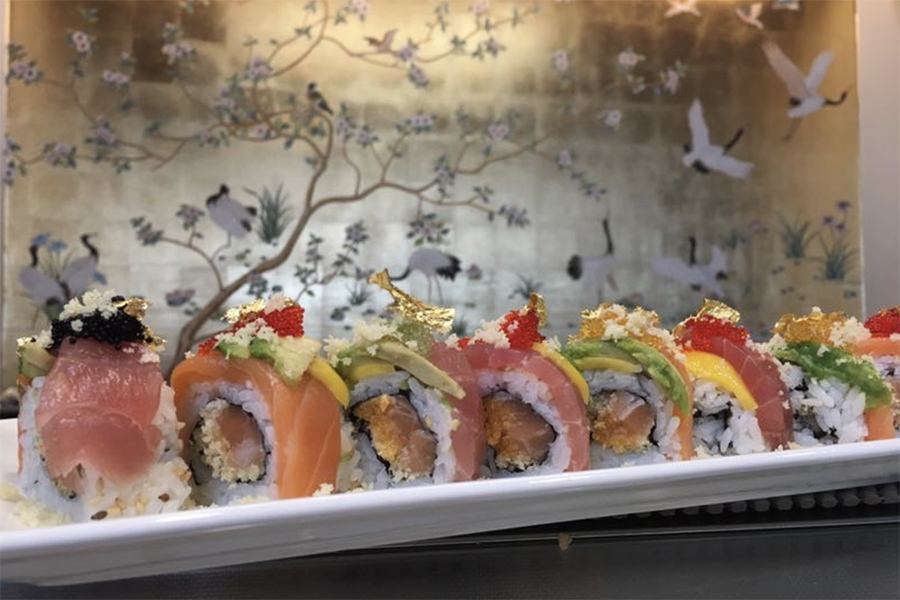 Chiharu Sushi & Noodle
There's a reason why this Route 9 restaurant has become a local favorite in recent years around Brookline and beyond: Chef Qun Li's consistently creative, well-balanced sushi rolls. Since 2017, he's been serving up always-fresh and reasonably priced maki like the mango and gold leaf-topped house tuna roll; a Boylston Roll, with tamago (Japanese omelet) and lobster salad; and the Kiss of Fire spicy tuna roll.
370 Boylston St, Brookline, 617-487-8684, chiharusushi.com.
Douzo
If the Douzo's modern, lounge-like dining space doesn't promptly set an izakaya tone, appetizers like sweet pepper octopus ceviche and torched salmon with a sweet crab meat salad will definitely do the trick. The sushi, though, is also top-tier at Jack Huang's Back Bay sushi restaurant, from the toro jalapeño roll, filled with asparagus and layered with torched toro, to the sweet miso yellowtail roll with mango and fried onion. And if it's a special occasion, start with the XO toro—slices of fatty tuna on a flaming stone, spattered with sturgeon caviar and a spicy sauce.
131 Dartmouth St., Back Bay, Boston, 617-859-8886, douzosushi.com.
Ebi Sushi
Somerville's bustling Union Square attracts new diners every day, and they've taken notice of a local darling: Ebi Sushi. Recently remodeled, the spot is beloved for its raved-about torched salmon belly, a 10-piece omakase for $42, and the box-molded Somerville roll, topped with sesame-sprinkled tuna tartare and scallions. Stuck on the other side of the river? Ebi Sushi owner Jose Garcia opened a takeout-friendly spot called Sushi Kappo in the Fenway neighborhood in 2017.
290 Somerville Ave., Somerville, 617-764-5556, ebisushi.com.
Fat Baby
A sleek wood-paneled interior, hamachi crudo, larger-than-life powdery portraiture on the walls, and plenty of sake and sangria—what more could you ask for from an über-mod Asian fusion restaurant? Along with pan-Asian plates like dumplings and noodles, expect unexpected sushi rolls such as the White Tiger (seared albacore with crab stick and sesame aioli) and the So Beefy, a short rib roll with spicy queso fresco. The vibrant atmosphere is also a prime place for fun drinks like frosé and the peppery, Ghost Tequila-spiked Cry Baby.
118 Dorchester St., South Boston, 617-766-3450, fatbabysouthboston.com.
Fish Market Sushi Bar
Though the name may deceive you, this budget-friendly Allston sushi spot is a restaurant, not a retailer. The menu is chock-full of sushi joint staples like caterpillar and rainbow rolls, as well as a host of fancier menu items. If the $30 chef's choice selection of 16 pieces of fresh nigiri doesn't reel you in, the foie gras nigiri with truffle just might.
RED : $RAC Rainc Coin Price Chart, Crypto Market Cap + Trade Or Swap Solana SPL Token
170 Brighton Ave., Allston, 617-783-1268, fishmarketsushibar.com.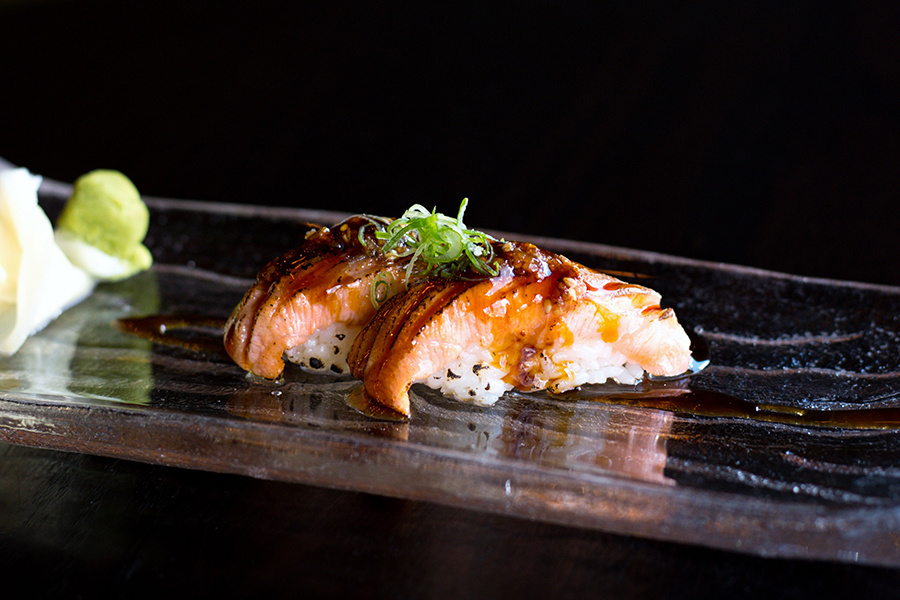 Fuji at Ink Block and WoC
In 2016, the opening of Fuji at Ink Block marked the transformation of the formerly industrial-commercial South End strip into a hot scene for day and night dining, shopping, and gathering. And as the 10th restaurant opened by chef Jimmy Liang's JP Fuji Group, Fuji at Ink Block stands out for graceful service and elegant plating, enticing both experts and novices alike for omakase and approachable a la carte menus. The JP Fuji Group's flagship Fuji at WoC in Quincy Center, meanwhile, is also revered for its fine touch, with specialty maki-menu items like the honey-drizzled Siren's Kiss, filled with katsu-style tempura shrimp, avocado, and cucumber, and topped with spicy honey-grilled kanikama, scallops, and black tobiko.
352B Harrison Ave., South Boston, 617-936-3282, fujiatinkblock.com; 1420 Hancock St., Quincy, 617-770-1546, fujistwoc.com.
JP Seafood Cafe
Its casual, comfortable dining room is a fine place to unwind, but this Korean restaurant-slash-sushi spot is also regarded as a reliable takeout mainstay in Jamaica Plain. The Sunshine maki is a menu staple and a bright taste of summer, with salmon, lemon, cilantro, and cucumber; that said, there's a huge menu with something for every craving, from spicy seafood soup to sashimi to a selection of vegetarian maki rolls.
730 Centre St., Jamaica Plain, 617-983-5177, jpseafoodcafe.com.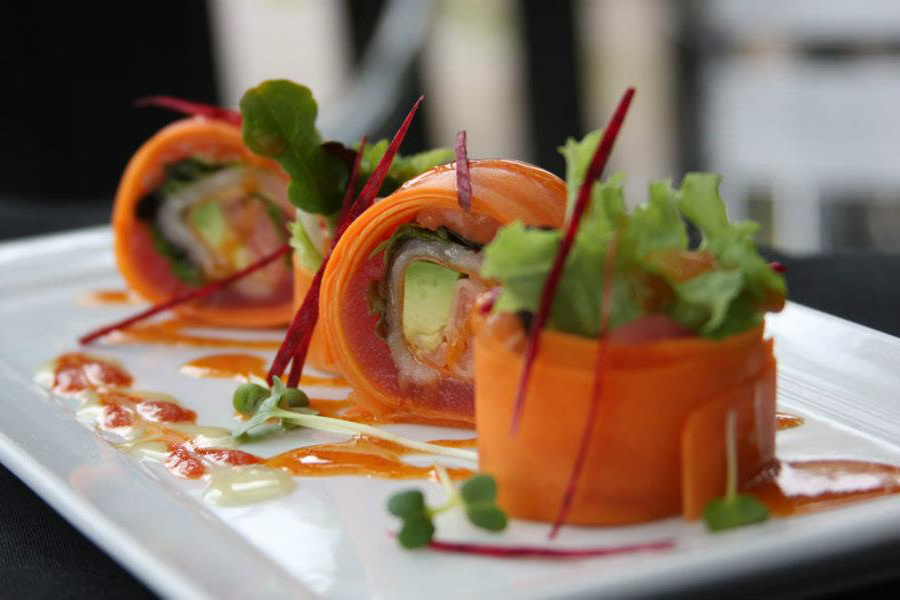 Laughing Monk Cafe
Sushi chef Nick Korboon's strictly brown rice rolls buck conventional sushi norms, and may perplex traditionalists. Yet his particularly artful constructions, which invoke microgreens and flowers grown in his personal greenhouse, nonetheless entice hungry diners. Though Laughing Monk Cafe also offers a large and authentic Thai food menu, Korboon's creative maki is a highlight, thanks to selections like the spider roll, composed of soft-shell crab and shiso leaf, with sauce spiked on the plate in the shape of a gauzy spider's web.
737 Huntington Ave., Boston, 617-232-8000, laughingmonkcafe.com.
LoLa 42
Along with a robust selection of specialty sushi, this Seaport restaurant serves up a wide-ranging bistro menu, too—with great waterfront dining available. An offshoot of Nantucket's Lola 41, the (pricy) global menu pulls inspiration from countries along the 42nd parallel, from Italian gnocchi Bolognese to Japanese fare. That includes specialty maki like the Hoka Sake, a maki roll of hamachi and avocado topped with torched salmon, unagi sauce, and scallions.
22 Liberty Drive, Seaport, Boston, 617-951-4002, lola42.com.
Momi Nonmi
If you've been missing the spontaneous revelations of an omakase experience—when bite after bite of fresh, finessed seafood heads right from the sushi chef to your table—head to Momi Nonmi, where Chris Chung now offers such multi-course, chef's-whim feasts for on-site dining (reservations required). A la carte ordering is still available for takeout, and don't forget to ask about the reserve bottles of sake.
1128 Cambridge St., Inman Square, Cambridge, 617-945-7328, mominonmi.com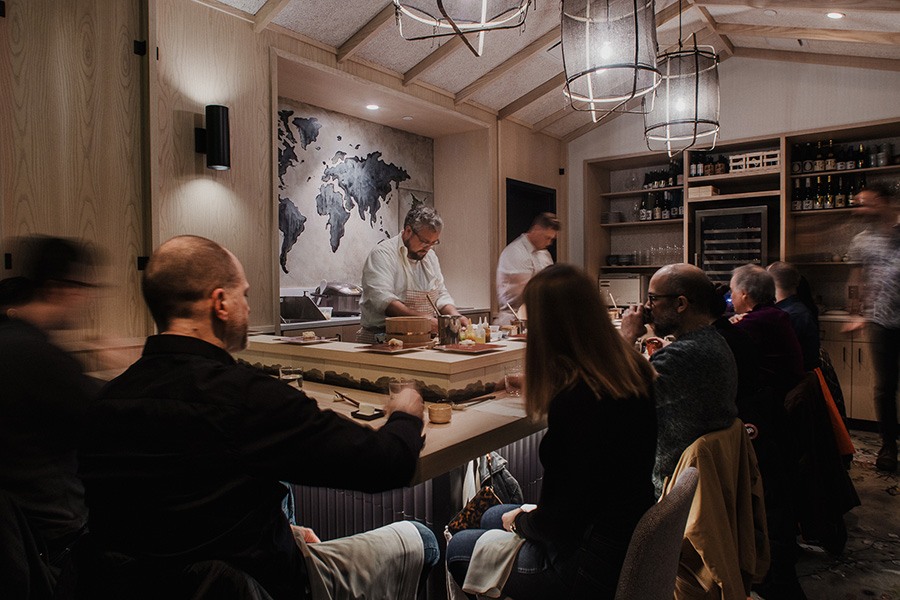 No Relation
Chef Colin Lynch might be best known for the coastal Italian crudo and pastas at his first restaurant, Bar Mezzana, but he's a talented sushi chef, too, having honed his slicing and ricing skills with a stint at O Ya. At No Relation, the nine-seat sushi counter housed within his second South End restaurant, Shore Leave, his 14-course omakase offerings—think hamachi nigiri with soy, onion, and black truffles, or sunomono-style aji sashimi with sesame and dashi—showcase the same mastery of flavor combinations that's earned Bar Mezzana's crudo so much praise. Bonus: The unexpected selection of unique wines and sake, curated by general manager Kevyn Ashton.
11 William E. Mullins Way (located within Shore Leave), South End, Boston, 617-530-1772, norelationboston.com.
Oishii
As a kid, chef Ting Yen's father put him to work in his restaurant, fostering a respect for the culinary arts that has persisted to this day. Of particular importance to Yen and his father was the freshness of their fish, which he picked up from the market each morning. Yen devotes the same careful attention to his own restaurant, which has earned multiple Best of Boston awards. Experience Yen's mastery of the craft with creations like savory seared hamachi and truffle maki, or a California roll elevated with real snow crab.
RED : How to Write a Cover Letter to a Company That Does Not Have a Job Opening
1166 Washington St., South End, 617-482-8868, oishiiboston.com.
Oppa Sushi
This tiny restaurant stowed in a basement on Harvard Ave. continuously exceeds expectations. When in need of affordable, fresh sushi in Allston, pop in for impressive rolls like the Fire Bruins Maki, a shrimp tempura roll tucked in an aluminum foil boat and served flaming hot—literally. Even with folding chair-style seating and eclectic decorations, this humble sushi restaurant has earned its stripes as a neighborbood staple.
185 Harvard Ave., Allston, 617-207-8960, facebook.com.
O Ya
When newbie restaurateurs Tim and Nancy Cushman opened their first eatery in the Leather District in 2007, they could never have imagined it would be named the best new restaurant in the U.S. And yet, as their company continues to grow with Fenway's Hojoko and Bianca in Chestnut Hill, as well as New York City restaurants and O Ya Mexico City, their original sushi bar is still the crown jewel. With an extensive sake menu and a hefty price tag (the grand omakase will run you $250), chef Tim Cushman's sushi menu is packed with opulent bites that might include house-smoked wagyu nigiri, scallop sashimi with burgundy truffle, and the renowned "legs & eggs" nigiri with Maine lobster legs, white sturgeon caviar, and tomalley aioli.
9 East St., South Boston, 617-654-9900, o-ya.restaurant.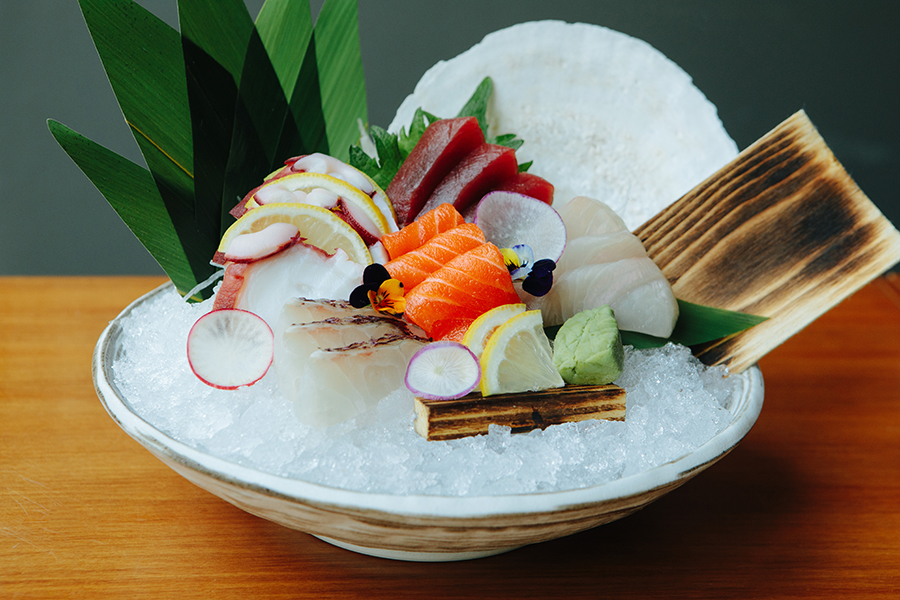 Pabu Boston
This voguish izakaya at Millenium Tower is run by internationally known chefs Ken Tominaga and Michael Mina. It boasts some of the freshest seafood in Boston—and is a popular date-night draw. As are the impressive Japanese whiskey and sake lists, featuring the blue-bottled Tsujizenbei Tobingakoi, which isn't available at any other restaurant in the country. If you're in the mood to try something new, Pabu's luxury sushi platter features rare cuts like ishidai (spotted knifejaw), kinmedai (golden-eyed snapper) or kamasu (Japanese barracuda).
3 Franklin St., Boston, 857-327-7228, michaelmina.net.
Ruka Restobar
The ultra-modern yet earthy decor of Ruka's dining room is compelling and complementary, just like the nikkei menu of Japanese and Peruvian fusion cuisine. On the sushi menu, that results in a few rolls distinctive for their South American touch, like the Nasu Dragon with panko-fried eggplant, shiso chimichurri, and aji verde.
505 Washington St., Boston, 617-266-0102, rukarestobar.com.
Umami Omakase
In the fall of 2019, the longtime home of Hana Sushi became a new, dream restaurant by chef Gary Lei (formerly of Uni): Umami Omakase is an intimate spot offering progressive, set menus driven by the freshest ingredients. For the takeout era, Lei has a few different options: A mini omakase complete with nine nigiri and a chef's-choice maki roll, plus a side of miso soup; a seasonal bento box of sashimi and specials; and rice bowls for takeout. Find out why it's our currently reigning Best of Boston winner in its category.
2372 Massachusetts Ave., Cambridge, Massachusetts, 617-868-2121, umamiomakase.com.
Uni
James Beard award winner Tony Messina has moved on from his perch at Uni, star restaurateur Ken Oringer's modern izakaya in the Back Bay. Now new executive chef Davis Bazirgan is strutting his stuff and making his own mark. One thing that hasn't changed, though, is that Uni remains a top spot in the city for sushi, thanks to maki like the toro with shallot and caviar, as well as abundant nigiri options including Ora King salmon, sea bream—and of course, uni.
370A Commonwealth Ave., Back Bay, 617-536-7200, uni-boston.com.
Zuma Boston
It was a big deal when this swanky sushi bar and robata grill opened on the second floor of the Four Seasons One Dalton a couple years ago. For good reason: the 12th outpost of an international brand, with other locations in major cities like London and Dubai, Zuma Boston looks like a million bucks. More importantly, though, it delivers on the food front with all manner of nigiri and maki—adorned with Siberian caviar, at an extra coast—including inventive ideas like torched salmon belly with tomato relish and fresh truffle.
1 Dalton St. (Four Seasons), Boston, 857-449-2500, zumarestaurant.com.
Source: https://bloghong.com
Category: en