The 7 Best Restaurants in Costa Brava: From the Mountains to the Sea
In the Costa Brava you are guaranteed to get the tastiest products from the sea and the mountains on your plate. It is even tradition here to order a tasteful surf and turf. From olives with anchovies to chicken with king prawns, you can be sure that the local ingredients are freshly prepared. In 7 days we discovered the best restaurants in the Costa Brava to eat you from the mountains to the sea.
1 | Els Caçadors in Ribes de Freser
Located in the Spanish Pyrenees, Els Caçadors embraces all things slow food. Chef Ramon Pau is the fourth generation in his family to run the restaurant. They guarantee you local, fresh and homemade dishes prepared with love and time. So don't be surprised if your pig is cooked for more than 20 hours and your mountain chicken for more than 12 hours.
Be sure to ask them about the specialties of the moment. We were lucky that a special lettuce variety, the chicoies, were just in season. This lettuce only appears when the snow melts and was delicious in their salad with fish and as tempura. The wine list features Catalan wines that are the perfect complement to the goodies on your plate.
Book at the site restaurant Els Caçadors
Opening hours:

Breakfast from 8am to 10:30am
Lunch from 1pm to 3pm: 30 am
Dinner from 8:30 pm to 10 pm

Address: Carrer del Balandrau, 24, 26, 17534 Ribes de Freser
Els Caçadors is one of the best restaurants in Costa Brava

Chef Ramon from Els Caçadors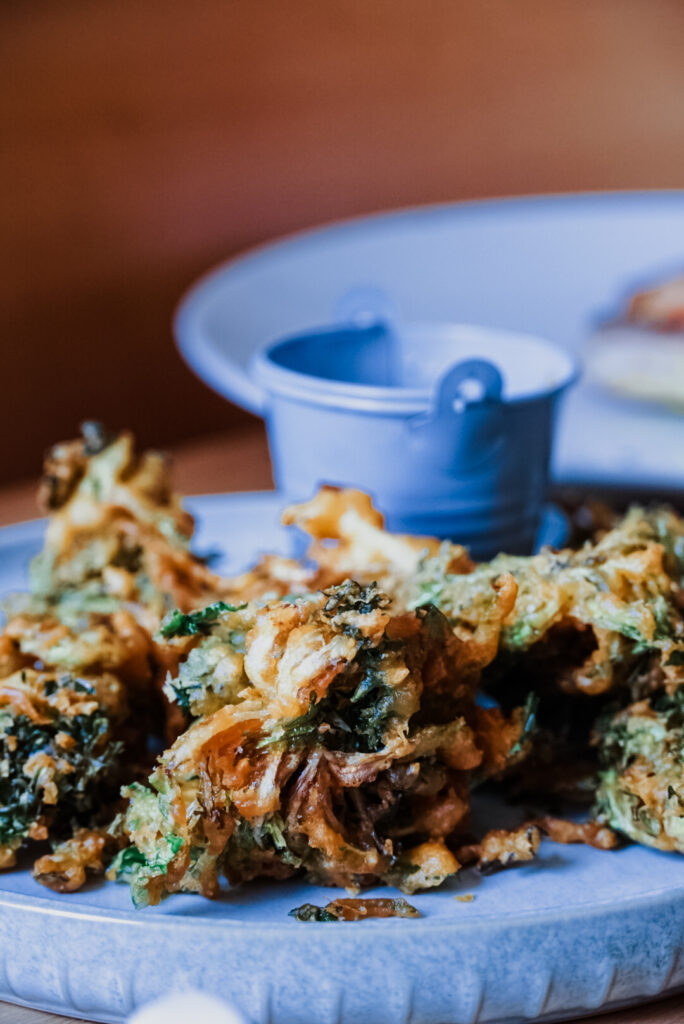 Chicoies tempura
2 | Casa Marieta in Girona
Want to taste rock solid traditional Catalan dishes prepared without nonsense? Then you've come to the right place in the family setting of Casa Marieta in the center of Girona. The name of the restaurant comes from the first owner and actually means 'at Marias place'. Marieta got her products from the market in the square in front of the door and prepared her homely food for the neighbourhood. The restaurant has been around since 1892 and you find that in many details, just notice the tap at the counter and the old well down with the toilets.
It is best to book your spot in advance because it is not uncommon for the local Spaniards to line up at the door before opening time. Before you can blink, the room is full and the first tables already have food in front of them. Some recommendations are Marieta's cannelloni, the chicken with prawns or the duck with pear. You finish with a cracking crème brûlée.
Book on the site of Casa Marieta and enjoy one of the best restaurants in Costa Brava
Opening hours:

Lunch from 12:30 pm to 3:30 pm
Dinner from 7:30 pm until 10:30 PM

Address: Plaça de la Independència, 5-6, 17001 Girona
Jamón ibérico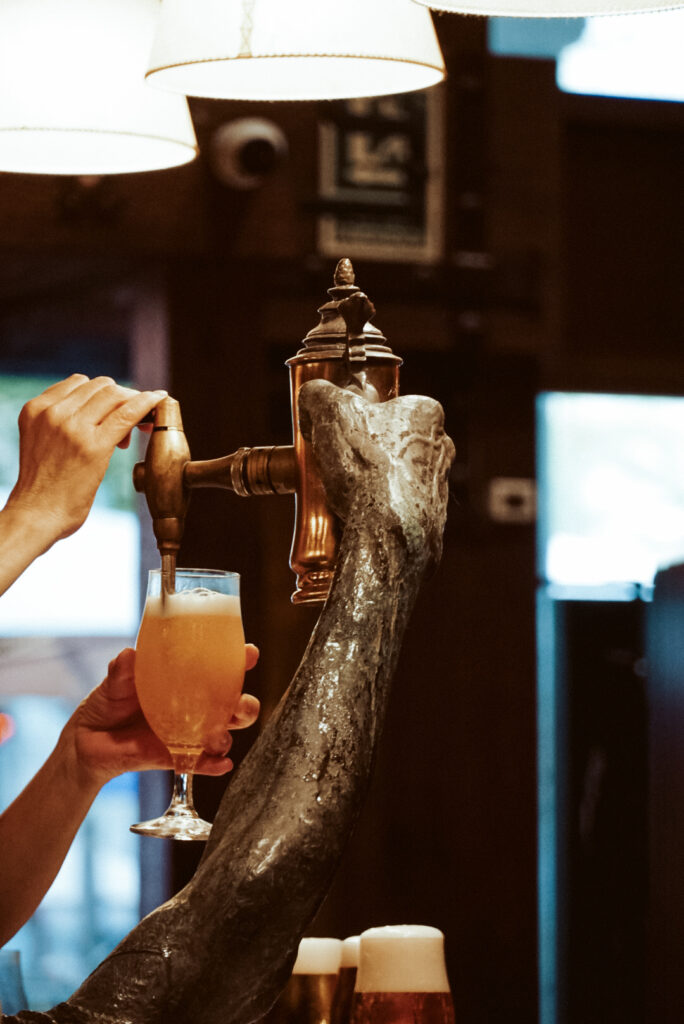 The beer tap in Casa Marieta

Lots of families come to have lunch here
3 | Es Portal in Pals
When you enter the driveway you immediately feel that you will relax here. Es Portal is nestled in a rustically restored farmhouse near Pals. In an atmospheric setting you can enjoy local products extensively, but especially the rice dishes for which they are known. Here, with a contemporary touch, the tastiest fish and the best meat of the Costa Brava are conjured up on your plate.
At Es Portal, we opted for a menu with sea bass tartare, tuna salad and fried cod cubes as starters to share. Then we had monkfish with paprika and the most tender beef fillet with surprisingly prepared beans and cabbage. We had our coffee on the sun terrace as a radiant finish.
Atmospheric setting in Es Portal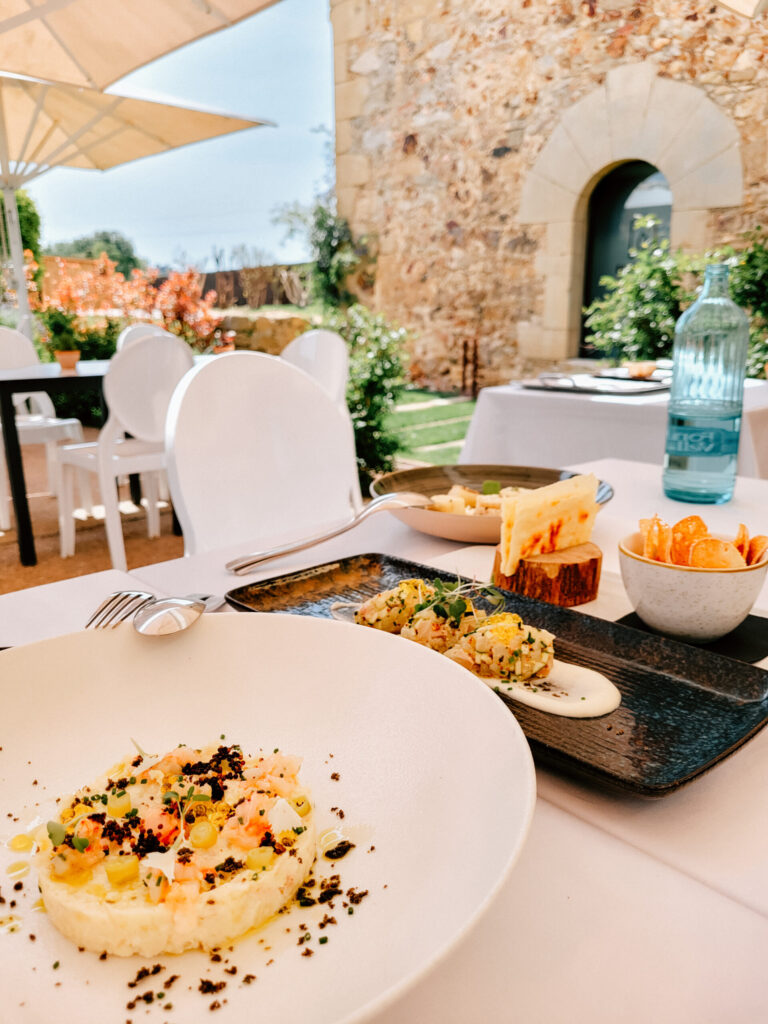 We shared our appetizers on the terrace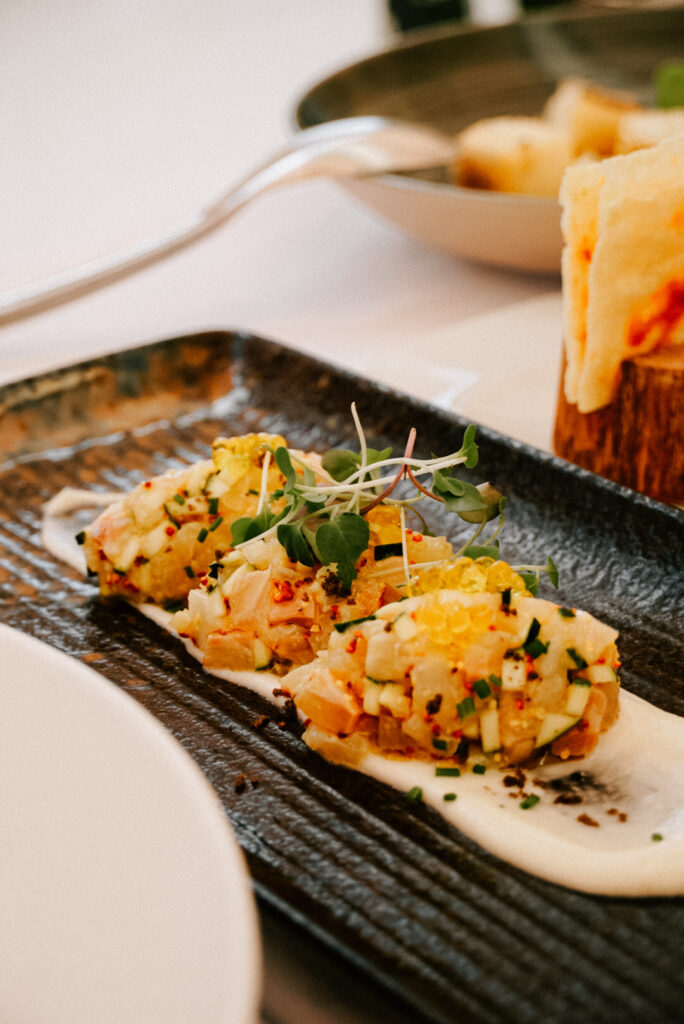 Sea bass tartare
4 | Mooma Cider house in Fontclara
In the middle of the orchards of Fontclara lies the gigantic Mooma Cider House. They clearly emphasize sustainable and organic production. In addition to a shop with homemade and local products, their restaurant is the ideal place to go out for dinner with the family or a larger group. The service is smooth and the atmosphere here is pleasant.
Of course they serve up as much of their own production as possible. If you choose their menu, you can taste everything extensively without making difficult choices. And instead of wine it is of course better to order their cider. It is wonderfully fresh and sparkling and goes perfectly with the generous portions they serve.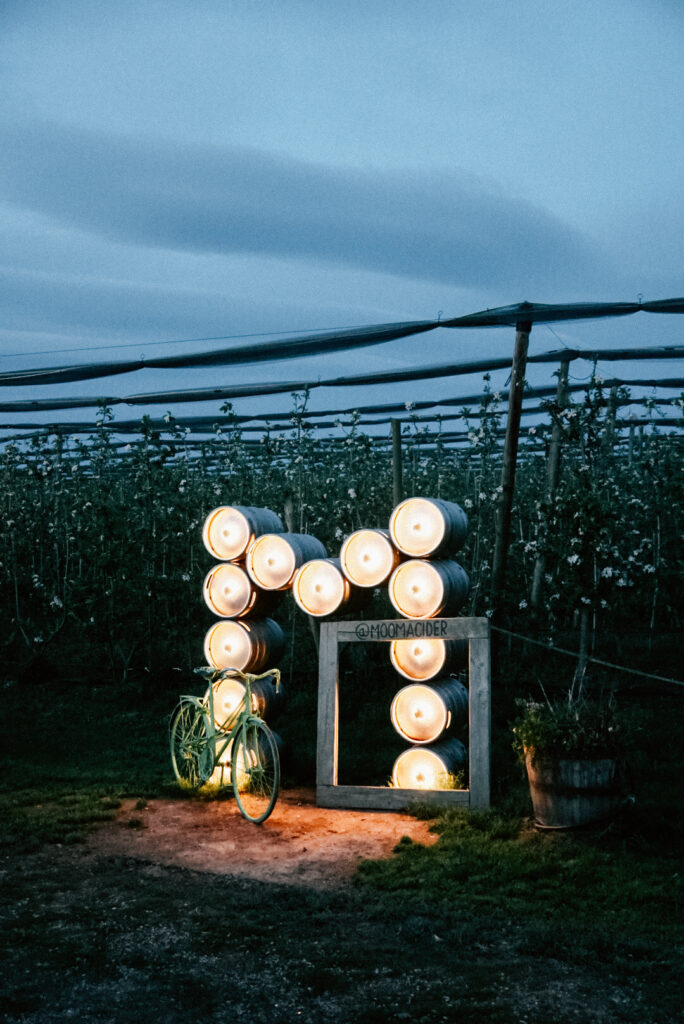 Mooma is located in the middle of the apple orchards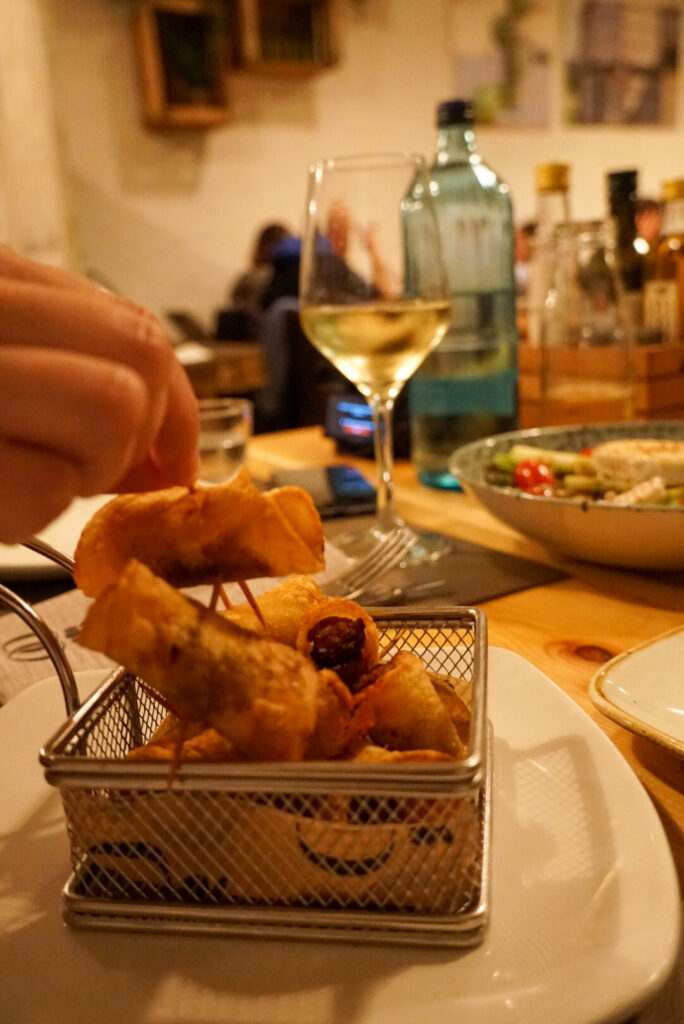 Our menu had 5 starters to share

TravelRebel Delphine overwhelmed by all the goodies
5 | Els Pescadors in Llançà
A chef who smiles and walks through his restaurant with a lobster over his shoulder clearly has a close bond with his products. Chef Luis calls the sea his backyard. He immediately makes you feel at home in his meticulously maintained seafood restaurant that he runs with his family in Llançà. The foundation of their philosophy consists of good products, traditional dishes and combinations with new trends. Luis' brother-in-law ensures that you get the best wine with every dish.
From the first starter we had 10 questions about the preparation and ingredients. Because how do you arrive at a tempura of candied lemon peel and why is it so delicious? The lobster roll also won the 'best I've tasted' category. We also had a delicious prawn carpaccio and traditional rice with lobster. Els Pescadors is literally so finger-licking good, we didn't want to leave here.
Book on Els Pescadors site
Opening hours:

Lunch from 13:15 to 15:15
Dinner from 20:30 to 22:15

Address: Carrer Castellar, 41, 17490 Llançà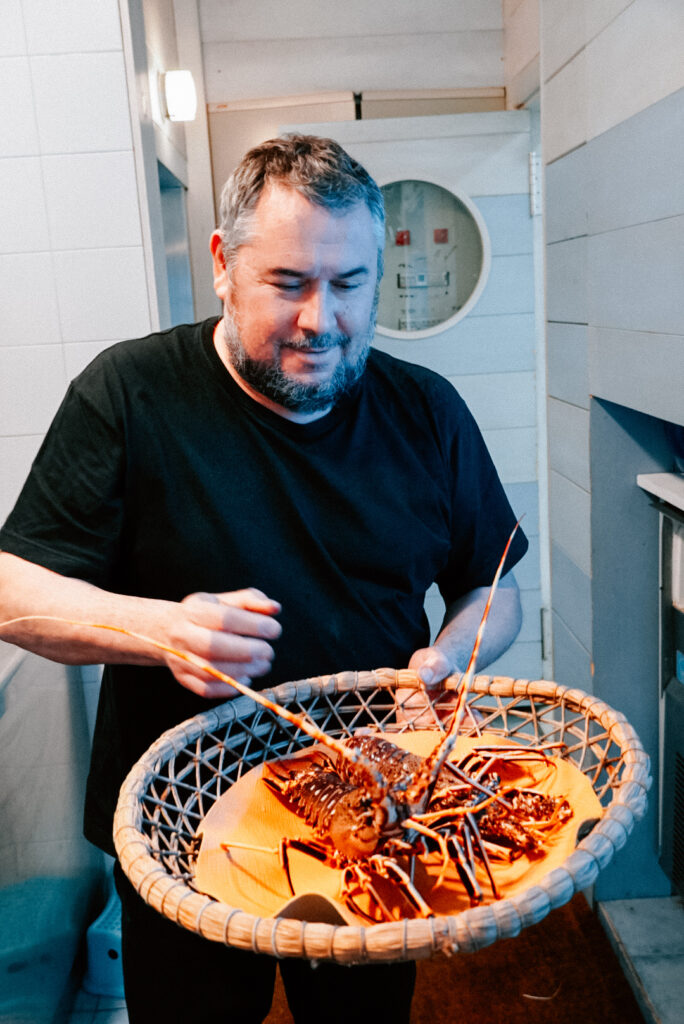 Chef Luis lets us choose our lobster

Every lobster gets a passport with extra explanation

Mediterranean tuna
6 | Enoteca MF (Martín Faixó) in Cadaqués
The vineyards of Enoteca MF are located in the Natural Park of Cap de Creus in a unique place. But even if you are in Cadaqués, you can combine good food and wine in their small gastrobar. If you stroll through the small streets of the old center and then follow the quay, you automatically arrive at the terrace in front of the Enoteca.
You can order beer or wine from their own production, which tastes great with local ingredients and fish dishes. Let yourself go completely wild with plates to share as we have done: anchovies, cockles, tuna, shrimp cannelloni, artichoke hearts and so on.
Book on the website of Enoteca MF
Opening hours from 12 noon to 11 p.m., closed on Wednesdays
Address: Placa des Poal, 3, 17488 Cadaques
On our way to Enoteca MF in Cadaqués

Wine from their own vineyard

Fresh fish is the star on the menu
7 | Es Baluard in Cadaqués
The Es Baluard logo already gives a nod to the unique building they are housed in. With a view on the bay of Cadaqués, this used to be the ramparts of the city. Intimate tables and carefully chosen decorations create a romantic atmosphere.
From the extensive menu, we can mainly recommend that you choose fish because you are so close to the sea. You also have a lot of great wine choices, we still want to find the local organic sparkling wine that we drank to ship home. The tomato bread (pà amb tomàquet) that you can order everywhere in the Costa Brava was absolutely number one here.
Es Baluard is in the old city wall

The interior has been carefully decorated

Fresh fish croquettes and squid rings are on the menu at one of the best restaurants in Costa Brava
Why is choosing a good local restaurant so important when traveling?
Wherever you are, even at home at the dinner table, it's better to eat locally. If you eat seasonal products from the neighborhood, they are guaranteed to be fresher and tastier. When you travel, you get a few extras, such as a story about why this dish has been in the family for generations. In addition, you may discover ingredients that you do not know yet. Finally, your money goes directly to the locals and not to a chain whose headquarters may even be in another country. You can read more about it in our opinion piece about chain tourism. So eat locally (maybe even at one of the best restaurants in Costa Brava) and everyone wins, enjoy!
Local products always taste better! TravelRebels Delphine and Kim taste wine from Celler Hugas de Batlle
Text and photography: TravelRebel Silke