The 75 Best Golf Resorts In North America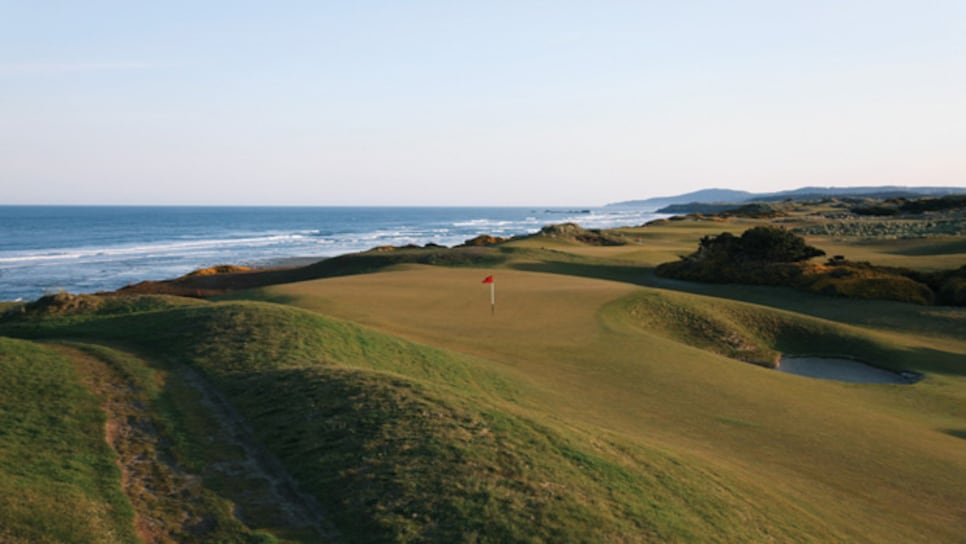 We produced this ranking by surveying the Golf Digest course-rating panelists, a group of more than 1,000 avid players throughout the United States and Canada. They rated each resort they've visited within the past three years on a scale of 1-10, with 1 representing "terrible" and 10 "absolutely perfect." We wanted their overall impression of each resort's quality, not strictly its golf course or courses. We multiplied the average scores by 10 and extended them to two decimal points.
1. BANDON (ORE.) DUNES GOLF RESORT (RANKED NO. 3 IN 2009)
888-345-6008 | Room rate:*: $250
New + Notable: Old Macdonald, the resort's fourth course, is getting raves. A fifth course, made up of 13 par 3s, is set to open next June … and yet another course is being planned.
2. PEBBLE BEACH RESORT/INN AT SPANISH BAY (1)
800-654-9300 | Room rate:: $615
New + Notable: The views, the history, the excellence: They're the reasons the USGA has, on more than one occasion, cut into the traditional 10-year gap for Pebble to host the U.S. Open.
3. THE AMERICAN CLUB (6) Kohler, Wis.
800-344-2838 | Room rate: $410
New + Notable: The resort will have included two PGAs, a Ryder Cup and a U.S. Women's Open from 2010-'20. When you play Whistling Straits, make sure you know if you're in a bunker.
4. SEA ISLAND (GA.) RESORTS, THE CLOISTER & THE LODGE (2)
866-879-6238 | Room rate: $525
New + Notable: The learning center at this 54-hole resort has a who's who of teaching greats: Jack Lumpkin, Gale Peterson, Todd Anderson, Mike Shannon, Jared Zak.
5. THE GREENBRIER (8) WHITE SULPHUR SPRINGS, W.VA.
800-453-4858 | Room rate: $359
New + Notable:: Starting next summer, a 240-passenger train will begin serving guests from Union Station in Washington, D.C. The five-hour, nonstop ride will include an open-air car.
6. FOUR SEASONS RESORT HUALALAI AT HISTORIC KA'UPULEHU (4) The Big Island, Hawaii
808-325-8000 | Room rate: $625
New + Notable: Many tee boxes on this Jack Nicklaus design are surrounded by black lava, providing a unique perspective against the clear, blue ocean. Up for 36? The second 18 is included.
7. RITZ-CARLTON, KAPALUA (15) Maui, Hawaii
808-669-6200 | Room rate: $519
New + Notable: The Plantation Course is $50 cheaper if you stay at the resort. Can you hit the 663-yard 18th in two like Bubba Watson did at a 2011 PGA Tour event? Only one way to find out.
8. ONE & ONLY OCEAN CLUB/ATLANTIS (27) Paradise Island, Bahamas
888-528-7157 | Room rate: $890
New + Notable: The course is cartpaths-only year-round, so the fairways don't show even the slightest hint of tire tracks. Left-handers, don't fret, Callaway rental clubs are available.
__9. FOUR SEASONS RESORT PUNTA MITA (NR) Nayarit, Mexico __
+52 329-291-6000 Room rate: $670
New + Notable: Pacifico Golf Course has two par-3 third holes. One version has an island green on lava rock. At high tide, a special vehicle transports you to the putting surface.
10. SANDY LANE (NR) Barbados
246-444-2000 | Room rate: $1,445
New + Notable: If you're going to be playing a lot of golf, the seven-, 14- or 21-day golf passes make it almost like joining a private club for the time of your stay.
11. THE BROADMOOR (12) Colorado Springs
866-837-9520 | Room rate: $360
New + Notable: These tricky greens will test the very best. At the 2011 U.S. Women's Open, U.S. Women's Amateur champ Danielle Kang had 17 three-putts and a four-putt.
T-12 . ONE & ONLY PALMILLA (11) Los Cabos, Mexico
866-829-2977 | Room rate: $725
New + Notable: Its 27 holes weave in and around cacti and overlook stretches of ocean. The Classic Golf package includes transportation to and from the airport in a Hummer.
T-12. PINEHURST (N.C.) RESORT (10)
800-487-4653 Room rate: $340
New + Notable: Famed No. 2 reopened in March after a restoration made it look like it did in Donald Ross' day. Resort guests receive drastic discounts on its eight courses.
T-14. FOUR SEASONS RESORT LANA'I (HAWAII), The Lodge at Koele (30)
808-565-2000 | Room rate: $345
New + Notable: The course is closed Mondays and Tuesdays, giving the superintendent an extra day to keep the fairways in pristine condition. The 17th tee faces a 200-foot drop, ensuring a big drive.
T-14. THE INN AT PALMETTO BLUFF (NR) Bluffton, S.C.
866-706-6565 | Room rate: $575
New + Notable: Play golf as it was meant to be: on foot. Caddies will help you navigate the May River Golf Club's beautiful-yet-penal oak trees and white-sand bunkers.
16. FOX HARB'R GOLF RESORT & SPA (NR) Wallace, Nova Scotia
866-257-1801 | Room rate: $350
New + Notable: A new golf academy lets guests customize the lesson plan. The championship course's entire back nine has water views, with Nos. 14-18 set along the Northumberland Strait.
__17. KIAWAH ISLAND (S.C.) GOLF RESORT (7) __
800-576-1570 | Room rate: $405
New + Notable: Next year's PGA Championship will be at the Ocean Course, No. 1 on Golf Digest's ranking of America's 50 Toughest. If you want to break 90, try some of the resort's other 72 holes.
18. FOUR SEASONS RESORT LANAI (HAWAII) AT MANELE BAY (T-13)
808-565-2000 | Room rate: $325
New + Notable: Three holes of the aptly named Challenge at Manele are laid out along cliffs. That big splash below might be from your golf ball or from whales migrating there in the winter.
19. RITZ-CARLTON, BACHELOR GULCH (NR) Beaver Creek, Colo.
970-748-6200 | Room rate: $199
New + Notable: Stay at this outdoorsy resort and you'll have access to the Red Sky Golf Club courses designed by Greg Norman and Tom Fazio. Accompanied kids under 16 can play for free.
20. ST. REGIS PRINCEVILLE (HAWAII) RESORT (NR)
808-826-9644 | Room rate: $375
New + Notable: The Makai course reopened in 2010 after a makeover, and the Prince reopens this fall. New, luxurious Crown suites complete the package.
21. WYNN LAS VEGAS RESORT (31)
877-321-9966 Room rate: $399
New + Notable: Massive waterfalls dot the 7,042-yard, par-70 course. Top-of-the-line rental clubs and shoes are covered in the green fee.
22. RITZ-CARLTON, DOVE MOUNTAIN (NR) Tucson
520-572-3000 | Room rate: $349
New + Notable: Two shorter sets of tees make the course—which hosts the 64 best tour players in the world each February—playable for young kids or beginners (at 1,200 and 1,800 yards).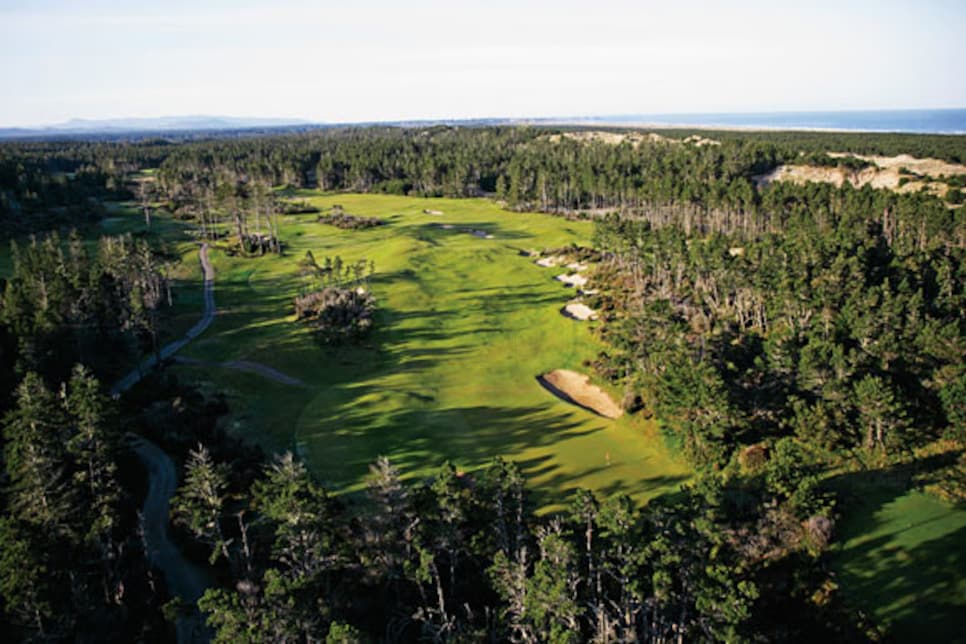 23. RITZ-CARLTON LODGE, REYNOLDS PLANTATION (T-13) Greensboro, Ga.
706-467-0600 | Room rate: $279
New + Notable: The bent-grass greens at Great Waters—one of five courses available to guests—were replaced during a recent renovation. A new variety of Bermuda offers a more consistent putting surface year-round.
24. FAIRMONT BANFF (ALBERTA) SPRINGS (5)
866-540-4406 | Room rate: $449
New + Notable: Stay in one of the 768 rooms by May 25, and you could divide the day skiing down some of the continent's sweetest slopes and teeing it up on one of Canada's top-10 courses.
RED : Asheville Proper – Restaurant in Downtown Asheville, North Carolina
25. FOUR SEASONS RESORT SCOTTSDALE AT TROON NORTH (25)
480-515-5700 | Room rate: $459
New + Notable: The re-routed Pinnacle course is more walker-friendly after Tom Weiskopf swapped holes with the Monument course. Groups are spaced out to prevent waiting.
26. MAUNA KEA BEACH HOTEL (28) The Big Island, Hawaii
866-977-4589 | Room rate: $325
New + Notable: The resort and the course were the first to be developed on the Big Island. It's no wonder designer Rees Jones said the course "cannot be replicated."
T-27. FAIRMONT JASPER PARK LODGE RESORT (NR) Jasper, Alberta
866-540-4454 | Room rate: $449
New + Notable: Don't throw a tantrum if you make a bogey on the seemingly easy 15th hole, which tips out at 138 yards. There's a reason it's named The Bad Baby.
T-27. FOUR SEASONS RESORT MAUI (HAWAII) AT WAILEA (19)
808-874-8000 | Room rate: $515
New + Notable: Mount Haleakala, a 10,023-foot, nonactive volcano, sits beside the 54 holes. The Gold Course is the toughest of the three; the Emerald and Blue have nearly identical Slope Ratings.
T-27. GRAND HYATT KAUAI (HAWAII) RESORT & SPA (16)
808-742-1234 | Room rate: $360
New + Notable: A $45 million renovation was finished in April. Poipu Bay's greens were re-grassed with seashore paspalam, providing a more consistent, faster, smoother putting surface.
T-27. THE RESORT AT PELICAN HILL (26) Newport Beach, Calif.
800-315-8214 | Room rate: $495
New + Notable: Play the Ocean North or Ocean South courses and drop the kids at Camp Pelican, which offers a range of indoor and outdoor activities.
T-27. RITZ-CARLTON, HALF MOON BAY (CALIF.) (18)
650-712-7000 | Room rate: $545
New + Notable: All of the Ocean Course's 18 holes have views of the Pacific, offering 50 miles of it. Atop a rugged bluff, the hotel serves as a backdrop for the Old Course's finishing hole.
T-27. RITZ-CARLTON KEY BISCAYNE (FLA.) (NR)
305-365-4500 | Room rate: $629
New + Notable: There's no room for first-tee jitters at the Crandon course. The opening hole, a 557-yard, dogleg-left par 5, requires a carry over water.
33. GRAND WAILEA (17) Maui, Hawaii
800-888-6100 | Room rate: $589
New + Notable: Discounts are given to those 62 and older. If you're still up for learning new tricks, the David Leadbetter Golf Academy at Wailea is the only one in Hawaii.
__34. CORDEVALLE, A ROSEWOOD RESORT (21) San Martin, Calif. __
408-695-4500 | Room rate: $595
New + Notable: Though there are only 45 rooms, they're big—the smallest are 550 square feet, with a private patio—and luxurious. The course has been the site of the Frys.com Open since 2010.
T-35. CAP CANA (DOMINICAN REPUBLIC) RESORT (NR)
809-227-2262 | Room rate: $185
New + Notable: Choose from a variety of lodging options: Golden Bear Lodge for Nicklaus fans, adults-only Secrets Sanctuary, Caleton Villas on the Punta Espada course, or the new Fishing Lodge.
T-35. FOUR SEASONS RESORT WHISTLER (B.C.) (NR)
604-935-3400 | Room rate: $405
New + Notable: Make a hole-in-one on the signature 17th at the Nicklaus North course, and the resort will pay for a spa treatment and dinner at its new Sidecut restaurant.
37. THE GASPARILLA INN & CLUB (NR) BOCA GRANDE, FLA.
877-403-0599 | Room rate: $385
New + Notable: Don't like making a tee time while you're on vacation? Just show up to this Pete Dye course when you feel like it, and you'll get on this island-within-an-island layout.
__38. THE HOMESTEAD (9) HOT SPRINGS, VA. __
540-839-1766 | Room rate: $275
New + Notable: Last year, the storied resort invested $4 million renovating 157 of its guest rooms. Some of the eight on-site dining options made changes to menus.
T-39. FAIRMONT ORCHID (20) KOHALA COAST, HAWAII
866-540-4474 | Room rate: $489
New + Notable: The 36 holes are anything but goat tracks, but you'll likely see wild goats roaming the North Course. The South Course hosted the Senior Skins Game for 10 years.
T-39. FARMLINKS GOLF CLUB AT PURSELL FARMS (NR) Sylacauga, Ala.
877-292-3276 | Room rate: $189
New + Notable: Feel like putting while your coffee's brewing? Five cottages and cabins on Masters Row offer access to practice greens in a courtyard right outside your door, stocked with balls each morning.
41. LA QUINTA (CALIF.) RESORT & CLUB/PGA WEST (56)
800-598-3828 | Room rate: $229
New + Notable: In addition to five championship courses, including one among Golf Digest's ranking of America's 100 Greatest Public Courses,
the kid-friendly Little Links Mountain nine-holeris scheduled to open Nov. 25.
42. THE MAUNA LANI BAY HOTEL AND BUNGALOWS RESORT (50) The Big Island, Hawaii
808-885-6622 Room rate: $395
New + Notable: The par-3 15th on the South Course is the signature hole, with whales adding a distraction in front of the tee. The nine-hole Keiki Course, designed for juniors, is a new and popular spot.
43. PRONGHORN (NR) Bend, Ore.
866-372-1003 | Room rate: $299
New + Notable: Luxury lodging is available with a view of the 18th hole on the Jack Nicklaus course, No. 23 among America's 100 Greatest Public Courses.
44. RITZ-CARLTON GOLF RESORT NAPLES (FLA.) (T-32)
239-593-2000 | Room rate: $499
New + Notable: The 36-hole Greg Norman layout is home to the Shark Shootout. A 10-minute drive separates it from another Ritz with easy access to the beach and elegant dining.
45. THE BREAKERS PALM BEACH (35)
888-273-2537 | Room rate: $539
New + Notable: The adjoining Ocean Course is the oldest 18-hole layout in the state. The resort's 540 rooms will benefit from a five-year, $80-million renovation and redesign to be completed in November.
46. FOUR SEASONS RESIDENCE CLUB AVIARA (T-38) Carlsbad, Calif.
800-622-4269 | Room rate: $350
New + Notable: The Residence Club has 132 luxury villas in multiple configurations. All are within easy access of an Arnold Palmer-designed golf course overlooking Batiquitos Lagoon.
47. THE BOULDERS RESORT (40) Carefree, Ariz.
480-488-9009 | Room rate: $359
New + Notable: The resort added new tees on the North and South courses, creating the Short course (ideal for new golfers). Its casitas just underwent a multimillion-dollar renovation.
48. ST. REGIS MONARCH BEACH GOLF LINKS (NR) Dana Point, Calif.
949-234-3200 | Room rate: $625
New + Notable: Last year the course replaced 180,000 square feet of turf with Bermuda grass. Make sure your approach into the severely undulated No. 3 green is close to the hole: Four-putting is not uncommon.
49. THE PHOENICIAN (T-38) Scottsdale
800-888-8234 Room rate: $680
New + Notable: The 27 holes of golf have a new closing hole on the Oasis nine, thanks to construction of a new ballroom: Arizona's only sand-island green, a 320-yard par 4 with bunkers surrounding it.
RED : 12 Fun and Tasty Must Try Burbank Restaurants | Visit Burbank
50. FAIRMONT SCOTTSDALE PRINCESS (47)
866-540-4495 | Room rate: $229
New + Notable: Tom Lehman and Natalie Gulbis have given clinics in the past year, so check in advance. Off course: Cactus-gardening or tequila-tasting classes are among many activity choices.
51. NEMACOLIN WOODLANDS RESORT (37) Farmington, Pa.
800-422-2736 | Room rate: $329
New + Notable: Five lodging options offer visitors multiple choices for golfers playing The Links Course or the Pete Dye-designed Mystic Rock Course.
52. FAIRMONT CHATEAU WHISTLER (B.C.) (23)
800-606-8244 | Room rate: $239
New + Notable: The 550-room resort houses five restaurants and the Vida Spa with 17 treatment rooms. Its Robert Trent Jones Jr. course sits at the foot of the snowcapped Whistler and Blackcomb Mountains.
53. LOEWS VENTANA CANYON RESORT (34) Tucson
800-235-6397 | Room rate: $259 New + Notable: Celebrated for its "green" efforts, the resort created a half-mile trail so guests can get a close look at the Sonoran Desert along its two Tom Fazio courses.
54. THE ESEEOLA LODGE AT LINVILLE G.C. (N.C.) (NR)
800-742-6717 | Room rate: $299
New + Notable: Views of Grandfather Mountain create picturesque golf holes on this Donald Ross design. Bring some bread or fish food to feed the trout at the turn, or when fishing your ball out of the water.
55. THE INN AT BAY HARBOR (MICH.) (41)
800-462-6963 | Room rate: $250
New + Notable: Bay Harbor's bunker renovations included adding tour-quality sand throughout the 27-hole property, which lies on the edge of Lake Michigan.
56. RENAISSANCE BIRMINGHAM ROSS BRIDGE GOLF RESORT & SPA (NR) Hoover, Ala.
888-236-2427 | Room rate: $189
New + Notable: Bunkers were removed on four holes over the last two years to make the course more playable for the average golfer. From the tips, it plays to 8,192 yards. It claims to be the world's second-longest par 72.
57. JW MARRIOTT IHILANI RESORT & SPA AT KO OLINA (NR) Oahu
808-679-0079 | Room rate: $545
New + Notable: En route to the 12th hole, golfers enter a tunnel under a waterfall, with Hawaiian floral decorations lining the unique entrance. The course is known for its black swans, too.
58. FOUR SEASONS RESORT JACKSON HOLE (WYO.) (NR)
307-732-5000 | Room rate: $625 New + Notable: Jackson Hole Golf & Tennis Club is among the top five in Golf Digest's Best in State ranking. Off-course, consider a wildlife tour, limited to just five people, through scenic routes in the Tetons.
59. TRUE NORTH GOLF CLUB (NR) Harbor Springs, Mich.
231-526-3300 | Room rate: $840 (for an eight-person cottage)
New + Notable: Plans to add two more cottages will double the rooms on property because of high demand at True North, ranked No. 33 among America's 100 Greatest Public Courses.
60. FRENCH LICK (IND.) RESORT (29)
888-936-9360 | Room rate: $229
New + Notable: Pete Dye's hilly 18-hole test includes must-see volcano bunkers. The resort, also home to a Donald Ross course, will host the 2012 Big Ten Championships.
61. OJAI (CALIF.) VALLEY INN & SPA (NR)
800-422-6524 | Room rate: $450
New + Notable: This Southern California resort's nearly 90-year-old course is not long, at just more than 6,200 yards and a par of 70. But it's no pushover. From the back tees, its Slope Rating is 132.
62. THE COEUR D'ALENE (IDAHO) RESORT (24)
800-688-5253 | Room rate: $263
New + Notable: The course is most famous for its floating island green on the 14th hole, but there's a lot more to like, including first-rate conditioning and an excellent caddie program.
63. RITZ-CARLTON, LAGUNA NIGUEL (NR) Dana Point, Calif.
949-240-2000 | Room rate: $495
New + Notable: This year a $60 million project was completed that transformed bedrooms, meeting space and restaurants at the resort. The goal: to better reflect its Pacific Coast surroundings.
64. RITZ-CARLTON AMELIA ISLAND (FLA.) (NR)
904-277-1100 | Room rate: $389
New + Notable: In addition to a new fitness center, guests have access to The Golf Club of Amelia Island and The Golf Club of North Hampton, an Arnold Palmer design.
65. HYATT REGENCY TAMAYA RESORT & SPA (NR) Santa Ana Pueblo, N.M.
505-867-1234 | Room rate: $159
New + Notable: Twin Warriors Golf Club, ranked among Golf Digest's best courses in New Mexico, is on the grounds of the Santa Ana Pueblo and includes 20 cultural sites, including an ancient cave dwelling on the 15th hole.
66. CASA DE CAMPO RESORT (T-32) La Romana, Dominican Republic
800-877-3643 | Room rate: $295
New + Notable: A nine-hole addition to the Pete Dye-designed Dye Fore was scheduled to open in September, upping the number of holes along the Caribbean to 63. Teeth of the Dog is the most popular course.
67. SUN VALLEY (IDAHO) RESORT (T-63)
800-786-8259 | Room rate: $259
New + Notable: Acquiring Elkhorn Golf Course in July gave Sun Valley 45 total holes. With the Trail Creek and White Cloud courses, visitors can pick from a wide array of holes and environments.
68. JW MARRIOTT SAN ANTONIO HILL COUNTRY RESORT & SPA (NR)
866-882-4420 | Room rate: $289
New + Notable: An unlimited golf package runs $349 a night. TPC San Antonio is one of only three destinations to host two tour events a year, at Greg Norman's Oaks Course and Pete Dye's Canyons course.
69. BEAVER CREEK (COLO.) RESORT (NR)
800-953-0844 | Room rate: $147
New + Notable: At this family-focused resort, juniors play for free with an adult Monday through Thursday. Players can come across wildlife, including foxes that have been known to swipe golf balls.
70. THE GRAND DEL MAR RESORT (NR) San Diego
855-314-2030 | Room rate: $395
New + Notable: There's something for everybody at this resort, whether it's the newly built Equestrian Center, the world-renowned Addison restaurant, or the new Titleist Performance Institute Junior Center.
71. HAMMOCK BEACH RESORT (NR) Palm Coast, Fla.
866-841-0287 | Room rate: $330
New + Notable: Kids can enjoy the Nicklaus- and Watson-designed courses (Jack's is set by the ocean, Tom's is inland), with reduced green fees in the afternoon, or the nine-hole putting course.
72. PARK HYATT AVIARA (NR) Carlsbad, Calif.
760-448-1234 | Room rate: $350
New + Notable: Guests won't forget the entertaining starters and the Tootsie Roll Pops given out during the round. With manufacturers minutes away, golf-equipment packages make for a complete experience.
73. THE LODGE AT VENTANA CANYON (72) Tucson
800-828-5701 | Room rate: $249
New + Notable: Elevation changes and rolling greens are common elements of the Mountain and Canyon courses. The latter is highlighted by its quirky par-3 third through rocks and cacti.
74. TURNING STONE RESORT & CASINO (T-63), Verona, N.Y.
800-771-7711 | Room rate: $194
New + Notable: You won't need your car here. The clubhouse, restaurants and casino are within a 5-iron's range of your room. Its third course is a short shuttle away. The resort added a liquor license in 2010.
75. PUNTACANA (DOMINICAN REPUBLIC) RESORT & CLUB (NR)
888-442-2262 | Room rate: $130
New + Notable: The first nine of the new P.B. Dye-designed Hacienda course should be ready in early 2012, giving guests access to 45 holes. The other 18s were designed by Dye and Tom Fazio.
Source: https://bloghong.com
Category: en