The Best Golf Courses in and Outside of Charleston (That Even Non-Golfers Will Love)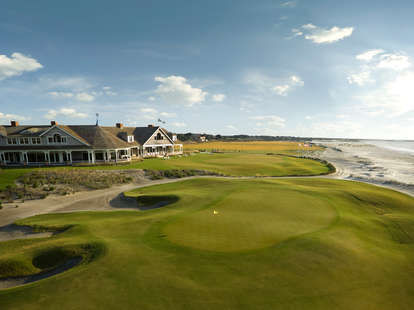 Courtesy of SC Dept. of Parks
South Carolina is home to some of the most beautiful golf courses in the country. But if you don't play, you probably don't care all that much. And if you do play, but play badly, it's likely that you care just a little bit more. Which is OK, we get it. As fun as it is to be part of the group, if your game isn't quite there, you'll more than likely be focusing on things other than the sport. Which is exactly why we found some courses in the Lowcountry that'll appeal to everyone: the avid golfer, the shopper, the one you bring along just to drive the cart, and even that friend who thinks the best thing about the game is those fuzzy animal-head club covers.
The Ocean Course at Kiawah Island
Kiawah Island
For many, this public course is the crown jewel of Kiawah Island Golf Resort's multiple golf courses. Sure, it could be the fact that several scenes from The Legend of Bagger Vance were shot there. But really, those views of the Atlantic Ocean, coupled with the fact that it's situated on the same property as The Sanctuary (one of South Carolina's most elegant boutique hotels), are enough reason for anyone to visit… even if you hate the game.
Patriots Point Links
Mount Pleasant
Located just across the bridge (yes, the bridge) from historic Charleston, this course has views of the harbor that are simply breathtaking… even if your short game isn't. Of course, if you're better at checking out museums than you are at golf, head on over to Patriots Point after your game, home of the USS Yorktown (yep, that's the big boat you saw on your right driving over the bridge from Downtown); it makes this course ultra convenient for doing that tourist thing.
Thrillist TV
Wine and Cheeseburger
Wine and Cheeseburger: Harley and Lara Pair Falafel with Wine
Courtesy of Palmetto Bluff
May River Golf Club at Palmetto Bluff
Bluffton
If you're curious as to how the other half lives, we've got some news for you: it's pretty damn good. Members of the May River Golf Club enjoy a game on this secluded resort filled with mossy oak trees, stunning views, and a general sense of luxury. This course is exceptional in its own way, but that's just the start of the resort's outdoor experiences: at Palmetto Bluff, you can feel free to hire some environmental guides to help you learn how to fish, canoe the May River, or learn how to shoot clay pigeons if you're not into improving your game.
 
Crooked Oaks Course
Seabrook Island
Never heard of Seabrook? That's probably because the whole place is private, including this golf course. But if you can get an invite, you'll find a course designed by Robert Trent Jones, Sr., that winds through marsh and maritime forest and offers plenty of gator-sighting to keep things interesting. But please: don't approach or aim your ball at them (you'd think we didn't have to say that). If your game goes south, you grow tired of pretending you know how to play, or your ball just winds up in a gator's mouth, feel free to drown those sorrows at the elegant Seabrook Island Club, the pool, or even in the ocean afterwards.
 
The Club at Pine Forest
Summerville
This is one of the most underrated hidden gems in the Lowcountry for golfers. Nicknamed "little Augusta" for the way the view from the 12th hole is reminiscent of the one at The Masters, The Club at Pine Forest is known for being all about family, having been coined the "Most Family Oriented Country Club Community" around. It's mere minutes away from the cute-as-a-button Main St of Summerville, complete with boutiques, restaurants, even a 1920s pharmacy soda fountain. Which means… ice cream!
Courtesy of Chuck Zirkle
City of Charleston Municipal Golf Course
James Island
Golf is damn popular here in Charleston, and "The Muni" is where a lot of locals get their start. Sure, it's not a fancy course (it's divided by Maybank Hwy), but you'll feel very democratic playing on it. After all, it's fun to be out and about with fellow Charlestonians (60,000 of them per year). The course is just two minutes from great eats like Crust Wood Fired Pizza or The Lot, one of the best independent movie theaters in the South, and the Charleston Pour House, a music venue with a distinct hippie vibe. It's all so James Island.
Courtesy of SC Dept. of Parks
The Links at Stono Ferry
Hollywood
If you visit The Links, you'll get a good game (hopefully) and a history lesson all in one. This scenic riverfront course was home to a plantation, a Revolutionary War battle, and an iconic Southern railroad (the Charleston and Savannah Railway) before it was filled with putting greens and flags. In fact, some of its history remains, including The Crossing (now the 14th tee box), which was once a ferry crossing for transporting goods and crops.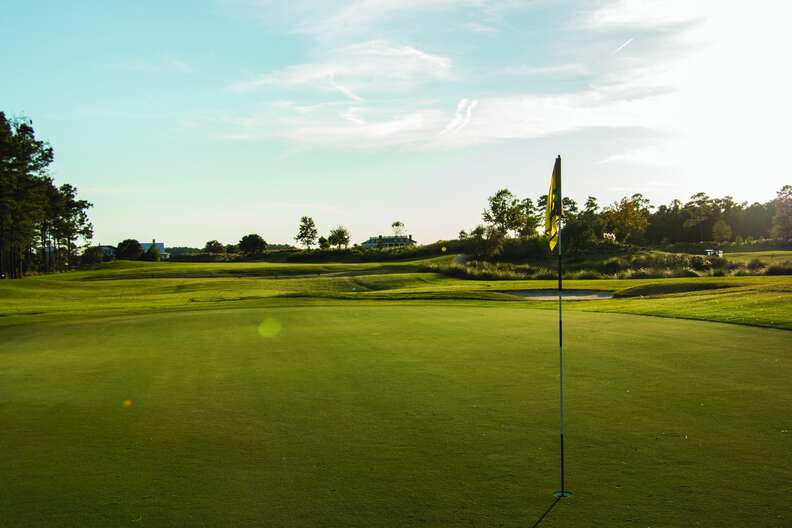 Courtesy of Bailey Hood, Rooted ID
Rivertowne Country Club
Mount Pleasant
The National Golf Course Association awarded Rivertowne "Course of the Year" this year. It was designed by Arnold Palmer himself, and is another option with water views for golfers (hey, it's Charleston). The course sports 13 holes on the creek or river… so when you lose your ball in a water hazard, at least it will be a pretty view. Check out more views at the nearby Boone Hall, which was the spot for the wedding of Ryan Reynolds and Blake Lively.
Bulls Bay Golf Club
Awendaw
If you want a "you against nature" kind of experience, then Bulls Bay is your course. No houses abutting the fairways, no tennis courts, no swimming pools — it's just you, real links play, and the wind blowing off the Atlantic Ocean. And if you don't play well, you can just blame the stiff breeze coming off the surf.
Caledonia Golf and Fish Club
Pawleys Island
Built on a former rice plantation, the entrance alone is enough to get you humming the theme to Gone with the Wind (sure, that was cotton, but you see where we're going with this). It has an oak alley drive — the Lowcountry plantation "driveway" where live oak trees form a canopy overhead — that is worthy of every picture you try to take of it. What lies at the end is one of the top 100 public golf courses in America, featuring an antebellum-style clubhouse with views of the old plantation rice fields and the 18th green. Oh, there's also the Steve Dresser Golf Academy. You know, so you can quit embarrassing yourself during your "game."
Sign up here for our daily Charleston email and be the first to get all the food/drink/fun in town.
Stephanie Burt is a contributor for Thrillist and other publications, and has trouble hitting a golf ball off a tee but excels at driving a golf cart. You can find her musings at @beehivesteph, or listen to her weekly podcast about the culinary scene in the South, The Southern Fork.