The Best Restaurants in Boston's Seaport and Fort Point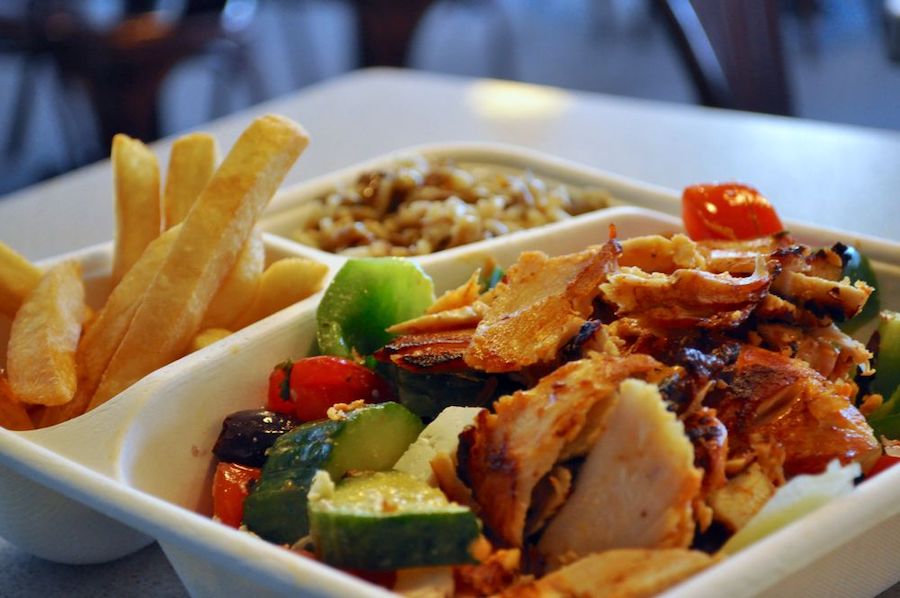 The Best Restaurants in Boston's Seaport and Fort Point
Here's where to grab a bite or a beer—from a buzzy brewpub to clam shack-inspired neighborhood staples.
Devoted foodies and restaurant newbies love The Feed. Sign-up now for our twice weekly newsletter.
Few Boston neighborhoods have changed as radically in recent years as the Seaport District, turning from a sea of pavement and parking lots to a seaside urban settlement of glittery restaurants, high-end retail, some green spaces for gathering, and plenty of high-end condos and office space. Need a refresher on where to find the best food? Here are our favorites, from modern fine-dining rooms to clam shack-inspired holdovers from the Seaport's storied past life.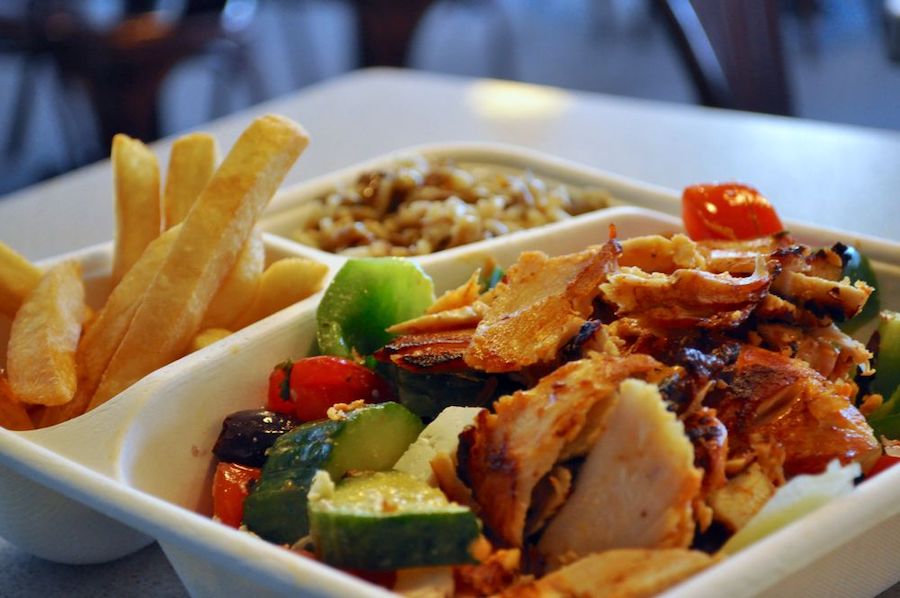 Aceituna Grill
The Seaport abounds with grab-and-go lunch spots, and a lot of them are multi-city chains. May we direct your attention, then, to Aceituna Grill, a fantastic (and homegrown!) fast-casual operation—with locations in the Financial District and Cambridge, too—focused on Eastern Mediterranean eats: spicy shawarma, falafel, and sides of fresh-made hummus, tabbouleh, baba ganoush, and moussaka that rank among the city's best. Pro tip: Douse everything in the tangy-hot "pink sauce," and don't forget the delicious baklava dripping with honey.
57 Boston Wharf Rd., Boston, 857-250-4903, aceitunagrill.com.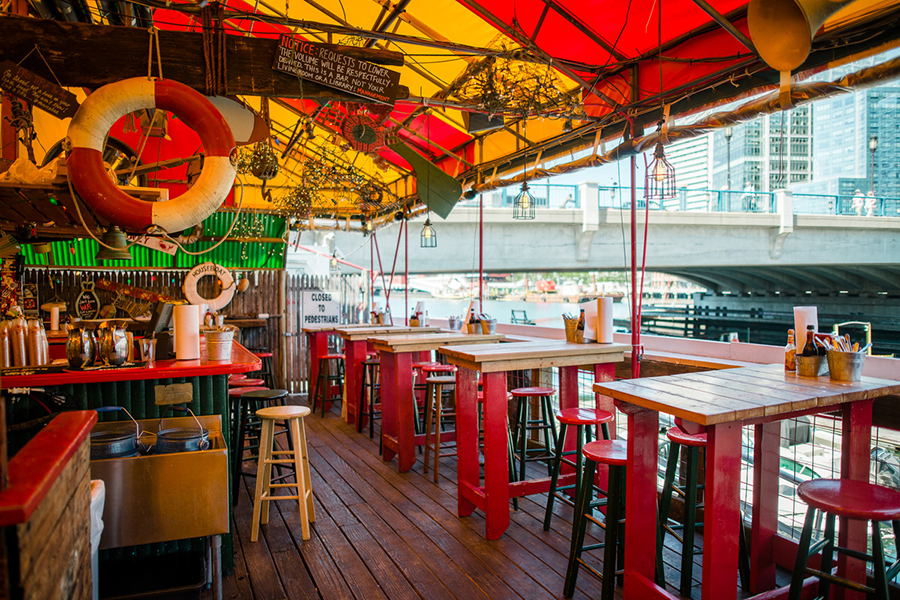 The Barking Crab
The Seaport sure has changed since 1994, when the Barking Crab first propped up its famous red- and yellow-striped tent. But the boisterous seafood joint endures, serving up Old Boston character alongside its New England clambakes, lobster rolls, fish and chips, and of course, succulent crab claws with drawn butter. And even when the weather's not warm enough to down oyster shooters and boozy lemonade on the open-air picnic tables, you can move inside by the cozy wood-burning stove. The loyal crowds aren't going anywhere—and neither is the Barking Crab.
88 Sleeper St., 617-426-2722, barkingcrab.com.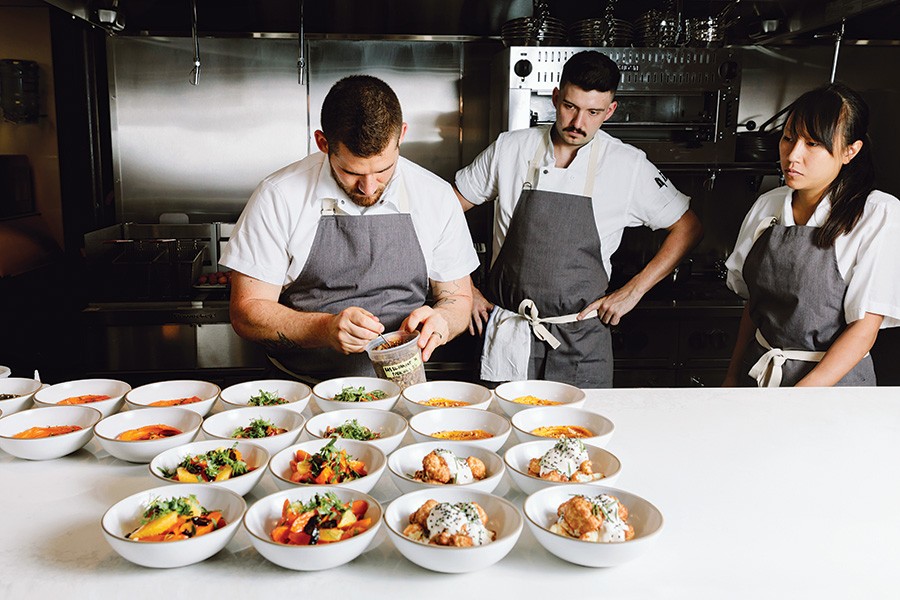 Chickadee
You probably won't stumble across Chickadee—it is, after all, located within a marine industrial park that is removed from the rest of the neighborhood's other buzzy, recent entrants. But make a point to fly by. Chef John daSilva marries New England ingredients to Mediterranean inspiration, yielding rewards such as vadouvan-spiced roasted halibut with honeynut squash, while cocktail guru Ted Kilpatrick mixes up eclectic libations, including to-go cocktails like the Gold Rush, made with bourbon, honey, and lemon. Perhaps unexpectedly for such a chic space, it's home to the best fried chicken in Boston, too.
21 Drydock Ave., 617-531-5591, chickadeerestaurant.com.
Committee
The industrial-cool interior of this fashionable Greek restaurant is usually filled with pretty people mingling over inventive meze and creative cocktails like Miss Kleo's Crystal Ball, which combines Kleo mastiha (a spirit made from a rare tree sap) with rum, plum, and sage to a delicious result. It's a place to settle in for dinner (after you do lunch at its nearby fast-casual sibling, the super gyro-slinging Greco), or check out one of our favorite boozy brunch services, when the Champagne trays are just a few of the extremely excellent reasons to roll out of bed.
50 Northern Ave., 617-737-5051, committeeboston.com.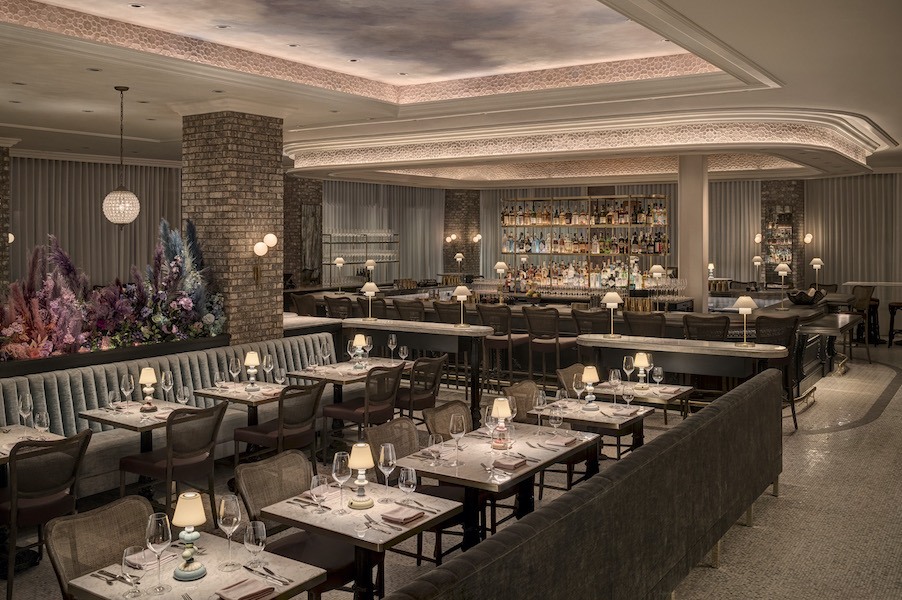 Coquette
It's fun, it's flirty, and it takes an expansive look at coastal French cuisine: It's Coquette, the latest entry from Boston's current kings of the hotspot-restaurant. Swathed in romantic pastel tones, Coquette is pretty as a princess—from the massive ceiling mural over the bar to the cheeky flourishes throughout the space—and offers feasts fit for royalty: sky scraping shellfish towers, shareable small plates such as lamb meatballs with caper creme fraiche and an orange-date glaze, and banquets of two-pound baked and stuffed lobsters trimmed with camembert sauce and sides.
450 Summer St., Boston, 617-419-8140 frenchcoquette.com.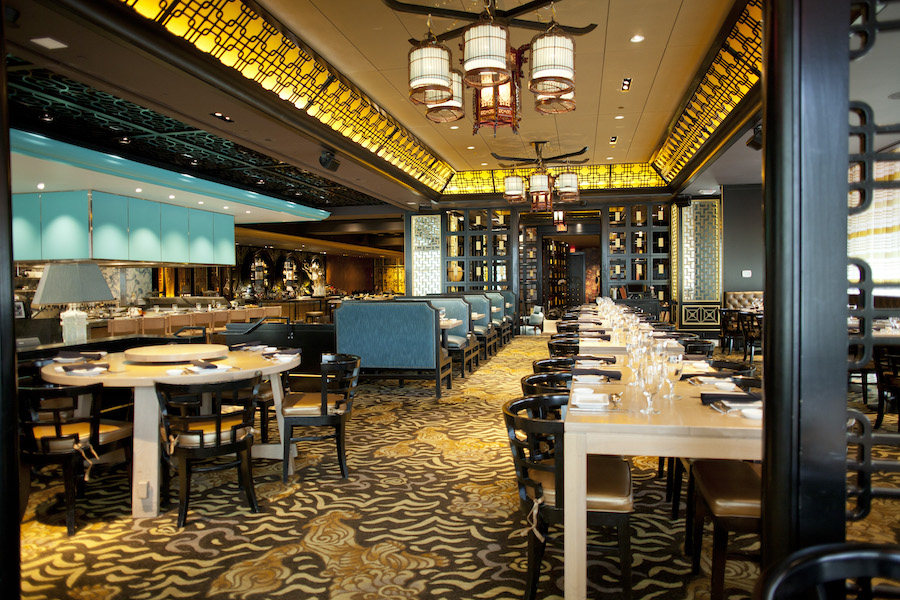 Empire
You have to hand it to the crew at Big Night Entertainment Group. Hospitality bigwig Ed Kane and his team know how to create a certain kind of clubby restaurant experience. Consider Mystique and Memoire, their flashy pan-Asian restaurant and nightclub, respectively, at the Encore Boston Harbor casino—as well as several similar BNEG concepts at Foxwoods Resort Casino and elsewhere. Empire fits squarely within that dinner-and-nightlife mold, buttressing its Asian-inspired plates—from sushi rolls to Korean-style sirloin—with party-pumping weekend DJs. And if you need a full-scale dance floor, you're only a few steps away from the Grand, their sprawling Seaport nightclub.
1 Marina Park Drive, 617-295-0001, empireboston.com.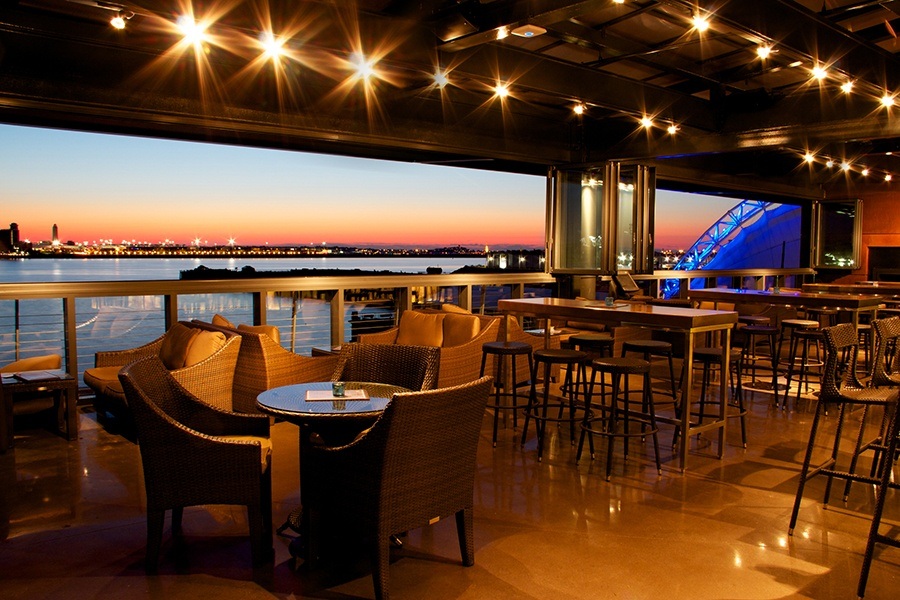 Legal Harborside
The local-born (and still-local?) Legal Sea Food chain's Titanic-sized harbor outpost has a lot in its favor: a sturdy knack for nailing fresh-and-classic seafood, a prime waterfront location—and one of the best roof decks in the city, a third-floor expanse with a retractable, four-seasons roof. The horizon views are stellar, and the place draws—well, a scene. (A suburban shopping-mall Legal, this is not.) Most importantly, the food keeps up standard Legal quality—so, high—from the casual, oyster-bar equipped first floor, to the more elevated second, to that stunning top deck.
270 Northern Ave., 617-477-2900, legalseafoods.com.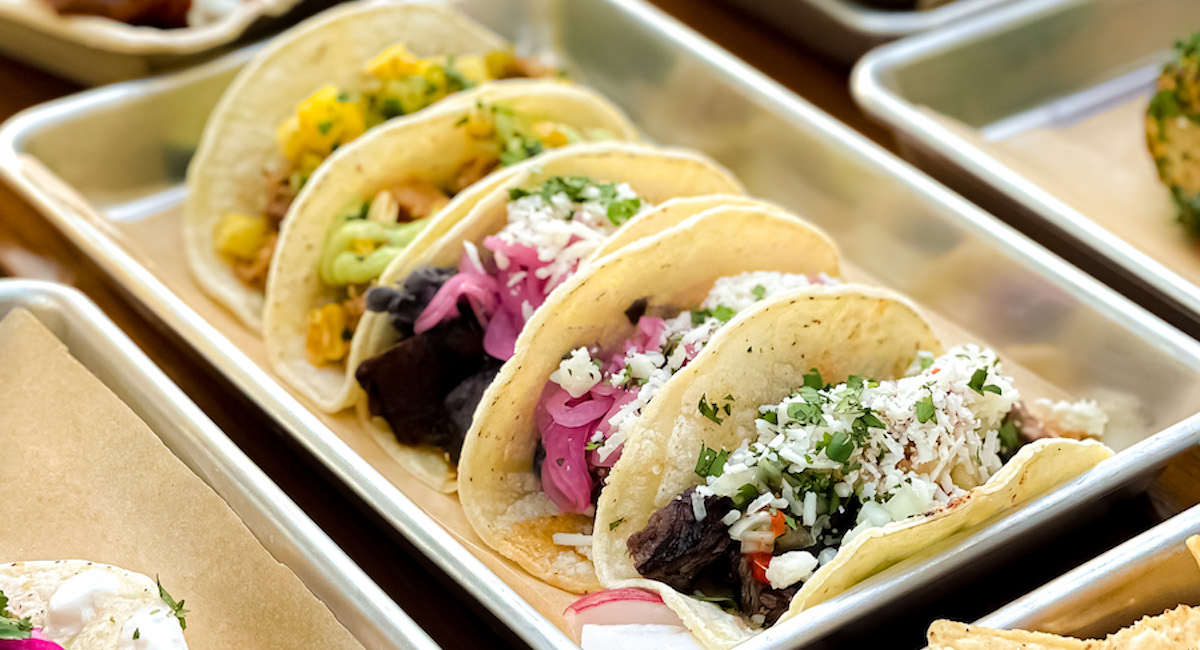 Para Maria
While we're on the subject of rooftops, let's not forget the equally awesome city-skyline and harbor views glimpsed from Lookout, a cocktail bar perched atop the Envoy Hotel. It's mostly about the urban eye candy here—though there are some small bites available from chef Tatiana Pairot Rosana, a two-time Chopped Champions champion. What you really want to check out, though, is Para Maria, her Latin cuisine restaurant downstairs (and one of our picks for the best citywide) that serves a smattering of delectable tacos—think chipotle portobello mushrooms and mojo pork carnitas—as well as ceviche, elotes, and small plates for sharing.
70 Sleeper St., 617-338-3030, outlookkitchenandbar.com.
Nautilus Pier 4
One of the hottest restaurants in Nantucket is now one of the hottest in Boston. Nautilus looks to New England for its global small plates meant for sharing—think charcoal-grilled prawns with roasted chili paste, fried garlic, and coconut vinaigrette—as well as some large-format feasts such as whole roasted Peking duck. There are streams of sake to wash it all down, not to mention Nautilus's own brand of canned rosé wine.
300 Pier Four Blvd., Boston, 857-957-0998, thenautilus.com.
Ocean Prime
There are quite a few seafood-and-steakhouse joints packed into the relatively small footprint of the Seaport, offering (not exactly dissimilar) high-end chain experiences. They all scratch a certain power-dining itch, to one degree or another—but Ocean Prime might be the most reliable exemplar of the genre, thanks to all that excellent turf (prime filets enhanced with Béarnaise or black truffle butter) and surf (say, butter poached lobster tails with red pepper cream). Fine cocktails flow. Ah, the sound of the Ocean: clink!
140 Seaport Blvd., 617-670-1345, oceanprime.com.
Pastoral
Besides being one of the best places for pizza in Boston, Pastoral is simply one of the most consistent dining options when you're in the Fort Point area. Chef Todd Winer's Neapolitan-style pies are rounded out by a bit more wood-fired cookery—from fresh-baked seasoned breads to antipasti and salads with fire-roasted croutons.
345 Congress St., Boston, 617-345-0005, pastoralfortpoint.com.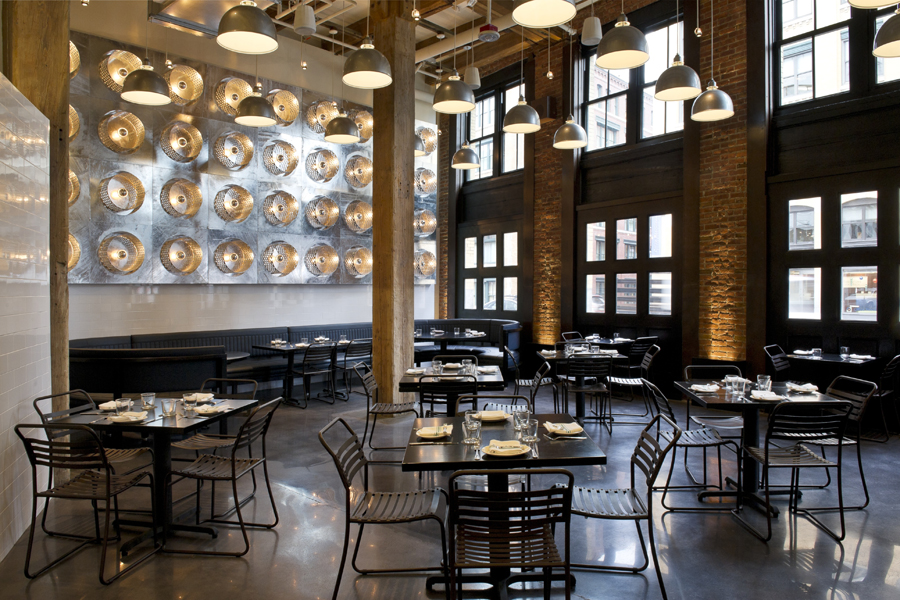 Row 34
What began as the younger, Seaport sibling to Kenmore Square's iconic (and sadly, now-closed) Island Creek Oyster Bar is now a veteran in its own right. Part of the first wave of restaurants that accompanied early, major new developments in the neighborhood, Row 34 remains a formidable force in its own austere-industrial-cool kind of way. The place still takes plenty of pride in its eclectic craft beer list, not skimping on categories like wild and sour ales. And chef Jeremy Sewall is still a master of seafood prep, whether he's dealing with whole roasted fish or little crispy oysters in lettuce cups—a longtime menu favorite.
383 Congress St., 617-553-5900, row34.com.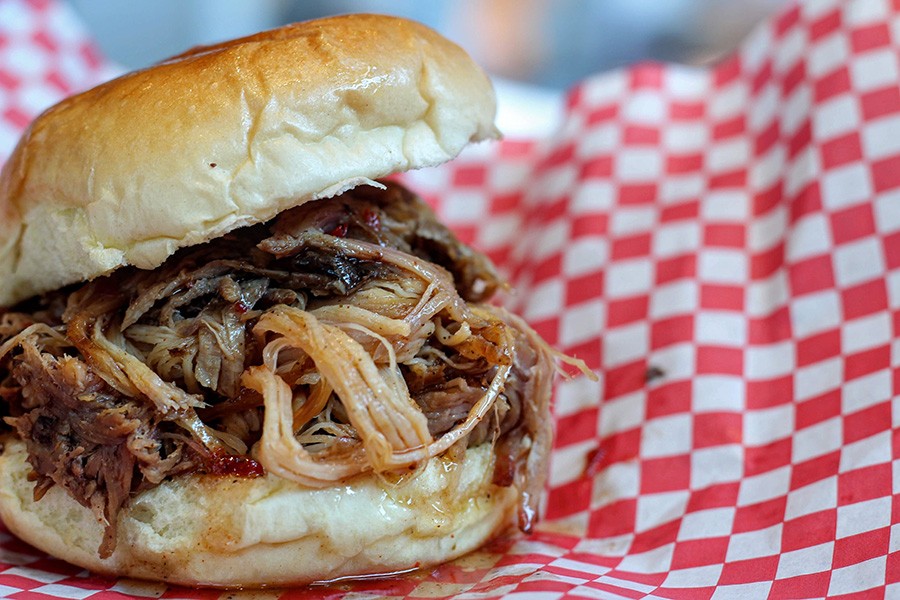 The Smoke Shop BBQ
Our reigning title-holder for Boston's best barbecue continues to grow its red-hot empire: chef Andy Husbands opened his fourth location in Harvard Square during the pandemic, as well as a small station at the West End food court Hub Hall. Honestly, we'd take one on every street corner if we could, so much do we love the award-winning pitmaster's juicy brisket, outstanding burnt ends, and tasty sides, such as pimento mac 'n' cheese. We're not exactly crying about the extensive whiskey selection, either.
343 Congress St., 617-261-7427, thesmokeshopbbq.com.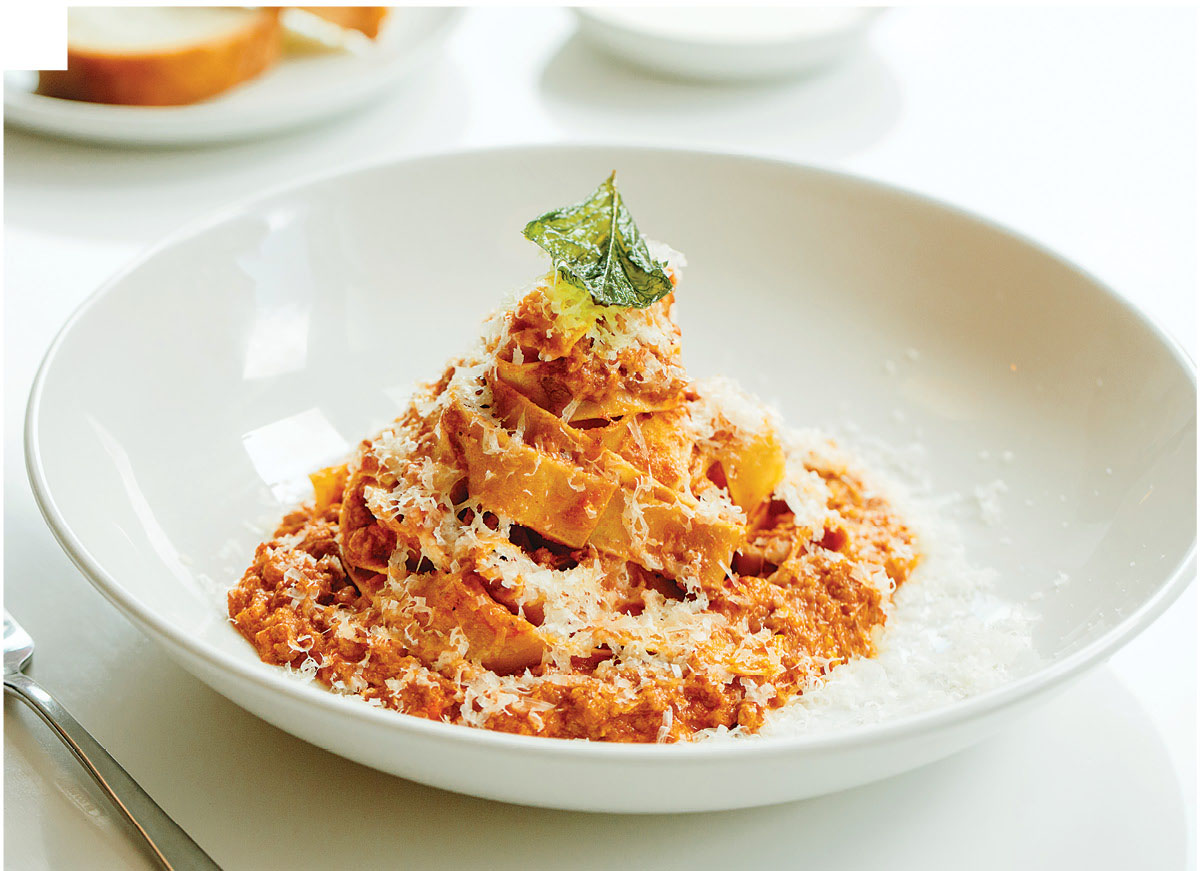 Sportello
Esteemed restaurateur Barbara Lynch was the first major name to bank on the then-burgeoning Fort Point-Seaport area when she opened Sportello—as well as its neighboring cocktail den, Drink—in 2008. A couple years later, she rolled out Menton as well, a fine-dining stalwart that survived a pandemic and is back to serving $190 tasting menus. While both restaurants have attained anchor status in the area, Sportello is still the sibling that keeps us coming back the most for superlative house-made pasta, from classic tagliatelle bolognese to decadent braised rabbit strozzapreti, plus other Italian trattoria-inspired dishes in a modern space with a spiffy, counter-style setup. Oh, and we can actually afford it without using the company credit card.
348 Congress St., 617-737-1234, sportelloboston.com.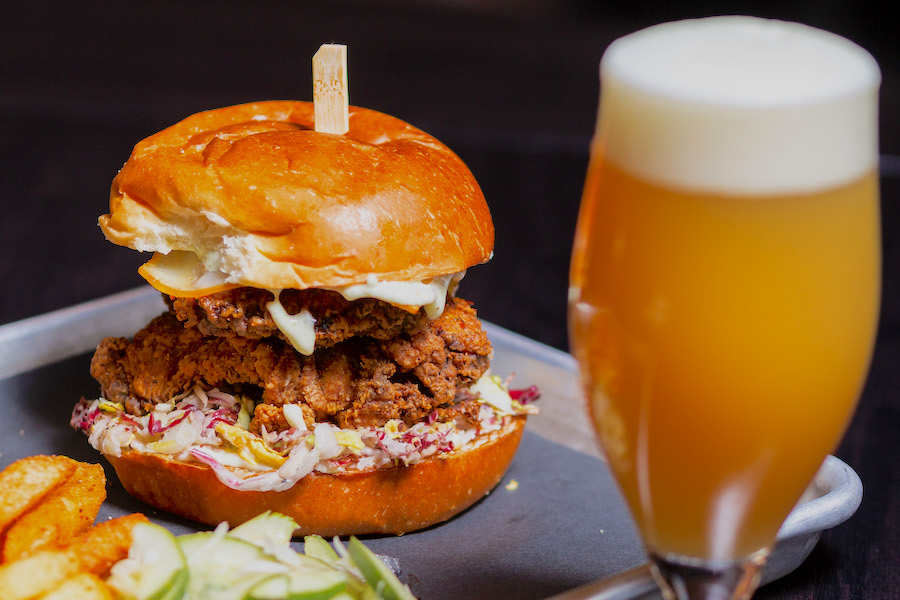 Trillium Brewing Company
When the super-popular brewery opened its Fort Point taproom, it probably could have coasted on the strength of its craft beers alone; Trillium's rep pretty much guaranteed the place would be a hit. But the big brewpub hardly held back on the food: there's mussels in white wine, seafood chowder, roasted half chicken with sunchoke puree, and more. (If you can lift those glasses and forks on the roof deck, meanwhile, even better.) Pro tip: For something entirely different, check out the awesome wood-fired pizzas at Trillium's massive new taproom and restaurant in Canton, too.
50 Thomson Pl., 857-449-0083, trilliumbrewing.com.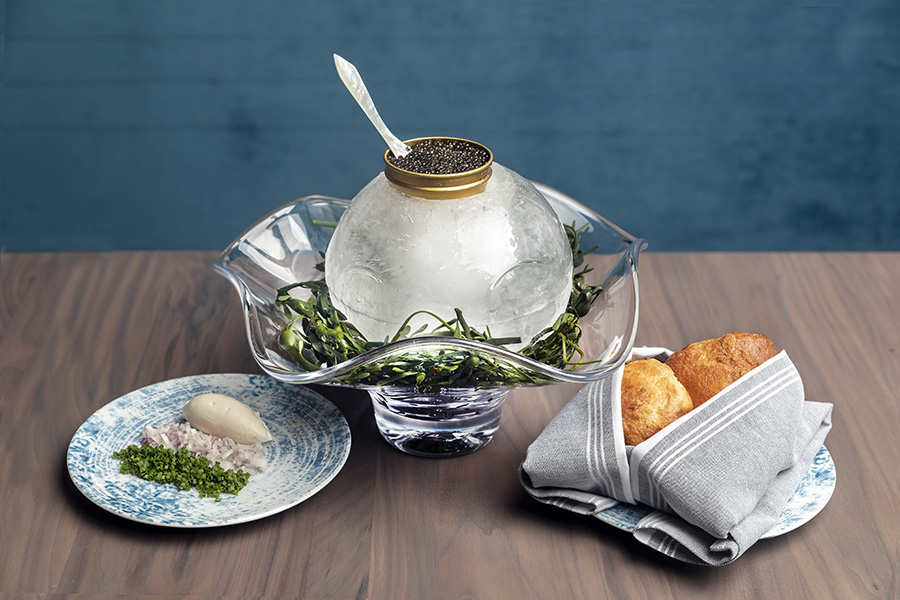 Woods Hill Pier 4
The Seaport sibling to Concord's Woods Hill Table inhabits arguably the most storied address in the Seaport neighborhood. Once upon a time, after all, it was home to Anthony's Pier 4, a decades-spanning restaurant where countless Bostonians celebrated special occasions (as well as a rare dining destination in a then-underdeveloped area of the city). Now, though, you'll find a much more modern operation informed by restaurateur and local-food activist Kristin Canty's devoutly farm-to-table ethos. Chef Charlie Foster, meanwhile, is the man behind stellar, super-seasonal dishes like pork shoulder—sourced straight from Woods Hill's own New Hampshire farm—with coffee roasted carrots, watercress, and chestnuts.
300 Pier 4 Blvd., 617-981-4577, woodshillpier4.com.
Yankee Lobster
This no-frills seafood shack is an area institution, not to mention a must-visit whenever you're checking out a summer concert at the neighboring concert pavilion. The cold mayo-dressed lobster roll is a classic, the lobster bisque and clam chowder offer just the right amount of creaminess, and you'll want to crack into the bucket o' crabs for a fresh and flavorful communal feast. The 1950-founded joint also sells live lobsters, fish filets, and more from its market, so you can take a taste home.
300 Northern Ave., 617-345-9799, yankeelobstercompany.com.