The Evolution of McDonald's In Photos – The History of McDonald's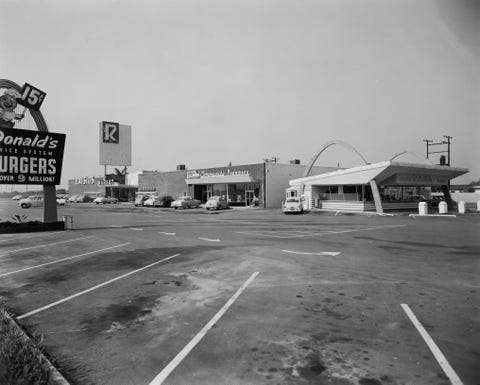 Before McDonald's was your favorite place for a late-night snack or an afternoon McFlurry pick-me-up, it was a sit-down burger joint in San Bernardino, California. That's right: When the chain opened in 1940, it didn't even serve fast food. Find out how McDonald's took over the world (we kid, kind of…) and enjoy these photos that show just how much the franchise has changed over the decades.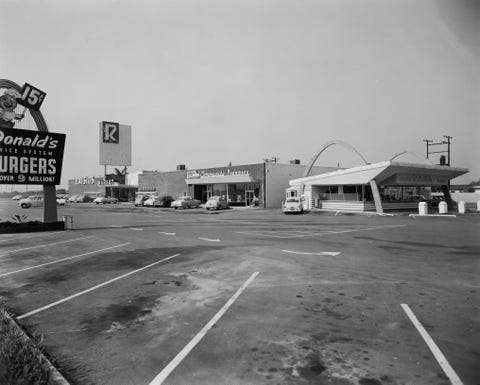 American Stock Archive
Getty Images
1
of 41
1940: The First Restaurant
Brothers Richard and Maurice McDonald opened the first McDonald's in 1940 in San Bernardino, California. Back then, it was a sit-down restaurant, but it was rebranded as a speedy drive-in hamburger stand post-World War II.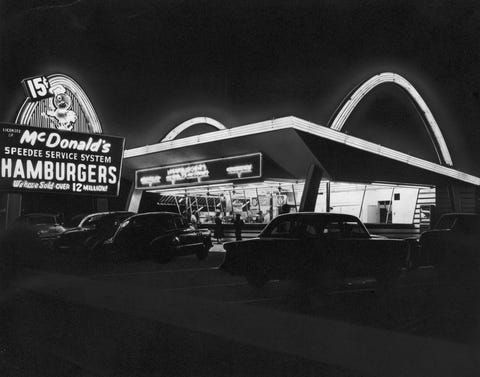 Hulton Archive
Getty Images
2
of 41
1955: A New Leader
In 1955, businessman Raymond Kroc joined the company and transformed it into the iconic fast food joint we know today—and he eventually bought the brothers out for $2.7 million in 1961. Fun fact: The original McDonald's mascot was a chef hat on top of a winking hamburger face named Speedee (pictured).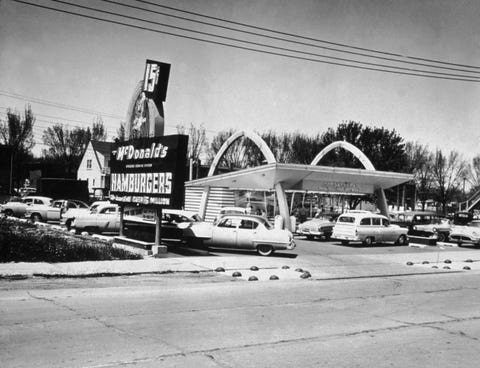 Hulton Archive
Getty Images
3
of 41
1956: Drive-In Destination
Before it was a drive-thru, McDonald's was a drive-in—and here's what a typical location would look like in the late '50s when burgers only cost 15 cents.
Afro Newspaper/Gado
Getty Images
4
of 41
1963: Ronald McDonald Was Born
Largely inspired by Bozo the Clown, the character of Ronald McDonald first appeared in advertisements on TV in 1963. The brand ambassador's full moniker was "Ronald McDonald, the Hamburger-Happy Clown." Here, an actor gives a second grade class at Grove Park Elementary School a fire safety lesson.
Bill Johnson
Getty Images
5
of 41
1967: Toys For Tots Donations
In the '60s, children who donated their old toys to Toys for Tots received a certificate for a free hamburger and French fries. Approximately 20,000 children across 30 hospitals, orphanages, and other institutions in north Colorado benefitted from the effort. Be still, our hearts!
Hulton Archive
Getty Images
6
of 41
1970: The Third Restaurant
This was the third McDonald's restaurant ever built. It opened in Downey, California, in 1953, and is the oldest McDonald's still in operation. It is also now a designated national landmark.
John Beard
Getty Images
7
of 41
1971: The Ronald McDonald House
McDonald's has a long history of charity work, including The Ronald McDonald House, which is a nonprofit organization that provides housing and other resources to families with sick children. It was founded in 1974, so not long after the charity event pictured here.
Fairfax Media Archives
Getty Images
8
of 41
1972: Global Expansion
McDonald's began expanding into international markets in 1967 when it opened locations in Canada and Puerto Rico. The company's first Australian location was in the Sydney suburb of Yagoona, and was appropriately celebrated with a massive burger.
Bill Pierce
9
of 41
1973: The 2,500th McDonald's
President Frederick Turner and CEO Raymond Kroc posing in celebration of the opening of McDonald's 2,500th location, which was located in a suburban shopping center in Hickory Hills, Illinois. Not sure why they're holding a broom and mop, but OK!
Images Press
Getty Images
10
of 41
1973: Taking Over Japan
McDonald's expanded to Japan in 1971. Now, the country boasts around 3,000 McDonald's locations as well as an array of unique menu items including the Mega Teriyaki Burger, Cheese Tsukimi Burger, and Chicken Tatsuta.
Robert Landau
Getty Images
11
of 41
1973: A McDonald's Billboard
While the location of this billboard is unknown, one thing's for certain: Anyone who passed by it definitely wanted a Big Mac afterwards.
Tim Boxer
Getty Images
12
of 41
1973: Andy Warhol Approved
Even New York City's social elite ate at McDonald's back in the day! Here, Andy Warhol attends a black tie dinner hosted at a McDonald's on Fifth Avenue in aid of the Muscular Dystrophy Association. His plus one? His beloved dachshund, Archie.
Fairfax Media Archives
Getty Images
13
of 41
1974: Ronald McDonald Entertains
McDonald's cheery mascot accompanied 40 children from Sydney, Australia's Far West Home on a visit to their local Taronga Zoo. Ronald McDonald would often pop up at charity events hosted by the fast-food joint, specifically those involving children in need.
Boston Globe
Getty Images
14
of 41
1975: A McDonald's Wedding
McDonald's employee Annette Scaramozza married Anthony Francis in a McDonald's restaurant in east Boston. She wanted to host the nuptials there so she could share the day with her fellow employees. If we're being honest, those flower arches are everything.
David Cooper
Getty Images
15
of 41
1976: Best Birthday Celebration
American politician Hugh Carter gets the ultimate birthday present: A Big Mac cooking lesson from a McDonald's manager. Now we know what we're asking for next year.
Fairfax Media Archives
Getty Images
16
of 41
1977: Another Birthday
OK, we found an even better birthday gift. This five-year-old patient at the Royal Alexandra Hospital for Children in Sydney, Australia got a 185 pound McDonald's hamburger-shaped birthday cake.
Duane Howell
Getty Images
17
of 41
1978: Uniform Protests
Even McDonald's has had its fair share of conflict over the years. Members of Denver's Lovingway Inner City United Pentacostal Church protested the business when managers wouldn't allow a church member to work there wearing a dress. Danette DiCroce (pictured in the hat) was fired for not adhering to their pants-only dress code, only to be rehired soon after. Today, the typical McDonald's uniform still consists of slacks and a shirt.
Fairfax Media Archives
Getty Images
18
of 41
1979: A Classic Meal
Here's what a McDonald's Big Mac and large fries looked like in the late '70s—all of which would set you back only $1.50.
Denver Post
Getty Images
19
of 41
1979: A Guest Home
The Ronald McDonald House guest homes provide accommodation to families with sick children who need to be located near a hospital. This one, which opened in 1979, was located near the Denver Children's Hospital.
Mirrorpix
Getty Images
20
of 41
1980: Popular Social Spot
Even back in the '80s, McDonald's was a common spot for young people to gather—and here's the proof.
Barbara Alper
Getty Images
21
of 41
1980: McDonald's In Paris
An advertisement for McDonald's 'Menu-Plaisir'—a Big Mac and a Coca-Cola—in a Paris Métro station. The first McDonald's opened in France was in 1972 in the town of Créteil.
Fairfax Media Archives
Getty Images
22
of 41
1982: Hamburger University Training
Back in 1961, McDonald's started Hamburger University, a week-long course that gave managers a crash course in everything from customer service to kitchen protocol—and it still exists today. Here's a manager and student showing off what they learned in the '80s.
Paul Natkin
Getty Images
23
of 41
1983: Motorhead At McDonald's
Phil Taylor, Ian 'Lemmy' Kilmister, and Brian Robertson, better known as the British metal band Motorhead, at a McDonald's restaurant in Chicago. Just because.
Fairfax Media Archives
Getty Images
24
of 41
1983: Ron Coote's Restaurant
Former rugby league player, Ron Coote, celebrated the opening of his McDonald's restaurant by flipping burgers in the back.
NBC
Getty Images
25
of 41
1983: Ronald McDonald On SNL
Tim Kazurinsky, Gary Kroeger, and Joe Piscopo starred in a skit called "Angry Ronald McDonald" that portrayed the McDonald's mascot as a demanding, egotistical, and hot-headed entertainer, which goes to show how big of a cultural mainstay he was at the time (and still is!).
Bettmann
Getty Images
26
of 41
1984: A Visit From President Reagan
Even President Reagan enjoyed a Big Mac or two. Here he is eating at a McDonald's after a campaign stop at the University of Alabama in Tuscaloosa.
Joe Sohm/Visions of America
Getty Images
27
of 41
1986: The Macy's Thanksgiving Day Parade
Say hello to the first-ever Ronald McDonald balloon in the Macy's Thanksgiving Day Parade—which was accompanied by the McDonald's All-American Marching band. This guy was retired after the 1994 parade. The current McDonald's balloon features Ronald wearing a red coat, yellow pants, and red shoes.
Peter Turnley
Getty Images
28
of 41
1990: The First McDonald's In Russia
The first McDonald's in Russia was located on Gorky Street in Moscow and its opening set the record for most customers served in one day (over 30,000, in case you're wondering).
Anwar Hussein
Getty Images
29
of 41
1992: Princess Diana At A Charity Lunch
Princess Diana was known to buck royal protocol. One way she did that? Taking her sons to McDonald's for burgers. Here, she's pictured at a McDonald's charity lunch held in London.
Ron Galella, Ltd.
Getty Images
30
of 41
1992: Celebs At A "Helping Hands" Event
Actresses Brooke Shields and Raven-Symoné, who both served as ambassadors for the Ronald McDonald House, attending a mural dedication ceremony for a new house in New York City.