The Super Easy Healthy School Snack List with Printable
The Super Easy Healthy School Snack List with Printable
Check out this easy and healthy school snack list with over 20 ideas to send with your child, nut-free included. From preschoolers, kindergartners, or elementary school aged kids and beyond! 
This Post: The Super Easy Healthy School Snack List with Printable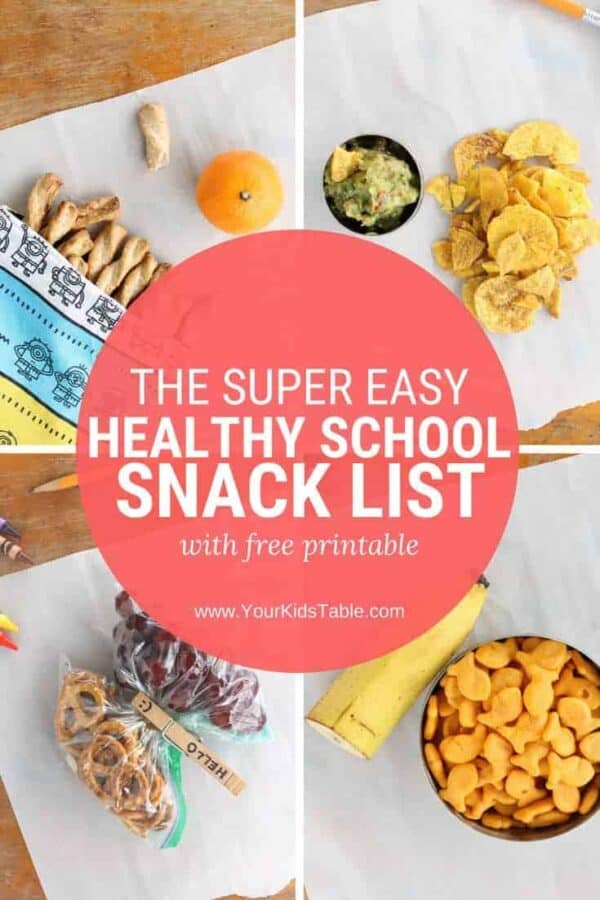 Do you ever feel overwhelmed when it's your turn to send in a school snack for the whole class? Or maybe you have the daily chore of sending one just for your child?
If you're like me, you want to move beyond the packaged cookies and cheese curls, but still want to send something in that kids will enjoy.
This can be a tricky balance to strike, but being an experienced feeding therapist, I have some insights on what kids tend to eat. Of course, picky eating is very common in children, and other kids may not have the opportunity to be exposed to new and different foods. That means your snack may not pass go, and that's okay, because you won't be able to please every single child.
But, the few kids that may skip it, will still get to see and possibly interact with a new food and that is a gift in and of itself. The goal is to keep this to a minimum though, and that's been a big theme in this healthy school snack list.
In addition to keeping foods kid-friendly, I've also focused on snacks that are easy. While I love the elaborate and adorable snack creations I see on Pinterest, the reality is most of us don't usually have that much time. Sometimes (okay, maybe a lot of the time), we're pulling something together the night before.
Easy is important, too!
Before I share the healthy school snack list, I've got a couple of helpful tips for you to think about as you're planning your school snack ideas…
Tips for Using Your Healthy School Snack List
1. Nut free is king – In many school districts, nut free snacks are a must whether your child is allergic or not. Not all school districts are nut-free, so make sure you know your school's policy. It could be as simple as checking with the teacher for allergies. If you do need nut free ideas, I've got plenty below, but always make sure you double check the labels of anything you buy.
2. Think about individual portions – Serving snack in single servings is very convenient and something kids often like. It's quick and easy. Also, some schools mandate that and won't allow any foods that have been touched or are homemade.
3. Get your kid to help – If we give our kids free reign to pick out the school snack, they may run for the snack cakes and donuts. Instead, give them a few choices that you approve of, and if possible, have them help get it ready for school. And, if you need some additional ideas for selective kids, check out Healthy Snacks for Picky Eaters.
4. Avoid super messy foods – Teachers will not thank you when you send a crumbly or greasy snack that leaves a ring of crumbs around their kindergartner's chair. Older kids may be able to manage, but think through if the snack you choose will be a burden. If you're not sure, take a second to ask the teacher!

Your Inspiring Healthy School Snack List
You'll find over 20 healthy school snacks on this list. To help you out a little, I made suggestions about which you can pick up at the store and require almost no effort, school snacks that are perfect for kindergartners and preschoolers, snacks for the whole classroom, and those that may be best for just your child. But, these can easily be mixed and matched so make sure you look at the whole list!

School Snacks for Kids (for the whole class or just your child):
Banana muffins

If you're allowed to send in homemade versions, this is my super healthy banana pumpkin muffin recipe, just omit the almond meal for nut allergies.

Watermelon slices and mini Gouda wheels

I'm thinking about those cute little Babybel ones!

Carrot Sticks, hummus, and pita chips

Look for individual cups of hummus and carrot sticks. These may be difficult to chew for young preschoolers

Unsweetened applesauce cups and natural fruit roll ups/fruit leather
Yogurt tubes and nut free granola

Check sugar content on nutrition label

Bananas and whole wheat Goldfish crackers

Slice the bananas in half and leave the skin on

Trail mix

Try combining small whole wheat crackers, pretzels, raisins/craisins, pumpkin seeds, and chocolate chips
 

Super Easy School Snacks (store bought):
Raisins and cheese sticks

Both are available in individual wrappings

Pre-made mini cheese cracker sandwiches with cherry tomatoes

Check the labels for healthier varieties

Nut-free, if necessary, granola bars
Clementine oranges or Mandarin oranges and whole wheat pretzels

These are better for older kids who can peel on their own and look for low sugar

Cottage cheese cups and apple chips

The apple chips can be found in the chip aisle at your grocery store or with dehydrated fruits.

Healthy Snacks for Kids at School (for your child only):
Since you don't have to worry about serving anyone else, you have some free reign here:
Simple kid friendly 

guacamole

 and plantain chips
Diced cantaloupe and cream cheese fruit dip
Ham and cheese pinwheels

Tortilla shells with melted ham and cheese inside then sliced, they serve well at room temperature

Celery pieces filled with cream cheese

You can also fill with nut butter, if allowed

Mild salsa and tortilla chips
Frozen chocolate banana slices

School Snack Ideas for Kindergarten or Preschool
Butterfly bags

Fill with grapes and crackers/pretzels

Peaches in an individual cup and no hull popcorn

Check for low-sugar options as peaches are usually in syrup

Trader Joe's letter cookies and blueberries

Any graham cracker will work, but if you have a Trader Joe's nearby, these are super cute!

Apple slices and whole wheat crackers
Strawberries and mini brown rice cakes
Affiliate links used below. See our full disclosure.
Reusable Containers for Schools Snacks
If you're sending individual snacks for your child, having some containers and small snack bags that you can use over and over again can help you save a couple of bucks and make packing snack a little easier. These are some of my top picks: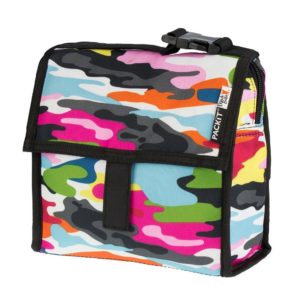 Insulated snack bag – This is a smaller sized bag that's also insulated to throw any and all of your child's snacks into!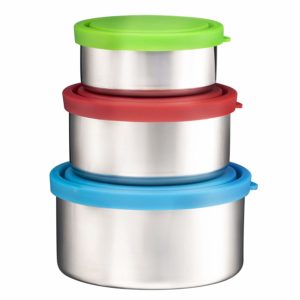 Stainless steel containers – If you like to avoid plastic, these are perfect. They come in three different sizes to help out with different types of snacks.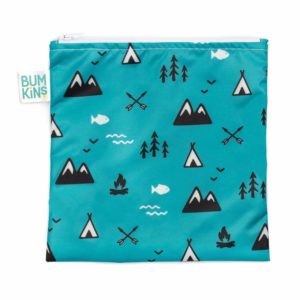 Cloth snack bags – Throw dry snacks into these bags that are dishwasher safe.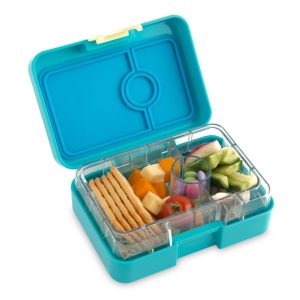 The deluxe snack box – If you need to send in a big snack for your child on a regular basis, this multi-compartment box gives you lots of options and makes for a very inviting snack while your child's away at school.
Free Healthy School Snack List Printable
Feeling inspired? I hope so!
To help you get organized, I have this handy printable version of the healthy school snack list above. I'll send it to your inbox right away and you'll become part of my weekly newsletter, where I share lots of tips and tricks for all things related to kid's food and more.
Grab the Healthy School Snack Printable Here
More Food Ideas for Kids
Mega List of Vegetable Recipes for Kids
Sore Throat Popsicles for Kids that Soothe and Heal
Immune Booster Carrot Cake Smoothie for Kids
19 Nutritious Bedtime Snacks For Kids
Alisha Grogan is a licensed occupational therapist and founder of Your Kid's Table. She has over 14 years experience with expertise in sensory processing and feeding development in babies, toddlers, and children. Alisha also has 3 boys of her own at home. Learn more about her here.
Source: https://bloghong.com
Category: en