The Ultimate List of Free Online Courses (70+ Free Courses!)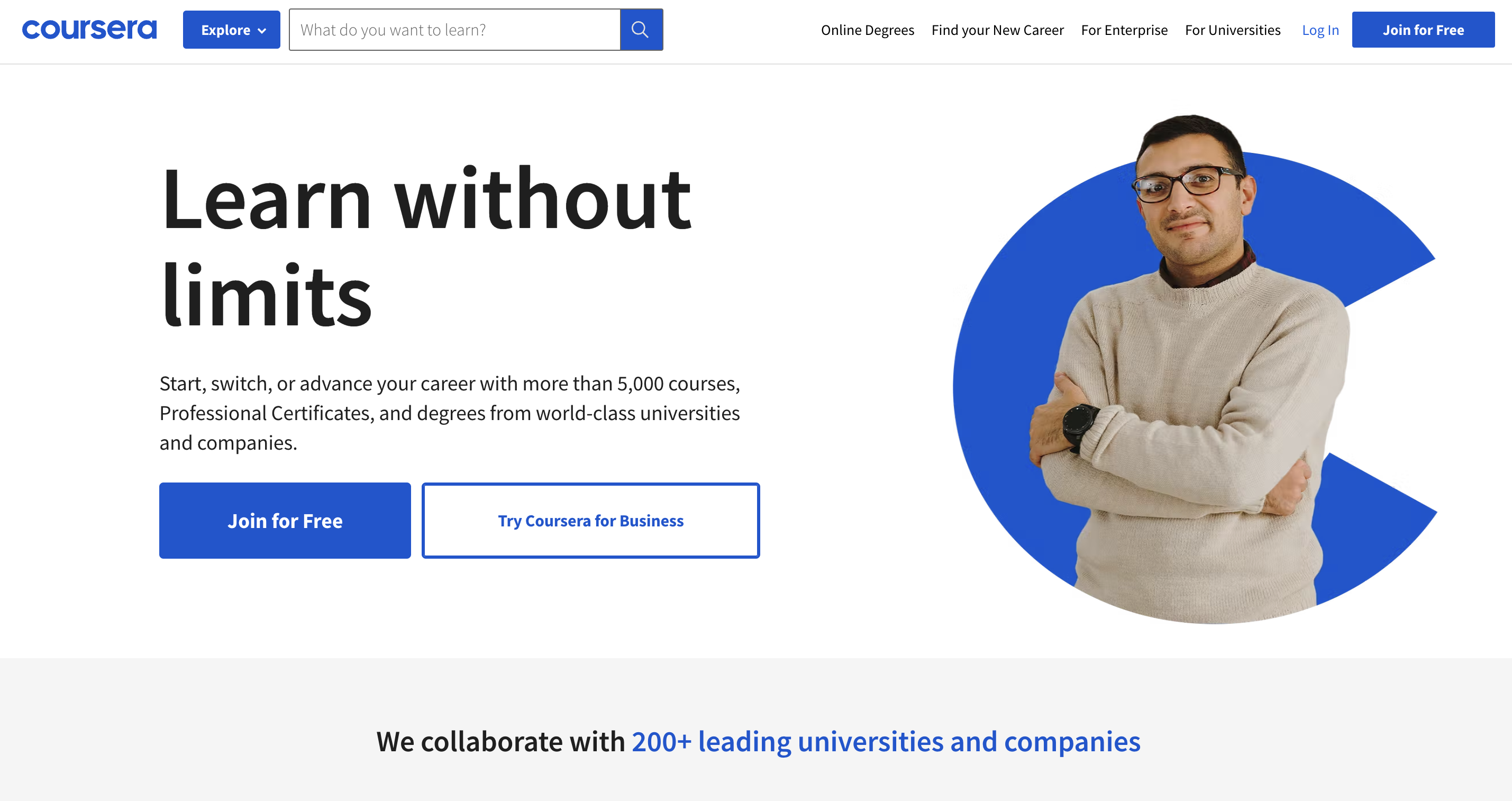 Learning outside of school is hard. 
You've got to figure out what you don't know, set aside time to study, and then stick to your learning plan, often for weeks at a time. In other words, it's a struggle. The beauty of online courses is that the course structures your learning for you, meaning that you can focus on creating study time and staying on track. 
Many of the best online courses cost money, but there's a bunch of great free ones out there too. In this article, we'll break down the best places to find free online courses, before providing our top picks from a variety of disciplines, including marketing, health, science, business and communications. 
They're all completely free—so dive in, and pick one that grabs your eye. And here's some shortcuts, if you're eager to jump ahead: 
The best places to find free online courses
There's tons of great paid courses out there (including many our customers have created), but finding high-quality free courses can be a challenge. With that in mind, here's our shortlist of places you can go to find top-notch free courses: 
Coursera's courses are developed in partnership with world-renowned institutions like Stanford University and Harvard University—and there's hundreds of free ones.  Whether you want to learn about food and health or writing for the sciences, they've got a course for you.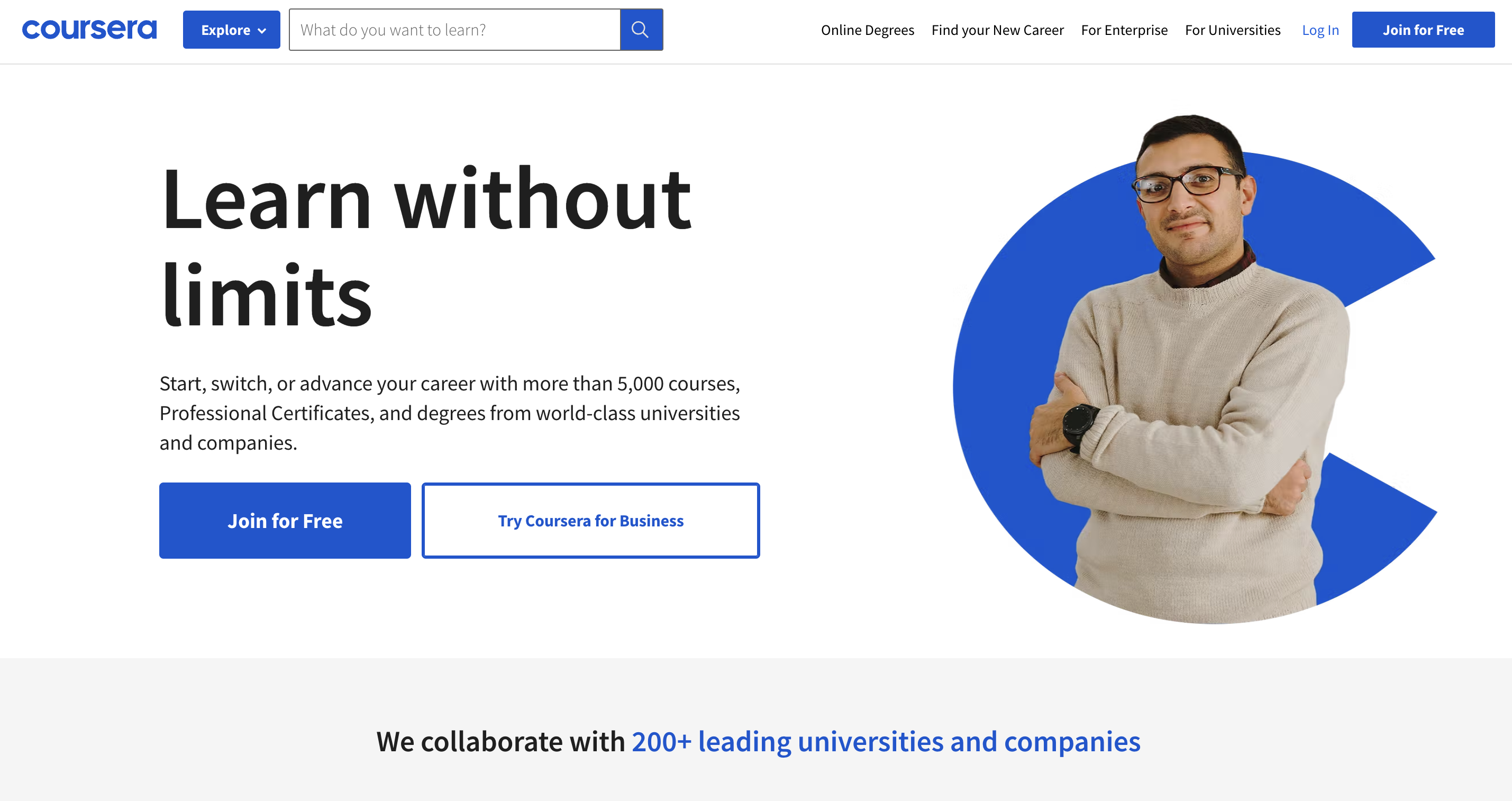 Studying for your SATs—or stuck on first-year calculus? Khan Academy's got you covered. Founded by Sal Khan, this non-profit offers hundreds of courses focusing on subjects in the US school system. You name it, they've got a lesson on it.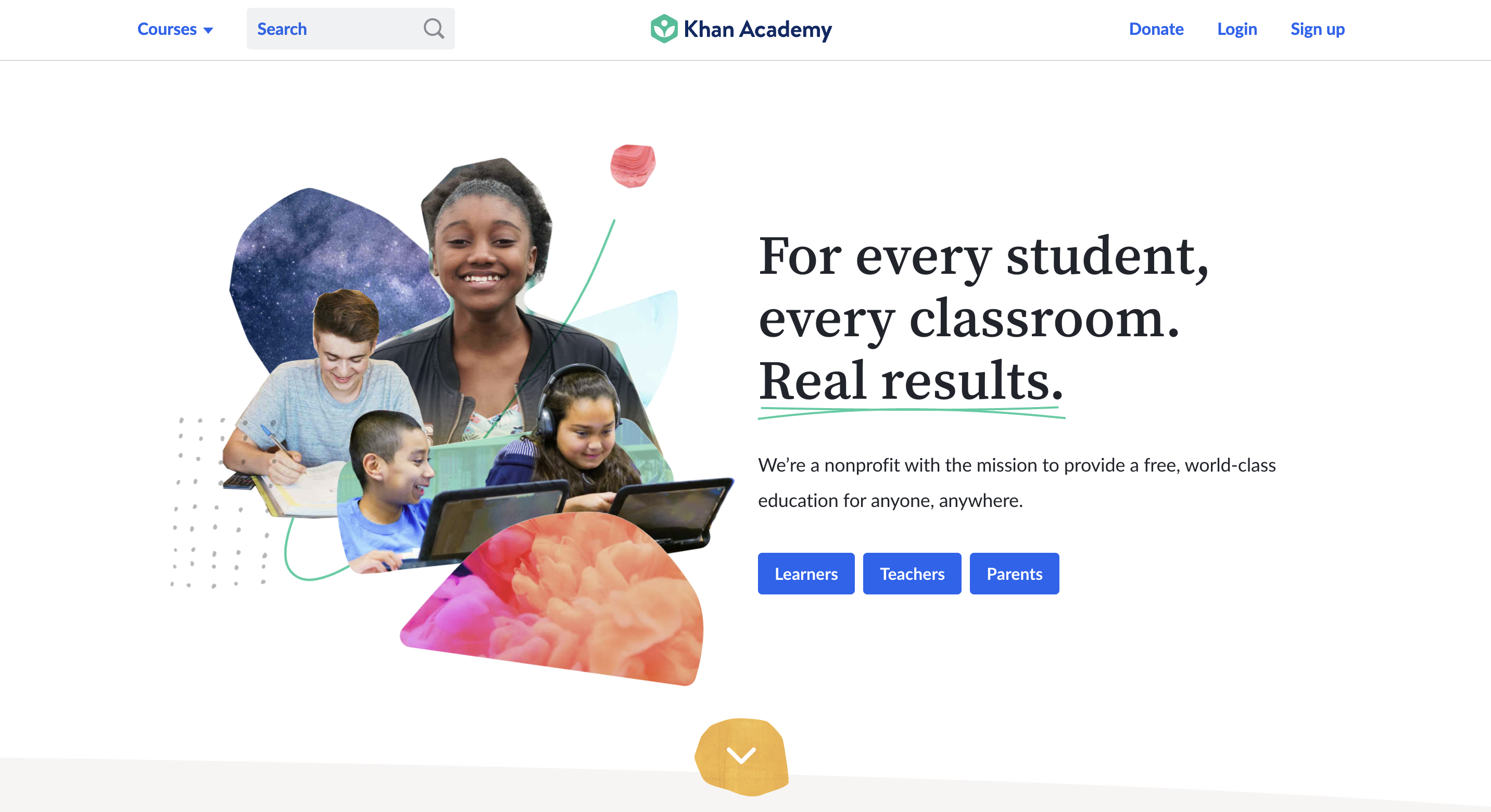 The Massachusetts Institute of Technology (MIT)  cracked open their vault and let out some of the absolute best free education on the internet. They provide lectures, notes, homework assignments and sample tests from actual MIT courses—and it's a great place to cement your science and engineering fundamentals. 
Codecademy has an array of free coding courses and learning tracks that'll get you off the ground and coding functions, for loops, and arrays in no time. Their paid tracks cover more advanced coding topics, but their free offerings are a great place to start your journey.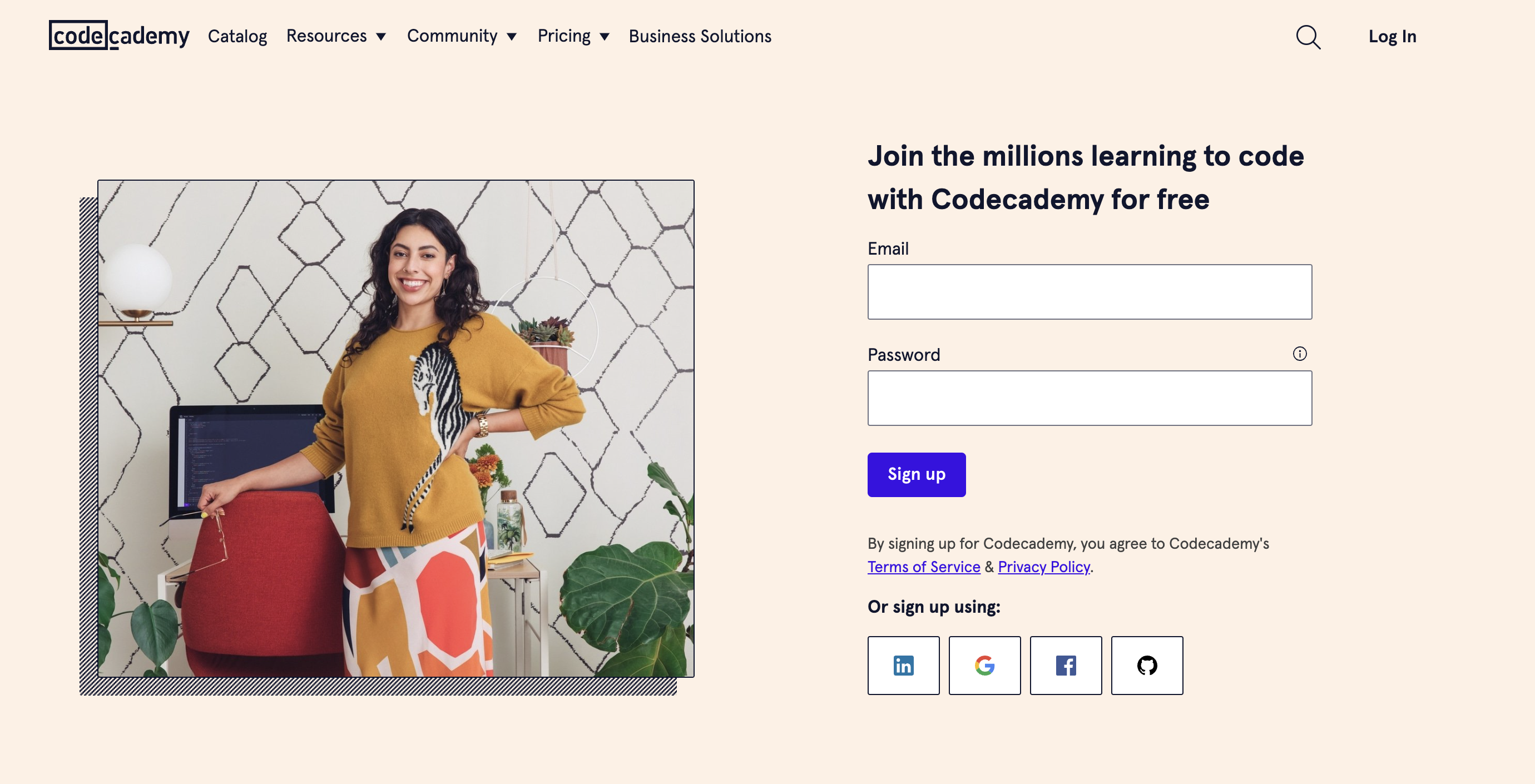 Alison offers 4000+ free courses, many of which offer diplomas and certificates of completion. Whether you want to learn a new language or become a DevOps engineer, there's at least one course here that'll have what you're looking for. 
EdX offers over 3000 courses and 300 programs developed in collaboration with top partners like Berkeley and Harvard University. Most of their courses are paid, but there's a large collection of free ones—all of which are worth your while. 
Free online courses for marketing
Marketing has many sub-fields, but the big three you need to know are search engine optimization, content marketing, and social media marketing. We've pulled together a collection of the best free courses in each area to get you up and running fast. 
Pick a course or two from each section, work through them and you'll be lightyears ahead of the competition.  (And if you're looking for classic, old-school advertising knowledge, check out David Ogilvy's Ogilvy on Advertising.)
Search Engine Optimization (SEO)
SEO Fundamentals Course with Greg Gifford | SEMRush
SEMRush is the definitive tool for keyword research and SEO analysis, and their free SEO Fundamentals Course with Greg Gifford will give a solid foundation. There's four hours of video lectures to get you started—and to get your articles ranking higher.  
Fundamentals of Digital Marketing | Google
Ready to dive deep into digital marketing? Look no further than Google's free Fundamentals of Digital Marketing Course. There's 40 hours of instruction covering everything from online business strategy to the inner workings of search engines. Plus, you can even earn a certification after you've passed the final exam!
Complete SEO Course for Beginners: Learn to Rank #1 in Google | Ahrefs
You might know nothing about SEO right now, but you'll be a total pro after this two-hour course. Taught by instructor Sam Oh, this YouTube course uncovers the secrets behind building backlinks, technical SEO, and that keyword research thing marketers are always talking about online.
Free Online Courses for Content Marketing 
Content Marketing Tutorial For Beginners | Simplilearn
Simplilearn took the equivalent of an entire content marketing course…. and just put it on YouTube for free. This two-hour lecture covers the fundamentals of content marketing, and includes info on SEO, ranking on Google, and getting organic views on YouTube. It's definitely worth your time. 
HubSpot Inbound Marketing Certification | HubSpot Academy
HubSpot literally invented inbound marketing, and it's only right that they've got a course ready to train new marketers. This two-hour course gives you the chance to get your content marketing skills certified, and learn about everything from buyer personas to the flywheel model of business.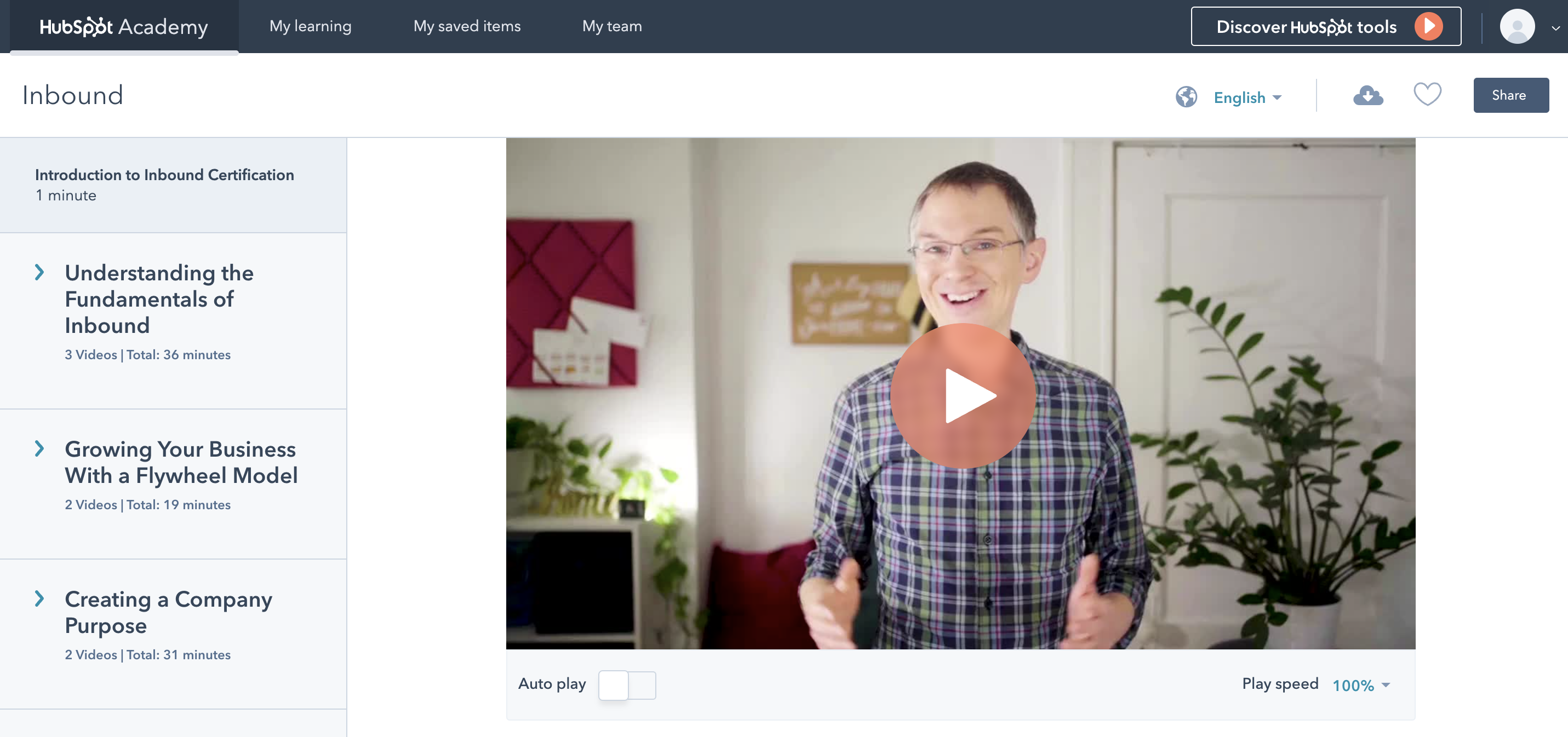 SEMrush Content Marketing Toolkit | SEMRush 
Beyond SEO, SEMRush also has a free course on content marketing. Their four-hour course is taught by experts and will help you get organically discovered by customers. (Who doesn't love not having to pay for advertising?)
Newsworthy Moments in Business | Enever Group
In Newsworthy Moments in Business, the instructor takes you through the three types of moments where the news might be hiding in your business. 
Digital Investigation Techniques | AFP
This course claims to sharpen digital reporting skills for journalists and provide tips for staying safe online.
Free Online Courses for Social Media Marketing 
Social Media Crash Course | Freelance Academy
Taught by Senior Instructor Gael Gililand, this free course breaks down the pros and cons of the major social media platforms. Aimed at beginners who're just getting started with social marketing, Gililand helps students pick the right channels to focus on and even includes a free resource bank.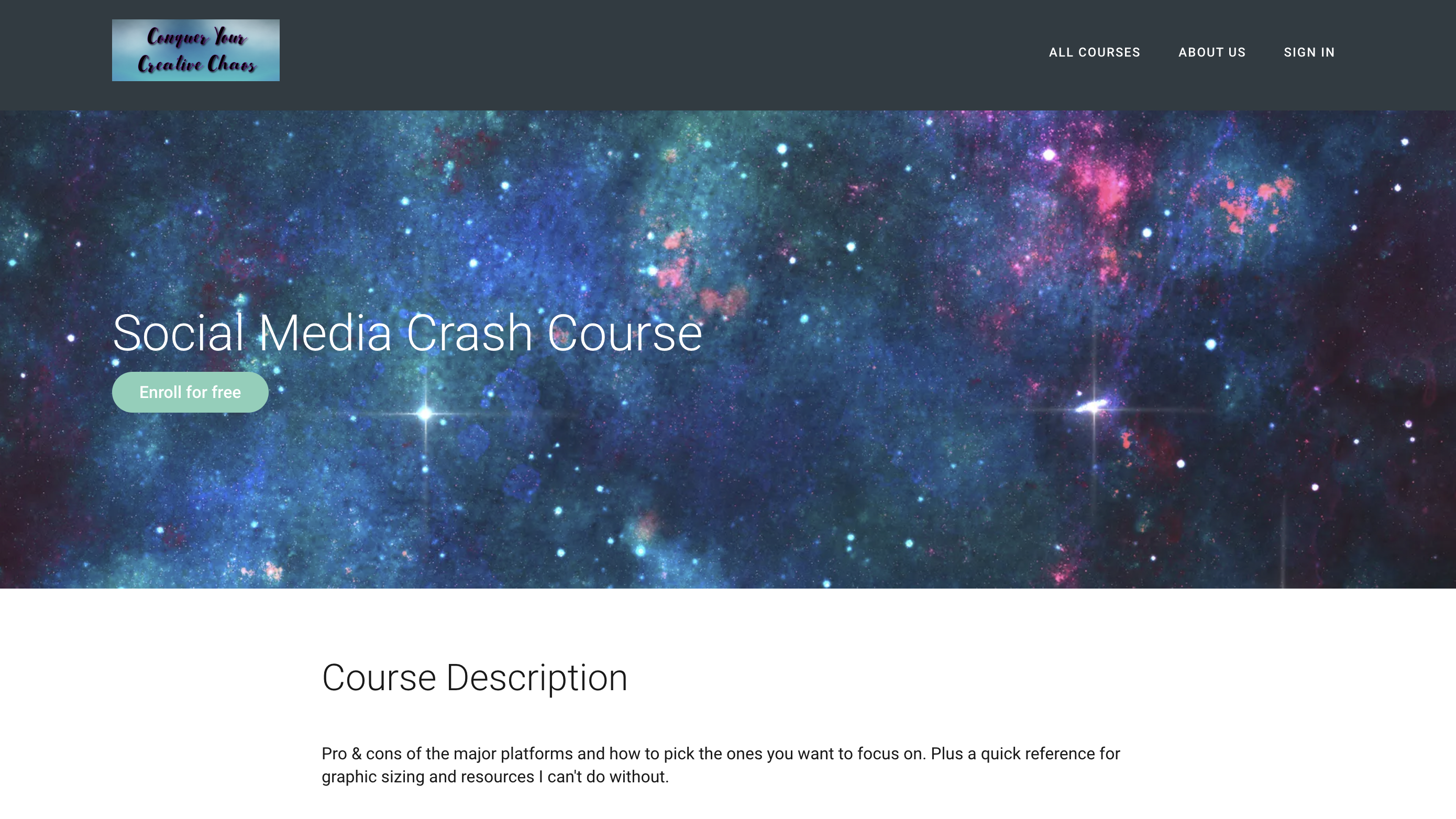 Hootsuite Platform Certification | Hootsuite
Hootsuite is many marketers' go-to for social media scheduling and publishing, and their free platform certification gives you a solid way to prove your digital marketing skills. They've got a slate of paid certifications for advanced learners, too. 
Digital Marketing 101 | Simplilearn
Expanding on their catalog of YouTube lectures, Simplilearn's Digital Marketing 101 course covers the digital marketing fundamentals. This three-hour course breaks down everything from customer lifecycle management to marketing analytics, so if you're new to the field, this's a great place to start. 
Internet Marketing for Smart People | Copyblogger
Copyblogger's Internet Marketing for Smart People breaks down the four pillars of effective online marketing: relationships, direct response copywriting, content marketing, and a valuable product. Made up of 16 free ebooks, this course will turn you into a pro marketer in no time flat.  
Meta Blueprint | Meta
Meta's big three (Facebook, Instagram and Whatsapp) are crucial social media channels that no marketer can ignore. This program includes courses for small businesses, brands, job seekers and even community leaders. No matter how you use Meta's channels, you'll find valuable training here.   
A Mini E-course in Visibility for Poets | The Polymath Agency
This course provides instruction to aspiring poets on how to establish a professional presence online and market themselves. 
How to Craft a Brand Identity That Feels Right | The Brand Stylist
This course teaches understanding of how to create a commercial brand that goes beyond aesthetics and moves your business forward.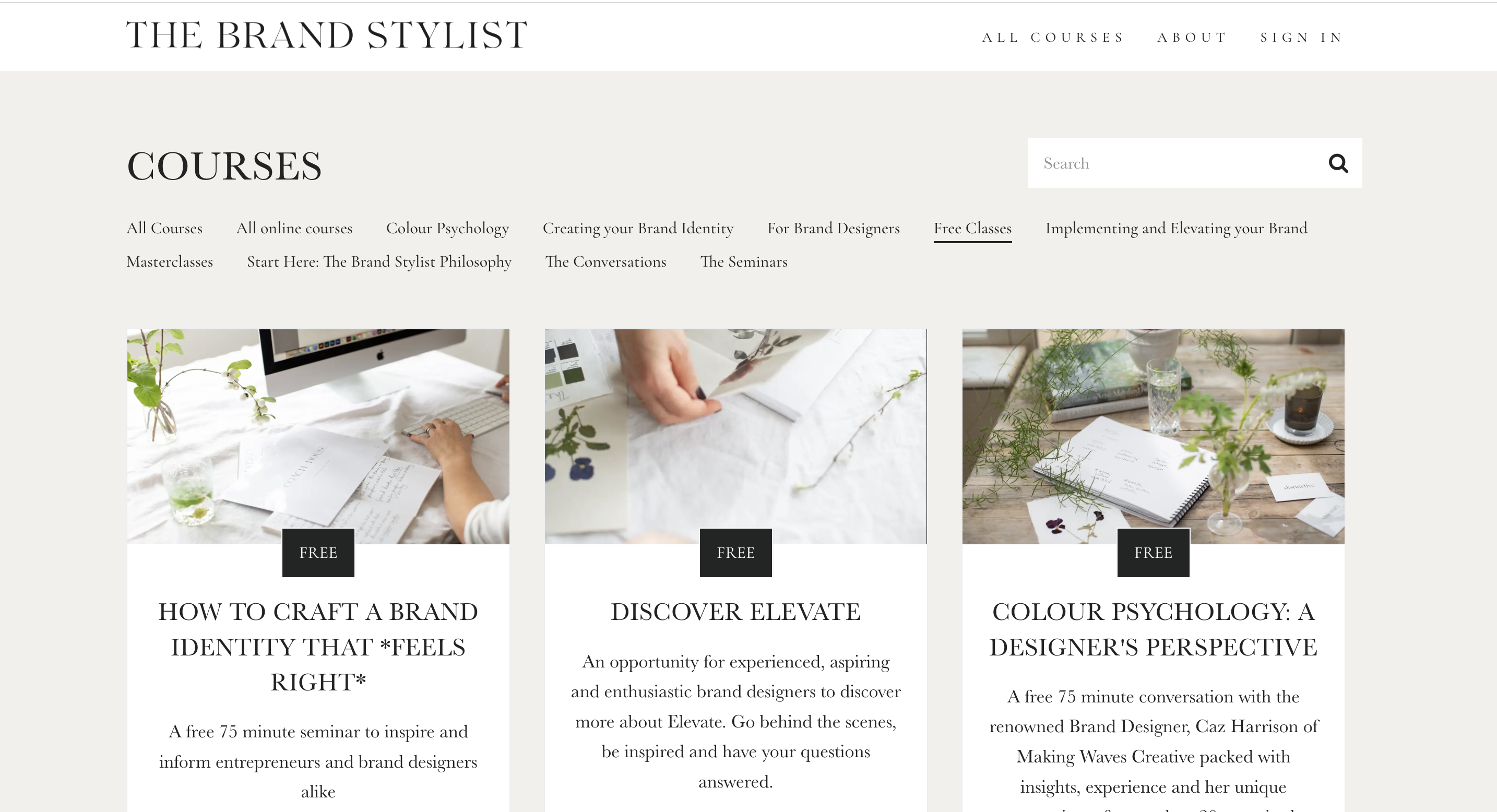 Free online courses for health
Diploma in Human Nutrition | Alison
This free course on human nutrition is a crash course on the role that nutrition plays in shaping our health and well-being. Taught by Brian Lindshield, it covers the human digestive system, proteins, lipids, metabolic pathways, and so much more.  
Nutrition: Vitamins and Minerals | OpenLearn
The vitamin and mineral section at the pharmacy might feel intimidating—but it won't be after this in-depth course from OpenLearn. You'll learn about the fat-soluble vitamins (A, D, E and K), and the water-soluble vitamins (the B group and C). Then, you'll learn about the main mineral elements and why fluid balance is so important for bodily health.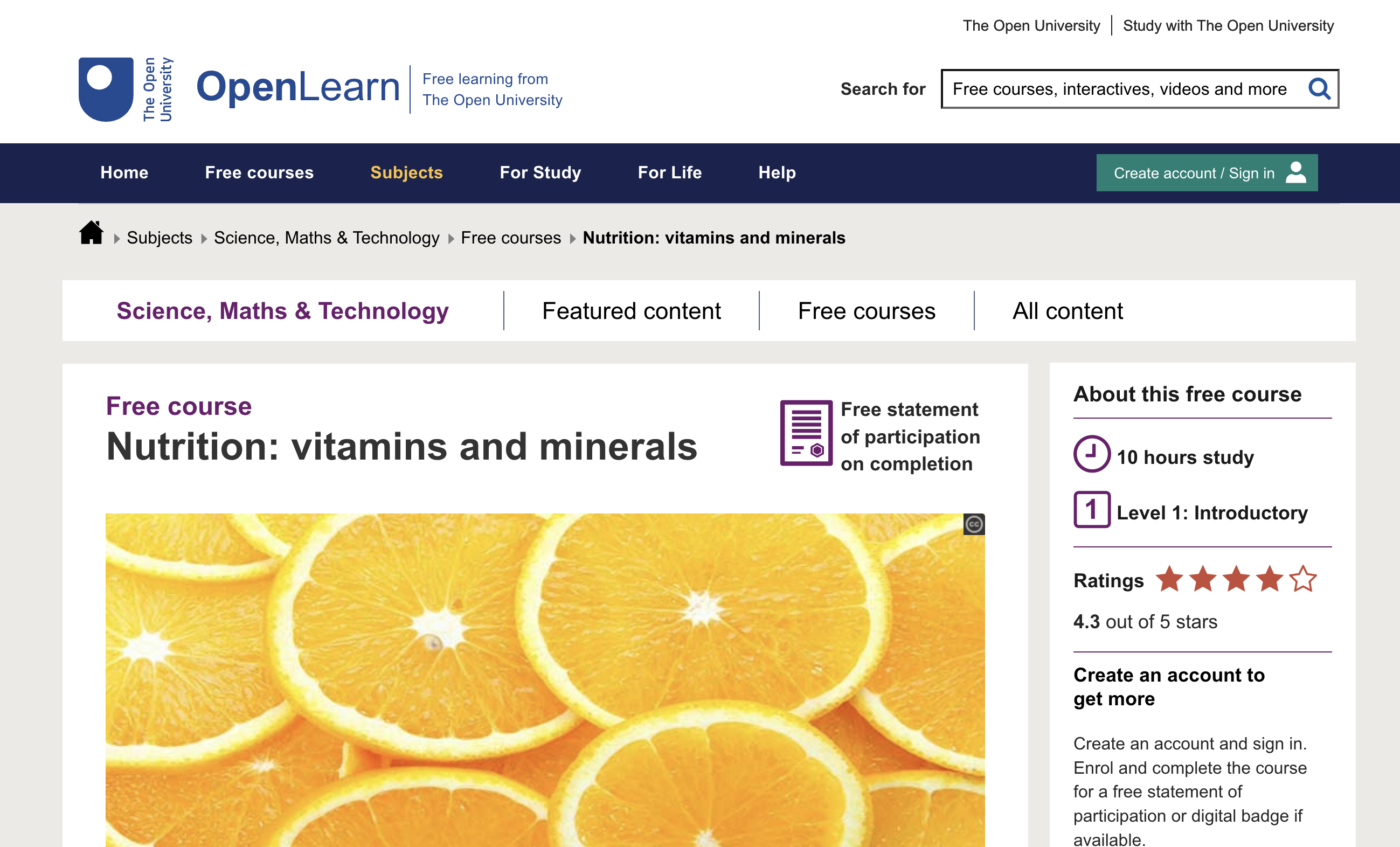 Learning How to Learn | Coursera
Taught by instructor Barbara Oakley, this course shines a light on crucial learning techniques used by pros in all fields and all disciplines—including music, literature, mathematics, and sports. A great power-up for your brainpower. 
Free CCRN cardiac module 1 | Certified RN
A great resource for RNs studying for their PCCN or CCRN exams. This is a prep course for registered nurses. 
Wellness Ritual Taster | Keystone
Try out a few different wellness experiences in this free intro course. Establish why rituals are important and why wellness matters to your work, explore the art of self care by completing a self-care check list, introduce a body scan meditation, and follow along with an audio body scan meditation.
Beginners 4 week tone up | Millers Fitness
Enjoy a 4 week fitness programme to help with develop a healthy lifestyle. This course is suitable for all fitness levels, perfect for either getting started or jumping back into fitness. 
Yoga for Your Vital Bones – Getting Started | 3 Green Circles
Students learn about yoga for bone health in this course.The why: yoga is uniquely beneficial for the health of our bones. The what: what is yoga and how to setup to do it at home. The how: how to practice safely so you can maximize those benefits.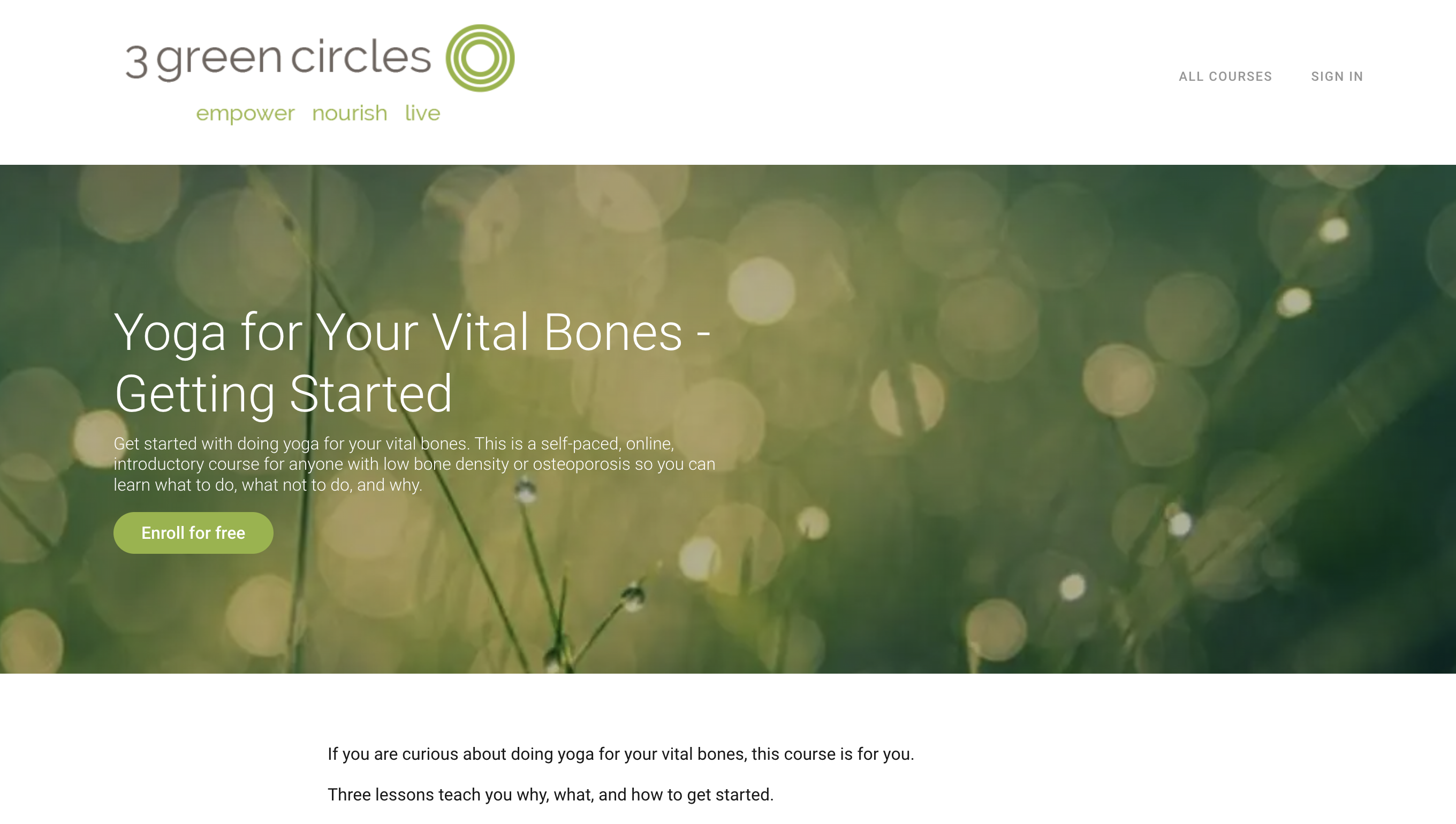 5 Krav Maga Techniques | Krav Maga 360 Academy
This course teaches 5 different Krav Maga techniques  to use against various attacks and threats.
Food 1.0-The Heart of Wellbeing: The Gut Biome | Total Life Concept
This course teaches how food can prevent disease and support health as well as how certain foods can lead to disease. 
Things to Remember: A week of affirmations | Hand Craft Yoga
This course provides 7 days of affirmations to help boost daily energy for students. The affirmations are described by the course creator as your daily "mindset vitamins."
What's keeping you awake | In The Details Academy
This course explores different things that could be keeping students from achieving restful sleep and how to rectify them.
Multiple Sclerosis: What is it? How is it Diagnosed? | Find Empathy
This course will help mental health providers learn the basics of multiple sclerosis with content from a person living with the disease, a neurologist, and a mental health provider specializing those newly diagnosed.
Free online courses for mental health
The Science of Well-Being | Yale University and Coursera
Taught by Professor Laurie Santos, this free course has helped over 3,000,000 students challenge themselves to increase their own happiness and develop more productive habits. Along the way, Santos breaks down common misconceptions about personal well-being and helps students create personal wellness activities.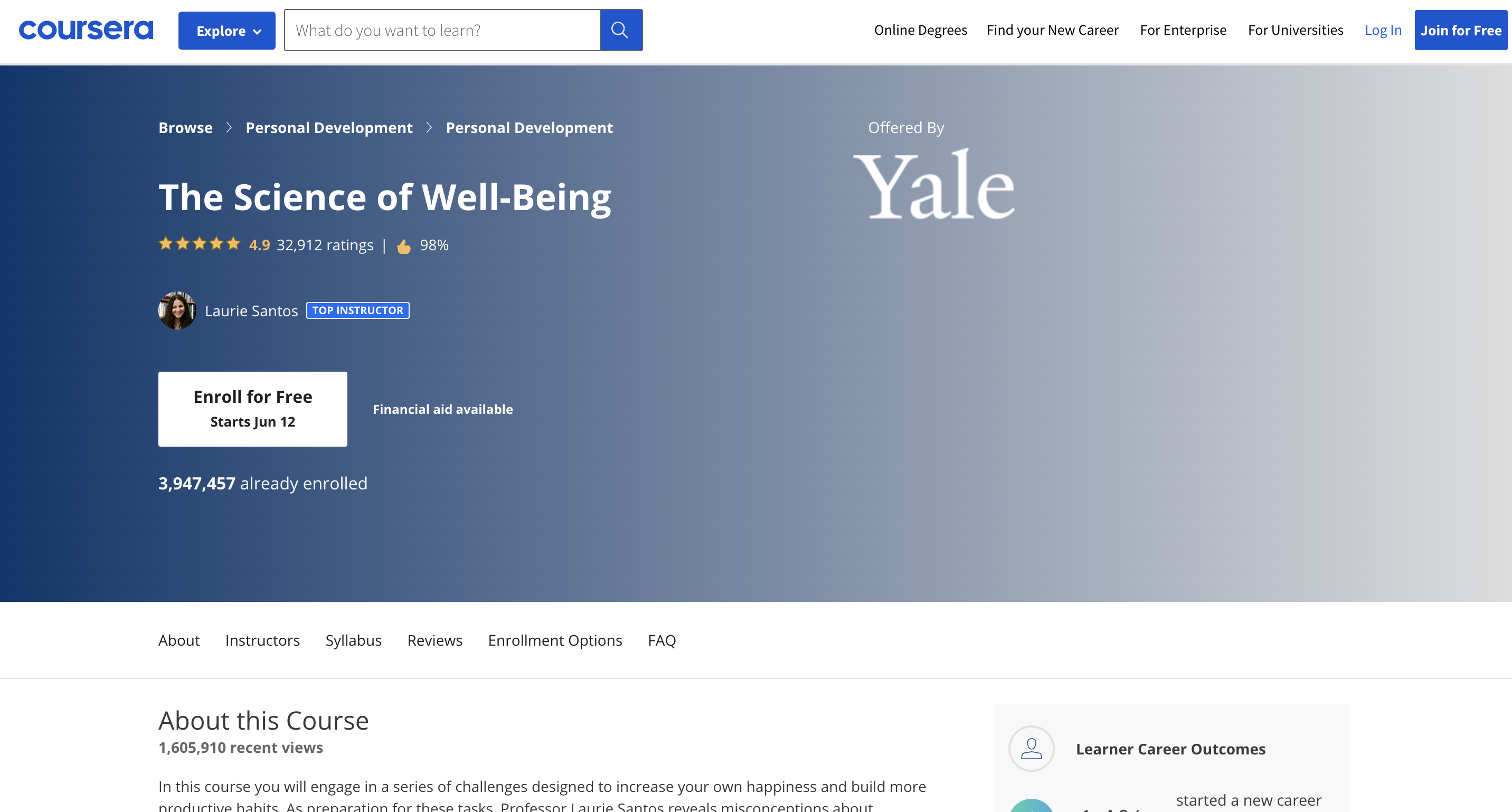 Understanding Depression and Anxiety | OpenLearn
Depression and anxiety affect many of us, and this free course will equip you with a deep understanding of the causes behind these mental health challenges. You'll learn about the biology and psychology that shape different depression and anxiety disorders—and risk factors that we should all watch out for.  
The Future of Mental Health in the Black Community | Simple Practice Learning
Taught by licensed psychologist and trauma expert Dr. Ebony Butler, this course explores what the future of mental healthcare will look like for the Black community. Her course explores how practitioners can reduce barriers to access—and community stigma.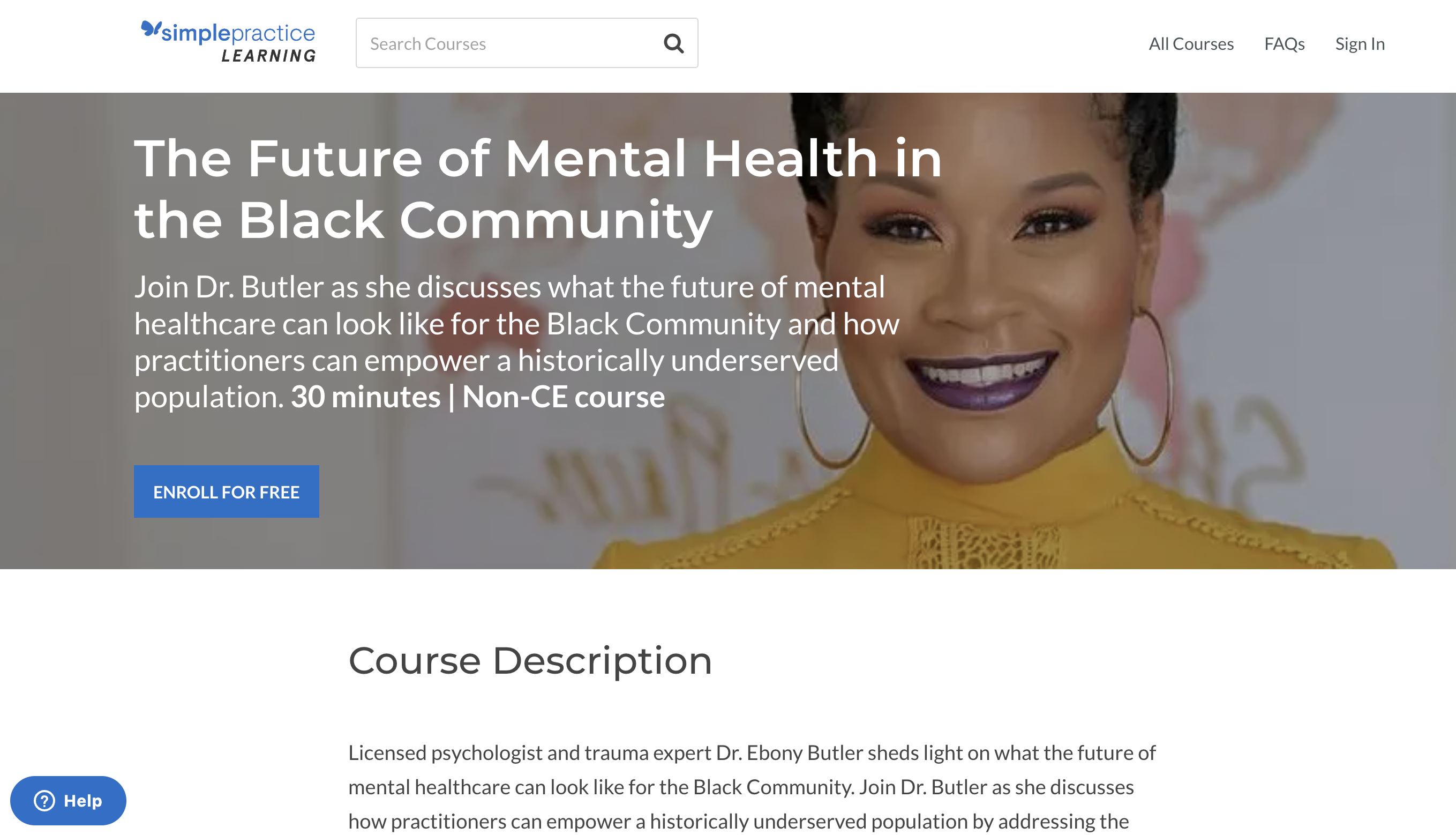 Pregnancy Loss Healing Guide | Totum Healing Guides
This guide provides carefully selected elements from somatic healing, embodied movement, Yoga, cognitive behaviour, mindfulness, and psychological tools that are specifically tailored to pregnancy loss and infertility. With these tools women can realize their resilience, boost confidence, deal with stress and anxiety, improve communication and relationship with their partner and ultimately enhance their mental and physical wellbeing.
Your Free Mini Course – Mindfulness | iMind Training
In this free course learners explore emotional regulation, a sense of connectedness, how to improve relationships, and release negative thoughts and habits.
Free online courses for science
Introduction to Anatomy for Sports Massage | Movement Therapy Education
Taught by our customer Movement Therapy Education, this course breaks down everything from the history of anatomy to movement analysis—and teaches you all the anatomical terminology you'll ever need. Whether you're in school or just curious about anatomy, this course will get you going.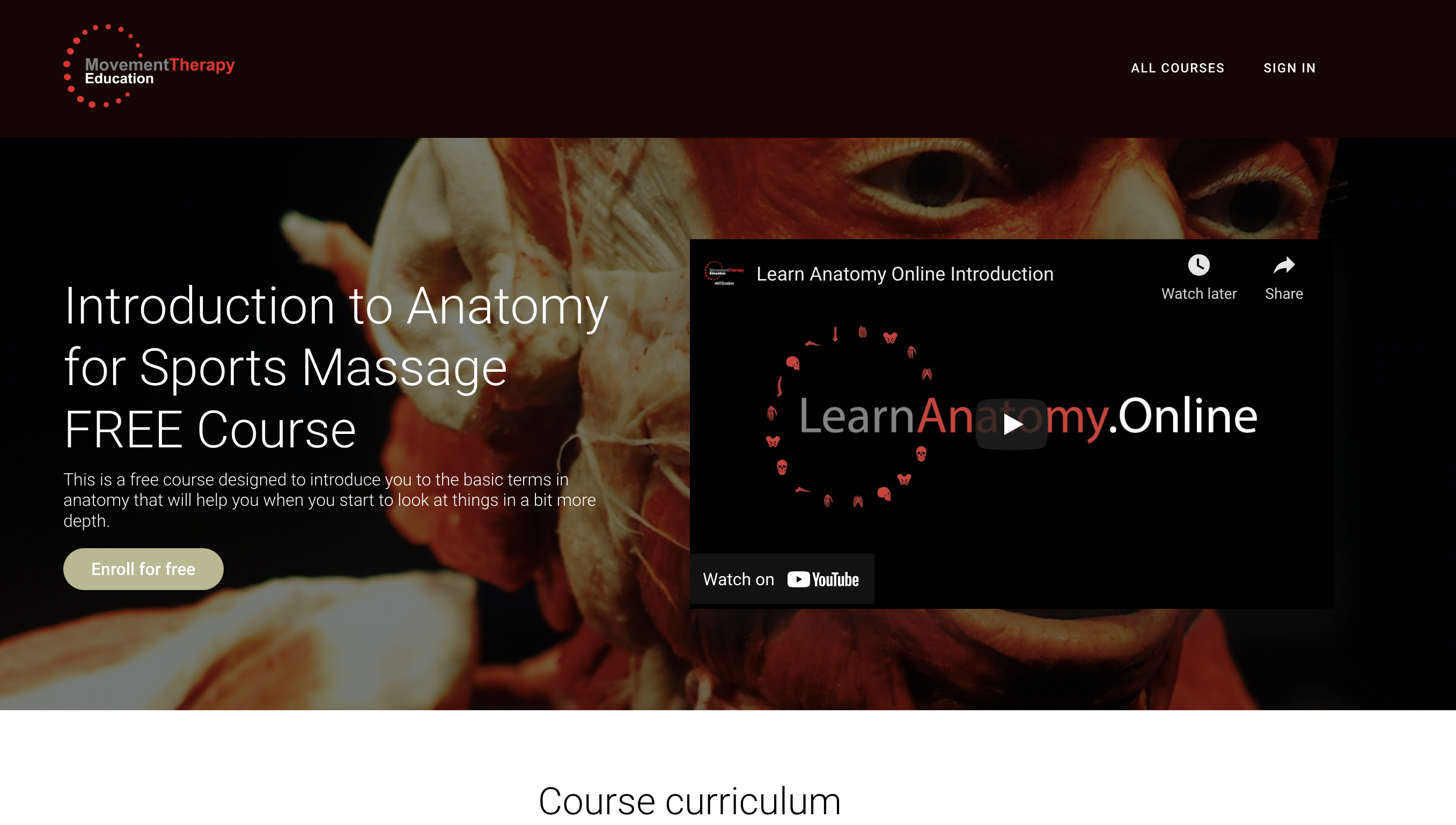 The Underwater World: Marine Biology | Thriving Corals Project
Created by the Thriving Corals Project, this course will submerge you into the wild world of coral reefs. Taught by instructor Zuzanna, this course will bring you up to speed with this fascinating sub-field of ecology. 
Why Do We Dream | HumanGivens
Taught by psychologist Joe Griffin, this course breaks down the theories behind dream states and discusses the impact dreams have on our mental health. Griffin discusses the auto-symboli process, how our emotional expectations influence what we dream about, and the evolutionary factors that have shaped our unconscious minds. 
Modern Physics | Academic Lesson
Taught by Professor Steven Sekula, this 11-hour course gets straight to the mind-bending theories at the core of modern physics. Once you're done, you'll know your muons from your gluons, and why special relativity is just so special. 
Free online courses for mathematics
MathTrackX | EdX and the University of Adelaide
Offered through EdX and developed by the University of Adelaide, this free online course covers the core concepts from calculus, probability and statistics you'll need before taking on university-level mathematics. Come take your problem-solving and reasoning skills up a notch. 
Fat Chance: Probability from the Ground Up | Harvard University 
This 7-week long mathematics course is offered by Harvard University and explores probability and statistics to give students a crash course on quantitative reasoning. It's completely free—so why not roll the dice?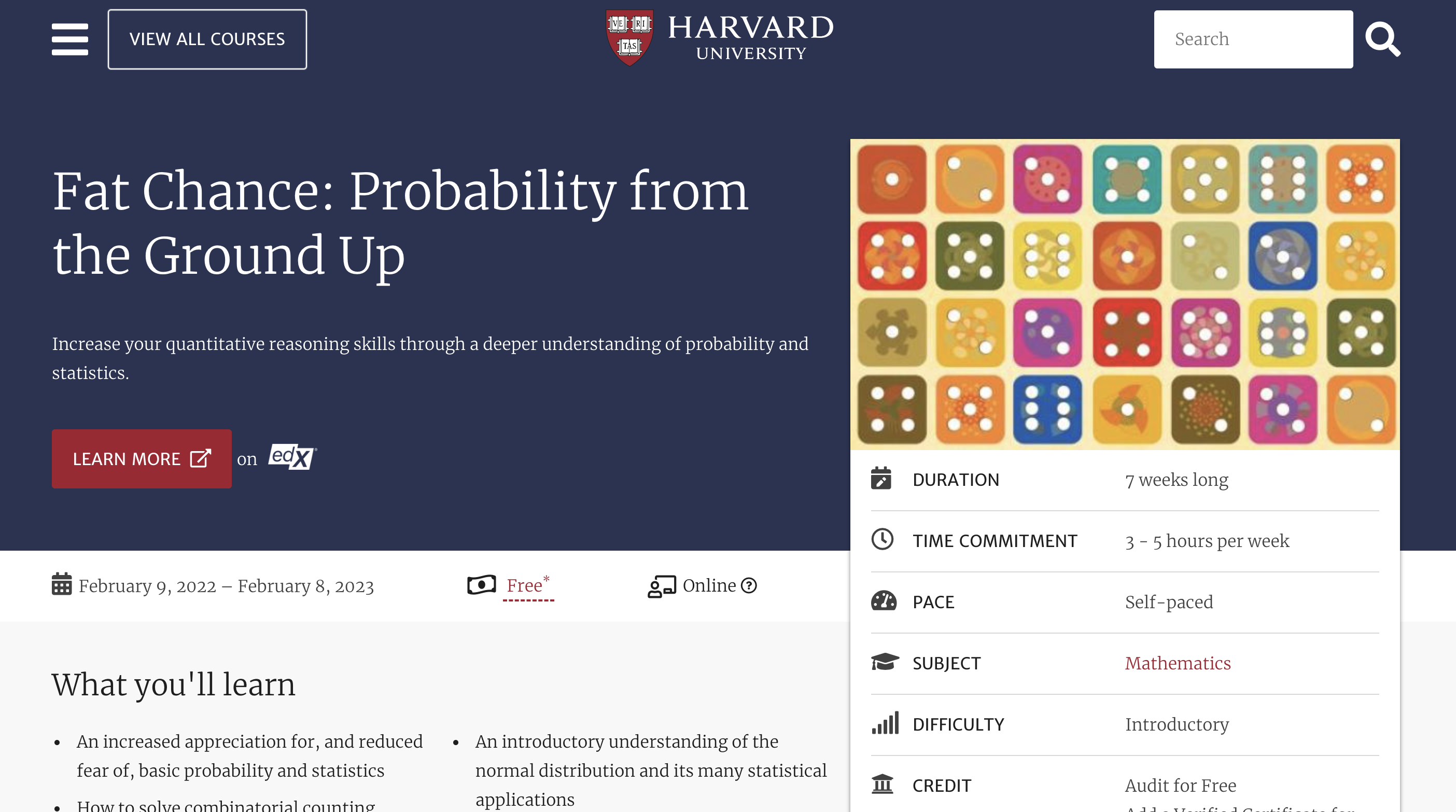 Calculus One and Calculus Two | freeCodeCamp
For many undergraduates, Calculus 1 and Calculus 2 are the hardest courses you'll ever take. Luckily, freeCodeCamp has created a two-part lecture series with over ten hours of instruction to take you through both courses. You'll go from first principles derivatives to integrating logarithms in… well, not no time. But you will understand the math! 
Linear Algebra | freeCodeCamp
Besides calculus, the other core area of math that every science undergrad needs exposure to is linear algebra. Taught by Dr. Jim Hefferon, this 20-hour course covers everything from row reduction to subspaces and eigenvectors. (Non-science people: keep scrolling, we've got sections just for you, too.)
Free online courses for coding
HTML and CSS Crash Course | Lighthouse Labs
Modern coding curricula almost always start with HTML and CSS, and for good reason—they're everywhere. In this free course, instructor Maggie Moss will introduce you to the basics of coding and guide you through building and customizing your very first webpage.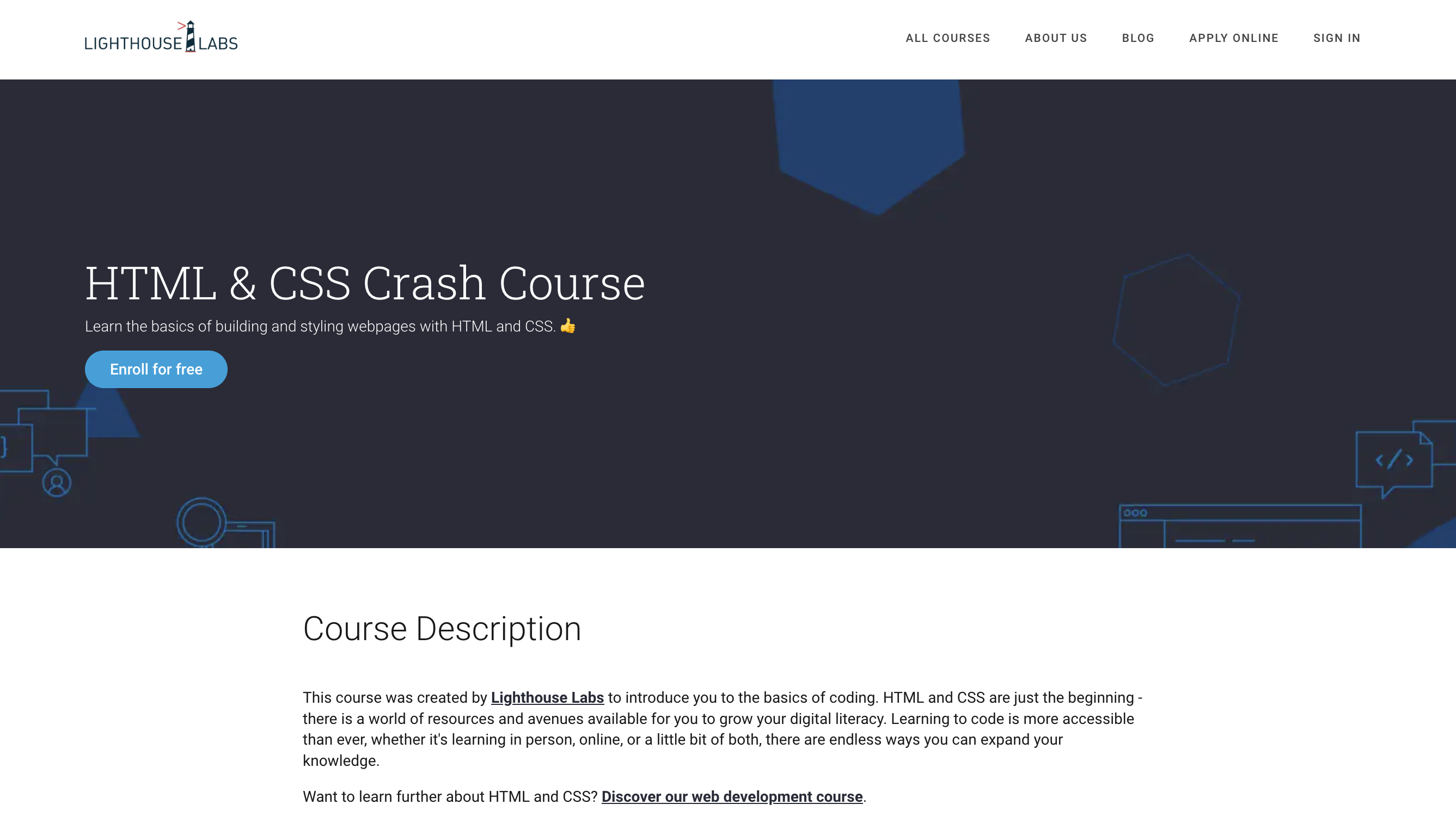 Responsive Web Design Certification | FreeCodeCamp 
In FreeCodeCamp's Responsive Web Design course, you'll learn the core languages front-end developers use to build websites: HTML and CSS. This is a great starting point for new developers, and an ideal entry point into FreeCodeCamp's more advanced courses. 
Javascript Algorithms and Data Structures | FreeCodeCamp
HTML and CSS shape your webpage's appearance, but it's the Javascript code that actually makes it interactive. This 300-hour bootcamp covers everything Javascript, from variables, to objects, loops, and functions.
Computer Science | OSS University 
The OSSU curriculum gives students an in-depth grounding in the computer science fundamentals, and is designed for dedicated self-studiers. It's a fantastic starting point for learners who want structure as they start their journey into the field of computer science—and it was developed by a Thinkific customer, too! 
iOS App Development Course | Lighthouse Labs
Curious about how Steve Jobs (well, the talented workers at Apple) built all those apps? If so, join lecturer David Mills for an introduction to iOS development. You'll learn Apple's programming language Swift, and develop your own music player—similar to the Apple Music or Spotify app. 
Free online courses for data science 
Data Analysis with Python | freeCodeCamp
Python is the most popular open-source language for data analysis and data science, and this FreeCodeCamp learning track will take you from zero to Pandas hero. You'll learn how to use libraries like Numpy, Pandas, Matplotlib and Seaborn, and soon you'll be cracking open dataframes like it's nothing. (We mean it.)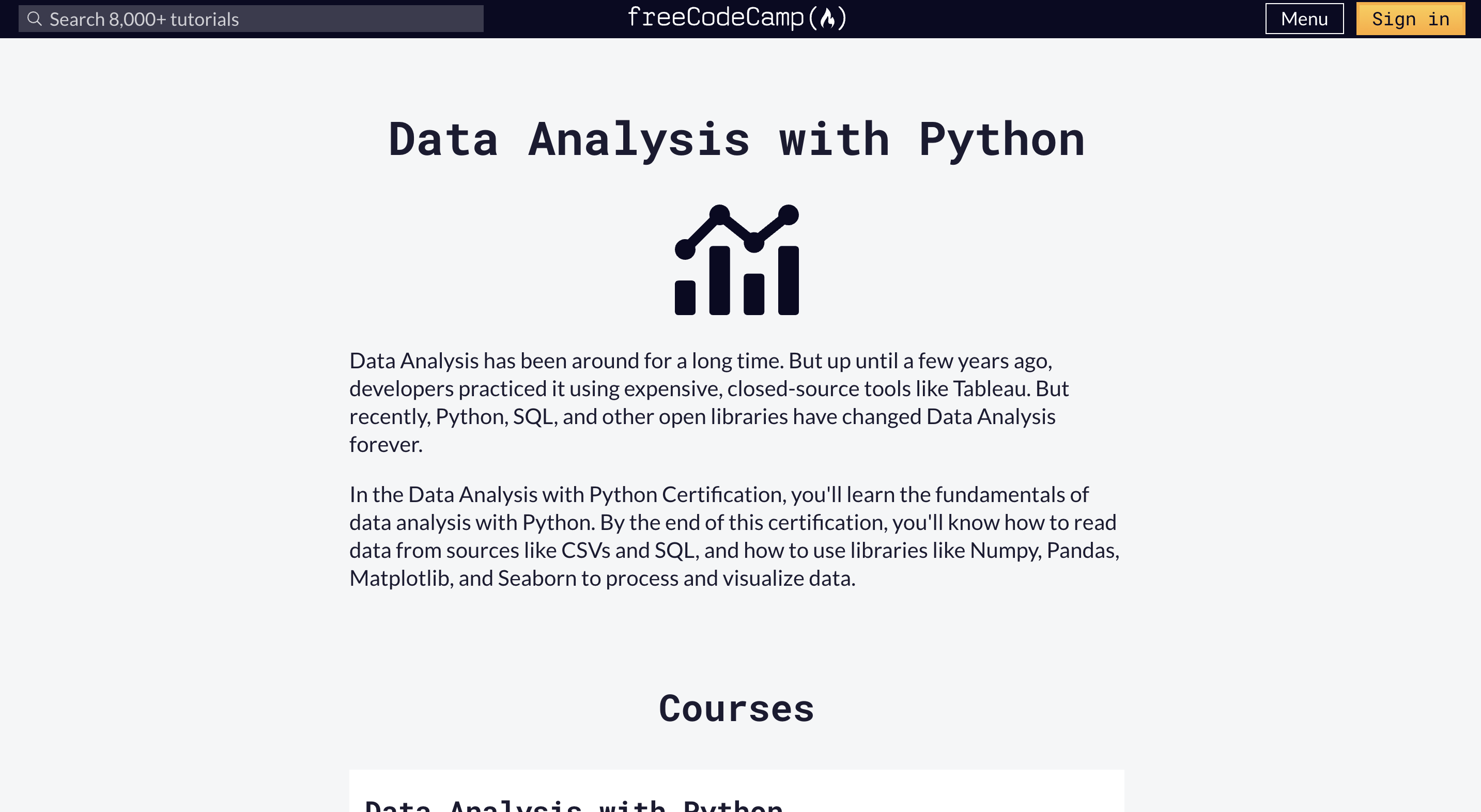 R Programming | Coursera and Johns Hopkins University
Besides Python, R is the other big name in data science. This Coursera course was developed by Johns Hopkins University faculty, and covers everything you'll need to know about R programming. That includes cleaning data, writing functions, debugging, and everything in between. 
Learn Data Science in 10 Hours | Edureka
Data science is the hot buzzword on every analyst's to-learn list, and this ten-hour course from Edureka is one of the best jump-off points online. The course starts with a broad overview of the industry, before diving deep into probability, machine learning, and every algorithm you'll need to get your career up and running.  
7 Easy Steps to Get Started with Mobile Data Collection | Humanitarian Data Solutions
Working on a mobile dev team but struggling to collect data? Join forces with Thinkific customer Humanitarian Data Solutions and learn everything you need to know about collecting data on mobile at scale. All you'll need is a phone, a laptop, and a wifi connection—so let's get going.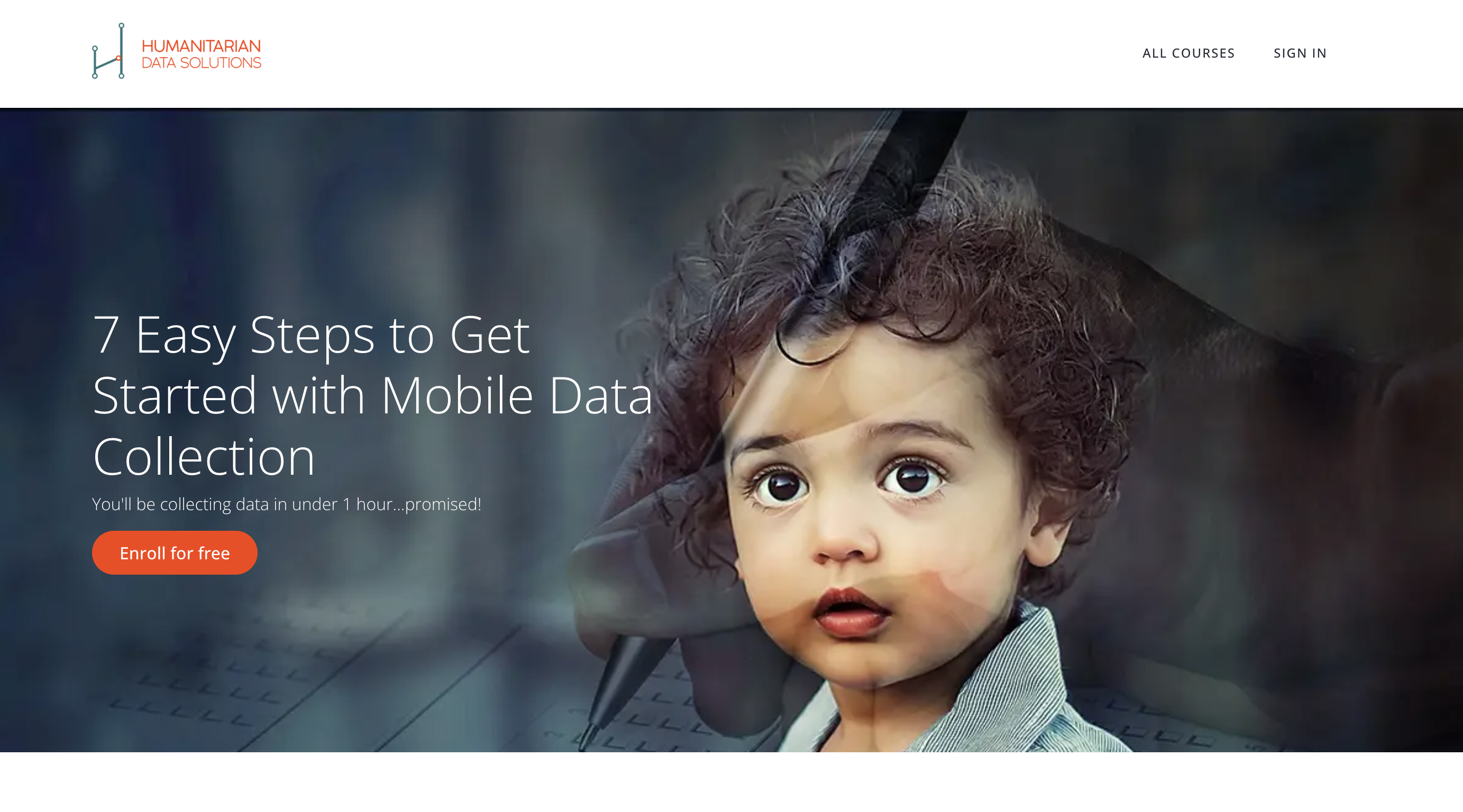 Introduction to Data Visualization | Simplilearn
Data visualization is the art of turning numbers into actionable stories—and the skill's never been in higher demand. This course introduces tools like Tableau, Power BI, Excel, R and Python, and explores how they can be used to create stunning visualizations. 
Introduction to Tibbles | R-Squared Academy  
When you're working in data science, you'll often be given data that needs some serious cleaning. This course from R-Squared Academy will introduce you to tibbles, an alternative for dataframes that can help you clean data faster and take your analysis game to the next level. 
Free online courses for graphic design
Graphic Design for Beginners | Animaker
Brand-new to graphic design? Then look no further—this Animaker course will help you understand the fundamentals of graphic design, color theory and typography, and much more. You'll be creating top-tier graphics and ads in no time.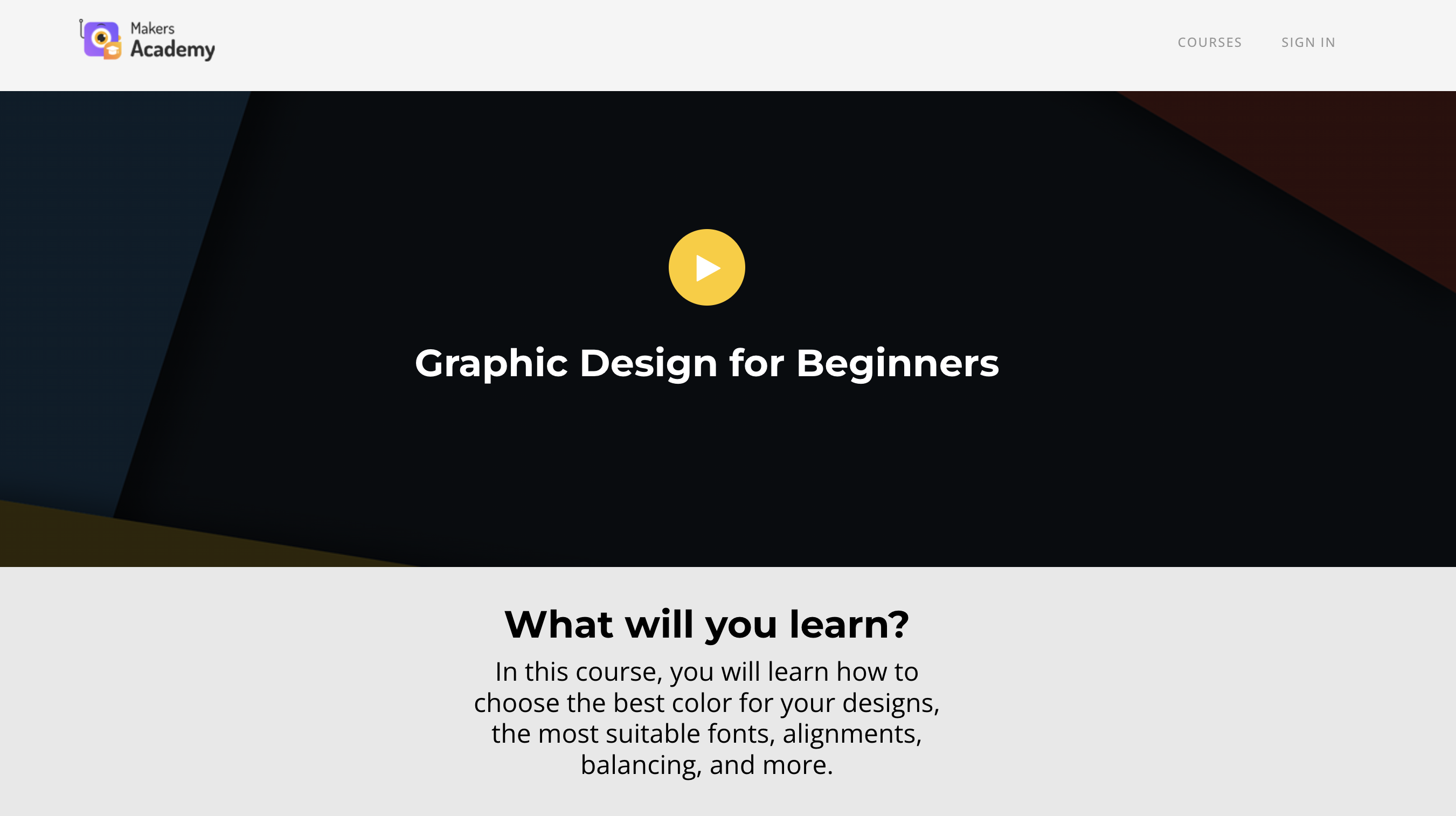 Graphic Design Basics | Canva
Canva's design tools are industry-reknowned for their quality and ease of use, and this course will get you designing fast. They cover everything from alignment, to font selection, contrast, and color selection. Get ready to create moodboard magic.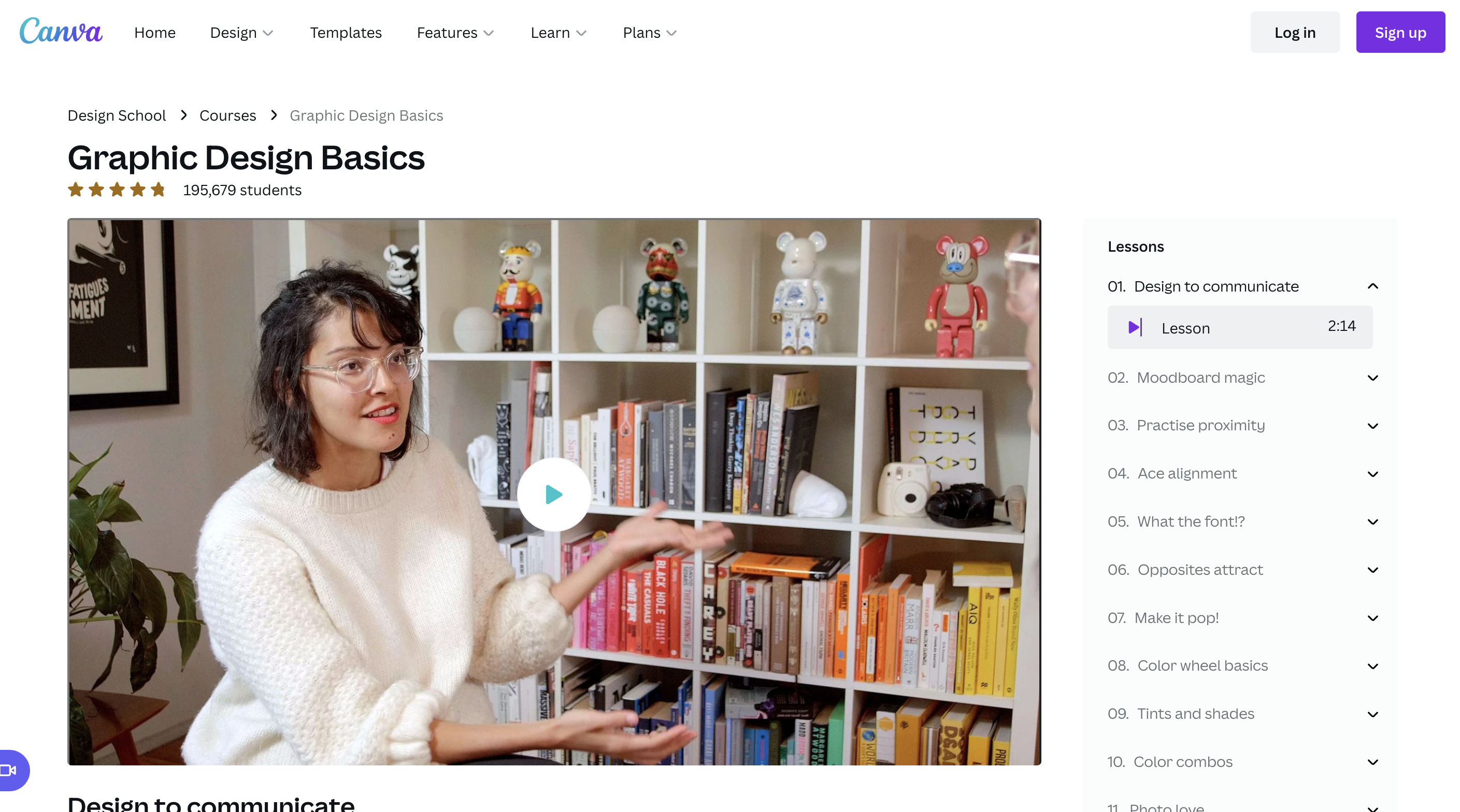 Free online courses for Adobe creative suite
Photoshop for Beginners | Envato Tuts+
Nobody is pixel-perfect—and a little Photoshop never hurts. Taught by Adobe Instructor Dan Scott, this three-hour course dives deep into everything you could want to know about Adobe Photoshop. You'll learn the differences between healing brushes and the clone stamp tool, and soon you'll be editing like a pro. 
Adobe InDesign Course for Beginners | Bring Your Own Laptop
If you're designing print magazines, brochures, or books, Adobe InDesign is your tool. This two-hour YouTube course (also taught by Dan Scott) breaks down everything you'll need to know about InDesign. So come try it out, and take your print design skills up a notch. 
The Complete Beginners Guide to Adobe Illustrator | Gareth David Studi
Adobe Illustrator is the other crucial Creative Cloud tool every designer needs to master, and this 19-episode course from Gareth David is the perfect primer for new designers. Covering everything from vector paths to all those different pen tools, you'll leave knowing how to bring that vision in your head to life. 
Free online courses for music
Backing A Singer: Shenandoah | Modern Music Masters Inc. 
Learn how to craft a pedal steel guitar part while backing a singer to the folk song Shenandoah. 
Free online courses for writing and persuasion
The Craft of Writing Effectively | UChicago Social Sciences
Aimed at graduate students, this one-hour lecture is a perfect bite-sized guide to clear, concise and engaging academic writing. Taught by Larry McEnerney, Director of the University of Chicago's Writing Program, this course will help you strip the jargon out and write no-nonsense prose. 
Write Your First Novel | Michigan State University
Many writers dream of getting that first novel submitted to a publisher, but creating a whole book from a raw idea is hard. Taught by Professor David Wheeler, this Coursera course aims to get students past their mental blockers, outlining their character profiles, and through their first novel.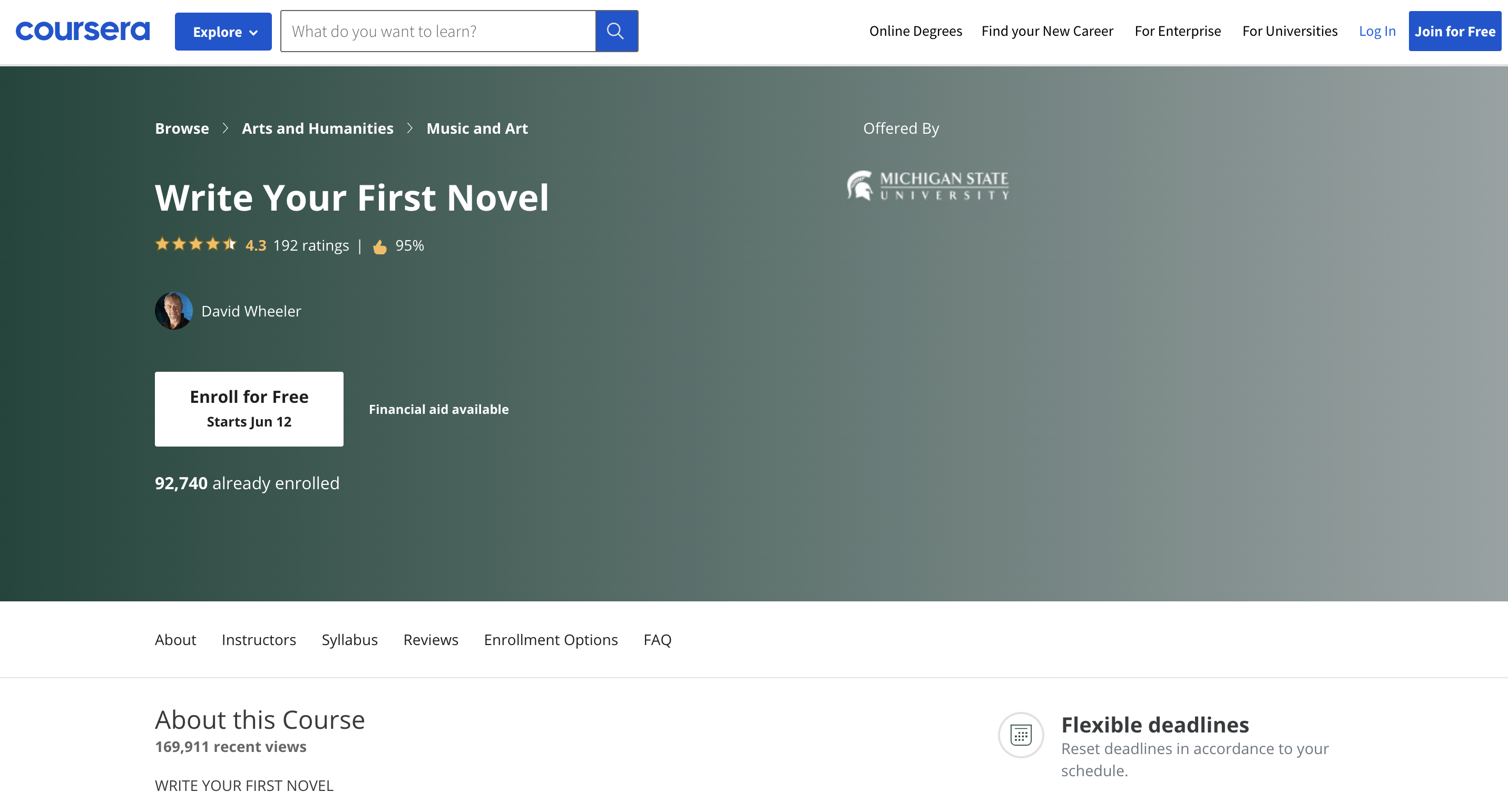 Rhetoric: The Art of Persuasive Writing and Public Speaking | HarvardX
Persuasive writing and speech skills aren't something you're born with—they're learned. Led by Harvard Professor James Engell, this EdX course introduces the theory and practice of rhetoric, persuasive writing, and speech. Once you're done, you'll start to win more arguments (or at the very least, put up a good fight.)
Business Writing Techniques | DoaneX
There's a lot of nuance involved in business writing, from how formal your tone is to exactly when it's appropriate to use emojis. Presented by EdX, this course breaks down business writing techniques and discuss how to modulate your voice for different professional environments. 
Free online courses for business and entrepreneurship
Sales Doesn't Have to Be Scary | Enever Group
You don't need to have a Patrick Bateman-esque skincare routine to be good at sales. This typeform course led by business strategist Clive Enever will have you crushing your sales targets, whether you're cold-calling or doing your fifth Salesforce callback.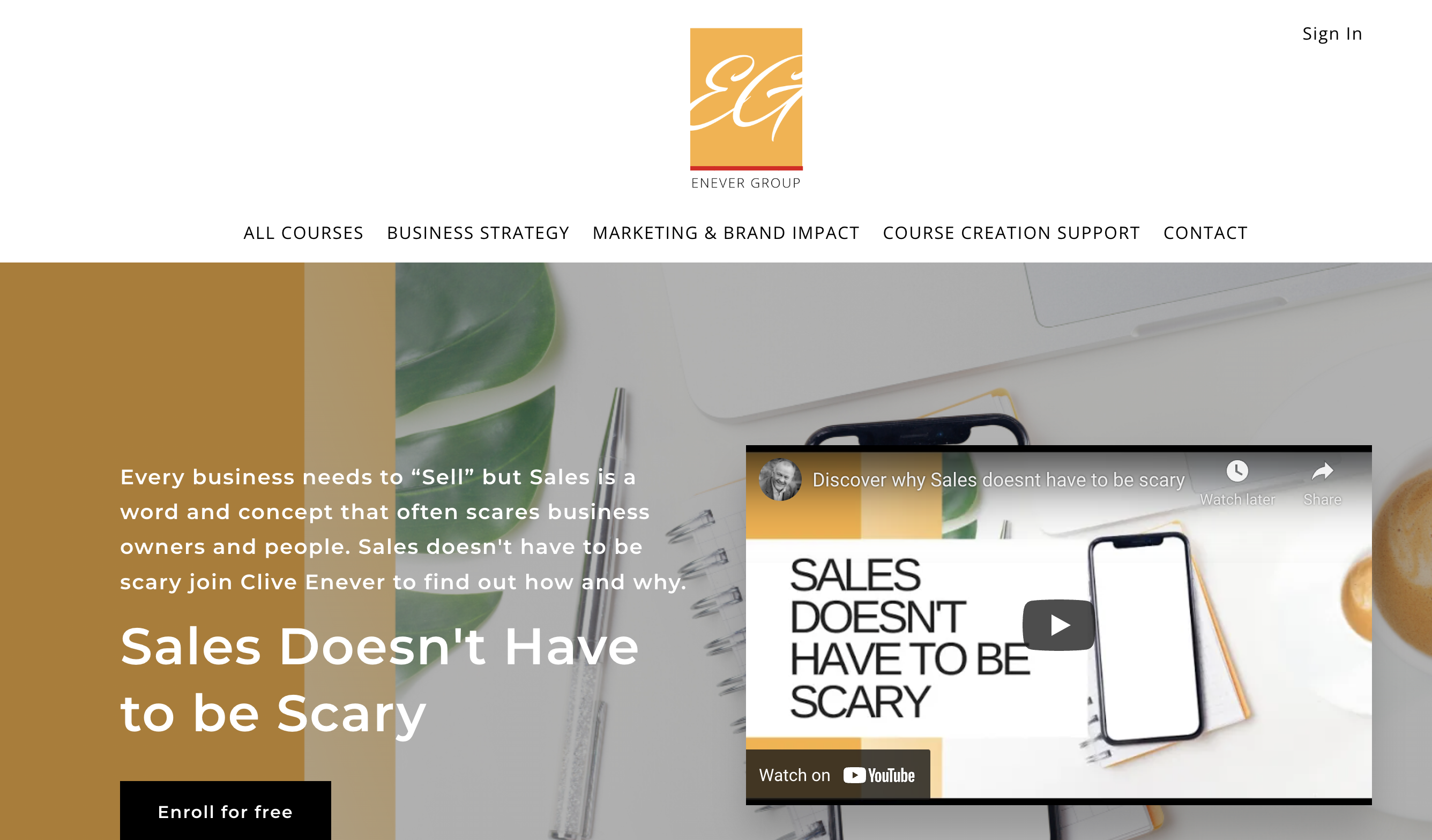 The Foundations of Entrepreneurship | freeCodeCamp
Presented on freeCodeCamp's YouTube, this five-hour course breaks down Chris Haroun's award-winning book 101 Crucial Lessons They Don't Teach You In Business School. It's a comprehensive guide to navigating corporate politics, management, and building relationships.
Lean Six Sigma and the Environment | Business Performance Improvement
Project managers all over the world use Lean and Six Sigma to deliver quality work on time—but this can sometimes come at the expense of environmental safety. This Business Performance Improvement course breaks down the limitations of Lean and Six Sigma, and explains how your organization can modify them to reduce its carbon footprint.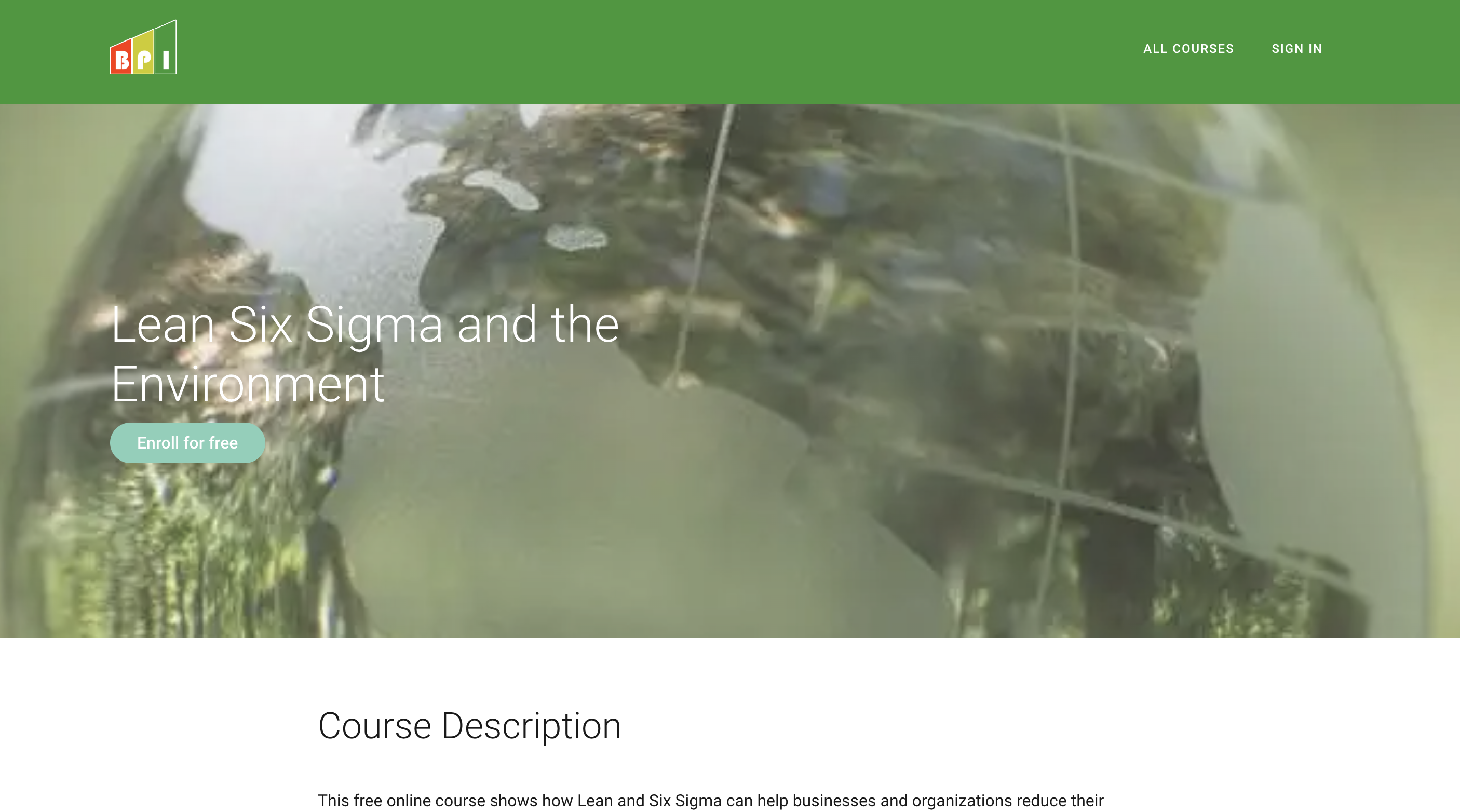 Jobberman Softskills Training | Jobberman
This course from Jobberman is a crash course in workplace relationships that spans business etiquette, time management, and storytelling. Tune in and lock your next promotion down. 
How To Earn Online | Learn with Lokesh Lalwani
Geared towards Indian freelancers, instructor Lokesh Lalwani explores the many options that're out there for earning money online—and shines a light on common scams freelancers fall for. From data entry through portfolio creation, Lalwani's got you covered. 
How to Start a Hot Sauce Brand | ActionWorks
Taught by Yellowbird Foods founder George Milton, this ActionWorks course breaks down everything an entrepreneur could need to know about breaking into the hot sauce space. (Yes, we know this is niche, and yes, this is our favorite course on this list.)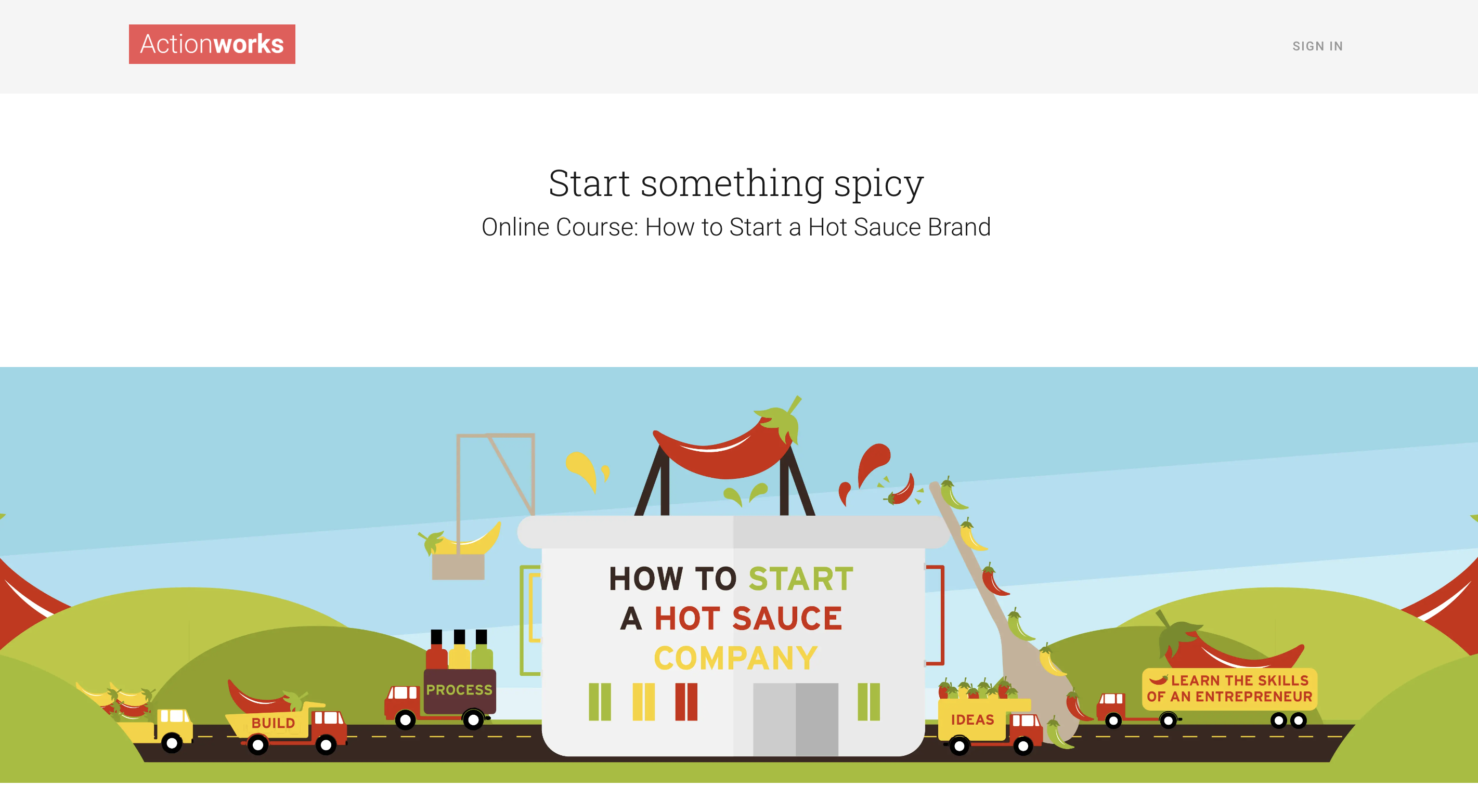 Excel Associate – Essential Formulas | MOS University
This course provides an insight into how we prepare you to take the MO-200 Excel Associate exam. It includes lectures on specific topics, Try It Yourself exercises, how to organize the exam, and sample exam standard questions.
Retirement Business Mini Course | Solo Build It!
Students gain a solid understanding what an online business is, what's involved in creating one and whether it's the right solution for them. We help students identify a possible business niche and show them how to research the viability of their ideas.
Welcome to your lemonade stand | Lemonade Stand UK
Students learn about brainstorming ideas, marketing, business setup, finance, and sales. Great for kids learning basic entrepreneurship and business concepts.
Learn our Top 5 Features in Microsoft Teams | Inspire Cloud
Learn the Top 5 Features in Microsoft Teams which includes Transcriptions, Sharing Content in Meetings, Custom Video Settings, Group Chat, and Task Management.
Website Dashboard Mini-Course | Productivity Plus
Would you like to know exactly where you should be spending your time and what marketing efforts are really worth putting your dollars behind? This website traffic dashboard allows you to make data-driven decisions to grow your traffic – without the tech overwhelm. Gain vital insights from your website data by simply looking at a pretty chart. Boost your business growth by leveraging the power of data and discover exactly what marketing strategies are generating an ROI for your business in this course. 
Networking Made Simple | Simple Networking
This course teaches 4 strategic ways of following up to build relationships and grow your professional network.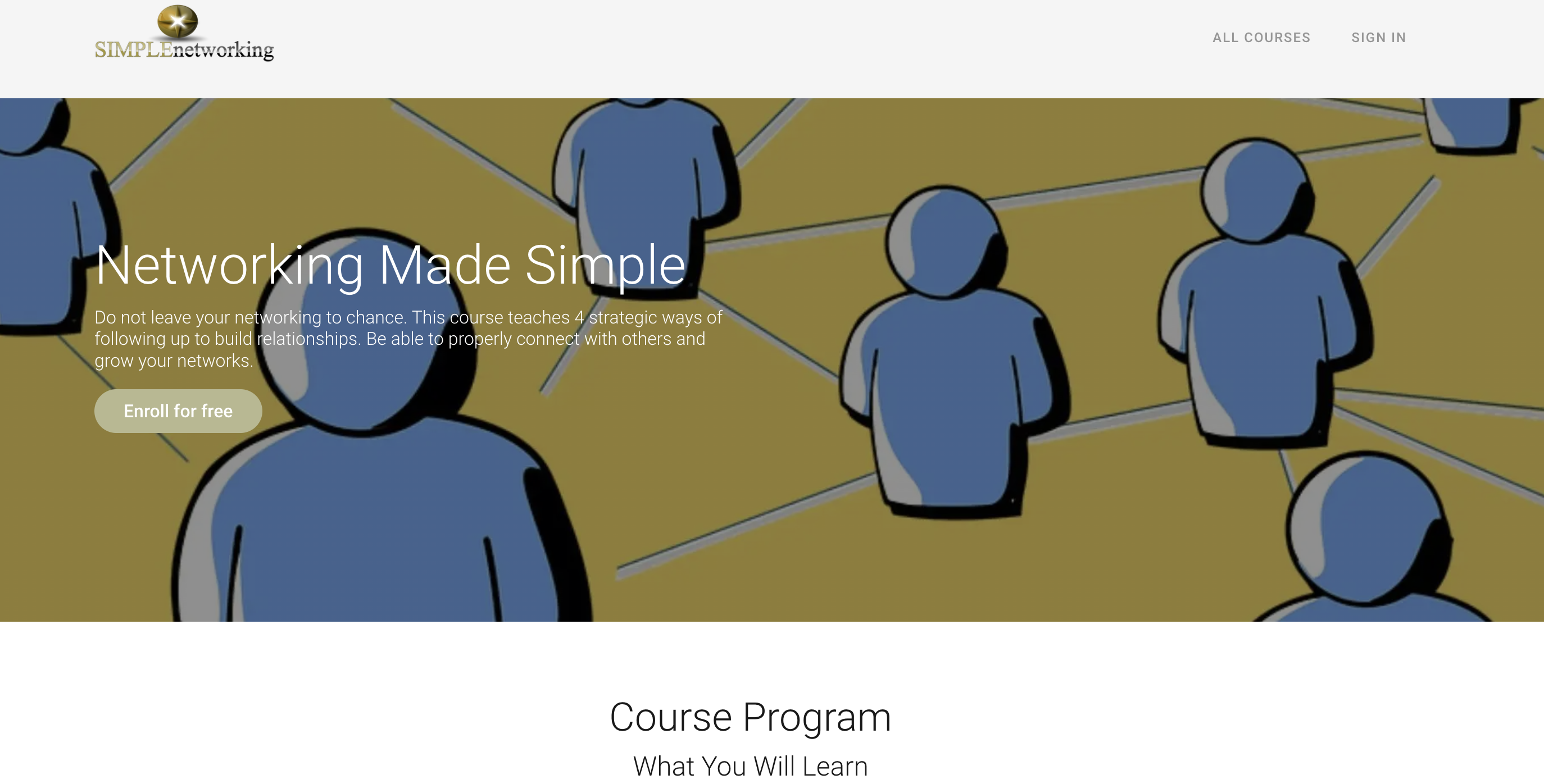 What is DeFi | DeFi Learning Academy
This course teaches decentralized finance in just 5 minutes. A great introduction to cryptocurrencies, this course is a nice way to dip your toe in.
Free online courses for anti-racism and diversity
Anti-Racism Specialization | The University of Colorado at Boulder
Offered through Coursera, this valuable course trains participants in contributing to and guiding conversations around race, racism, and anti-racism. You'll get a solid grounding in intersectionality and a better understanding of how to practice anti-racism in your work and personal life. 
Racialized Trauma | Cultural Somatics Institute
Understanding racialized trauma is important—regardless of whether you're a person-of-color or an antiracist ally. This course from the Cultural Somatics Institute will help you start that vital work, and open your eyes to different types of intergenerational traumas.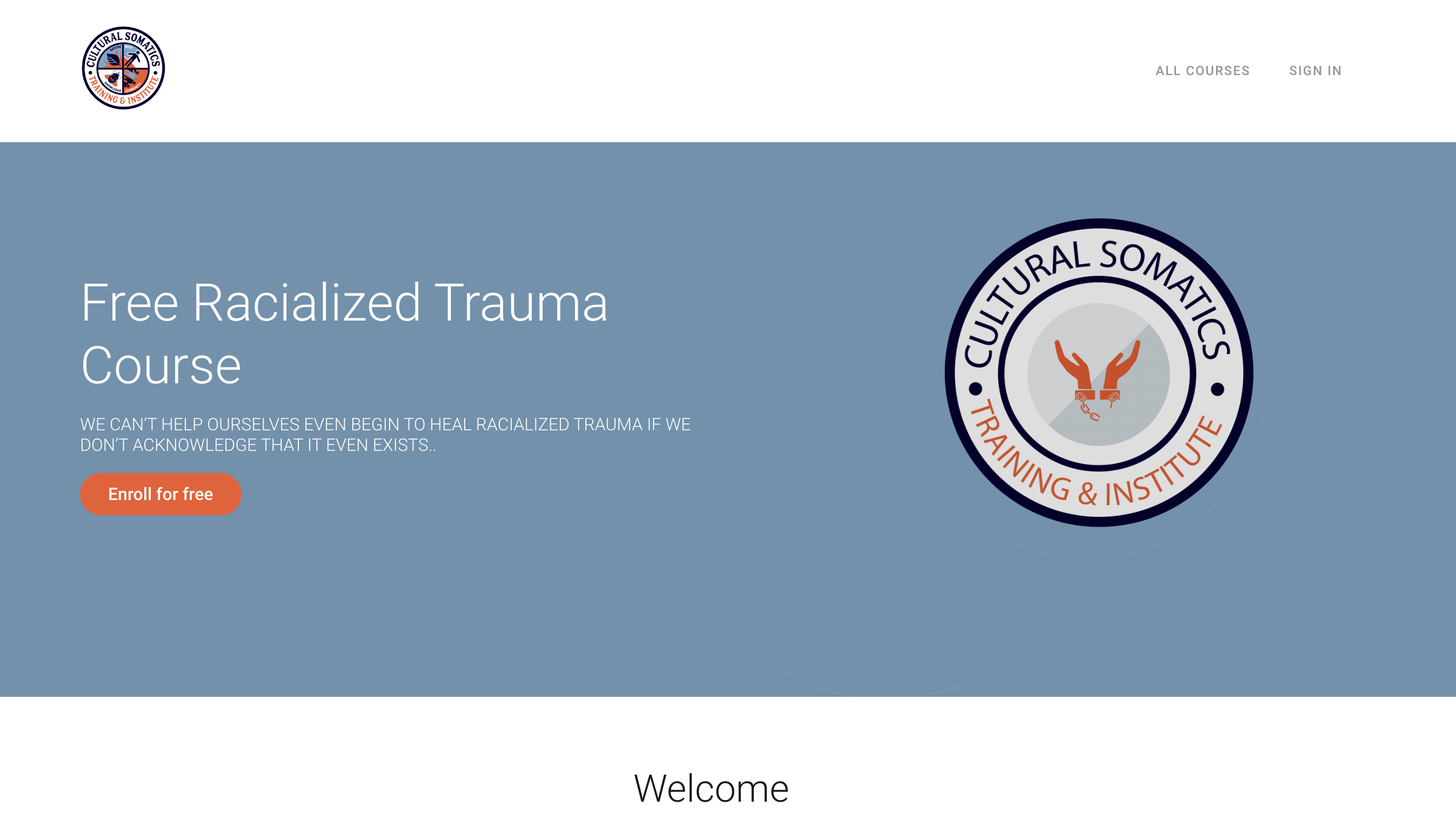 Diversity and Inclusion in the Workplace | ESSEC Business School
Taught by Professor of Management Junko Takagi, this Coursera course prepares future managers to balance economic and social factors in the workforce—and have the uncomfortable conversations that are so important for creating safe, inclusive spaces.  
Optimizing Diversity on Teams | University of Pennsylvania
Offered through Coursera, this course draws on social science perspectives to discuss how to overcome unconscious biases, handle conflicts healthily, and create safe, inclusive teams. 
Free online courses for education
CEM Assessments: The Essentials | Evidence-Based Education
Designed for educators, Evidence-Based Education's CEM Assessments: The Essentials covers the numerical, verbal and non-verbal reasoning questions that are used to assess students aged 3-19 years old. 
5 Strategies to Help Your Students Get It | Rethink Math Teacher
Many students struggle with math, and Rethink Math Teacher has created a free crash course for teachers trying to help students understand it. The course focuses on instructional design, and is great for high school teachers and tutors alike.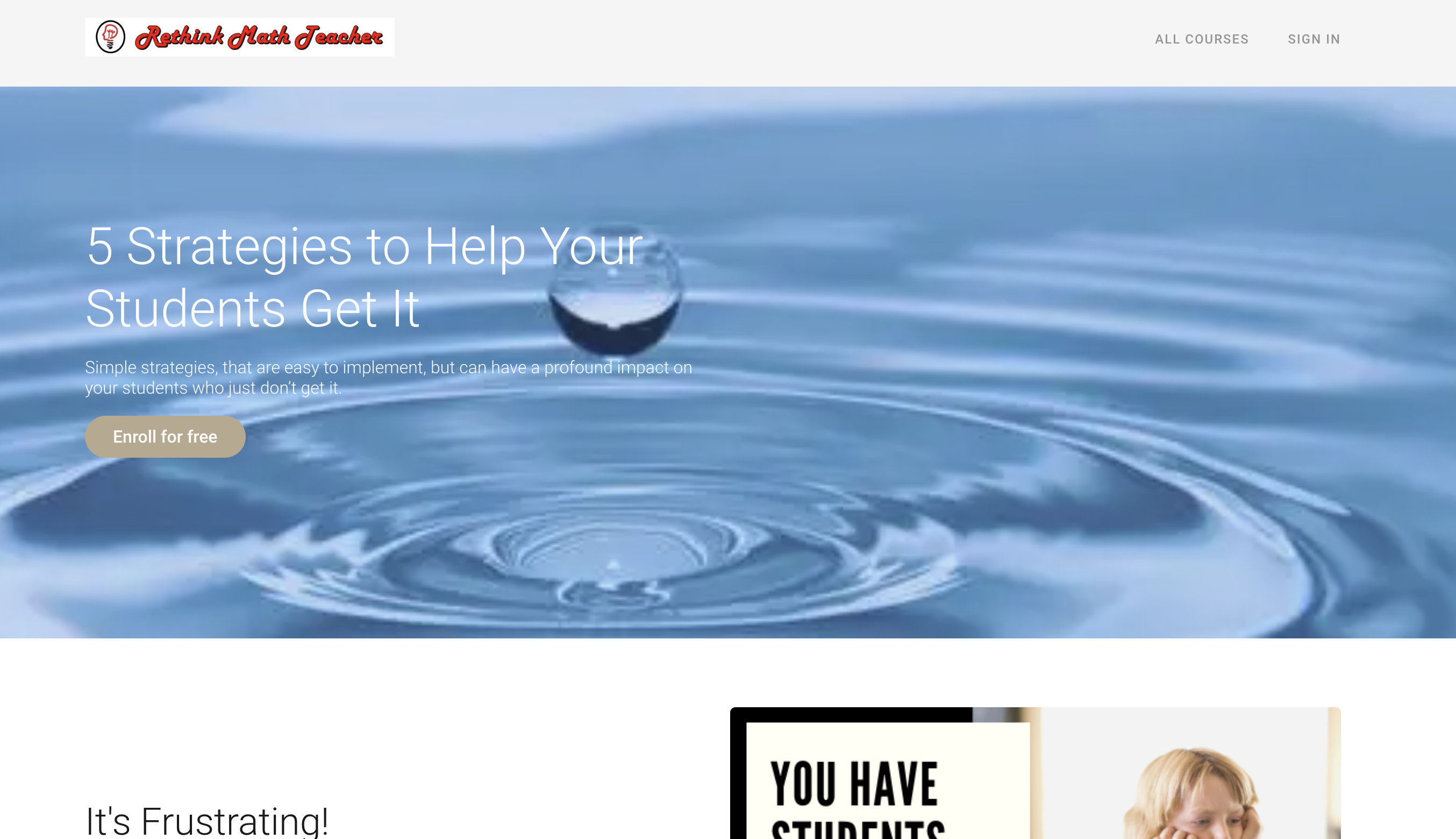 Online Yoga Teacher Training | Do Yoga With Me
Thinkific customers Do Yoga With Me offer a 200- or 250- hour yoga teacher training program, certified by Yoga Alliance. The first stage of training is free to all—so it's a great entry point for prospective teachers.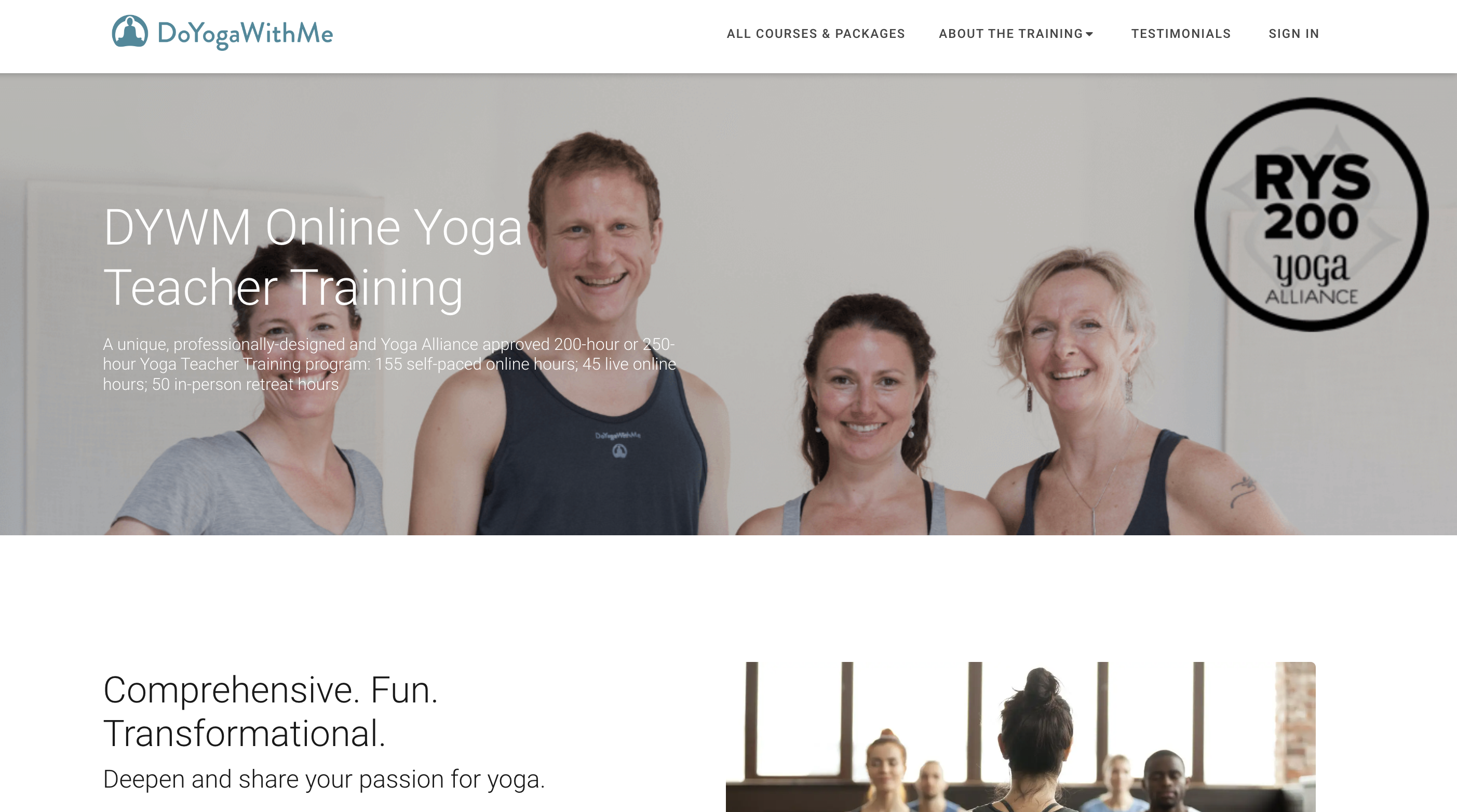 CrossYoga Online Training | CrossYoga
CrossYoga's self-paced teacher training program is designed for Christian yogis. It's designed for a niche audience, for the right person, this course may be a godsend (like literally).
Free online courses for course creation
5 Day Online Course Creation Challenge | Master Trainers Academy
These courses are all free, but course creation is one of the most effective ways to generate passive income around your main business. Tap in with the Master Trainers Academy, and they'll challenge you to jump-start your online learning business in just five days. (Then, come to Thinkfic for all the tools you'll need.)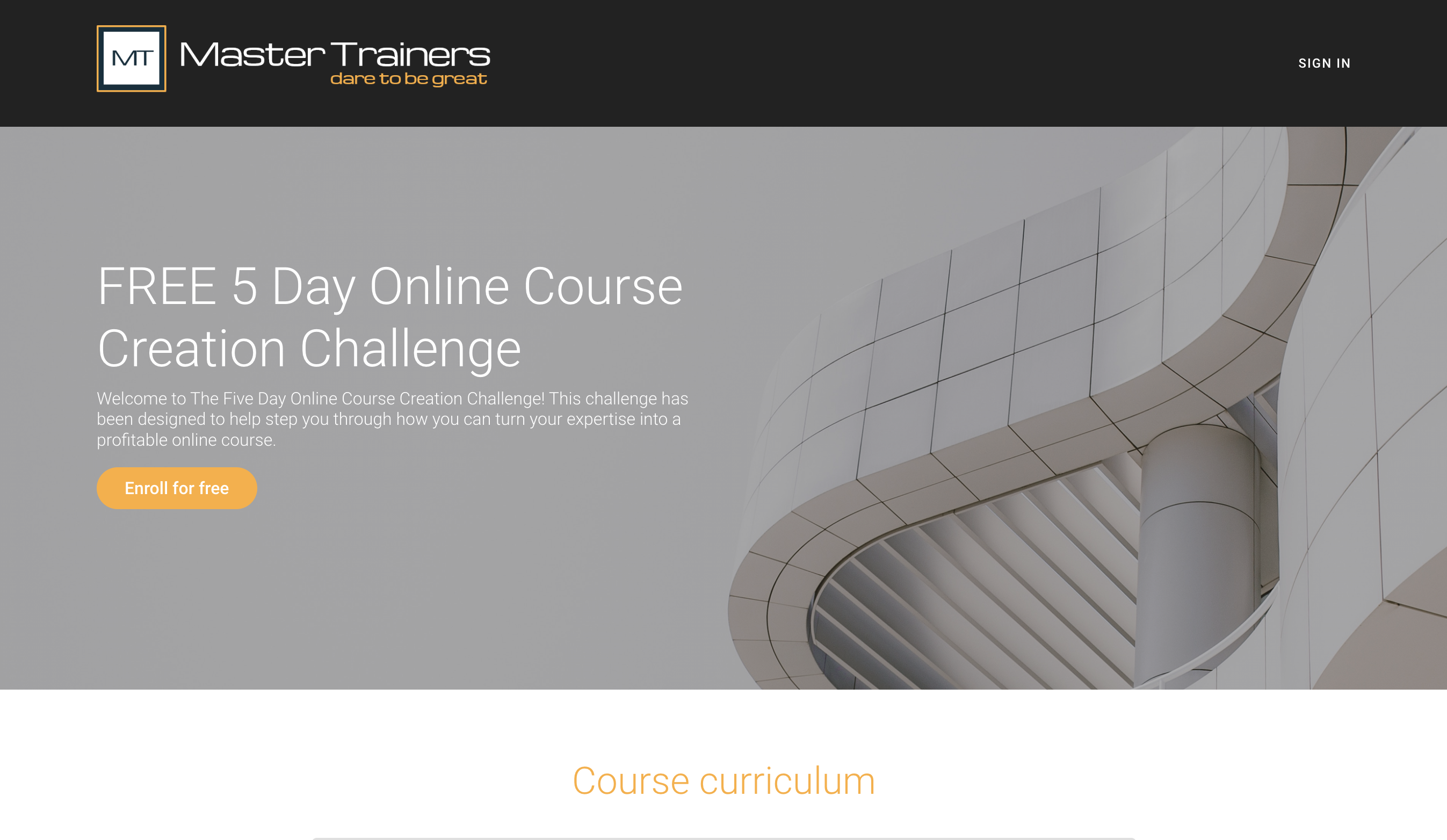 Create a Microcourse in 5 Simple Steps | Kelly Tenney
Microlearning is popular because it's bite-size education—the sort of courses you'd take for the afternoon, not an entire semester. It's also all the rage right now, so join Kelley Tenney and learn how to build your very own micro-course. 
Musician to Musicpreneur: How to Create Your Own Online Course in Music | ProMusicDB
Musicians work hard on their craft, but talent doesn't always translate into paying gigs. This course by Thinkific customer ProMusicDB gives experienced musicians the tools they need to create passive income around their careers by teaching online music courses.
How to Create an Online Course in 60 Minutes | Grumo Media
Hosted by Grumo Media's Miguel Hernandez, this 80-minute intro to course creation will break down everything you need to know about course creation. You'll start off by talking about the value of course creation, and then look at the tools, planning, and editing you'll need to do. Hernandez ends off by discussing how to find your very first students! 
Free online courses for personal development
My Powerful Purpose | Round Table Storytelling Academy
In less than 60 minutes, participants are guided to piece together a deeply authentic purpose statement that demonstrates what they stand for in the world.
Intro to Student Voice | Victorian Student Representative Council 
In this course students learn what student voice is and isn't, how to make changes at school, and see examples of how students have made changes at their schools.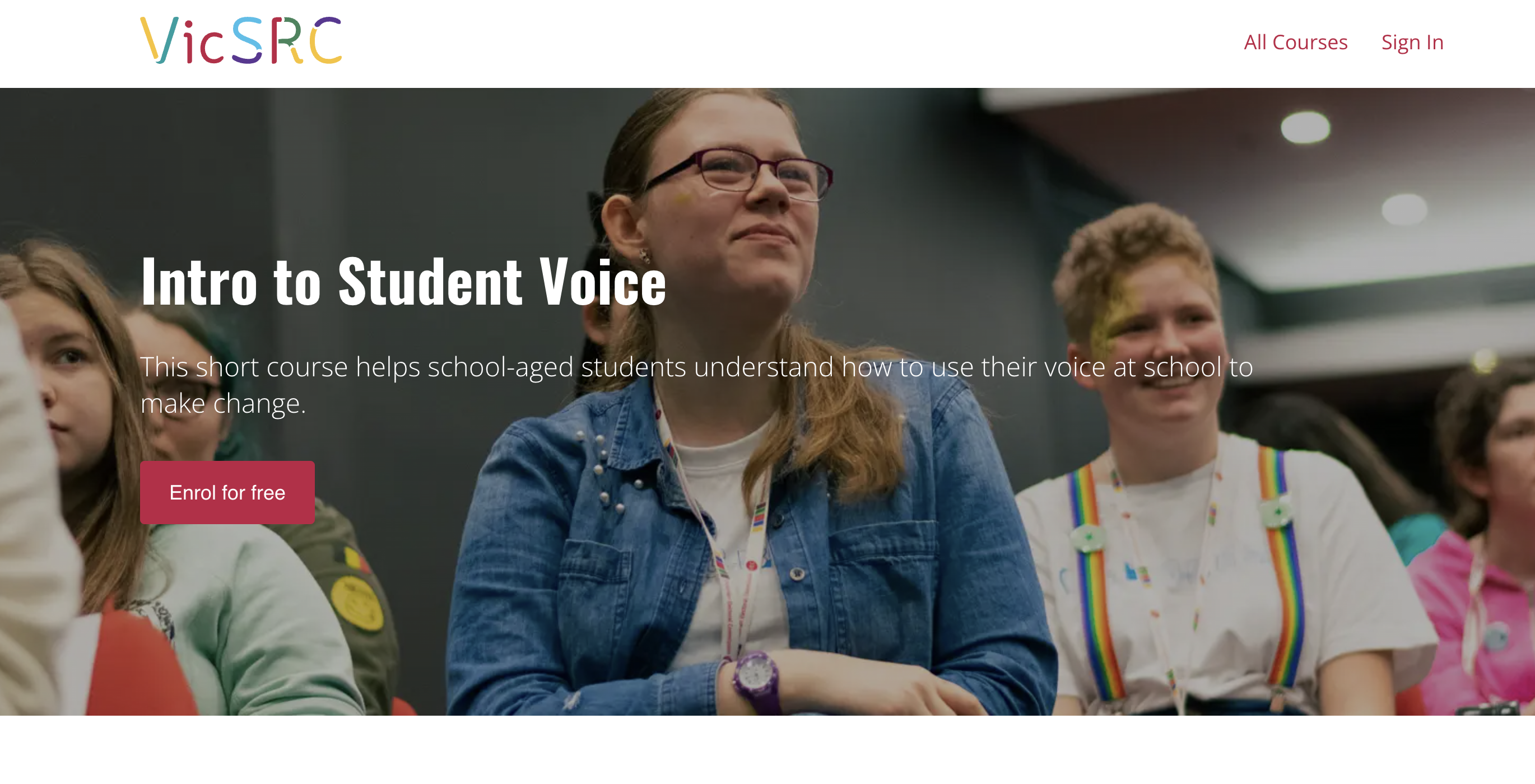 The 3-5-2 Decision Making Process | The Daedalus Group
Participants will learn a 10 step process to help them solve problems and make better decisions.
Your Past Doesn't Have A Future But You Do. Create Your Future Today! | Professor of Perseverance
Students learn from not to dwell on past mistakes and move forward with confidence. The instructor describes the course as: "don't be a prisoner in your own mind because of past mistakes. Learn from your past mistakes and forgive yourself."
4 Crucial Mindset Shifts to Adopt for First-Time Managers | MGMT on-Demand
The course covers the proven framework necessary to take struggling first-time managers or leaders and turn them into impactful leaders. The key takeaways for the course are to understand the new skills required for the role, getting results through your team, developing a long-term focus, and building relationships within a new context.
So, what's next?
Now that you know just how many good free courses there are out there, you might be looking for ways to turn subjects you're an expert on into profitable online courses. (Especially if you're an entrepreneur or educator.)
That's where Thinkific comes in. We make it easy to scale your business by offering self-guided online courses and membership sites. Our easy-to-use course design platform helps coaches, educators, and digital content creators  build engaging, custom eLearning experiences and grow sustainable online businesses. 
Try Thinkific for free and get the course creation, marketing, and selling tools you need to take your business up a notch.