The World's 7 Toughest Golf Courses | Ship Sticks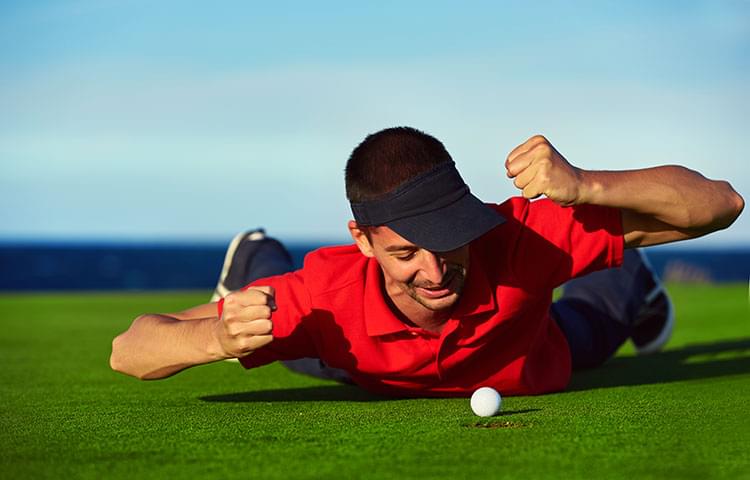 Learn about Some of the Most Challenging Golf Courses in the World
Are you up for it? While many courses cater to players of all skill levels (and rightly so!), some courses are intense enough to tempt even the most laid-back personalities to commit murder and mayhem in sheer frustration.
Displaying a little of your dark side is not necessarily a bad thing, though, if you're looking for a way to pit your skills against the diabolical genius of a course designer and the elements. Will you be bored playing any of these courses? Absolutely not. Will you list any of them as your top favorites for frequent play? Maybe, maybe not. But rest assured that you will not walk away the same player as you started, and the experience you have at any of these courses will haunt you forever. In a good way.
1. Bethpage Black (New York, United States)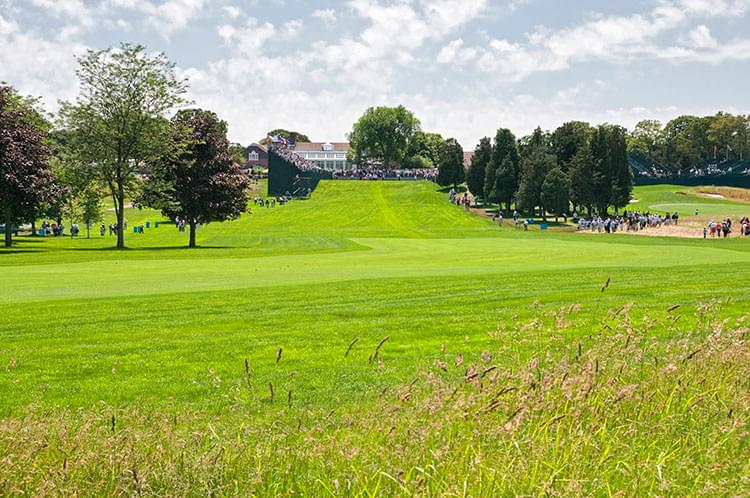 There are five courses at Bethpage—each named for a different color—but only the Black merits a sign that warns "The Black Course is a tough course which we recommend only for highly skilled golfers."
If you still dare to proceed, the only advice you need is to stay out of the rough. After that, leave your ego behind and just accept what this immaculate municipal course has to offer: narrow fairways, massive bunkers, plateau greens, tangly rough, and the fact that you can't use a golf cart. Playing from the back tees equals 7,426 yards of play. Unless you are a consistently winning professional golfer, don't feel the need to be a hero by playing the back tees.
Designed by A.W. Tillinghast and built in 1936, the Black Course was one of those hidden gems until it hosted the US Open in 2002 (where Tiger Woods was the only competitor to come in under par). After that bit of international recognition (along with another US Open in 2009), the course's popularity shot sky high. These days, securing a tee time requires patience and a bit of cunning. If you are a New York State resident, call the course at exactly 7pm seven days before you want a tee time and schedule your time through the automated system. Keep calling if you get a busy signal. If you aren't a state resident, you'll need to reserve a tee time 48 hours in advance. Reserving a tee time can be a difficult thing to do during the summer and on the weekends. It's better to make friends with a golfer who is also a resident of the state and have them get a tee time and bring you along. Failing that, keep calling.
2. Le Touesserok Golf Course (Ile aux Cerfs, Mauritius)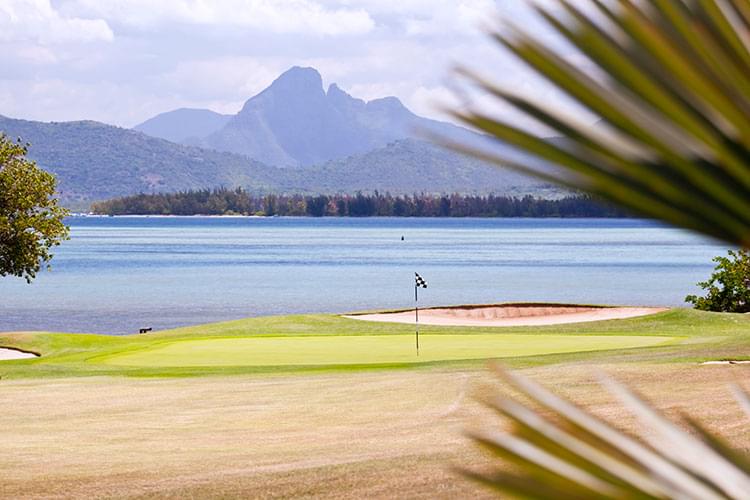 Designer, Bernard Langer, dreamed up this challenging course located on 38 hectares (94 acres) on the southern half of picturesque Ile aux Cerfs in Mauritius, an island nation strung in an archipelago 1200 miles off the southeastern coast of Africa in the Indian Ocean.
Every hole on this course gives you a view of the sparkling blue Indian Ocean—either through the trees or as you play alongside the water. You'll need that tranquility as you battle white sand bunkers, nine lakes, undulating topography, volcanic rock outcrops, gullies (lest the lakes get lonely), and three holes that require tee shots across inlets to the fairways. The tropical climate supports a jungle of foliage (including mangrove swamps), but the Salam Seashore Paspalum grass used on the course allows for meticulous conditioning. Plan to lose plenty of balls on this course, but be happy that you'll get some good practice in course management.
RED : Health Insurance Plans – Buy Medical Insurance Starting at INR 15/Day
To get to Ile aux Cerfs, you'll need to catch a boat shuttle from Pointe Maurice on the island of Port Louis. Shuttles leave every 20 minutes starting from 6:40am until the last golfer has finally decided to depart from this beautiful spot of the world and go back to the hotel. Helicopter transportation is also available through Air Mauritius.
3. The Ocean Course (Kiawah Island, South Carolina, United States)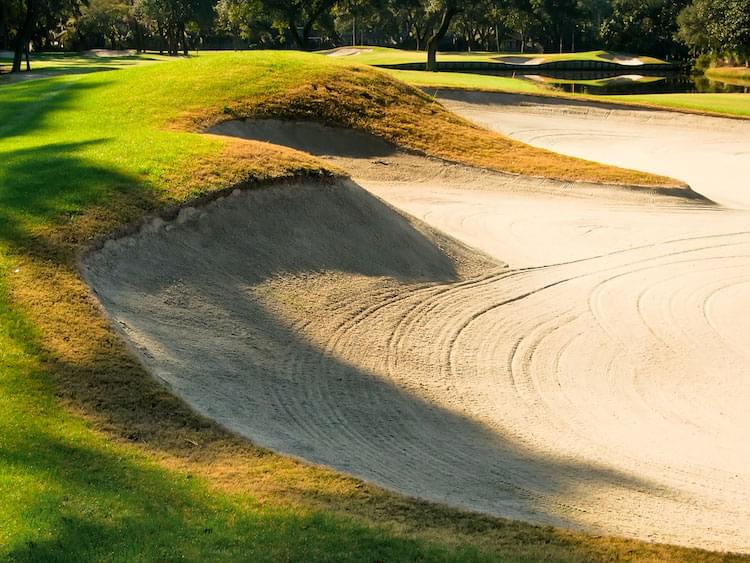 Pete "The Marquis de Sod" Dye must enjoy turning otherwise sane individuals into golfing wrecks. Fortunately, the torture is all in your head because the course is meticulously maintained all year round, with excellent caddies and superb service.
It's the wind that will get you on this links-style course, but what many golfers don't expect is that the fairways are not firm and bouncy like real links courses. Instead, the combination of softer fairways, paspalum sward that gets soft and clingy when wet, and greens fronted by bunkers and scalloped to facilitate drainage—along with the wind—could have you pulling your hair out. It's also a very long course that plays 7,610 yards from the back tees. Bring a lot of balls because you'll lose many of them.
Still, is it worth it? Oh, yes. Leave the cart behind (you can't take them off the cart paths) and just revel in the glory of the scenery, the feel of the breeze through your hair, and the thrilling challenge Dye has given you.
4. Carnoustie Golf Links (Dundee, Scotland)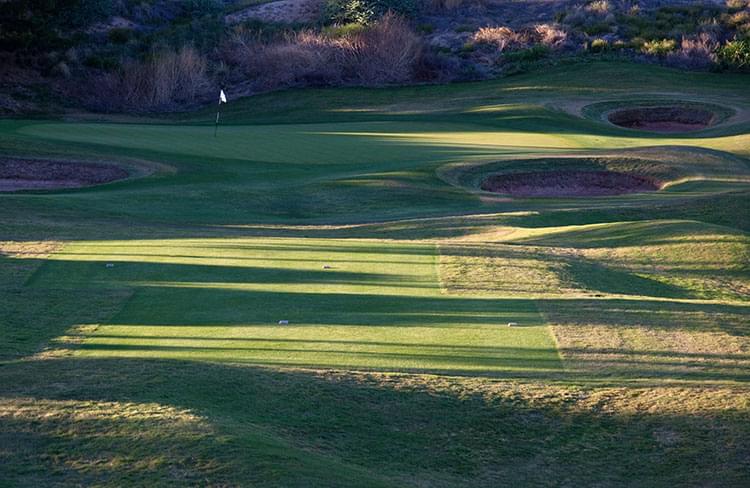 Carnoustie Golf Links is a course that has reduced grown men to tears (see Sergio Garcia after he finished last in the 1999 Open Championship). Nicknamed "Carnasty" by those in the know, Carnoustie is your ultimate links-style course located on the windswept shores of Scotland as it sidles up to the North Sea. If you are taking a trip to Scotland, by all means, make sure Carnoustie is on your to-do list.
All three courses at Carnoustie promise excellent play and visitors are happy about the recent improvements made to The Buddon, the newest course of the three. Burnside is also an exceptional course. The Championship course has the reputation for being the toughest, however, and sometimes referred to as the Bethpage Black of Scotland. Its design is one of the main reasons the course proves so difficult: with no more than two holes in a row facing the same direction, you'll need to continually re-evaluate your strategy based on the direction of the wind while also dealing with Braid bunkers, the notoriously twisting and turning bunkers with canted—and even convex—faces.
Carnoustie has been hosting golfers for over 400 years now, although it didn't formally begin as a golf club until 1842. It's understandable that the course has undergone several major renovations over the centuries. One of the most significant is James Wright's redesign of the last three holes in 1937, which produced the "toughest finishing stretch in golf" and cemented Carnoustie's reputation. You are invited to test them out and draw your own conclusions.
5. Jade Dragon Snow Mountain Golf Club (Lijiang, Yunnan, China)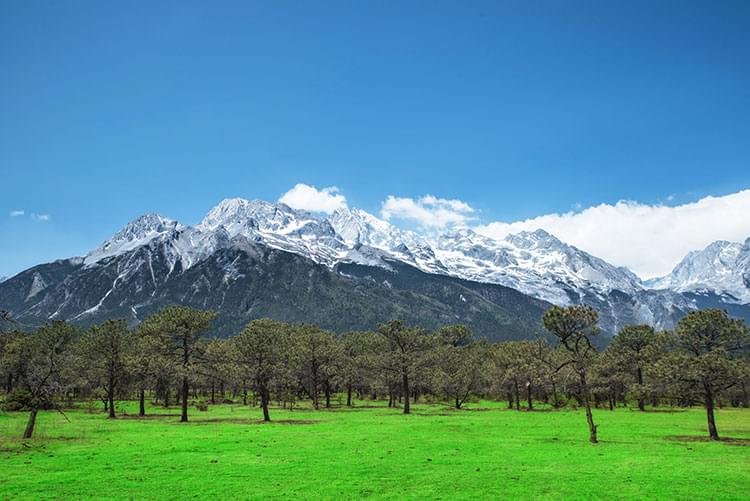 Asia has not only fully embraced golf, but you'll find one of the toughest courses in the world in China. The second highest golf club in the world, Jade Dragon Snow Mountain was built in a valley of the Himalayan Mountains at 10,000 feet above sea level in Yunnan Province, which is located along China's southwest border with Myanmar, Laos, and Vietnam. Mountain views dominate the course, and the nearby city of Lijiang offers tourists a quaint old-time adventure in its old town sector.
RED : Authentic cuisine in cookeville | United States | Persis Indian Grill
Thin air means balls fly much farther, and you'll need that advantage on Jade Dragon Snow Mountain's 8,548 yards—the longest par 72 in the world—with one of the par 3s measuring more than 260 yards and a par 5 that is over 800 yards. If you're not used to the altitude, take it slow as you go to find your ball. Part of the challenge on this fantastic course is not fainting due to lack of oxygen.
The course's 18 holes divide into two halves that each contain charming characteristics: the front nine boasts a more familiar Scottish style while the back nine is a mountain design. Course architect Neil Haworth has designed some of Asia's top courses, and this one proves to be an exceptional work of art. If you can make it through the course (or even if you can't), indulge in a hot bath in one of the clubhouse's Japanese soaking tubs and enjoy a meal in their terrific restaurant. You'll feel like you've climbed a mountain during your round, but that's part of the satisfaction of achievement when having played at Jade Dragon Snow Mountain.
6. Championship Links, Royal County Down (Newcastle, Northern Ireland)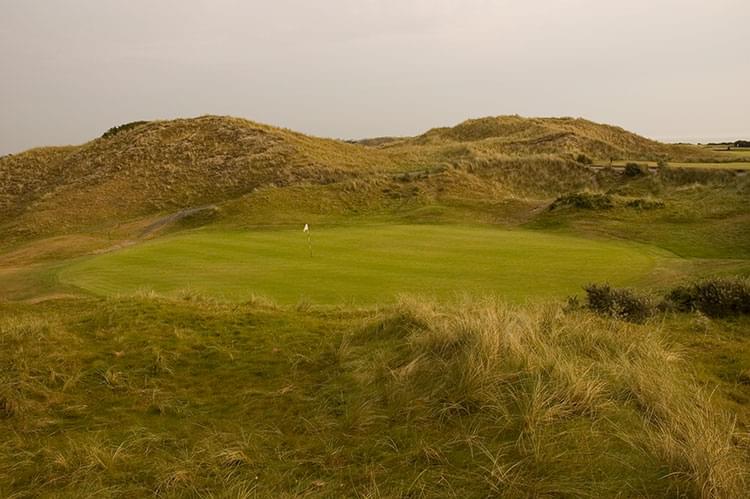 If you're dreaming of heather and gorse and blustery ocean views, grab your sticks and head for the Championship Links at Royal County Down. Located near Newcastle on the eastern coast of Northern Ireland, the views are incredible and the rough consists of the native gorse and purple heather common to this part of the world.
Zigzagging holes and very narrow fairways contribute to the challenging aspect of this magnificent course. You'll get a grand view from every hole, and you will never get bored as you perfect your bump and run game on this links course. Domed greens and bearded bunkers make strategy a critical component, and you should hire a caddy to get excellent tips on the blind shots (buggies are not allowed). But mostly your caddy will have to remind you to stop ogling the view of the Irish Sea and the Mourne Mountains to pay attention to what you're doing because the course is challenging.
Royal County Down is arguably the best golf course outside the United States. Though Irish weather might not always cooperate, rain and the wind just add to the thrill of trying to best this monument to links golf.
7. Palm Course, Saujana Golf Club (Kuala Lampur, Malaysia)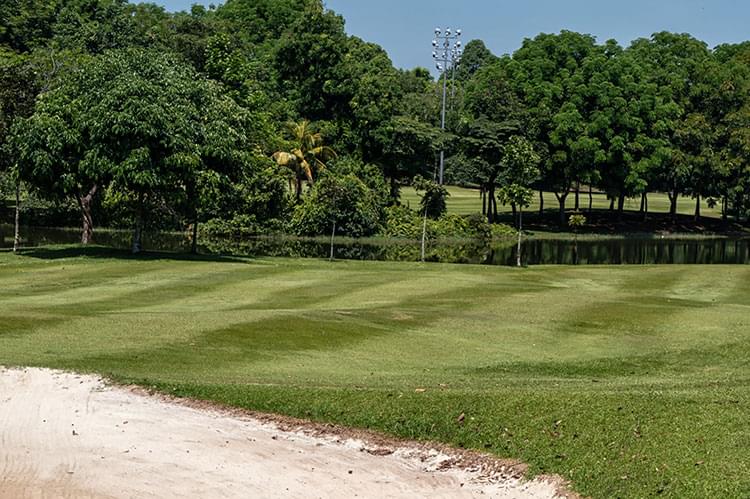 Sloping greens and undulating fairways highlight this beautiful test of a golf course, which is nicknamed "the Cobra" both because plantation owners introduced cobra snakes to the area to keep the rat population in check and because of the layout.
Built on a former oil palm plantation, the Palm Course—one of two courses at the Saujana Golf Club—isn't the longest course ever, but it does offer a challenging layout with tricky topography. The par-3 second hole, for instance, requires a tee shot over a ravine, and at first glance, the shot looks fairly straightforward. Never make the mistake of being complacent, however, as this is considered one of the most challenging holes in Asia. Changes in elevation, jungle palms lining the fairways and waiting to swallow your ball, and even the occasional monkey keep you on your toes from the first to the last hole, but the greens are in excellent condition, and the service is impeccable. Take a caddy along for tips and advice. If the front nine holes prove frustrating, relax into the slightly easier back nine.
Conclusion
For the truly adventurous or seriously masochistic (you decide which one you are), top-notch designers have come up with plenty of mischievous courses on which you can test your skills and your patience. While the toughest courses in the world can certainly give a pro player a run for his or her money, you don't have to be a pro to test your golfing chops on these courses and still have an amazing time. Beautiful locations, breathtaking vistas, and demanding courses bring together all that is excellent about the sport of golf.
Though there are many spectacular courses throughout the United States and the world, we chose seven of the most challenging to represent the toughest golf courses we hope you visit.
Bethpage Black in Long Island, New York, United States
La Touesserok Golf Course on Ile aux Cerfs, Maritius
The Ocean Course at Kiawah Island in South Carolina, United States
Carnoustie Golf Links in Dundee, Scotland
Jade Dragon Snow Mountain Golf Club in Lijiang, Yunnan, China
Championship Links at Royal County Down in Newcastle, Northern Ireland
Palm Course at Saujana Golf Club in Kuala Lampur, Malaysia
Resources
Bethpage Black:
http://nysparks.com/golf-courses/11/details.aspx
https://www.bethpageproshop.com/black-course-page-8/chapter/2
La Touesserok Golf Course:
http://www.ileauxcerfsgolfclub.com/#discover-the-ile-aux-cerfs-golf-club
The Ocean Course:
https://www.kiawahresort.com/golf/the-ocean-course
Carnoustie Golf Links:
http://www.carnoustiegolflinks.co.uk
Jade Dragon Snow Mountain Golf Club:
http://www.kimigolf.com/china/Jade-Dragon/Jade-Mountain-Sonw-Dragon-E.htm
http://www.thechinaguide.com/?action=activity/view&activity_id=377
Championship Links at Royal County Down:
https://www.royalcountydown.org
http://www.royalcountydown.org/Course_Tour_(1).aspx
Palm Course at Saujana Golf Club:
http://www.saujana.com.my
http://www.saujana.com.my/course_palm.html
Source: https://bloghong.com
Category: en