This Is The Best 24-Hour Restaurant In Your State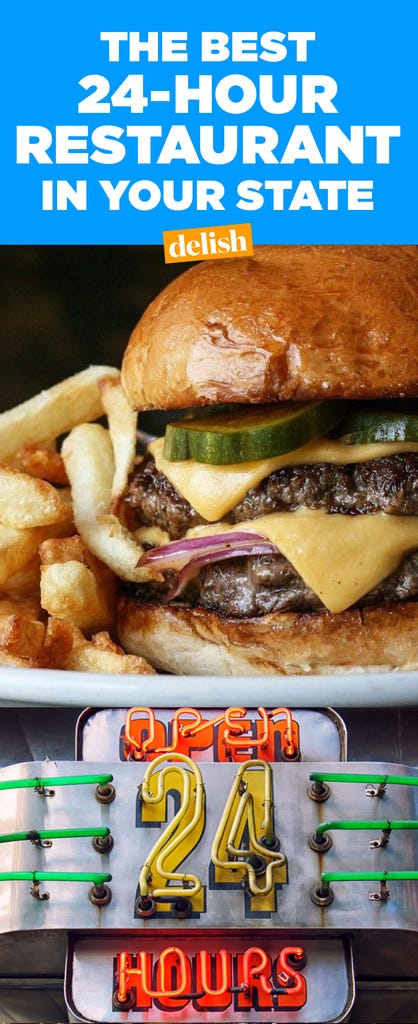 Whether you're craving some late-night grub after a night at the bars or searching for an early-morning breakfast spot to fuel up during a road trip . According to Yelp , these popular diners , burger joints and restaurants serve amazing food to customers around the clock (at least one day per week). Come in, they're open!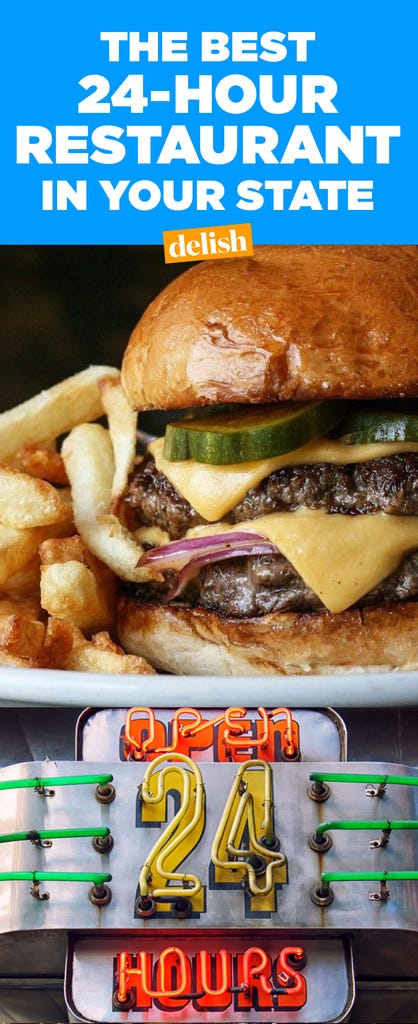 1
of 51
Don't forget to pin it for later!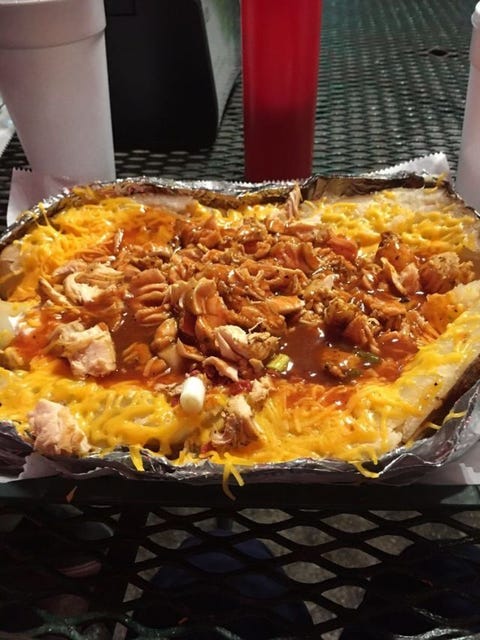 Yelp/Lucy T.
2
of 51
Alabama
Al's Deli & Grill in Birmingham
Yelpers flock to this spot for late-night eats like gyros, kabobs and massive baked potatoes loaded with melty cheese. The "BBQ chicken baker" is a favorite that won't leave anyone's stomach growling.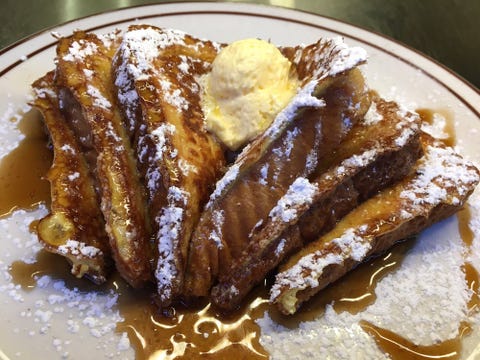 Yelp/Young K.
3
of 51
Alaska
Leroy's Family Restaurant in Anchorage
Hit up this greasy spoon to fill up on comfort foods like omelets, hash browns and loco moco — all at a super affordable price. Come in late to join other bar-goers in taking pre-emptive measures against tomorrow's hangover.
Yelp/Ninotchka A.
4
of 51
Arizona
The Taco Shop Company in Tucson
If you're trying to track down Tex-Mex eats, this is the place to be. Plates are piled with tacos, burritos and fresh toppings, which are best washed down with a glass of sweet horchata.
Yelp/Helen M.
5
of 51
Arkansas
Lucy's Diner in Rogers
Yelp reviews praise this little place for serving breakfast all day long. Once you've tried a heaping portion of their crispy hash browns, you'll know why.
Yelp/Scott A.
6
of 51
California
The Yellow Deli in Vista
Yelp users claim stepping into this restaurant feels like getting into a time capsule. It looks like a decorated log cabin with a winding staircase, which diners frequent for affordable sandwiches with kettle chips, soups and iced tea.
Yelp/Jennifer B.
7
of 51
Colorado
Pete's Kitchen in Denver
According to one Yelper, "diners like this are a dying breed." You'll find photos of the restaurant's namesake, Pete, posing with celebrities on the wall, and affordable eats sizzling on a flat-top grill.
Yelp/Jie Z.
8
of 51
Connecticut
Town Line Diner in Rocky Hill
This Connecticut staple serves everything from burgers to steaks to breakfast foods to accommodate late-night workers and the buzzed bar crowd. Roll in with your crew and dig in.
Yelp/Rhex X.
9
of 51
Delaware
Sammys Kitchen in Rehoboth Beach
The menu here runs the gamut from tuna salad sandwiches to fluffy chocolate chip pancakes, making it a favorite spot for families to fuel up before a day at the beach.
Yelp/Jose O.
10
of 51
Florida
Havana Restaurant in West Palm Beach
Cuban food this good is tough to come by. Favorite menu items at the local joint include plantain nachos, arroz con pollo, and empanadas, plus flan with cafe con leche for dessert.
Yelp/Estelle H.
11
of 51
Georgia
R Thomas Deluxe Grill in Atlanta
If the beautiful decor isn't enough to get you through the door, you'll love the healthy options like salads, grain bowls and several vegan, raw and gluten-free offerings on the menu. Choose from several looseleaf teas to sip with your meal.
Yelp/Rowena S.
12
of 51
Hawaii
Liliha Bakery in Honolulu
If you've got a sweet tooth, don't miss out on this spot. The famous poi donut are delicious, and their pretty, purple dough makes them totally Instagram-worthy. There's also cream puffs, banana coconut cupcakes and croissant donut on offer at the counter.
Yelp/Chris H.
13
of 51
Idaho
Merritt's Family Restaurant in Boise
This unassuming hole-in-the-wall serves up stellar Dutch babies and cinnamon scones that taste "like a churro with butter on it," as well as chicken fried steak and steak and eggs to satisfy savory cravings.
Yelp/Chris T.
14
of 51
Illinois
White Palace Grill in Chicago
This Chicago joint is a classic, all-American diner where customers grab a seat at the counter to dig into skillets, pancakes, omelets, waffles and towering club sandwiches.
Yelp/Mary G.
15
of 51
Indiana
Leonardo's Mexican Food in Indianapolis
This Mexican spot isn't 100% authentic, but it's definitely delicious. Pair chicken fajitas on homemade tortillas with the fresh, brightly colored salsas for a serious flavor punch.
Yelp/Kirsten N.
16
of 51
Iowa
Lina's Mexican Food in Des Moines
Yelpers love the breakfast burritos and quesadillas (topped with from-scratch red salsa, for a kick) from this convenient drive-thru.
Yelp/Lauren B.
17
of 51
Kansas
The Java Break in Lawrence
Quality coffee shops are tough to come by, but this one boasts plenty of seating and outlets, reliable wifi and great cold brew coffee. Settle into the eclectic furniture and order a bowl from the cereal bar.
Yelp/Tj P.
18
of 51
Kentucky
Burger Boy Diner in Louisville
College kids and Cardinals fans love this no-frills diner, pumping classic breakfast items, burgers, and biscuits & gravy out of it's tiny kitchen. There's often a wait late at night, but the old-school jukebox keeps everyone occupied.
Yelp/Steve I.
19
of 51
Louisiana
Deja Vu Restaurant & Bar in New Orleans
Deja Vu is one of the only spots that serves food all night in the French Quarter, and after knocking back a few you'll be glad to hear they've got breakfast all day, plus po boys, burgers and crab cakes.
Yelp/Dysart's Restaurant & Truck Stop
20
of 51
Maine
Dysart's Restaurant & Truck Stop in Bangor
Don't be deterred by the presence of several 18-wheelers in the lot at this joint. It's a favorite for truckers and families alike, thanks to the menu of pancakes, waffles, kitchen sink skillets, lobster rolls and homemade pie.
Yelp/Dianne Z.
21
of 51
Maryland
Tastee Diner in Laurel
Track down this "true gem" of a diner that's known for having a solid menu, old-timey feel and good prices. Yelpers love classics like creamed chipped beef and country fried steak with gravy.
Yelp/Michael L.
22
of 51
Massachusetts
South Street Diner in Boston
Grab a seat on the outdoor patio at this greasy spoon, then toss any intent for healthy eating aside. The menu is loaded with amazing sandwiches like lobster rolls, Reubens, and a Monte Cristo, all served with crispy, golden fries.
Yelp/Alyssa R.
23
of 51
Michigan
Owl in Royal Oak
If south-of-the-border flavors are your go-to, you'll dig this cozy American diner with Mexican flair. Typical diner choices like fried chicken sandwiches and cinnamon buns are supplemented by tacos, chilaquiles, chorizo breakfast sandwiches and nachos.
Yelp/Sirius Q.
24
of 51
Minnesota
Lange's Cafe in Pipstone
Minnesota specialities like hot dish and local walleye are what's for dinner here, but you won't be able to pass up on their homemade bakery items. A plethora of pie slices sit on display in a gleaming case to tempt you into dessert.
Yelp/Beth G.
25
of 51
Mississippi
Waffle House in Long Beach
Some crazy events have gone down at Waffle House establishments across the country, but this one remains a local favorite in Mississippi. With cheap and consistently good food—especially their crispy-edged waffles — plus a view of the beach, what's not to like?
Yelp/Rhonda S.
26
of 51
Missouri
Hayes Hamburger & Chili in Kansas City
Hayes is a tiny, yet charming neighborhood grill where you can get chili on just about anything — burgers, hot dogs, fries, tater tots and even spaghetti. The milkshakes and smash burgers with griddled onions aren't to be missed.
Yelp/David J.
27
of 51
Montana
Shellie's Country Cafe in Helena
Shellie's feeds big portions to hungry truckers 24 hours a day, whether they're craving breakfast sandwiches or prime rib. The locals know to top off their meal with a Marionberry milkshake.
Yelp/Brittany S.
28
of 51
Nebraska
Penny's Diner in North Platte
If you're in need of a quality food stop on your trip through the Midwest, this place is a good bet. They're got stick-to-your-ribs food like smothered steak sandwiches, chicken fried steak and chili cheese fries, plus milkshakes and floats.
Yelp/MIchelle M.
29
of 51
Nevada
Blueberry Hill Family Restaurant in Las Vegas
One Yelper found this gem when they were looking for a "decent breakfast spot that didn't require parking and a hike through a casino or waiting 45 minutes to be seated." If that's not enough, the breakfast skillets, Oreo pancakes, and curly fries should convince you to stop.
Yelp/James D.
30
of 51
New Hampshire
The Red Arrow Diner in Manchester
Guy Fieri visited this greasy spoon to film Diners, Drive-Ins and Dives, and tempting menu items like the Caprese Benny and the Mug of Bacon that comes in a take-home mug might convince us to take a road trip, too.