Top 500 most profitable companies in Việt Nam announced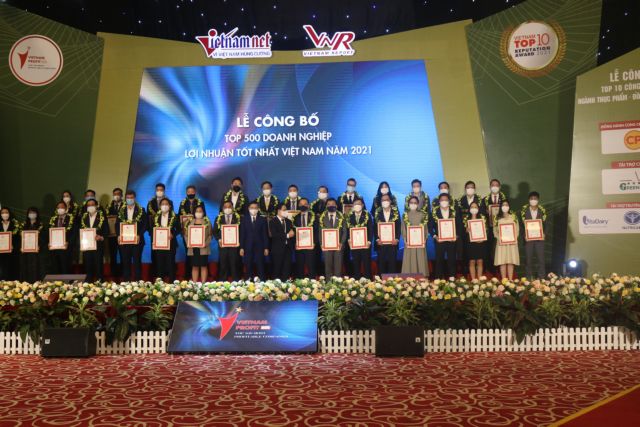 HÀ NỘI — Vietnam Report and online newspaper Vietnamnet yesterday announced the list of Top 500 most profitable companies in Việt Nam in 2021 (PROFIT500) and Top 10 most prestigious companies in the food – beverage – retail sector.
The fourth wave of the COVID-19 pandemic has changed all forecasts and is a "test" for the economy. In the new context, for businesses, profit is not enough, but it must be sustainable profit based on strong internal capacity, flexibility to adapt to the market, and quick application of technology, enhancing e-commerce, digital payments and work-from-home capabilities. They also need to reorganise supply chains and focus more on the domestic market. In addition, building brand reputation – an "intangible asset" associated with intrinsic strength would help the Vietnamese business community step by step overcome the pandemic and firmly restore production and business activities.
According to statistics of Vietnam Report, out of 339 listed companies in the PROFIT500 Ranking in 2021, 53.1 per cent of enterprises still maintained their profit growth momentum during the 2019 – 2020 period and in the first half of the year. In the January-June period, 24.4 per cent of businesses started to recover and regain profit growth. This was a positive sign that companies listed in PROFIT500 are gradually adapting to the changing business conditions during the pandemic.
The ranking this year aims to honour businesses that not only demonstrate financial and communication strength, but also growth potential, sustainable development, quality of management and position in the market.
At the event, Vietnam Report also introduced the report "Việt Nam Earnings Insight 2021" with the topic "Profit trends by economic sector in the 2021-22 period". In addition to some comments on the situation and quality of profit growth caused by the pandemic, the report also analyses the trends and prospects of industries that are likely to accelerate in the new normal period. It also analyses risks and strategic solutions to help businesses better visualise value chain recovery plans, build images, strengthen their foothold in the market, thereby achieving profit growth targets. — VNS
Top 10 most profitable companies in Việt Nam in 2021:
Samsung Electronics Thái Nguyên Co Ltd
Military Industry and Telecom Group (Viettel)
Joint Stock Commercial Bank for Foreign Trade of Việt Nam (Vietcombank)
Vietnam Oil and Gas Group (PetroVietnam)
Việt Nam Joint Stock Commercial Bank for Industry and Trade (Vietinbank)
Việt Nam Technological and Commercial Joint Stock Bank (Techcombank)
Hoa Phat Group
Việt Nam Electricity (EVN)
Vingroup JSC
Việt Nam Dairy Products JSC (Vinamilk)