Use Foreign Service Courses to Learn a New Language for Free
T here is no shortage of apps and online courses purporting to offer the best way to learn a new language . Whether you want to brush up on your high school Spanish or start fresh, you might turn to Duolingo (which has been accused of pillaging users' personal data) or a paid option like Rosetta Stone or Coursera, b ut there's another time-tested, totally free alternative : You can learn a new language like a U.S. foreign diplomat .
The Foreign Service Institute (FSI) , which trains professionals to live abroad in service of the U.S. government, is known for its excellent foreign language instruction—a nd y ou can access its course materials and detailed audio instructions for free .
How to use the Foreign Service Institute 's language courses
Unfortunately, you can't call the FSI and ask for someone to mail you the entire curriculum of its Yoruba or Hebrew courses , but you can find both of those languages—in addition to many, many others, on the language learning site Live Lingua. The FSI were previously available elsewhere online (we even wrote about them more than a decade ago) , but that site is no longer accessible .
Advertisement
While Live Lingua is primarily an online Spanish tutor, the website is hosting a much of the official FSI curricula for 40 languages, including to audio lessons and downloadable PDFs. Across all of its FSI offerings, you'll find 127 classes, 161 ebooks, and 4, 169 audio lessons.
The curriculum is proven to be effective; it's designed to prepare people to live and work in countries where they have important duties to carry out, despite having a limited understanding of the native tongue. You'll have to be somewhat self-sufficient and commit yourself to study using only audio files and PDFs (although, unsurprisingly, Live Lingua offers online tutoring for a f ee).
T he materials you'll be consulting are pretty old—several decades or more— which is less than ideal if you'd prefer your lessons to be grounded in a more modern context, but the basis of a language haven't exactly changed dramatically since , say, the 1980s, so the materials will still be quite effective. And don't worry about abusing government resources or stumbling upon something meant solely for officials, as all of the FSI materials Live Lingua hosts is in the public domain (as are other free language- learning resources on the site, from the Peace Corps and the Defense Language Institute) .
G/O Media may get a commission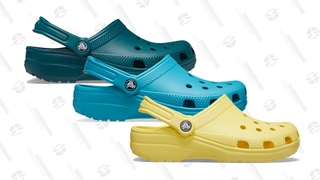 2 for $50
Crocs 2 for $50
Comfy classics
These quirky clogs are obviously here to stay—and with their 360 degree flexibility, there's no denying their comfort. Might as well buy two of 'em!
Use the promo code 2FOR50
Advertisement