What Happened at Carmine's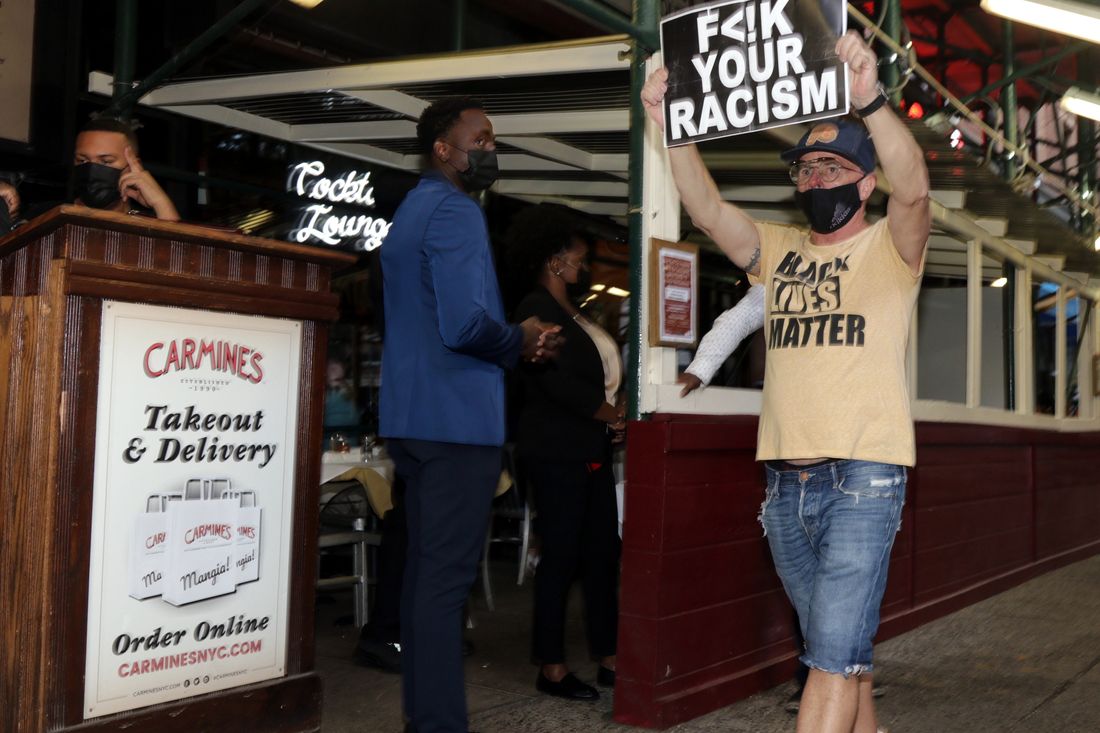 This article was featured in One Great Story, New York's reading recommendation newsletter. Sign up here to get it nightly.
Black Lives Matter of Greater New York and other local activists protest outside Carmine's Italian restaurant in New York City on September 20, 2021.
Photo: G. Ronald Lopez/Zuma Press Wire
A few hours before his workplace went viral, Matt, a server at Carmine's on the Upper West Side, was sitting in a pre-shift meeting, taking notes on the dinner specials. Carmine's is a red-sauce Italian chain with locations in New York, Atlantic City, and a few others, the kind of place where a chicken-parm portion is typically the size of an iPad. Matt, who requested a pseudonym, had been at Carmine's since 2013, working his way up from the lunch service — before the pandemic, he was a mainstay at the Carmine's in Times Square, serving piles of penne alla vodka to pre-theater, post–Madame Tussauds tourists. Since coming back to work in spring of 2021 and switching over to the flagship Upper West Side location, the job had a different kind of pressure: Servers were forced to weave through plexiglass barriers between tables; with outdoor dining, the number of patrons had increased far beyond the number of staff; service was slower and more frenzied, so tips were less reliable. And as of September 13, the restaurant's hosts had been turned into compliance officers, taking vaccination cards at the door in accordance with the city's new vaccine mandate for indoor dining.
A little before 5 p.m. that day, on September 16, a server finishing up the lunch shift ran into the back room where the meeting was happening. "We need help," he begged, asking the general manager to come outside. She hurried out after him; Matt and some of the other servers followed.
When they reached the sidewalk on Broadway, all Matt could see was a mass of flailing bodies tangled up in a brawl, with Carmine's servers and managers on one side and what seemed to be dining patrons on the other. In the middle, he could make out one of the hosts, a new employee, screaming, "Oh my God, What the fuck!" while a woman on the other side grabbed hold of her shirt, and another appeared to throw a punch into the fray. A mix of patrons and Carmine's employees were trying to pull them apart as the host podium went flying. The whole thing lasted about 40 seconds. Matt looked down at his phone, which he had taken out in order to record what he was seeing. He realized he had never pushed the button. But someone else had: a customer at one of the tables in the Carmine's outdoor parklet, with a front-row seat to the fracas.
Within a few hours, that recording was an exclusive on NBC New York. The footage was harrowing and violent: the host's screams can be heard as someone lands a blow near her face and the podium topples. The headline read: "Carmine's Hostess Attacked After Asking Tourists for Vaccination Proof to Dine Inside." From there, it boomeranged to seemingly every other outlet, local and national — traveling, inevitably, to Twitter. According to prosecutors, the host had "bruises to her arm, scratches to her face, upper chest, neck, arm, a concussion, and substantial pain." She was treated for her injuries at the hospital, and the three women involved were arrested.
Matt was shaken, but he'd seen a lot over his tenure at Carmine's. Little did he know the initial incident was about to escalate to a new level of clusterfuck: By Monday, four days later, Matt would find himself showing up to his shift in the middle of a Black Lives Matter protest. Bill O'Reilly would do a segment about the event. The restaurant would become a mayoral campaign stop. A host of competing parties with competing agendas would have something to say about what happened at Carmine's, each seeing exactly what they wanted to see. The episode would become a kind of Rorschach test for everything from COVID-19 policy to racial allyship, fodder for almost every narrative of outrage that 2021 had to offer. The problem, however, was that the facts never quite fit into just one of them.
In the 24 hours after the fight at Carmine's, a narrative took hold, stated clearly in that first NBC New York article: The host was attacked by the three women tourists "just for asking" to see their proof of vaccination — implying that the women had not had that proof. Carmine's and the NYPD both seemed to co-sign this version of events in their first statements to the press; a few hours after NBC ran its story, the police told local news that "the hostess, 24, was assaulted by three women from Texas after she asked the women to show proof of vaccination." Carmine's gave a statement that it was "a shocking and tragic situation when one of our valued employees is assaulted for doing their job." Later, at a press conference, Carmine's owner, Jeffrey Bank, appeared with Manhattan Borough President Gale Brewer, where she called for increased fines for patrons who did not show proof of vaccination.
As the video gained traction, it quickly became cannon fodder in the national battle over vaccination holdouts, of which New York, as the first city with an indoor-dining mandate, was the epicenter. For many New Yorkers, the fact that the tourists were from Texas meant they were an effective stand-in for all manner of right-wing political villains: "This is why New York makes Texans leave their handguns at home," tweeted Claire Potter, a New School professor and historian. Liz Krueger, a New York state senator whose district includes the Upper East Side, wrote, "Texas: Keep your guns and your violent anti-vaxxers out of New York" (she added, "Pregnant women in need of health care – always welcome!"). "I'm fine with closing our borders," Benjamin Dreyer, a copy editor and social-media personality with some 88,000 followers, added.
But this first viral version of the story was not strictly true. The women, eventually identified as Sally Lewis, 49; Kaeita Rankin, 44; and Tyonnie Rankin, Rankin's 21-year-old niece, did, in fact, have proof of vaccination. They had arrived with three other people, as a group of six who all had vaccination cards and accompanying identification, but three more men who showed up to join them did not. Neither Carmine's nor the police had corrected the record.
RED : Cách Tính Nội Suy Trong Excel, Hàm Nội Suy Tuyến Tính Trong Excel
It didn't end up mattering too much. By the end of Friday, another narrative had emerged, this time in a New York Times article. One of the women was now being represented by a Dallas-based civil-rights lawyer named Justin Moore, who has a history of taking on high-profile cases involving racism and police brutality, as well as 35,000 Instagram followers. Moore had said in a statement that not only did all the women show vaccination proof, but that they had been "questioned arbitrarily and unjustifiably" by the host because they were Black. According to the Times, Moore said that, despite the video, the host had been injured when other Carmine's employees "restrained her" after she had been "called out for racial discrimination." On Twitter, he accused Carmine's of lying about the fact that the women had not had vaccination proof in order to cover up a racial-bias incident. He noted that the three had merely been given desk-appearance tickets at the police station. "Something isn't adding up," he wrote.
Soon after, another bombshell dropped in the Times: "Footage Reveals New Details in Tourist Melee at N.Y.C. Restaurant." The paper had reviewed security footage leading up to the incident, including one video which, according to Moore, depicted the host using a racial slur toward the women as she passed them in the restaurant entryway. But the video had no sound. Only then did representatives from Carmine's acknowledge that the women had indeed had proof of vaccination. Still, they were adamant that there was no slur.
As quickly as the first iteration of the tale had spread, so too was this one picked up by people who seemed to know what had really happened all along. Rebecca Kavanagh, a criminal defense attorney and news pundit, wrote confidently on Twitter that "the altercation started after the hostess called them a racial slur." Moore quote-tweeted Roxane Gay, who posted the Times story in a since-deleted tweet: "When I first heard this story something felt way off and sure enough, more information has come out." The same day the Times story ran, on September 18, the Daily Mail reported on the host's race (she is Asian).
On Monday, Matt had returned to Carmine's for the dinner shift. He was anxious — he had seen on Instagram that Black Lives Matter of Greater New York had already planned a protest of the restaurant for that night. One of its leaders, Hawk Newsome, had named the event "Cancel Carmine's" in a post, with text that read, "On 9/16 three Black Women were called the N-word by a White Hostess then they were assaulted and arrested by the NYPD." The protest would be happening at 5 p.m., during dinner service.
Newsome and his sister, who organized the protest, are the founders of Black Lives Matter of Greater New York, which has publicly tussled with the better-known BLM Global Network. Last June, after comments he made to Fox News about burning down "this system … figuratively [or] literally" created a firestorm on conservative media, BLM Global publicly disavowed Newsome and his organization. Newsome, in turn, called for the Network's finances to be investigated, after the Daily Mail published a story on BLM Global founder Patrisse Cullors's "'Marxist' mansion." Newsome has also been a vocal skeptic of COVID-19 vaccines. In August, the New York Times reported that he "grew suspicious when he heard last year that politicians were prioritizing minority neighborhoods for coronavirus vaccinations."
At the protest on Monday, down the block from Carmine's, a woman described how "the NYPD showed up to that restaurant and asked no questions." "What they saw were Black women and white folks," she said, to applause from the few dozen attendees. "And they asked themselves who is right and who is wrong, and because they're operating through a racist lens, they determined that there's no way the white employee could be wrong." Newsome, when he got to the mic, claimed that the host antagonized the Black women. She even "lunged" at them at one point, he claimed, enough that she was pulled away by a manager, who then apologized for her behavior. All of it would be shown on security footage, if Carmine's would release it. "Release the tape!" people chanted. Online, right-wing pundits joined in, suddenly eager to share Newsome's concern that vaccine mandates would harm Black Americans.
After the press conference, the group marched to the restaurant. Matt went outside to watch as protesters gathered near the famed host's podium, chanting "Fuck you Carmine's" and "Carmine's a racist." At one point, the demonstrators turned their attention to Matt and two other members of Carmine's staff who were standing next to him: his manager, who is from Ghana, and another manager from Trinidad. The protesters were shouting things like, "Look at them, trotting out their Black employees. Look at them, trying to show us they have a diverse group here."
"We're like, 'We just work here,'" Matt says. "We're here every day." Matt identifies as mixed race; most of his colleagues — servers, bussers, managers, bartenders — are nonwhite. None of them, he says, believed the host had said any kind of racial slur. Plus, he had seen the attack himself. He felt like he was going crazy. "I know the real events, but do I?" he said he asked himself. "Do I know the real events? 'Cause I'm outnumbered here. Whoever has the loudest voice is right." Then he tried to go back to work.
The next night, Republican mayoral candidate Curtis Sliwa dined with his wife at Carmine's in a show of solidarity (though he is also vocally anti-vaccine mandate), because he saw his "nemesis" Hawk Newsome leading the protest. "Also, I'd say to Eric Adams, who was painting Black Lives Matter in the streets, is this really what he wants to be associated with?" Sliwa told the Post during his visit to the restaurant, where he tucked into a plate of angel-hair pasta with garlic and olive oil.
Carmine's owner Bank did release the tape, the same day as the march on the restaurant. New surveillance footage showed the lead-up to the brawl and a few after, three minutes and 28 seconds in total. In the video, Lewis, one of the women from Texas, clearly initiates the physical confrontation with the host, who is standing at the podium facing away from the restaurant door when Lewis comes up from behind her and begins to push her and grab her clothes. The melee quickly involves almost a dozen people, as multiple Carmine's employees and Rankin try to pull them apart, and Tyonnie appears to throw a blow at the host. Eventually, when they are separated, Lewis has a grip on the host's hair.
Bank also released the overhead camera footage from the entryway, during which the alleged slur was made. It is clear from the video Rankin heard something that made her follow the host back outside: As she passes Rankin's right side on her way out, Rankin whips her head around, and immediately trails the host out of the entryway. And it seems like that was not the first time they were at odds; additional footage Carmine's shared with New York shows the host, at some point before the incident when Rankin and others were going in and out of the restaurant, speaking exasperatedly and gesturing toward Rankin when she is pulled back and led away by a server — perhaps the "lunge" Newsome referenced. But it will probably never be unequivocally proven what was said in the entryway. Carmine's claims it was something to the effect of "Have a nice dinner," though, if it was said, they acknowledge it may not have been in genuine spirit. Moore, the attorney, says that his client says she heard the host use the N-word. He told NBC New York in the aftermath that one of the women said the host called them a "monkey," though he didn't address it again in communication with New York. "We would like to reinforce," he says, "that [Kaeita] Rankin is not shown in any footage assaulting the Carmine's employee in question."
RED : The Brass Monkey Restaurant in Chicago
No one in Rankin's party mentioned a racial slur in any police body-cam footage from the prosecutor's office, according to Javier Solano, Rankin's criminal defense attorney. They also did not mention it to the general manager, a Black woman, who ran out from the shift meeting Matt was in. "If someone called me a slur," the manager wrote in an email to New York, "it would be the first thing I would say, I'd shout it, and they never mentioned it. I gave them my phone number and they never called me later to say this." To hear their allegations two days later "shocked the boots" off of her. Though Matt at first forgot to hit the record button, he eventually did get video of the aftermath, which captures part of the conversation between Rankin and the GM. "You can't walk up on Black people like that little girl—you can't do it—or you'll get beat up like you just got beat up," Rankin says in the video, adding that she can see the host still smirking. "Tell her she'd better be careful," she says, before the group walks away from the restaurant.
Moore blames the NYPD for the fact that none of the complaints of harassment he says his clients made to officers on the scene show up in the police report. And he blames Carmine's for allowing the narrative to flourish that the women were unvaccinated. "They could have come out and made a statement that this wasn't about vaccines," he says, "but they chose not to, which is ultimately extremely defamatory against these women." At one point, Moore told me that other witnesses would come forward having heard the slur, but so far they have yet to materialize.
Rankin, who has received all manner of hate mail since the incident went viral, Lewis, and Tyonnie could face up to a year in jail if the DA moves forward with charges of multiple counts of assault and harassment. Solano, Rankin's defense attorney, has a different view on press strategy than Moore. "I told everybody to let this thing die," he said, instead of litigating it in the news. He also has a different view on the question of the slur, allowing for the possibility that "Have a nice dinner" could have been heard as something else. "Listen," Solano said, "is that possible? Of course that's possible." The host released a statement on October 5. "I am a Korean immigrant, I was born in Seoul, Korea," it said. "I have the utmost respect for all BIPOC. I would never call anyone a racial slur. People lying about that is even worse than being physically assaulted." She eventually went back to work at Carmine's but only lasted one day, according to the restaurant.
Depending on what you wanted out of it, the Carmine's story was undeniably a racial-bias incident, a parable of depraved anti-vaxxers, a warning bell against fascist mandates, or any combination of the above. Caught at the center of it all was another 2021 archetype: the beleaguered frontline worker, in a never-ending pandemic, taking everyone else's shit.
What happened at Carmine's — or what happened after what happened at Carmine's, more accurately — threw Matt so out of whack that when a manager told him the restaurant was offering counseling, he took them up on it. The counselor suggested Matt could take a break from work under the Family Medical Leave Act, which covers unpaid time off for mental-health reasons. A few weeks after the fight, he left New York. "I was like, "Holy shit," he says now, looking back, "this is like the Truman Show."
Carmine's HR eventually notified Matt that he was ineligible for the six weeks of leave under FMLA. He had not worked a full 12 months in the past year, a requirement, even during the COVID-19 pandemic — though Carmine's could always grant him an unpaid leave at its own discretion. The restaurant offered him 28 days of unpaid leave. After that, HR told him he would be terminated, though he was encouraged to reapply.
One Great Story: A Nightly Newsletter for the Best of New York
The one story you shouldn't miss today, selected by New York's editors.
Email
This site is protected by reCAPTCHA and the Google Privacy Policy and Terms of Service apply.
By submitting your email, you agree to our Terms and Privacy Notice and to receive email correspondence from us.
Source: https://bloghong.com
Category: en