Where To Find The Best Healthy Restaurants Near Dallas Fort Worth
Pin
40
Shares
Have you ever wondered where to find the best healthy restaurants near me in Dallas Fort Worth? Well, look no further. We've put together the ultimate list of over 30 healthy restaurants right here in the metroplex that you've got to try out!
Here's DFW's 25+ Most Unique Restaurants!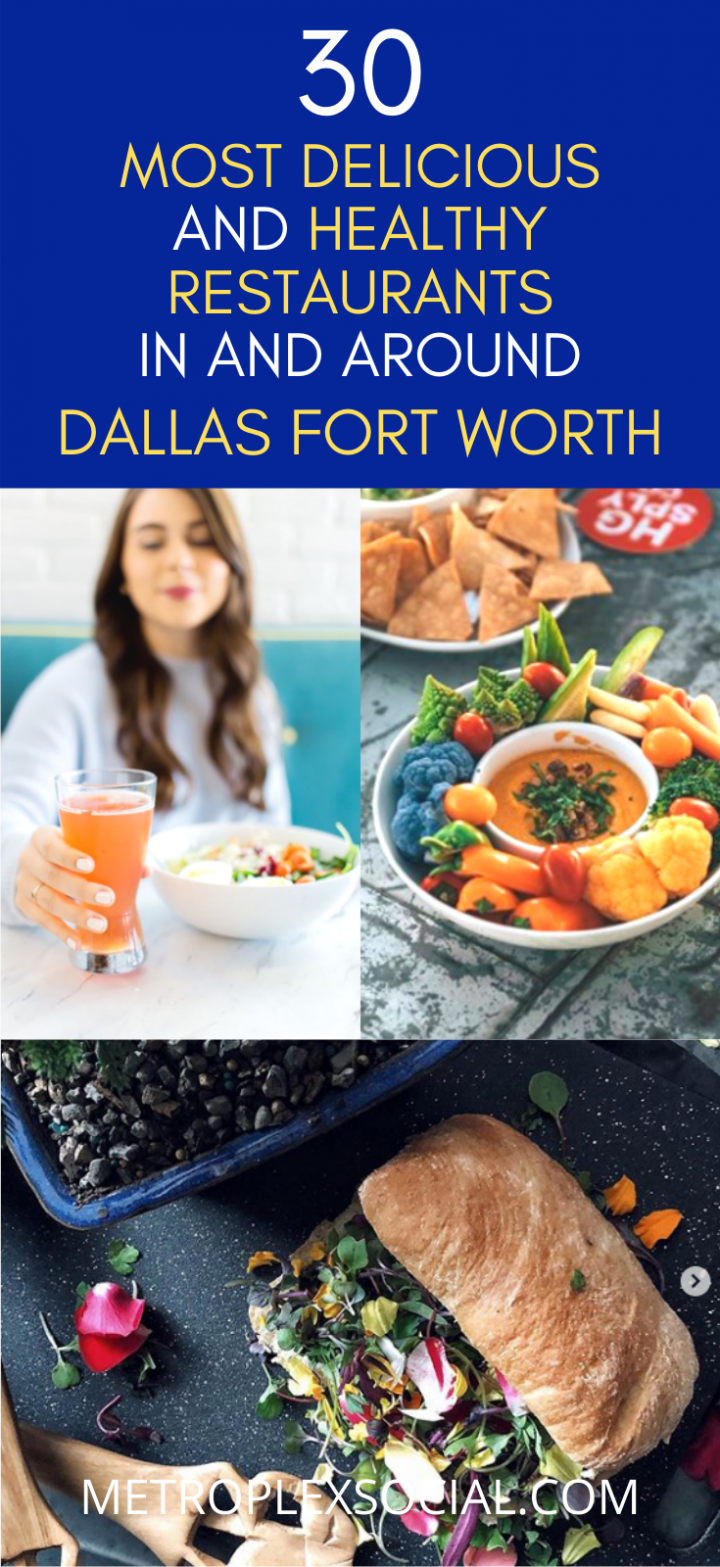 It can be hard to eat healthy, but we've done all the research for you. We've looked all around DFW and found the healthiest places to eat out in the metroplex. Here's Where to Find the Best Healthy Restaurants Near Dallas Fort Worth: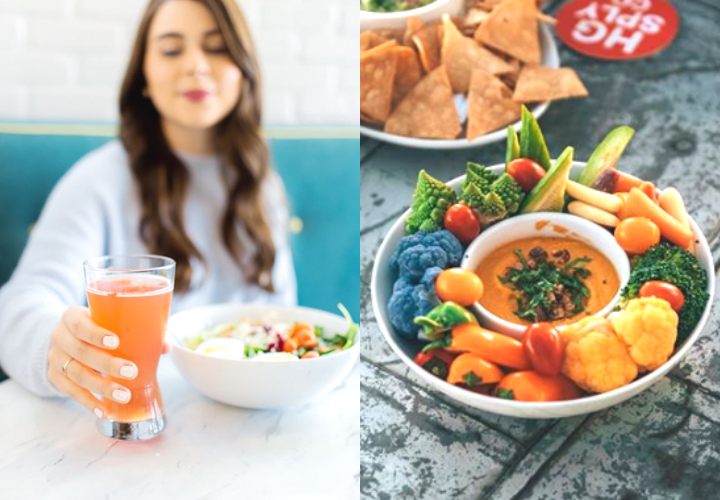 Where To Find The Best Healthy Restaurants Near Dallas
Check out our choices of DFW's best places to eat healthy near you!
El Palote Panaderia – Dallas
This family owned restaurant has done the impossible – taken some of the most popular Mexican foods like conchas or tacos, and turned them into completely plant based dishes! Come try all your favorites like queso, loaded nachos, or even a BBQ sandwich at El Palote Panaderia. Once your done with lunch, grab some dessert with tons of vegan twists on traditional Mexican baked pastries!
Gather Kitchen – Downtown
Gather Kitchen has everything for your healthy lifestyle. Whether your healthy eating goals are Whole 30, paleo, vegetarian, or vegan you are going to be amazed by this place!
Gather has lunch bowls, dinner bowls, and even snack bowls to satisfy your cravings. Looking for something sweet? Try their vegan brownies.
Spiral Diner and Bakery – Healthy Restaurants Near Dallas
Spiral Diner and Bakery has been serving vegan comfort food for over 10 years! With American options like burgers and fries, Tex-Mex nachos, or even desserts like vegan milkshakes, you'll find something for everyone at Spiral! They have locations in both Dallas and Fort Worth.
Unleavened – DFW
Unleavened serves up a variety of flavorful and delicious healthy eating options. Those on a gluten-sensitive diet will appreciate that this restaurant, because their dishes are gluten free. This is the healthy restaurant near Dallas you've been dreaming about!
Multiple Locations
Flower Child – Healthy Restaurants Near DFW
Flower Child is the healthy restaurant with multiple locations in and near Dallas you've been waiting to try. This healthy restaurant uses only fresh and local ingredients in all their dishes and no matter what your eating goals you're going to find something to fall in love with here.
Bams Vegan – Healthy Restaurants Near Dallas
This local vegan soul food is only available on weekends from 10am-5pm at the Dallas Farmers' Market.
The line to purchase a meal from Bams Vegan can wrap around various times, so get there early if you want to try out unique options like the blackened shrimp, grits or an oyster poboy!
Keep an eye out on Instagram @bamsvegan for this weekend's menu!
Company Cafe – Healthy Restaurants Near Dallas
Company Cafe is a chef-driven restaurant serving up fresh farm-to-table greatness for lunch and dinner. Not only is this healthy restaurant ethical, they also serve up the best, healthy place to get brunch 7 days a week.
V-Eats Modern Vegan – Trinity Groves
V-Eats puts an international spin on some of your favorites! Try everything from chili cheese dogs to "General Tso's Chick-Non" and do not miss out on a chance to try out their vegan bar, complete with cocktails!
True Food Kitchen – Preston Center
Founded by health guru Dr. Andrew Weil on the principles of his popular anti-inflammatory diet, True Food Kitchen serves as a healthy restaurant alternative to all the fast food options everywhere.
With all menu items made from seasonal ingredients and inspired by the time of year, there's always something different to try!
Nunos Tacos – Dallas
Opened up by a co-founder of El Palote, Nunos Tacos is the most recent addition to our list and just started serving Dallas in July of 2019.
Nunos was so popular during their opening weeks that some days they ran out of food! One look at their vegan loaded burritos and you'll understand the hype.
Kalachandji's – East Dallas
Inside a temple in East Dallas you'll find one of the most celebrated vegetarian restaurants in the country. For more than three decades, vast lunch and dinner buffets have introduced thousands of diners to Indian foods, both lacto-vegetarian and vegan inside the restaurant or on the gorgeous tree-lined patio outside. The menu changes daily and can be found on the website.
Located across from Baylor Medical Center, Grabbagreen is a great option if you're looking for healthy food to grab on the go. All menu items are prepared fresh and you can even order online ahead of time.
Grabbagreen's main menu staple are their bowls which you can fill with rice or greens and then top with a selection of healthy options. You'll also enjoy their smoothies, juices, and acai bowls.
Vegan Vibrationz – Dallas
Another Dallas Farmer's Market favorite! Jovan Cole of Vegan Vibrationz creates amazing plant based soul foods. The menus for the weekend are posted weekly and include mouth watering options such as Shrimp PoBoys, as well as various dessert and even brunch options!
The Gem – DFW
The Gem is the place to go to for fresh-pressed juices and smoothies that use delicious, 100% organic ingredients right here in the metroplex. This clean eating place to grab a healthy pick-me-up needs to go on your list. Between their colorful interior filled with fun disco vibes and the tasty drinks, you'll leave feeling all kinds of groovy.
Nazca Kitchen – Uptown
A destination restaurant, Nazca Kitchen's South American cuisine will give you a truly unique restaurant dining experience. Culture and food merge together to create a one-of-a-kind experience. Try their Butter Leaf fish tacos or the quinoa salad (super food).
Tiki Loco – Healthy Restaurants Near Dallas
We could never forget to mention Tiki Loco! This taco joint puts a tropical twist on your usual nachos and tacos. With flavors like Hawaiian, citrus, and mango, your tastebuds are in for a treat!
Cosmic Cafe – Healthy Restaurants Near Dallas
This.Is.The.Coolest.Place.Ever.
HuffPost named Cosmic Cafe as one of their "10 Of The Country's Healthiest Restaurants." This healthy restaurant near Dallas as the coolest vibes and offers a variety of vegetarian and vegan fare. Get your Instagram ready because you're going to want to take pics while you're here!
Malibu Poke – Turtle Creek
Malibu Poke has a mission of providing "a better bowl of poke" and they do just that with their sashimi-grade fish, freshly made sauces, locally sourced toppings. Only the best at this healthy restaurant near DFW!
Tribal All Day Cafe – Bishop Arts
Tribal All Day Café sports a menu specializing in health food & juice with lunch counter-style seating in a contemporary space. This small but airy cafe serves breakfast all day accompanied by a selection of lunch options, snacks, coffee and espresso drinks, smoothies, and much more. By far, the most fun you'll have is sifting through the extensive drink selection. Alcoholic or not, there isn't a bad choice of the bunch. Don't be fooled, they are truly passionate about their ingredients. 
Prime Farm to Table – Flower Mound
Prime in Flower Mound, Texas is a quaint spot tucked away in a strip of restaurants. You wouldn't notice it unless you're looking for some good old fashioned farm-raised food. The patio is spectacular when the weather is right. The interior is upscale, cozy, and very inviting. It's a nice little spot to keep in your back pocket for those intimate date nights.
With the menu being updated daily, you'll always find something new to try. The farms are always listed which provides a great talking point to the spectacular menu and just another reason we put Prime on our must-try unique restaurants in DFW list.
See more farm to table restaurants in Dallas Fort Worth.
Brewed + Pressed – Victory Park, Uptown
Brewed + Pressed is more than your typical coffee shop, just one step inside and you'll see what we're talking about. Not only does this place with locations in Uptown and Victory Park offer coffee and tea, they also serve up shakes and juices using superfood ingredients.
Be sure to also try out their breakfast options, vegetarian bowls, and desserts…all of which incorporate highly nutritious ingredients.
Dream Cafe – Uptown
This healthy restaurant near Dallas is totally a dream come true from their organic and local ingredients to their hormone-free meat. No matter if you're a vegan or just want to live a little healthier, Dream Cafe offers a breakfast and brunch menu that caters to all tastes.
Rye Craft Food and Drink – McKinney
Rye is a super seasonal, creative American small plates restaurant and cocktail bar. What does that mean? It means a different way to dine. It means locally sourced, constantly rotating menu items.
Rye is a unique dining experience and we like it that way. Head on over to this healthy restaurants in DFW for an experience that is like no other.
See more farm to table restaurants in Dallas Fort Worth.
Toluca Organic – Uptown
Isn't this plate just beautiful?! Did you know Dallas was named one of the most vegan friendly cities in the country and with so many vegan options in the metroplex there's no wonder why! Toluca also offers non-vegan options and is all-around deliciously healthy!
Shebelle Ethiopian Cuisine and Bar – Dallas
Shebelle Ethiopian Cuisine is a moderately priced restaurant offering family style food and service. It's a fine-dining Ethiopian-themed restaurant with a full bar. Fresh salads, grilled meats, soups, tasty vegetables, and other healthy ingredients make up this home style authentic Ethopian dining experience. Lunch buffet served Monday – Friday, 11AM to 2PM. Definitely get this place on your unique restaurants in Dallas Fort Worth list!
MIXT – Uptown
You don't need to worry about pesticides, chemicals, and GMO's at MIXT in Uptown because they only source their ingredients from farms and distributors they trust.
This build-your-salad bowl concept lets you truly decide what you want to put in your body. Try a grain bowl or market plate if you prefer, just rest assured you'll love what you eat at this healthy restaurant near you in Dallas.
HG Sply Co – Healthy Restaurants Near Dallas
HG Sply Co. does an amazing job catering to those that want to eat healthy while living a paleo lifestyle. In fact, HG is short for Hunter Gatherer!
At HG Sply you'll come back again and again whether it's for their healthy food, your next brunch spot, great cocktails, their fire pits or the amazing rooftop bar.
Be sure to try HG Sply's smoky carrot hummus, famous spicy vegan queso, and ginger infused kombucha.
Harvest – McKinney
Harvest was conceived to connect diners with our vibrant North Texas food community. The objective was not just to serve great food, but to make a long-term impact on the community by supporting the businesses of local farmers, ranchers, and artisans. When we spend a dollar locally, seventy cents stay in our community, and it's on that principle that the restaurant operates.
Harvest sources almost all of its food from within a 150-mile radius, from proteins to produce, visiting our local farmers market weekly to shop and seek out new farmers.
Harvest's menu changes four times a year based on what is seasonally available. This commitment is continued in the bar, which features almost entirely Texas-made liquor and beer.
See more farm to table restaurants in Dallas Fort Worth.
Start Restaurant – Turtle Creek
Start arrived in Dallas to meet the growing demand for healthy and real food in a drive-thru experience. No more excuse to not eat healthy in Dallas!
You're going to love Start's house-made dressings, whole wheat or gluten-free tortillas, organic and cage free eggs, and nitrate-free turkey bacon. All of their beef is 100% grass-fed and locally sourced.
UP Inspired Kitchen – Frisco
Get on over to UP Inspired Kitchen in Frisco, Texas for breakfast, brunch, and lunch inspired by healthy food that fuels your body.
UP Inspired's mission is to inspire you to feel your best so you can be your best and they do that by using whole ingredients that make you feel good.
Try their cage-free eggs, avocado toast, spinach power salad infused with quinoa, salmon Buddha bowl or a cup of bone broth. They even have a kids menu at this healthy restaurant near Dallas is kid-friendly.
Original Chop Shop – Highland Park
Original ChopShop has three locations in DFW. Protein bowls are the main component of the menu at this healthy restaurant near Dallas. Expect to fill your bowl with the essentials: greens, grains, and proteins.
You're also going to love Original ChopShop's sandwiches, salads, and superfruit bowls. Be sure to wash it all down with a protein shake, elixir or freshly made juices.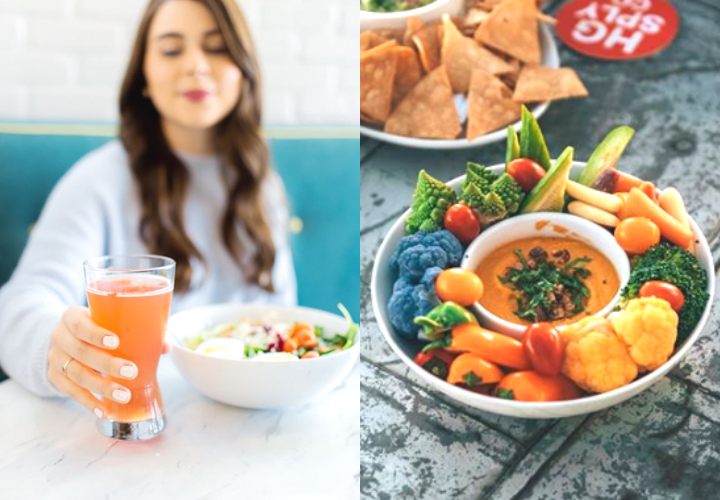 30 Best Healthy Restaurants Near Dallas
Here's Where to Find the Best Healthy Restaurants near you in Dallas Fort Worth. This is the ultimate list of over 30 healthy restaurants in DFW!
More DFW restaurants you'll love:
Do you plan on visiting any of these healthy restaurants? Be sure to let them know you heard about them on @metroplexsocial and don't forget to tag us on social media for your chance to be featured!
Pin
40
Shares