Where to Find the Best Indian Food in Boston Right Now
Where to Find the Best Indian Food in Boston Right Now
Find your new favorite spot for chicken tikka masala, lamb tandoori, and other classic and modern plates.
This Post: Where to Find the Best Indian Food in Boston Right Now
Devoted foodies and restaurant newbies love The Feed. Sign-up now for our twice weekly newsletter.
Hungry to discover a new favorite restaurant in your neighborhood? Spice up your life with our top picks for Indian cuisine around the city—it'll guide you toward the best chicken tikka masala, lamb tandoori, and other taste bud-alighting dishes in every neighborhood.
Dosa-n-Curry
An entirely vegan enterprise near Somerville's Union Square, Dosa-n-Curry lives up to its name: There's plenty of dosas (rice pancakes) wrapped around fillings like curry leaf-spiced onion masala. But the menu covers pretty wide ground—including a variety of breads, from kulcha to naan, as well as Indo-Chinese specialties such as Manchurian-style gobi, or fried cauliflower.
447 Somerville Ave., Somerville, 617-764-3152, dosa-n-curry.com.
Himalayan Bistro
This West Roxbury institution has helped define what Nepali and Indian dining can be in Boston, with a breadth of fresh roti breads, dosa, addictive fried pakora and plump momo, and other Himalayan comforts. In late 2018, the owners expanded into Newton Center with a second restaurant called House of Tandoor.
1735 Centre St., West Roxbury, 617-325-3500, himalayanbistro.net.
Himalayan Kitchen
There are plenty of Indian eats and then some at this Union Square storefront, where generous helpings of goat biryani, tandoori tangri chicken, and house-made momo are available alongside classic American eats: think steak tips, barbecue chicken, baby back ribs, and chicken Parmesan subs. Cross-continental mashups, meanwhile, happen in the form of pizzas topped with Buffalo chicken or tikka masala and paneer cheese, as well as  fire-roasted Punjabi-style chicken wings served with mint and fiery chili sauce.
40 Bow St., Union Square, Somerville, 617-623-9068, himalayankitchenma.com.
India Pavilion
A Central Square landmark for more than 40 years, this spot has had ample time to hone its North Indian entrées. You can taste that devotion in dishes such as the lamb vindaloo, chicken korma, or just about anything served during the daily lunch buffet.
17 Central Sq., Cambridge, 617-547-7463, indiapavilion.co.
India Quality
This North Indian spot is tucked a few steps underground in Kenmore Square—where, if you ask us, it's still the single best restaurant in a neighborhood that has undergone dramatic transformation over the years. Decades after opening, India Quality still serves up delightful specialties ranging from beef bhuna (a thick curry with onions and tomatoes), to deeply savory goat curry (just watch out for bones!). Save room for sweets like milky kheer pudding, and house-made kulfi ice cream. And when in Allston, check out sibling restaurant Punjab Palace, where they're happy to hike up the heat on your veggie and meat curries when you pull up a seat to order and catch a Bollywood flick on one of the restaurant's TVs.
484 Commonwealth Ave., Fenway/Kenmore, 617-267-4499, indiaquality.com; Punjab Palace, 109 Brighton Ave., Allston, 617-254-1500, punjabpalace.com.
Madras Dosa Co.
Considering the fast clip of new openings in recent years, Boston's corporate office-stuffed Seaport neighborhood will soon have a lunch break-friendly, fast-casual restaurant for every taste. Most recently joining the well-fed party is Madras, which debuted in June by raining 30 different kinds of dosa down on our eager, open mouths. The crispy, thin rice and lentil pancakes are filled with everything from spicy potatoes, peppers, and podi (a so-called "gunpowder" of dried chilies, black gram, and more) to sweet Indian fruit jams and porridge-like upma (an Indian polenta), as well.
55 Boston Wharf Rd., Boston, 857-233-5188, madrasdosaco.com.
The Maharaja
A collective gasp fell over Cambridge when a fire temporarily shuttered this sparkling institution a few years back. Luckily, the team quickly rebounded to continue dishing out tandoori specialties and vegetarian fare. The second-story view of Harvard Square and the ornate Indian décor still draws crowds—as does the stacked daily lunch buffet, and the full bar with drinks like rum-spiked mango lassi.
57 John F. Kennedy St., Harvard Square, Cambridge, 617-547-2757, maharajaboston.com.
Masala Square
Why, yes—you can take home an "I Love Samosa" t-shirt from this relative newcomer to Somerville's Union Square. (It's never too early to start your holiday shopping!) Importantly, you can also eat samosa here, including the vegan "Supreme" samosas, served with herby garbanzo beans, as well as crispy purses filled with veggie-friendly Impossible "meat." The largely gluten-free lineup of eats includes plenty for carnivores too, though, including tandoori-style tilapia plus vindaloo, korma, and other curries that can be prepared with goat, chicken, and more.
23 Union Sq., Somerville, 617-666-9770, masalasquaresomerville.com. 
Mehak Halal Cuisine
This halal haunt is cash-only, tiny, and a tad unassuming from the outside. But once you bite into a fresh and flaky samosa, or get a whiff of the curries the kitchen is cooking up, you'll see why Eastie locals continue to flock to this Jeffries Point gem.
329 Sumner St., East Boston, 617-567-1900, mehakhalalcuisine.com.
Mela
The South End spot has no shortage of house-made breads, vegetarian options, and modern specialties like pork vindaloo, and the vegan-friendly subz panchmael, a cardamom-scented stir-fry of peppers, artichokes, asparagus.
578 Tremont St., South End, 617-859-4805, melaboston.com.
Passage to India
A large selection of snackable pakoras set the stage for house specialties like goat madras, cooked with potatoes and ginger, as well as the bhindi masala with okra. If you find yourself up north, opt to visit the restaurant's other outpost in Salem.
1900 Massachusetts Ave., Porter Square, Cambridge, 617-497-6113, passageindia.com; 157 Washington St., Salem, 978-832-2200, passagetoindiasalem.com.
Punjabi Dhaba
Indian food cart-style trays heaped with steaming vindaloo, assorted chaat, stuffed parathas, and more make it easy to see why this small Inman Square spot is always so busy. The unpretentious eatery—a sister spot to stalwart India Pavilion—serves up some of the city's finest Punjabi-style snacks, curries, and breads.
RED : Cách kiếm coin trong FIFA MOBILE 21 – Wiki Fin
225 Hampshire St., Cambridge, 617-547-8272, punjabidhaba.co.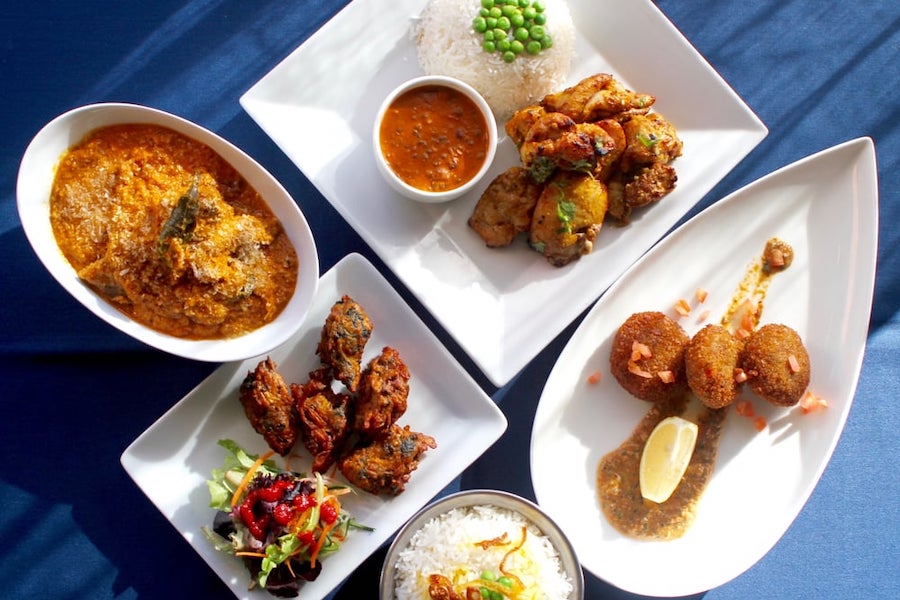 Shanti Restaurant
Note: Shanti's Cambridge location is temporarily closed. 
With locations in Dorchester, Roslindale, and Cambridge, seeking out Shanti is the easy part. Choosing what to eat from the sprawling menu of fragrant bhuna, korma, and jhalfrezi (a thick, green chili-spiced curry) dishes is a bit more difficult.
1111 Dorchester Ave., Dorchester, 617-929-3900, and other locations, shantiboston.com.
Surya Indian Kitchen + Catering
Cambridgeport gained an Indian spot in 2016, which immediately found a cult following with locals, largely due to attention to customers' dietary restrictions: all dishes are gluten-free, and all meats are certified halal. Try a Hyderabadi-style biryani with a cooling raita, or the hearty lentil daal.
114 Magazine St., Cambridge, 617-945-5489, suryaindiancaterers.com.
Tikki Masala
The menu at this Jamaica Plain go-to has it all: garlicky goat korma, tangy vindaloo, plenty of paneer, and much more. The restaurant's South Indian roots especially shine through with its assortment of crispy dosa and vada lentil doughnuts.
3706 Washington St., Jamaica Plain, 617-942-2966, tikki-masala.com.
Vaisakhi Indian Restaurant
Its name refers to a traditional harvest festival, and this Brighton spot certainly brings a bounty of Punjabi cuisine: chaat, biryani, and tandoori specialties, to name a few. There's lots of lamb, in particular, used for korma-, vindaloo-, and saag-style preparations.
157 Sutherland Rd., Brighton, 617-487-8941, vaisakhiboston.com. 
Zam Zam
Halal Pakistani and Indian cuisine await at this Best of Boston-worthy restaurant that merits a trip to Medford. Spicy fried tilapia? Check. Mutton haleem? It's here. And there's even a few fine desserts—like gulab jamun, syrup-soaked fried wheat and milk balls—to end things on a sweet note.
42 Riverside Ave., Medford, 781-391-1200, zamzamcuisine.com.
Source: https://bloghong.com
Category: en